20 Ways To Give Your Closet Doors A Decorative Update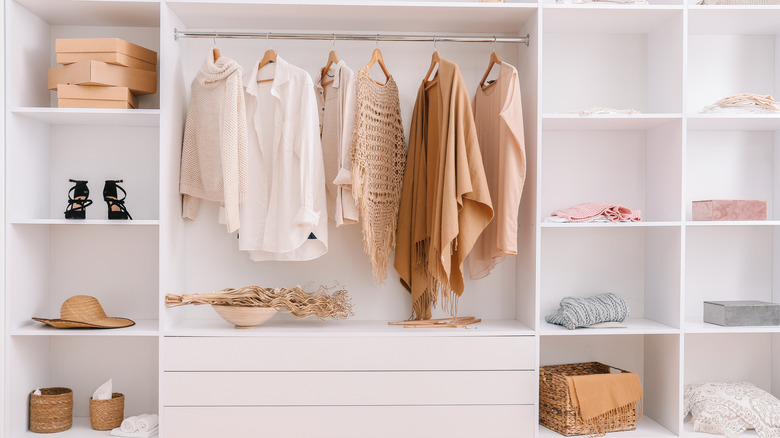 Pixel-Shot/Shutterstock
It's excessively common for homeowners and renters to redecorate and revamp their homes. Usually, this is done by repainting a room or simply just rearranging the room. For larger, more complex rooms such as the kitchen, one usually opts to paint the cabinets and reorganize the dishes and utensils. As per Ideal Home, people that are in their late teens and early 20s usually redecorate every three months. Similarly, those that are in their mid-20s to early 30s are said to decorate around every 12 weeks.
Of course, when and how much you decorate is up to you. However, there are a few things you can revamp up that you may not think of. Windows, ceilings, and even closet doors are just a few options of what you can. Additionally, sprucing up your closest doors may be far easier and cheaper than you think. Depending on the route you take, all you may need is a few dollars and some inspiration. If you're in need of the latter, here are 20 ways you can give your closet doors the decorative update they are long overdue for.
1. Attach some mirrors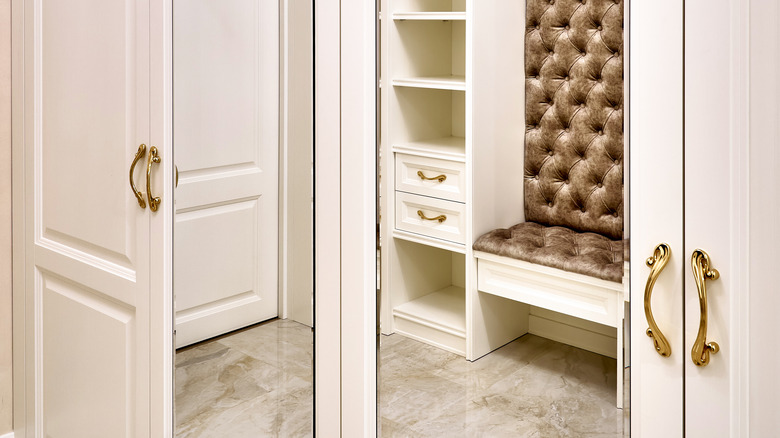 timltv/Shutterstock
The first and perhaps most common way to spruce up your closet doors is to add mirrors. This is a simple and cute DIY idea that will help brighten the room up as well. Additionally, mirrors can be in many sizes, shapes, and designs, so it's totally customizable.
2. Opt for some curtains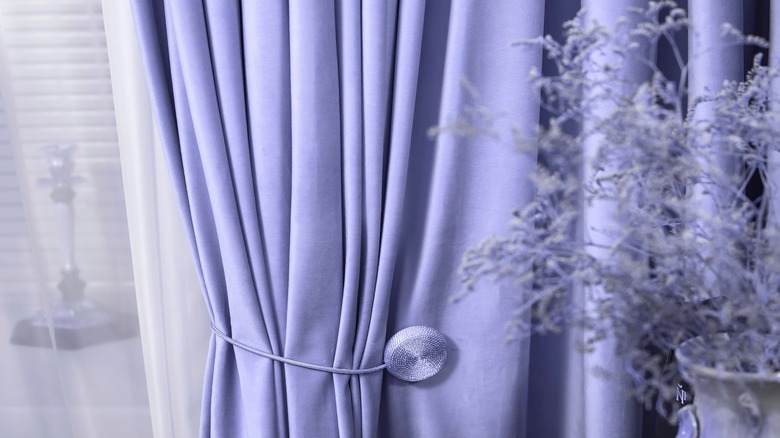 Koliadzynska Iryna/Shutterstock
Another cute and simple idea is to hang curtains as a closet door. This is customizable as you can pick out the color and design. They also can be tied open or closed shut whenever desired. Lastly, they save space as you no longer need a door to open.
3. Create a custom photo collage
The next idea is something more personal. You can turn the doors into a photo collage of your family, friends, and pets. This is such a simple DIY that anyone can do with ease. Additionally, you can also cut photos to the shape and size you want.
4. Add some fairy lights
Who doesn't love lights? Fairly lights are simple, cheap, and obviously brighten up a room. Hanging them either inside or outside of the doors can help you see what's in your closet better as well. These are widely available in many retail stores and online such as Amazon, Walmart, and Target.
5. Led lights can add a new aesthetic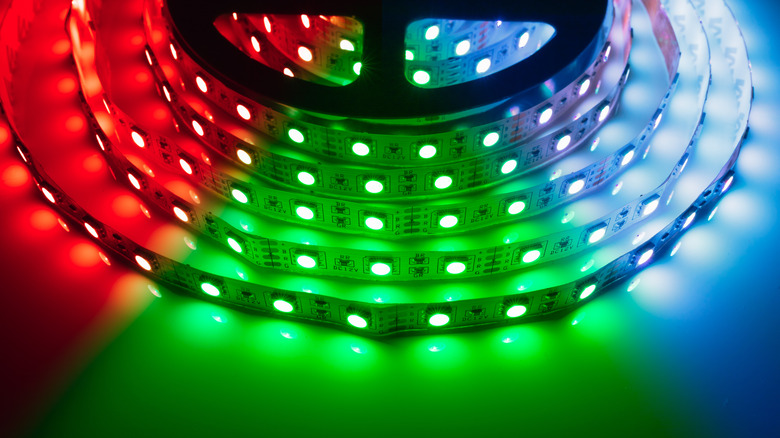 nikkytok/Shutterstock
Much like fairy lights, led lights can brighten up a room and bring in a whole new aesthetic as well. These can be customizable as most light strips change colors and can be set to a variety of settings. They're also widely popular and can be found almost anywhere.
6. Go all out with some chalk paint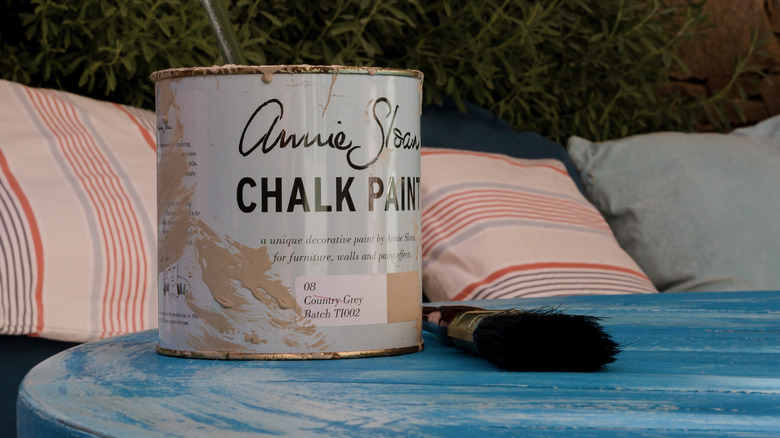 Balint Koban/Shutterstock
A unique yet cute and fun idea is to paint your closet doors with chalk paint. This allows for customization and some fun art decor. Additionally, these are perfect for kids' bedroom doors as it's sure to keep them entertained and occupied.
7. A light accent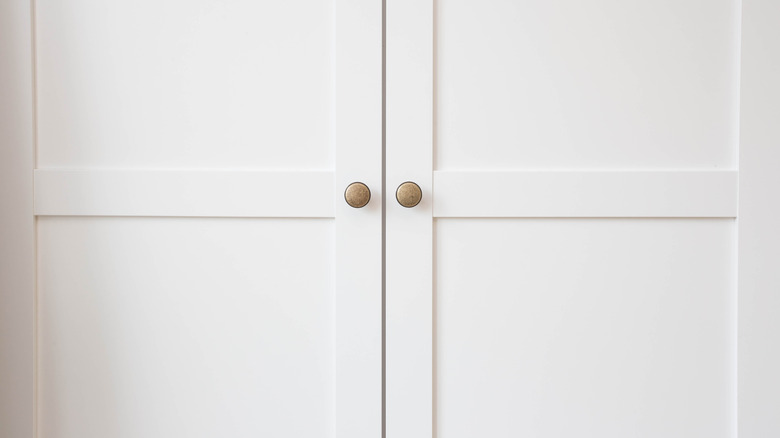 A-photographyy/Shutterstock
Accent walls are one of the most trendy and stylish designs these days. Instead of walls, however, why not paint the door a lighter accent color. Of course, this is perfect for dark rooms, and the accent closet doors will help to brighten the room up a bit.
8. A darker accent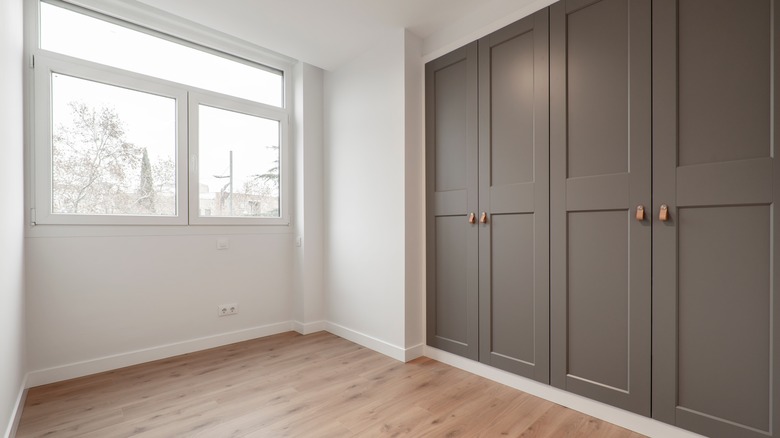 Toyakisphoto/Shutterstock
As opposed to the lighter accent-colored doors, you can also opt for a darker shade if you have a lighter painted room. A slightly darker shade will also bring the room together and allow for more color variety.
9. Wallpaper it up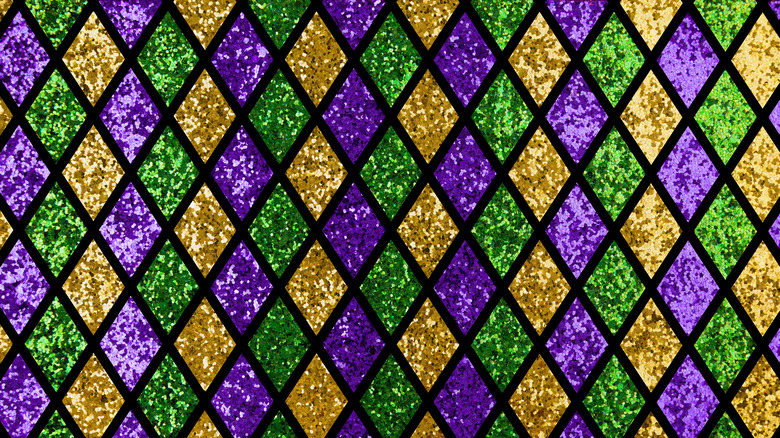 Mykolastock/Shutterstock
A simple, easy, and affordable idea is to deck out the doors with some wallpaper. Since this comes in an endless amount of designs, one can achieve any kind of aesthetic and vibe they are going for. Additionally, wallpaper is still largely common and can be found with ease.
10. Switch it up with barn doors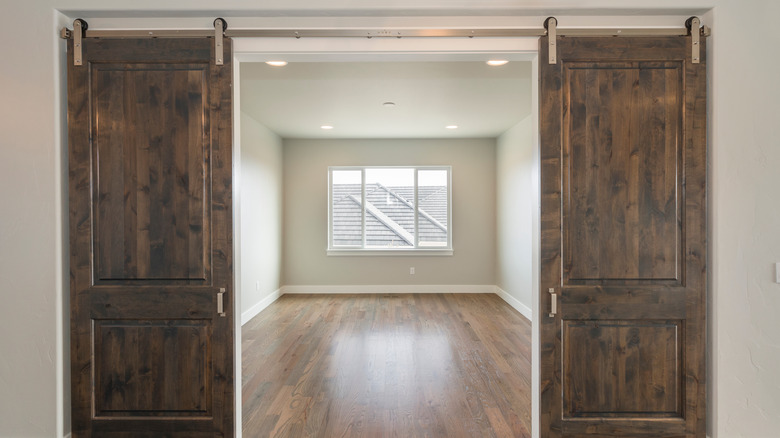 Neil Podoll/Shutterstock
Perfect for a country or farmhouse theme, switching up the standard closet doors for barn doors will help to bring this theme to life. Typically, they consist of sliding doors and can be used with ease.
11. Enter through beads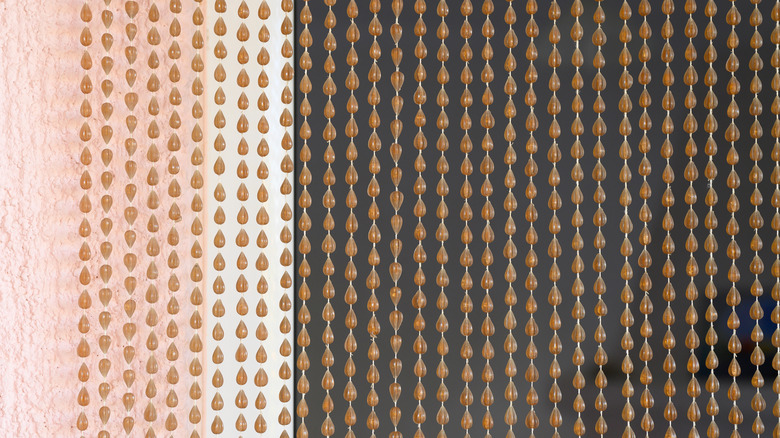 Ksenia Shestakova/Shutterstock
Instead of a door, why not opt to decorate the frame with some beads that you can walk through. It's super fun and easy to buy or DIY. Of course, they come in a variety of colors and styles, so it's easy to pick what's best for your room.
12. Paint with detail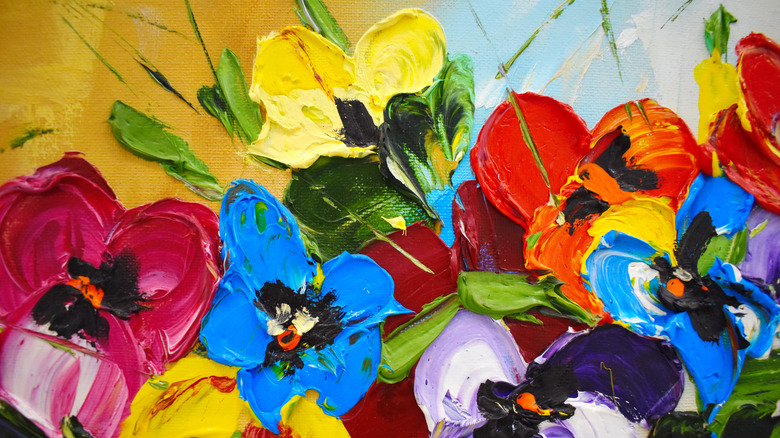 Victoria Denisova/Shutterstock
If you're wanting to take it a step further, you can always choose to use the doors as an art piece. Flowers, portraits, or even inspirational quotes are just some of the many ideas you can use. This is a more personal idea than the rest and is completely customizable.
13. Slide it over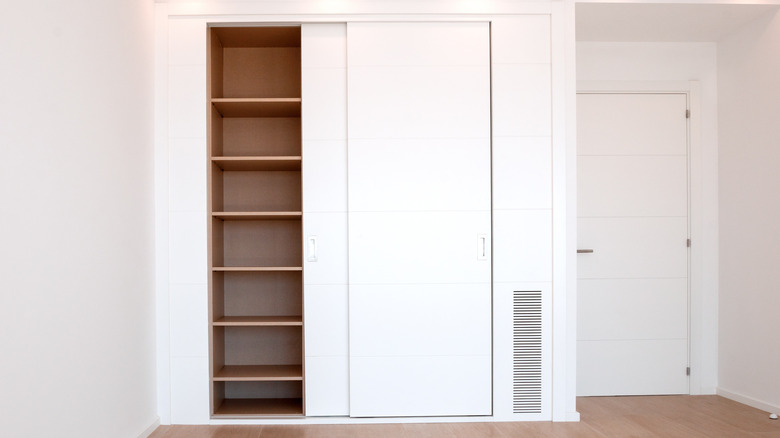 Stefi Panchesco/Shutterstock
Much like the barn doors, switching out regular standard pull doors or shutters with sliding doors is a convenient idea. Sliding doors opt for more space than other doors as it takes room to pull doors open. It's also appealing and more modern as well.
14. Display child art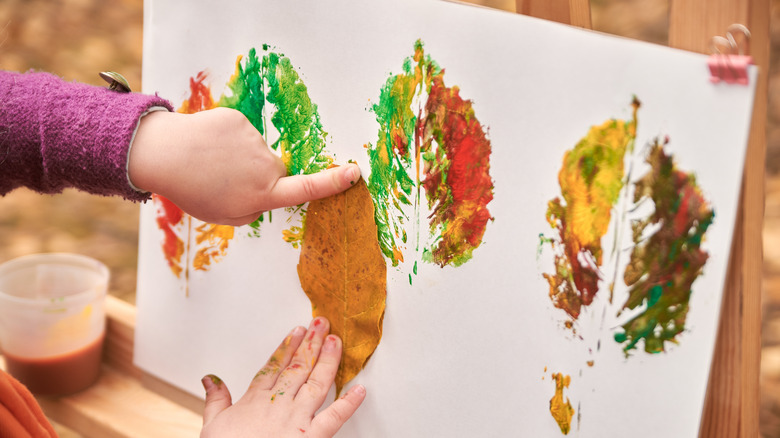 Olek Lu/Shutterstock
Perfect for those with kids in the home or those that frequently visit, hanging child art up on the doors isn't a bad idea. It's rather unique and saves some space on your refrigerator that may be covered already.
15. Fashionista it up
Adding some fashion photos to the closet doors may be the thing you didn't know you were missing. Cutting out clips from magazines and mixing and matching is perfect for helping plan your next outfit.
16. Hang a hook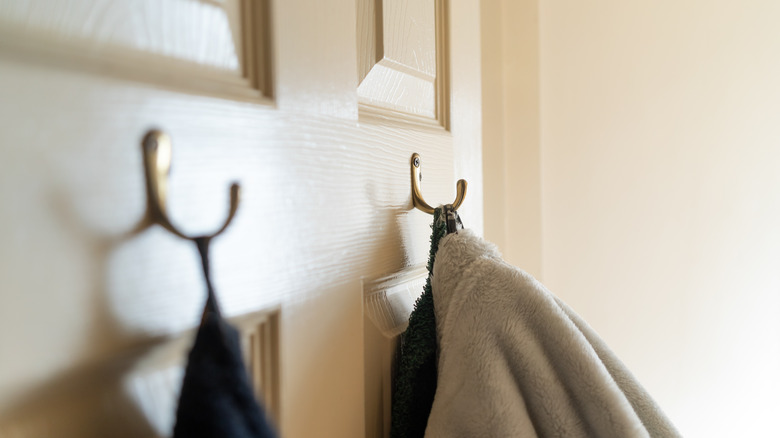 Thomas Collett/Shutterstock
Hear me out; this is a simple, obvious, and extremely convenient idea. Hanging hooks both inside or outside the doors is a perfect space savior. You can hang almost anything you want on these hooks, including clothes, belts, and even shoes, should one desire. They're super cheap and can be found at a variety of retail stores.
17. Half and half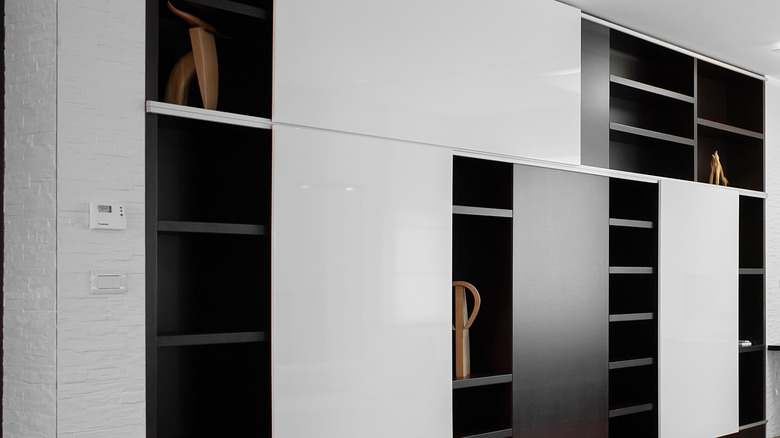 Rade Kovac/Shutterstock
If you're into painting and designing the doors but still stuck on what color to do, then do both. Paint one half of the door one color and the other half another. You can also paint the doors each a separate color as well.
18. Hats can never go wrong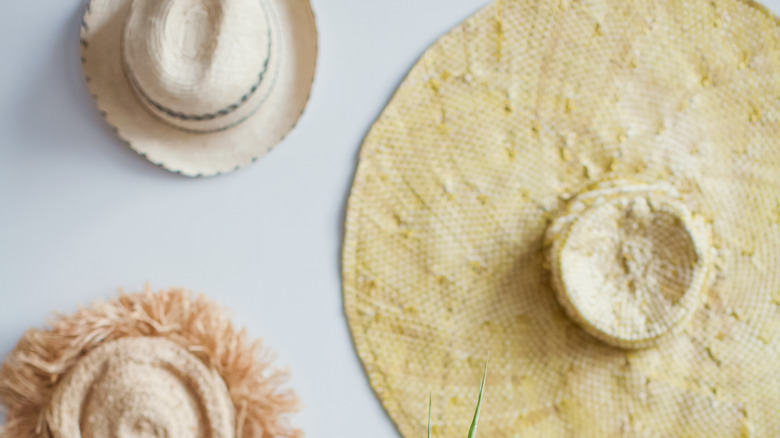 aprilante/Shutterstock
Hats are more than just the things that sit on your head to shield you from the sun. They are also really cute decoration items as well. Perfect for those with a large collection, displaying hats on the doors saves shelf space and can give your room a whole new theme.
19. Switch the knobs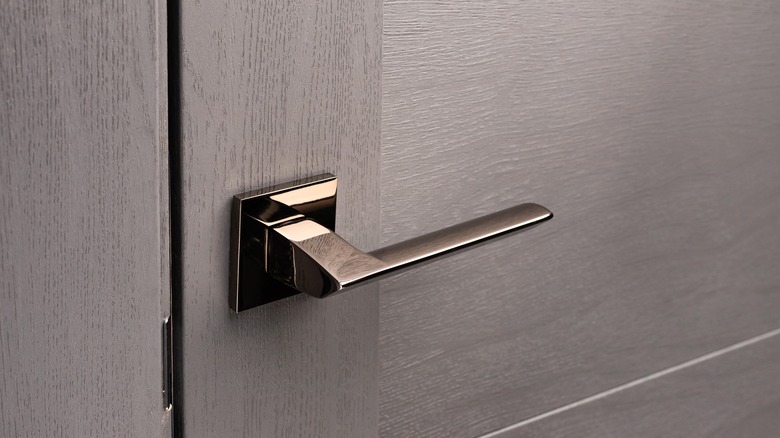 Kucher Serhii/Shutterstock
Perhaps, this is the simplest and easiest idea on this list. However, switching out the door knobs for a different style is cheap and can give the doors a new look you desire. They're available in many retail and hardware stores and can be found on many sites online.
20. Take it off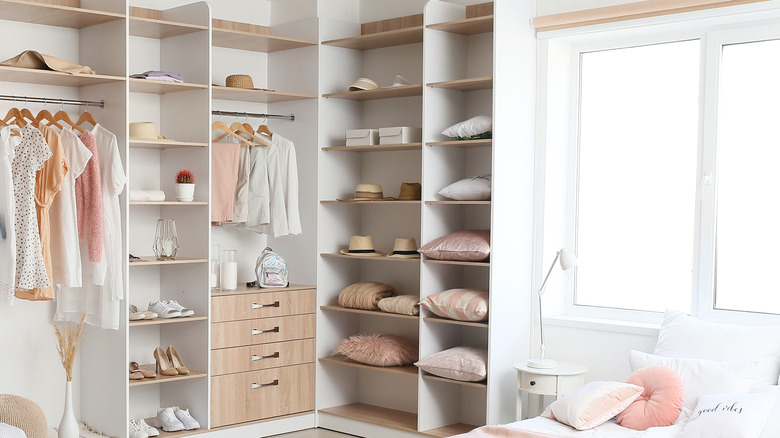 Pixel-Shot/Shutterstock
Okay, this may be a given here, but completely removing your closet doors is still another easy idea. It allows for the room to feel more open and makes accessing the closet more easy and convenient. It also doesn't cost any money and very little work.