The DIY Window Treatment That'll Save You Money During Chilly Winters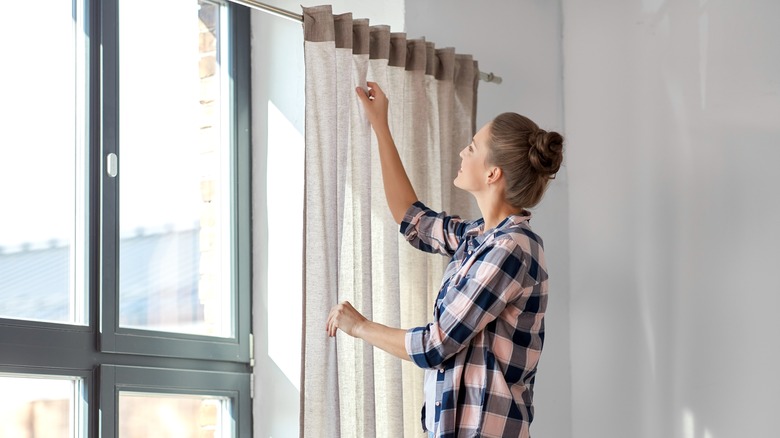 Ground Picture/Shutterstock
We may receive a commission on purchases made from links.
According to Energy.gov, 30% of your home's heating energy may literally be going out the window. If you're looking to add insulation to your home this winter, then you should install a pelmet. This incredible TikTok hack will save you money this winter, keeping your home warm thanks to a custom MDF window treatment that you can DIY. If you've never heard of a pelmet, odds are you've at least seen one in front of custom window coverings. Pelmets are a thin strip of wood that conceals the top of your window drapery. In this genius TikTok video, you can have custom window coverings that match your home decor while working to prevent air flow behind your shades. The results are chic, bespoke window dressings that work to keep your house toasty when temperatures drop. 
You can up the ante with this DIY hack too, adding thermal insulated curtains. If you're looking for floor-to-ceiling drapes, you can spend less than $47 on a pair of drapes that are 52" wide by 84" long (they're sold on Amazon and come in a variety of colors). 
But are thermal curtains worth the hype, especially when added to this DIY trick? Yes! When you install insulated drapes, you're getting a double layer of protection, working to keep the cold out of your home. Energy.gov reports that closing these curtains at night can decrease the amount of heat a room loses by as much as 10%, so consider doing this to keep your home comfortable.
Create your pelmets
To carry out this TikTok DIY winter curtain installation hack, @all_things_hari explains that you need to purchase medium-density fiberboard (MDF). This piece of fiberboard should be 6 millimeters thick and about 4" wide. The number of panels you need depends on your space, but @all_things_hari purchased three strips of MDF to complete this project. Next, you'll need to paint your boards. This TikTok hack uses Lick paint in eggshell, but you can use any paint or color that matches your home's aesthetic. You should also apply several coats, ensuring each panel has a thick enough layer of paint to conceal the MDF.
Next, you'll need to attach your pelmets to your wall battens. These are just thin strips of wood that you'll screw your MDF board into. Once everything is attached to your wall, caulk any gaps or cracks and paint the area as needed. You can also install mood lighting if you're looking to enhance the area even more, as Amazon sells self-adhesive strips of LED lights for less than $17. 
When you install pelmets, you'll keep your home warm while saving money and energy. You can even reduce your room's heat loss by 25%. Additionally, insulated curtains may reduce your energy bills by 7%, which means that this DIY hack can offer up a toasty house and reduced utility bills this winter. You can use these wonderful window treatment ideas to brighten every room in your house, staying warm and stylish when temperatures get frosty.