Create Unique Shelving For Your Home With Joanna Gaines' Ingenious Suitcase Hack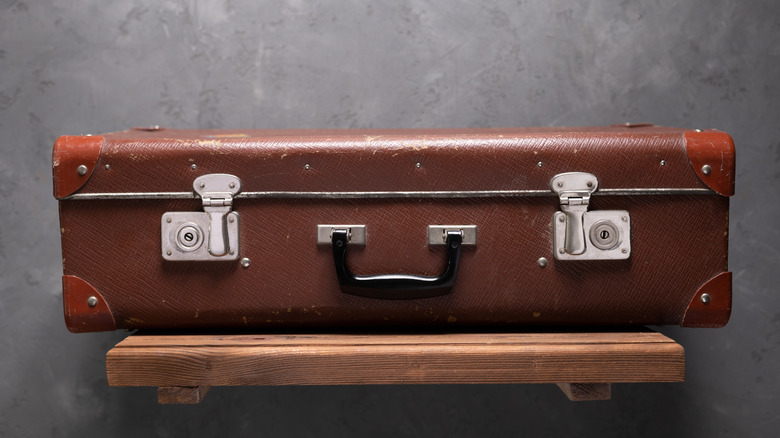 Svitlana Moskaliuk/Getty Images
Floating shelves can be a stylish and practical addition to any interior space. They maximize vertical wall space, which is ideal in tight areas, and their clean lines add aesthetic appeal while making a room feel more open. Floating shelves are also easier to install and customize than traditional shelving units, giving you plenty of options to create whatever look you want. Joanna Gaines' creative floating shelf hack involved making some floating shelves out of old, vintage suitcases.
Joanna Gaines shared some tips on being creative with small spaces. She used small, sleek floating shelves as bedside tables, and then chose something quite different to decorate a corner wall in a multi-purpose loft space. "I found these really cool vintage suitcases so I thought it'd be fun to play with the design up here," she said. "We ended up mounting [them] to the wall, so now they have a new purpose as shelves, and they also make a cool statement," she explained. You can easily recreate this DIY project to give your space a unique and personalized touch.
How to recreate these floating shelves
To recreate these unique floating shelves, you'll need some sturdy vintage suitcases, floating shelf brackets, a level, and screws or wall anchors. Vintage items can always be found at flea markets, thrift stores, consignment shops, and garage sales. Look for sturdy suitcases in good condition. The screws or wall anchors should also be sturdy and appropriate for your wall material. Start by cleaning and shining the suitcases if necessary. Wipe the interior and exterior down with a little bit of warm water and soap, then air it outside to get rid of any smells. You can also buff it with silicone wax or even paint it for a fresh look.
Next, attach the floating shelf brackets to the wall, following the instructions that come with the brackets for proper installation. Use the level to ensure the brackets are even, fix in the anchors or screws, and then place the suitcases on the brackets. Once everything is secure, arrange your items on your new shelves. Be mindful of their weight capacity and try not to overload the suitcase platforms. Joanna Gaines places a few books and small vases with flowers, so take inspiration from that and use them to store light, decorative pieces. Cute items like woven baskets and flower containers can also be found at second-hand stores.