DIY A Gorgeous Hanging Planter With This Affordable IKEA BRUNSTA Hack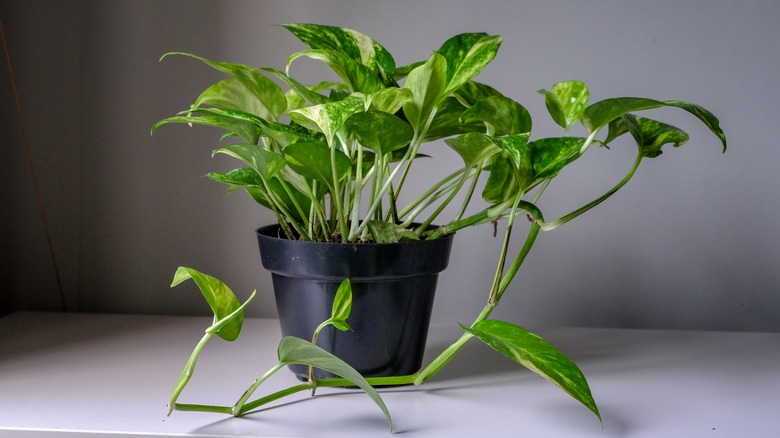 Kristina Ismulyani/Shutterstock
Hanging planters can transform any houseplant into the perfect hanging plant display, especially if utilized correctly. If you have a spare IKEA BRUNSTA lampshade lying around your home, then you can put it to good use. Rather than using it over your light, you could craft this popular pendant lampshade into a rustic yet modern hanging planter that will surely wow anyone who sees it. Not only does it look incredible, but you also have the power to customize it however you want, making it perfect if you want to create something unique with your own flair.
You can use this hack to create several hanging planters, so it's perfect if you have multiple houseplants you want to display around your home. Thankfully, crafting it isn't too challenging. Simply grab an IKEA BRUNSTA for $24.99 from IKEA, your houseplant of choice, and some rope, and you're good to go. Larger versions for $27.99 and $29.99, depending on size, are available if you have a larger plant. However, the BRUNSTA isn't your only option. For a similar yet cheaper design, try the IKEA TJUGOTRE for $11.99. This one is perfect if you're on a lower budget but want the same look. Or, opt for an IKEA GOTTORP for $42.99 for a more natural vibe. The choice is yours. So, how do you make it? When it comes to this hack, the prep is the most crucial part.
Prepare your IKEA BRUNSTA for your plant
Normally, this lampshade is hung from the ceiling with the opening facing downward. To use it as a planter, flip it upside down so the plant sits inside and the opening faces up. Naturally, you should test that your plant fits before commencing. Once you know you have the correct size, simply cut two or four sections of rope to the correct length, depending on how low you want it to hang. Tie each piece of rope to either side of the opening, spaced evenly so it hangs level, and knot the ropes together to form a loop from which your planter hangs. When you're sure that it's secure, simply slide your potted houseplant inside. 
You can also add your own flair by plaiting colored ropes, using an old belt or some chain, and even spray painting the planter to match your interior color palate. Instead of using an old tin can or a glass jar, another option is to upcycle a pot for your plant to go in. A cute addition is to add battery-operated fairy lights around the edge, so it can double as both a hanging planter and some ambient lighting. Pick up a 16-foot strand of multicolor lights from Walmart for as little as $6. Likewise, you should consider lighting when it comes to choosing a plant hanging location, whether you choose to hang it in your bedroom, bathroom, kitchen, or lounge space, as direct or indirect light is better for certain plants.