The Hardware Hack That Will Take Your IKEA Floating Shelf To The Next Level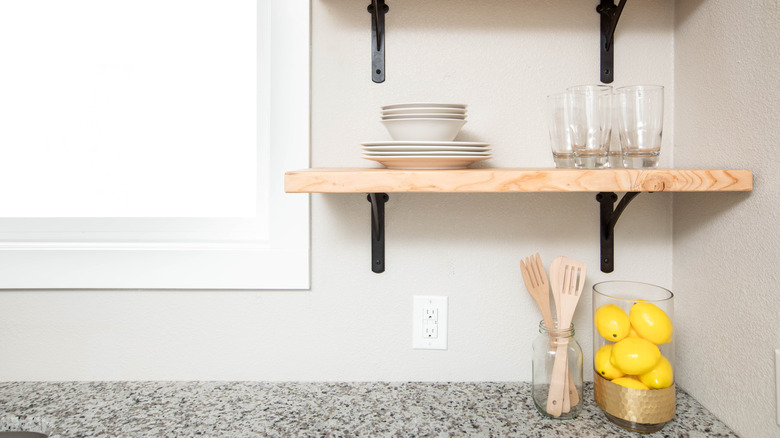 Garrett Aitken/Getty Images
Floating shelves in the kitchen can look contemporary, rustic, minimalist, or maximalist — you can design them to suit your aesthetic. But what they all have in common is that those shelves are populated with breakable items such as glassware, crockery, decorative objects, or some combination of these. The downside of open shelving is that these things can easily fall off and break or cause injury. Tiktoker @erin_dittmer shared a hack we appreciate that solves this issue using IKEA hardware. By repurposing pot rails, you can attach them to the front of a floating shelf to prevent accidents.
Normally, you'd attach a standard issue pot rail to the wall at a height that allows you to easily grasp your pans without anything getting in the way. However, pot rails also make the perfect guardian to keep your wine glasses from slipping off the shelf and shattering on the floor. There are several different pot rails to choose from at IKEA, so finding a finish that complements your other kitchen hardware shouldn't be difficult.
Making pot rails work for your kitchen
Most open shelving ranges from 36 to 54 inches long, though decorative shelves can be shorter. Most of IKEA's pot rails range in length from 22 to 31 inches, but this can work just fine if you thoughtfully rearrange what's on your shelf. To set this up, remove everything from your shelves, then position the rails dead center at the front edge of the shelf. Using the correct screws for the thickness of your shelf and a power drill, securely attach each pot rail.
The model mentioned in the TikTok video is IKEA's 23.5-inch HULTARP rail in a warm, pleasing brass color for $9, but it also comes in nickel-plated and black. With its Scandinavian looks, NEREBY is made from light birch wood with white hardware and is a good choice for country-style kitchens. It comes in a surprisingly petite 15.75 inches for $4, as well as the standard 23.5 inches for $6. If you would prefer a more industrial look, go for the matte black, 26.5-inch FINNINGAN, it's actually a towel rack but it will accomplish the same thing. If you want to add a pop of color to your shelving then the FINNIINGAN can also be spray-painted in any shade you like.