TikTok's Time-Saving Tips Make Spray Paint Projects A Breeze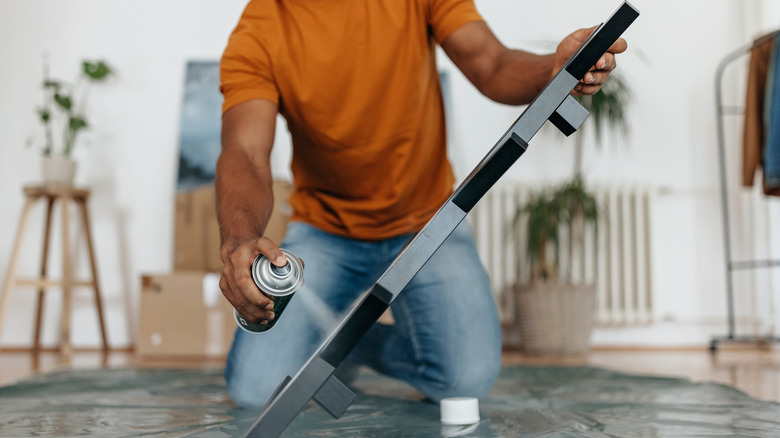 Supersizer/Getty Images
Whether you're a pro or someone just dipping their toes into DIY paint projects, there's no doubt that spray paint is one handy tool to have in your renovation repertoire. However, despite how easy it is to use, additional tips can make the spraying process a whole lot more efficient. As shared in the TikTok by @buildandcreatekids, these handy hacks include how best to apply the paint for a smoother finish, where to start for a more even look, and how to spray smaller items. 
Though it isn't a replacement for regular paint, spray paint can actually be better for some projects due to its durability.  Plus, thanks to the wide variety of colors and finishes available, it's ideal for tons of uses. No longer will you look at your sprayed items and see nothing but a patchy application — you'll become a pro at flawless finishes with these top tips and tricks.
Become a spray paint expert with these tips
The first tip is something to keep in mind before you start spritzing, and it's to always start on the bottom of the item rather than the top. This way, you won't accidentally smudge the front of the item when you flip it over to paint the other side. The second tip is to spray the paint in small bursts across the entirety of your project instead of in one long spritz or in individual sections. This will give you the most even results. After the first set of sprays, repeat until you have covered each area.
This third tip is especially useful for those who struggle to spray paint smaller items like bolts. Rather than making a mess and trying to maneuver them to hit each side, stick them into Styrofoam before spraying. If you don't have foam on hand, cardboard can also work. The key is to be able to spray the items from different angles so you can cover the whole surface for a perfect finish. Though they are simple, by following these tips, your DIY projects will turn out a whole lot cleaner.