HGTV's David Bromstad Says This Inexpensive Kitchen Feature Will Add Instant Luxury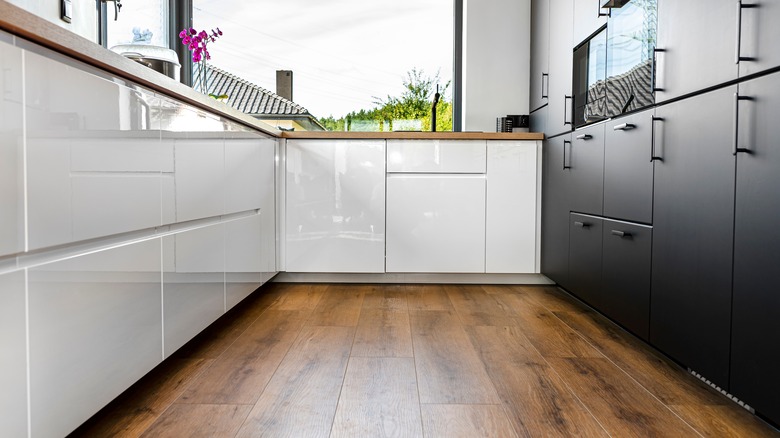 Kinek00/Shutterstock
We may receive a commission on purchases made from links.
David Bromstad, host of HGTV's "My Lottery Dream Home," regularly helps homeowners find and renovate their perfect abodes courtesy of their newfound wealth. While their budgets are often big, that doesn't mean Bromstad urges homeowners to spend extravagantly. He often suggests ways for his clients to get the most bang for their buck, particularly if a house already has great qualities. In one episode, when touring potential homes with a client, they encountered a kitchen that featured solid wood cabinets that had seen better days. Instead of suggesting they replace them, he offered a few suggestions on how the homeowner could potentially bring them up to date, including adding relatively inexpensive soft-close door hinges and drawer slides. 
Sometimes, the smallest and most inexpensive elements can go a long way toward upgrading a home. Kitchens, in particular, can often undergo complete transformations with just a few changes, including things like swapping out lighting, hardware, and fixtures for newer, more contemporary ones. According to Bromstad, this simple change can be a game-changer when it comes to creating a high-end, luxurious-feeling kitchen. Combined with refinishing the existing cabinet doors, you can create an updated and stylish kitchen without throwing out perfectly good cabinets or spending a lot of money in a place that's not really necessary.
What are soft-close hinges?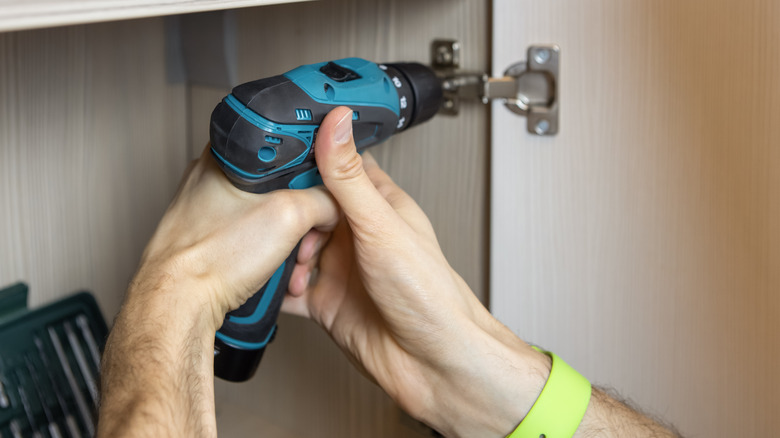 AllUneed/Shutterstock
While sometimes mistaken for self-close door hinges, soft-close hinges are not quite the same thing. A self-closing door or drawer will pull itself firmly shut, but soft-close hinges will also soften the movement and resist the slamming and banging that often accompanies opening and closing drawers. They are perfect in a home where you want things to be peaceful and calm. Cabinets with these hinges are also great for allowing you to simply nudge the door in the direction of closing, and the hinge will do the rest the of work. This is particularly handy if you have an armful of groceries or plates.
Soft-close hinges and drawer slides work based on hydraulics that provide resistance, which keeps the cabinet doors from noisily slamming. Drawers work similarly, providing resistance on the sides along the rail. According to co-founder and cabinet expert Andrew Saladino at Kitchen Cabinet Kings, "When the door is closed, fluid is forced around a piston, which provides resistance. If the door is shut harder, the resistance from the fluid is also greater. You'd have to have superhuman strength to actually slam a cabinet door that has a Blumotion or similar style hinge."
Upgrading your hinges and slides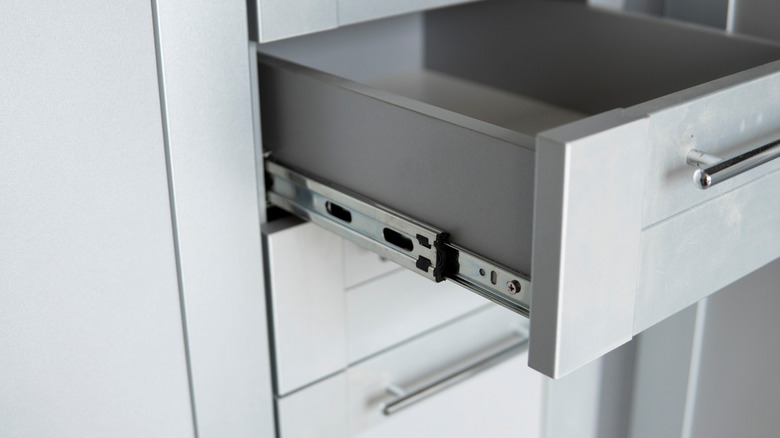 Volodymyr_Shtun/Shutterstock
As with the house David Bromstad and his client toured, this upgrade is particularly useful in older homes with excellent craftsmanship and solid wood cabinetry. They are particularly useful if you have children in the home or live with light sleepers and have a penchant for middle-of-the-night snacking. Even better, these hinges are a budget-friendly upgrade, especially when compared to outfitting the entire kitchen with new cabinets, which can cost in the thousands for high-quality ones and can result in a lot of demo and dust. 
Soft-close hinges for cabinet doors are available from Amazon in a pack of 10 for under $20. Home Depot offers a similar set of 5 pairs for around $50. Drawer slides are slightly more expensive per set, but still economical, coming in at around $50 for 6 at Amazon. To install soft-close hinges, you will need the hinges and a screwdriver, manual or power. Remove the existing hinges and the small screws to install the new ones in their place. If the holes do not match up, you may need a 35mm drill bit to drill new holes for the new hinges. Since traditional hinges often use shallower holes and shorter screws, you may also need to deepen the holes to install the new hinges.