The Stars Of Fixer To Fabulous Say This Is The Perfect Paint Shade For Your Outdoor Space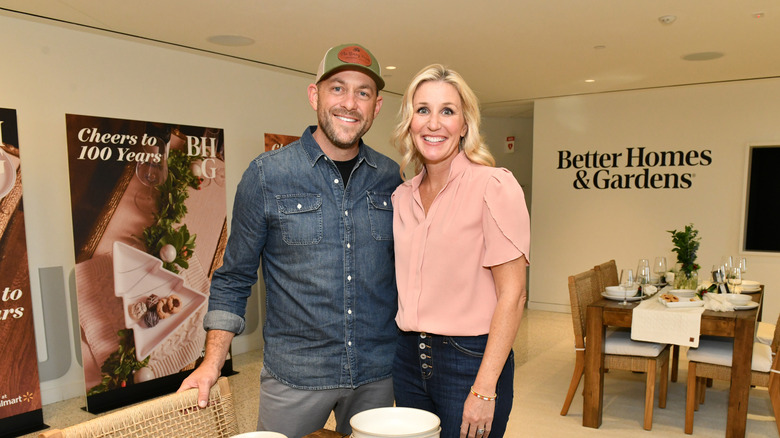 Craig Barritt/Getty Images
HGTV hosts Dave and Jenny Marrs are known for their stylish and contemporary renovations on their show "Fixer to Fabulous." The couple has a knack for choosing and predicting trends in color, both for interior spaces and outdoor ones. The Marrs recently posted on Instagram about their love of mixing shades of blue with wood tones to warm up outdoor spaces, which may seem contradictory given blue's reputation for cooling. But by choosing the right shade of blue, in this case, a deep blue-gray, and mixing it with warmer wood-rich wood tones, the outdoor space balances nature and color perfectly.
While many designers tend to espouse neutrals for outdoor spaces, given their versatility and amenability with the surrounding flora, the Marrs take a more varied approach, often pushing homeowners to use the colors they love regardless of trends and which make the most sense. The exterior color combo of blue-gray and wood tones is an innovative twist on advice from other HGTV designers, like Nate Berkus and Joanna Gaines, who heavily favor neutrals.
A new neutral
Dave and Jenny Marrs' love of blue as a perfect outdoor color makes a lot of sense. Most people immediately think of neutrals like brown and gray when decorating outdoors or using green to blend in with the landscape. While not technically neutrals, green and blue can often serve in that role, their hues plucked directly from nature in the form of the surrounding greenery, the sky, and bodies of water. In the Instagram image, the shade Sherwin-Williams Charcoal Blue is stunning on the brick exterior, which complements the warmer wood door and stylish seating arrangement in cream. The color of the brick is echoed again in a series of throw pillows on the sofa in a number of lighter and darker blues with the same gray tones. A mix of plants and a small round accent table that echoes the blue and wood tones tie it all together. 
Blue is often cited as one of the most calming colors, which means it is often ideal for natural spaces designed for relaxation, like porches, balconies, and decks. Blue will usually complement greenery even in these intentional spaces, much like in natural landscapes. By virtue of this, it works like a new neutral in many ways, complementing the wood tones while still being more visually interesting than gray or brown. A blue-gray shade works great for home exteriors, outdoor furniture, trim, and decor.
Using the color in outdoor spaces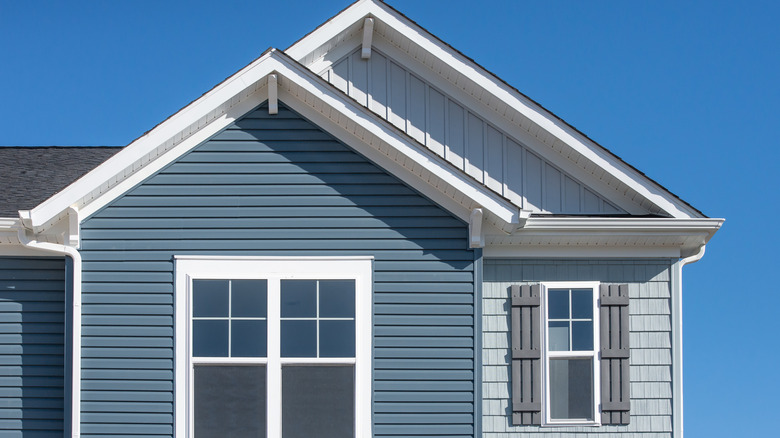 tokar/Shutterstock
There are a number of blue-gray shades that are a perfect match for the exterior brick featured by Dave and Jenny Marrs, including Behr's Charcoal Blue ($56 per gallon).  If that's not exactly your speed, it's easy to find options that are similar in hue, including Benjamin Moore's Vanderberg Blue ($59 per gallon)  For a lighter color more reminiscent of the sea or sky, opt for shades like Behr's Peaceful Blue ($56) or Behr's Intercoastal Gray ($67).
As shades inspired by the sea and the sky, these colors mix well with a variety of wood finishes like oak and walnut, particularly those with tones that warm up the cooling effects that blue typically has, resulting in rich, textured spaces. Other shades of blue have a bit of warmth, like Behr's Aqua Gray ($67 per gallon) or Behr's Seven Seas ($242 for 5 gallons), which are similar to the above darker shades but add a tinge of red.