The Stunning Fixer To Fabulous Paint Hue That'll Add Timeless Charm To Your Home's Exterior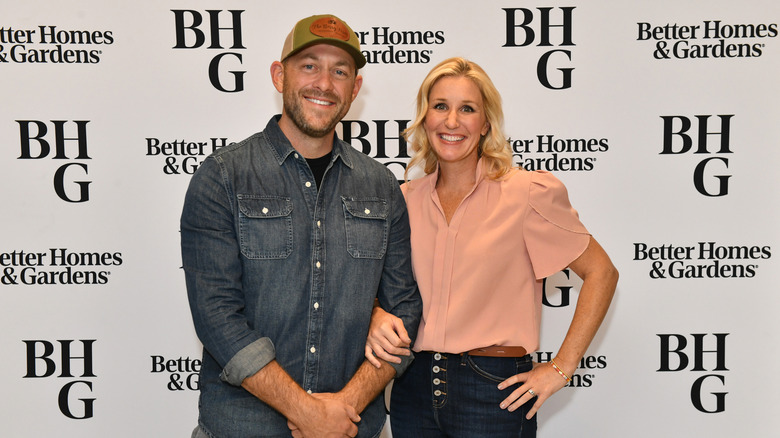 Craig Barritt/Getty Images
In an episode of HGTV's "Fixer to Fabulous," hosts Dave and Jenny Marrs tackled a project to update a charming craftsman-style home's interior and exterior. Uninspiring vinyl siding in a drab neutral had been installed at some point, spoiling the look of the home's facade. Jenny's vision was to remove the siding and add a beautiful, calming green to the original clapboards which had been perfectly preserved. She chose Ball and Farrow's Lichen for the exterior color. This soothing hue made the outside of the home absolutely glow.  
"We love working on historic homes," Jenny posted on Facebook. "There is a charm inherent in the craftsmanship, and our job is simply to uncover and restore the original beauty." The house, a hand-built structure in 1901 is located in Rogers, Arkansas. Owned by Dave and Jenny's crew member Derek Hillyer, the team had a lot of work to do to bring out its historic charm with the help of a fabulous exterior color. 
Choosing colors for a charming home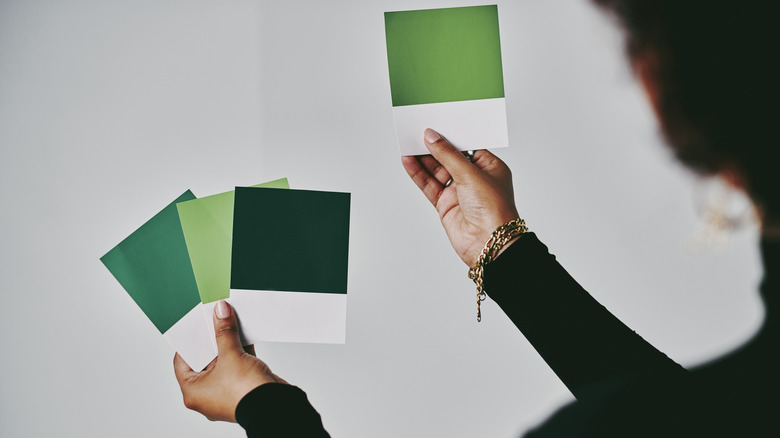 Delmaine Donson/Getty Images
The lovely, botanical green exterior makes this home look distinguished, yet peaceful and welcoming. Jenny Marrs added Farrow and Ball's Lime White for trim, and Card Room Green for the new roof's shake shingles. The combination of rich green walls and contrasting roof and trim give the house a look that's "timeless, historic and pretty," according to Jenny. With heritage-inspired lighting and a front door handmade by Dave and Derek, trimmed with antique hardware, the exterior's curb appeal was boosted even higher.
In the episode, both Dave and Jenny comment on the quirky charm of the house with its nooks and crannies, yet the couple was able to place a modern twist on the sturdy bones and clean lines of the house, making it a perfect retreat for a contemporary family. The project included removing interior walls, opening up the living room to the upgraded kitchen, the addition of a powder room and a fireplace, and creating a playroom from an unused attic.
Muted green brings nature home
Farrow & Ball, a luxury paint company based in Dorset, England, describes Jenny's favored color, Lichen, as a "calm and muted green named after the ever-changing, subtle color of creeping algae which ages stone so beautifully." Due to the underlying blue tone of the paint, the company declares it a color that feels at one with nature. A remarkable blend of sage, olive, and moss, Lichen, like all green exteriors, evokes woodlands and foliage in an energetic, life-affirming manner. Adding a brick walkway in the front yard, such as was done at the Hillyer house, contrasts beautifully with the dignified, refurbished exterior color.
A medium green exterior is a color that's becoming more popular with much of the homeowning population. The tone is particularly suited to houses built in a straightforward style such as craftsmen and Cape Cod homes. While understated neutrals are still the most popular colors for exteriors, consider the setting, architectural style, and vibe of your home when deciding if this soothing green could be right for you.