The Christmas Hack That'll Make Even The Saddest Wreath Look Like A Million Bucks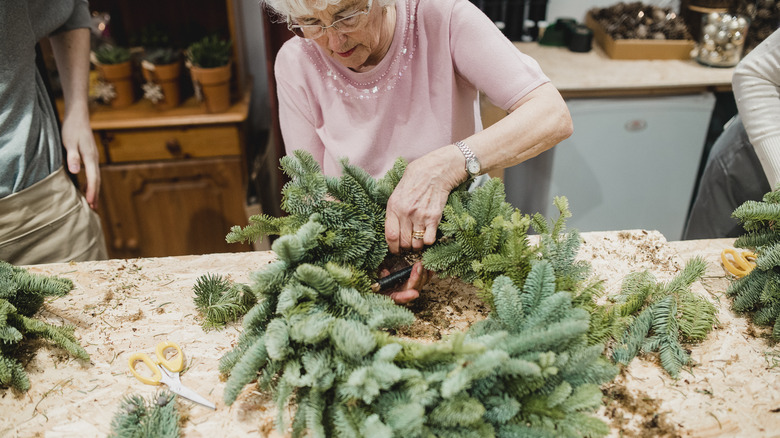 Solstock/Getty Images
Decorating your abode with Christmas lights, trees, garlands, and wreaths is the most exciting time of the year. Everything feels festive, putting you in a jolly mood. We can't get the season started without the inflatable Santa Claus and reindeer in our front yards or the twinkly lights hanging from the house. One embellishment folks have loved so far is DIYing Christmas wreaths, because they're easy to make. They're perfect for displaying on your dinner table, and some folks have even begun decorating their kitchen cabinets with wreaths. If you've been thinking about replacing your old wreath, you'll want to think twice before tossing it out. Instead, you can revive your wreath to make it look brand new by layering it with ribbons, ornaments, twinkle lights, and other wreaths.
Even if you don't have a wreath, you don't have to spend too much money on a new one. Purchase a couple of small wreaths from the Dollar Tree, Hobby Lobby, or JOANN and decorate them yourself. TikTok user @_thelittletownhome_ layered a standard pine wreath over a cranberry wreath using zip ties and placed a gorgeous red glittery bow in the center. She displayed it on her front door, and you can replicate it by purchasing a pine wreath from JOANN and a cranberry wreath from Five Below. DIY a bow with ribbon or buy one from Hobby Lobby, and put it all together. However, if you already have a wreath, here's how to make it look fresh with a Christmas hack.
Give your wreath a fuller look with décor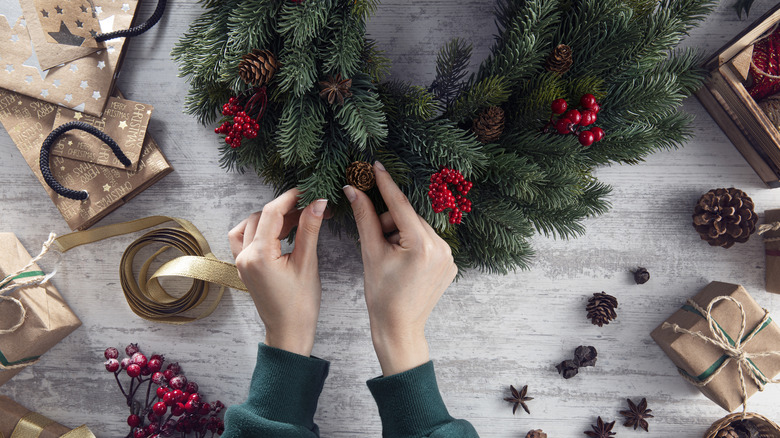 Anilakkus/Getty Images
Older wreaths that have been boxed and unboxed every year won't always look like you bought them that season. It might have a few patchy areas, the color might have faded, or the faux snow is gone, but that doesn't mean you can't revive it. Instead of throwing out your wreath, redecorate it to make it look fuller. For instance, spray your wreath with faux snow spray paint from Walmart to touch up the look of the original snow that has fallen off. In addition, wrap a thick piece of ribbon around the wreath to cover up the patchy areas. You can also make it look like a candy cane, or create ribbons and zip-tie them over the sparse places.
For a more homey feel, fill your wreath with natural elements such as pinecones or dried orange slices. They'll fill in gaps and make the wreath smell warm and cozy. If you want a larger wreath, you can always layer it over a new wreath. Dollar Tree has beautiful snowy pine wreaths with berries, leaves, and small branches for $5. They can enhance the look when layered with your older wreath. Use zip ties or a hot glue gun to secure the wreaths together, along with the embellishments you use. Just remember that when decorating and making your wreath look fuller, choose colors that match the rest of your Christmas decorations to create one cohesive look for the season.