DIY Festive Christmas Door Corner Decor With This Easy Pool Noodle Hack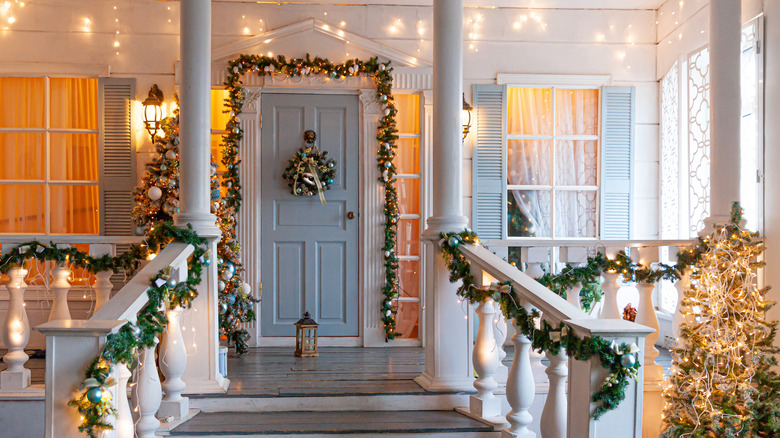 Julia Zavalishina/Shutterstock
Colorful foam pool noodles are usually spotted poolside as part of summertime fun. But they have recently been cropping up more and more in all manner of crafting and DIY projects, from unique accent pieces to fun furniture modifications. The holidays, in particular, pose a great time to use these fun and inexpensive foam cylinders to create festive décor for the season. By carefully wrapping pool noodles in Christmas garland and covering them with ornaments, you can create unique and distinctive corner door frame pieces that are an excellent accompaniment to hanging wreaths and other holiday finery.
All you need is a pool noodle, pine garland, and square wreath form (all available from Dollar Tree), as well as wire cutters, green pipe cleaners, some ornaments, and adhesives like hot glue or E-6000. At under $10 in materials, this DIY is a great alternative to purchasing premade holiday wreaths and garlands from craft, floral, or home stores.
Making a garland corner piece
To create a festive L-shaped corner form above your door, begin with the square wreath hook, cutting it at the corners with wire cutters to make two L-shapes. Cut down the pool noodle to cover each side of the form, securing it to the frame with two green pipe cleaners. Secure the end with a dab of glue, then begin wrapping the garland around the L-shape, making sure to cover any visible foam. Cover the end by creating a ring of glue and adding more garland. Add the ornaments with glue, adhering them to both the garland and to each other for a more secure hold. Use two more pipe cleaners around the upper part to create hooks for hanging. Two Command Hooks can hold the piece above the door frame.
You can also create two vertical lengths of garland for each side of the door using the same method. Wrap them with some ribbon and ornaments secured with glue. For a more lushly abundant rustic look, use a garland that is bushier and fuller, like this one from Michaels with pine cones. Dollar Tree also has many different garland options, including multi-colored tinsel and pre-decorated garland. Add some battery-operated twinkle lights to make the corner piece even more festive. You can also wrap the decorated foam pieces completely around the top and sides of the door.