Turn An Ordinary Space Into A Stunning Home Office With This IKEA IVAR Hack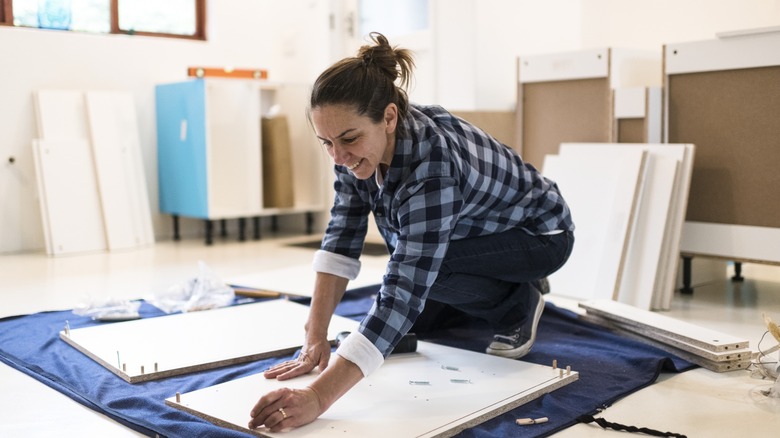 Pixelcatchers/Getty
We may receive a commission on purchases made from links.
If you spend a lot of time in your home office, you deserve to create a space that's comfortable, functional, and aesthetically pleasing. There are small things you can do to give your home office a makeover, but if you're in the mood for a bigger change, it's time to look into built-in cabinets and desks. Getting a true built-in is a major project, but there's a DIY hack for making your own stylish cabinets that have a built-in effect. As shared by TikTok user @kinandkasa, this DIY idea calls for several IKEA IVAR cabinets, paint, hardware, and, if you want, extra wood for additional details. 
The IKEA IVAR cabinets are perfect for custom DIY projects — they're made from sturdy pine wood, and with no details or finishes, the IVAR cabinets are a blank slate that you can customize any way you wish. For the barebones version of this project, you'll just need enough cabinets to fill out your wall, paint, and cabinet knobs. In terms of budget, each IVAR cabinet costs around $130, and you can get cabinet knobs from The Home Depot for less than $2 each, like this Cavalier Antique Brass Cabinet Knob. Paint can get a little expensive, but for a brand that errs on the cheaper side, check out Rust-Oleum Chalked Ultra Matte Paint, available for about $22 on Amazon. If you have extra room in your budget, you can incorporate woodwork, wallpaper, and other decorative elements you might like in your dream home office. 
DIY a home office with the IKEA IVAR
Before you install the IKEA IVAR cabinets, decide what you want to do with the wall that will be behind the cabinets. @kinandkasa, for instance, created some wainscoting for the wall. The wainscoting adds texture and evokes an old-fashioned vibe that can work well for a lot of home library and office aesthetics. The cost to install wainscoting can be high, but you can make easy wainscoting for a small wall space with a product like TriMold self-adhesive wall trim. If you want to have a baseboard for your built-in cabinets (which is completely optional for this project but certainly adds a nice finish), use 2 x 4 boards to build a raised platform along the wall on which you can put the cabinets, and then add a baseboard at the end of the project. Baseboard moulding is easy to find, like this Reliabilt Colonial Baseboard Moulding. 
For the cabinets, assemble them following the IKEA instructions. Place the cabinets along the wall, either on the platform you built or directly on the floor. If you've chosen to leave gaps between cabinets, you can create open shelving by sliding in and securing wood boards. Next, create a continuous top surface for your built-in cabinets. Using wood glue, install a large wooden board across all of the cabinets. Then, prime and paint the cabinets in whichever color you desire. Finally, add knobs to all the cabinet doors to complete the look.
Customize your home office built-ins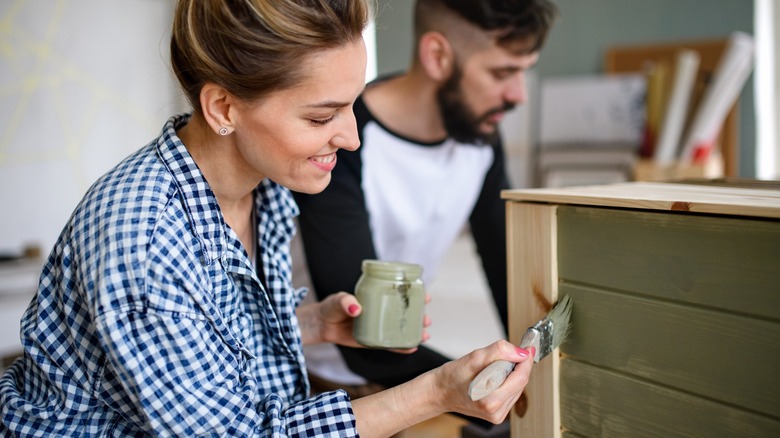 Halfpoint/Getty
You can take this DIY office idea in many directions. One option is to mimic @kinandkasa's entire process, but it involves additional features that won't work for every space and could be overcomplicated for some folks. Don't feel like you need to add a platform and a baseboard — it looks nice, but the IVAR cabinet will look just as nice sitting directly on the floor, and there's no reason to spend the money and time on an extra woodworking project if you're not interested in it. Along similar lines, you don't need to do wainscoting on the wall. Instead, make a simpler decorative wall with paint or wallpaper. Another great idea is to make the wall a functional part of your office by mounting a bulletin board or white board. And, of course, don't hesitate to be creative with your cabinet hardware. If you like, splurge on something fancy, like these Anthropologie Nena Flower Knobs.
For the construction of the cabinets, consider whether you want to leave leg space for a chair. If your home office is small, the cabinets can double as a built-in desk. This is a DIY desk that anyone can build: just measure how much space you'd need for a chair and legroom and leave a gap between the cabinets. The wooden board you use for the top of the cabinets will then form the desk. With these extra touches, you'll soon have a fabulous home office space.