The Stylish Wooden Key Holder Anyone Can DIY
We may receive a commission on purchases made from links.
For many of us, throwing our keys into our drawers or bags when we get home may be second nature. However, crafting your own DIY wooden key holder, as shown by @theflippedpiece on TikTok, could help you become more organized but could also help to give your keys a stylish place to live. Of course, it's also perfect if you want to get creative and don't want to spend a fortune trying to find something that doesn't quite look right. This way, you can customize it to suit your style exactly how you like — no questions asked.
As you're crafting it, you'll also get to decide how many keys you want to hang, so it's perfect if you're looking for something that can hang multiple keys that you would otherwise struggle to find. It can also prevent you from having to spend money on numerous key holders. All you'll need is a handful of items, and you're ready to go. So, how exactly can you recreate this stylish wooden key holder for yourself? Let's take a look.
Prepare your piece of wood
For this hack, all you'll need is some painter's tape, screws, paint stain, some hooks to hang your keys, and a piece of wood in the shape of your choice. For example, you could choose a circular piece of wood, or a square, or select a larger piece of wood and cut out the shape yourself for a more customized look. You can grab one from 24HourCrafts for $2.39, or you can opt for a tree-themed look with this tree bark wood slice from Amazon for just $9.99. For squares, there is a pack of 8 for $17.99 at Walmart or a more rustic choice with a whitewash cutout plank for $5.28. It all depends on what type of look you want to go for. Likewise, instead of wood, you could also use bamboo as an eco-friendly option. 
If you're creating a custom shape, you first need to cut it to the shape that you want, such as a heart or hexagon. Once you're done, you can either paint your wood or use painter's tape to corner off and paint some sections of your wood with your paint stain. This will help to create a rustic look. For an even more precise line, apply some clear coat on the edge of your tape. You may also want to paint or spray paint your wood to suit your home's interior, whether that's gray, blue, white, or even a vibrant choice like pink or green.
You can customize it how you want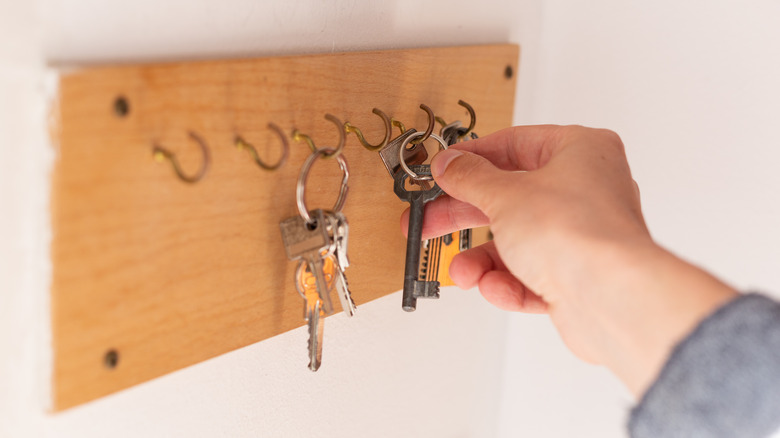 Robert Petrovic/Shutterstock
First, you need to plan out how many keys you want to hang; this way, you can insert one for each pair. Once you have a rough idea, simply insert your hooks into the wood using your screws wherever you please, ensuring that they're secure and aligned, which you can check using a ruler. This could be in one or two separate rows. You may also want to incorporate other types of hooks, such as small circular pieces of wood that mimic hooks rather than traditional ones. To personalize it even further, you could add small cutouts of family or pet photos, sticky notes to serve as reminders, or a small wooden box container to drop spare change into.
When you finish customizing your wooden key holder, simply hang it on your wall using a picture hanger and organize your keys. Just make sure you hang it somewhere safe and that it's far enough away from your letterbox to prevent someone from breaking in. For example, you could hang it in your kitchen or living room. It could even help you declutter your kitchen if you have a lot of keys. Now, you should be left with a stylish DIY wooden key holder so you have one place to easily store your keys.