The Stars Of Married To Real Estate's Advice On Combining Your Home Office And Your Guest Room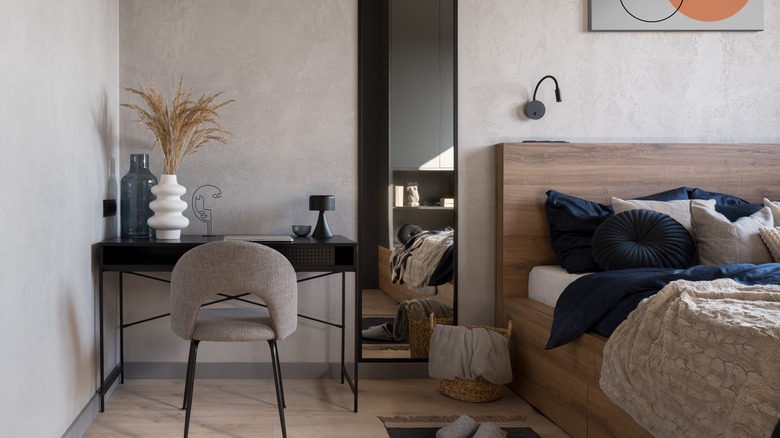 Dariusz Jarzabek/Shutterstock
We may receive a commission on purchases made from links.
Multifunctional rooms are a great hack for homes that don't have enough space. With versatile furniture and a flexible layout, they allow you to make the most of whatever square footage you have. One way to create a multifunctional room is to combine your home office and your guest room, and the stars of "Married to Real Estate" see multifunctional furniture as a major way to make this work. 
When remodeling a small bungalow, Egypt Sherrod and Mike Jackson have to be very strategic with the space. They combine the kitchen and living room into one open floor space, and then make the joint bedroom and office space feel more cohesive with a daybed, as seen on HGTV's YouTube channel. Before, the space felt like a normal bedroom with a desk added as an afterthought, but the addition of a multifunctional piece like the daybed that matches the desk and the rest of the décor made it feel more intentional and functional.
Multifunctional furniture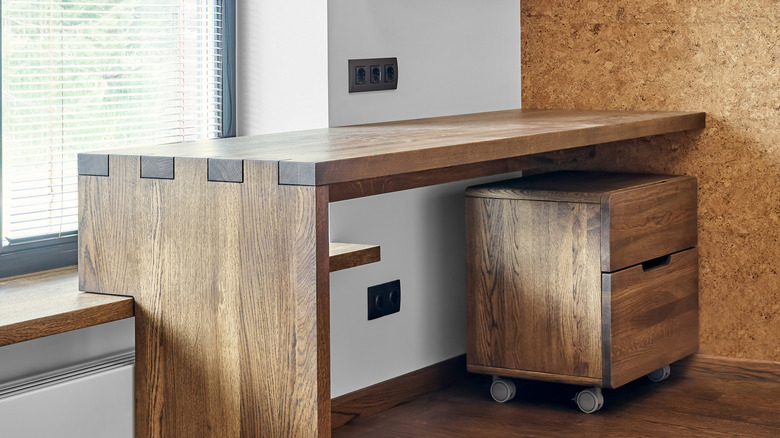 timltv/Shutterstock
In a similar project, the couple duo was tasked with transforming a spare front room into an office. They included a Murphy closet, covered it with bookshelves, and designed it to open into a bathroom. "I'm always trying to figure out how to make a room multipurpose," said Egypt Sherrod (via Realtor). By finding multiple uses for the closet, she was able to collapse all those functions into one wall of that small room. Hidden closets, sofas like daybeds and futons, and wall-mounted desks are just some examples of storage solutions that are great in a combined room.
To be truly versatile, multifunctional furniture pieces should have uncomplicated designs. Egypt Sherrod chooses a sleek, simple desk and chair combo so they don't lean too much into the 'office' vibe and feel overly serious. She also positions the desk against the window, letting natural light in and allowing the nice view to be enjoyed, per the YouTube video. This layout helps maintain a welcoming atmosphere in the dual-purpose space.
How to set up your own versatile space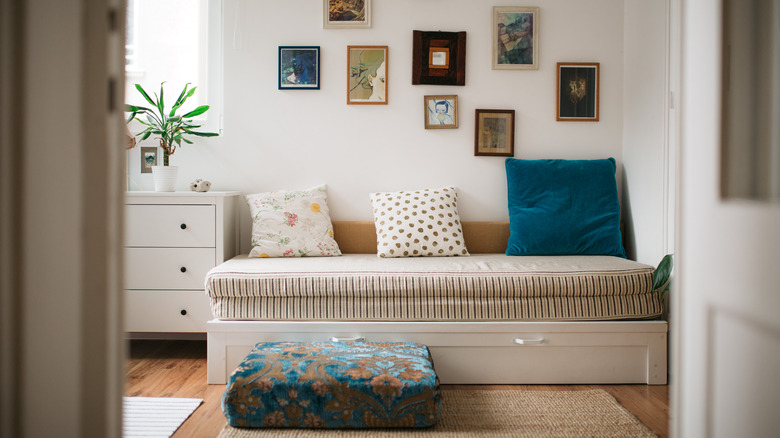 Ivan Pantic/Getty Images
Having a dedicated workspace can boost productivity , but it can be tricky to carve out such an area with limited space. Making your extra bedroom serve as an office will allow you to have this space for yourself while also having one to host guests. When designing your combined space, keep both functions in mind so you can tailor the setup appropriately. Another important thing you need to do is to establish a cohesive color scheme. A consistent color palette for the furniture and décor will blend everything well and create a harmonious look.
For example, a quality daybed like the Faria by Wayfair has storage compartments underneath, which means it combines not two but three functions into one piece. It has a simple, stylish frame and can be bought in either espresso or white to fit your theme. For the desk area, you can have decorative storage bins for both office supplies and personal items for guests. This 5-piece set of brown woven storage baskets from Target can be used for stationery and toiletries alike.