28 Stylish And Space-Saving Ways To Combine Your Bedroom And Office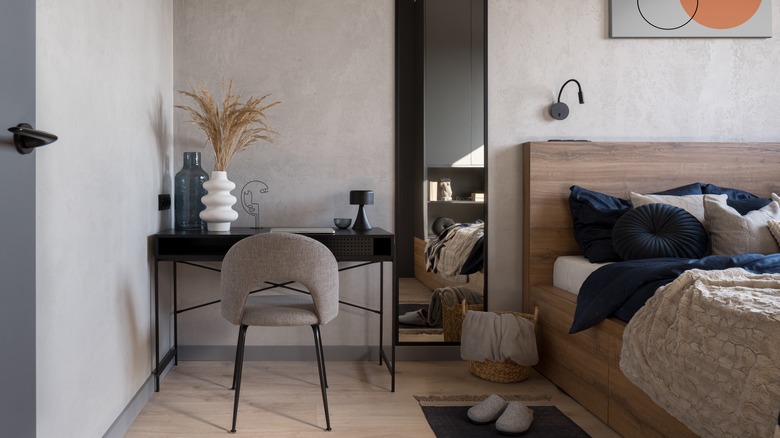 Dariusz Jarzabek/Shutterstock
While a well-outfitted home office in a room of its own is a dream many have, it's not always doable in smaller homes or shared spaces. It's easy, however, to create designated works space within another room of the house, including guest rooms or your own sleeping quarters. In an era of multiuse spaces, a home office is often a perfect addition to a bedroom space. Not only are bedrooms quieter and more private rooms away from the bustle of other rooms, many people like working in the coziness of (or in proximity) to their beds. 
While Maker Stations says it's important for sufficient sleep and mental heath to keep sleeping spaces as a place of relaxation, there are also ways to make a bedroom office still happen space-wise, but create distinct and separated areas if you like within the room itself. Whether you're looking to create clear delineation or create a cohesive and integrated design scheme for both functions, there are some key things to keep in mind.
1. Storage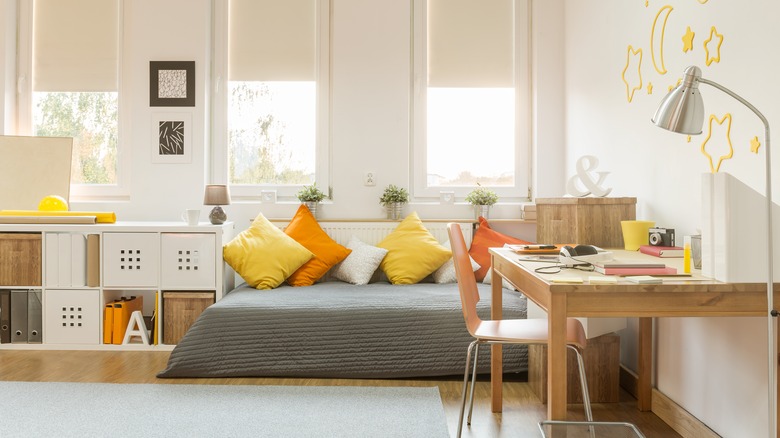 Katarzynabialasiewicz/Getty Images
This bright and colorful bedroom features a large desktop work area paired with ample cubed shelving for storage, as well as additional file cabinet storage nearby and a utilitarian steel floor light above. 
2. Eliminate clutter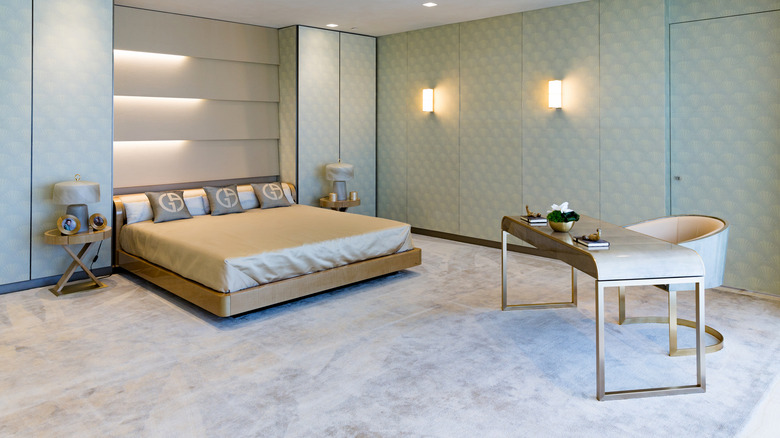 Bloomberg/Getty Images
Desk spaces can often become chaotic when things get busy, and a bedroom office is no different. A great way to keep your bedroom and workspace looking nice is to clear the desktop at the end of each work session, which allows the room to look orderly when not in use. 
3. Materials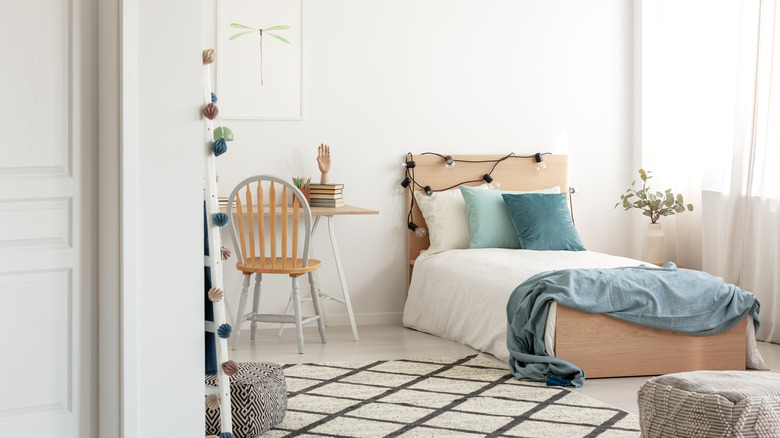 Katarzynabialasiewicz/Getty Images
Another excellent way to integrate your workspace seamlessly into your bedroom is to choose materials that are already present. Here, the light wood of the bed echoes in the chair and desktop.
4. Window nook desk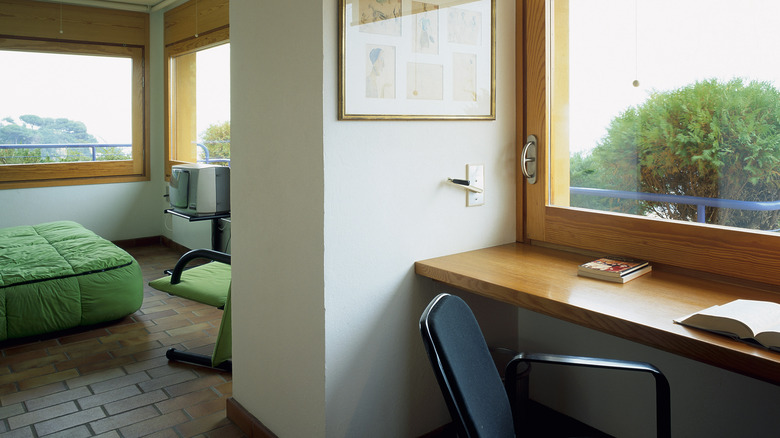 Construction Photography/avalon/Getty Images
Small window looks make a perfect place to add a built-in desk. This light-filled bedroom tucks an expansive desk space between two columns seamlessly, allowing the floating desk to look as if it was originally and intentionally part of the room's design. 
5. Chalkboard wall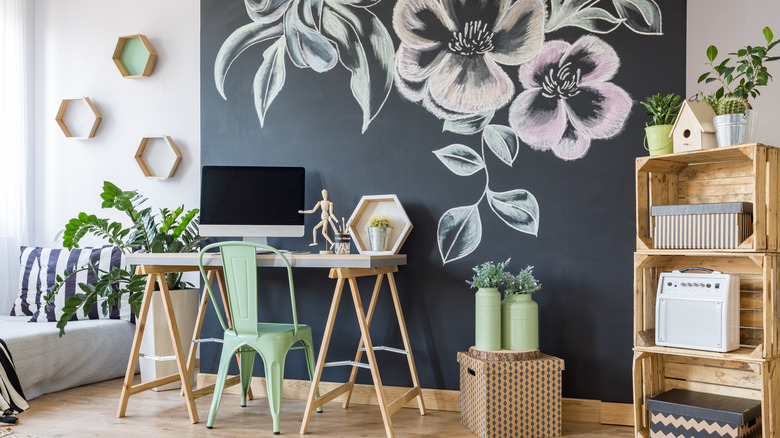 Katarzynabialasiewicz/Getty Images
A beautiful and useful way to designate an office area within the larger space of a bedroom is to paint an accent wall, in this case, using chalkboard paint. This black wall not only looks stylish and demarcates that area of the room, but also is good for notes, reminders, and artwork. 
6. Industrial style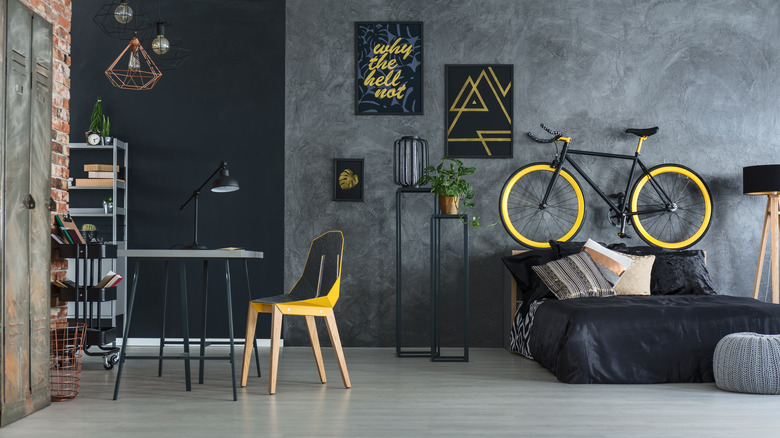 Katarzynabialasiewicz/Getty Images
If your bedroom space has an industrial feel already, a good way to add storage and work surfaces is to choose metal shelving and desks. The metal finishes will complement the materials and colors already present in the room.
7. Grid wall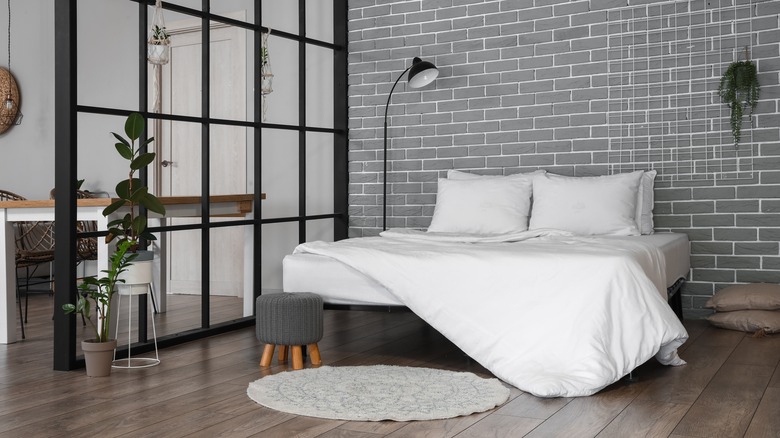 Pixel-Shot/Shutterstock
This amazing loft bedroom separates the desk area from the bed with a grid partition that still allows light and clear sightlines, but clearly defines the two areas as separate spaces.
8. Desk décor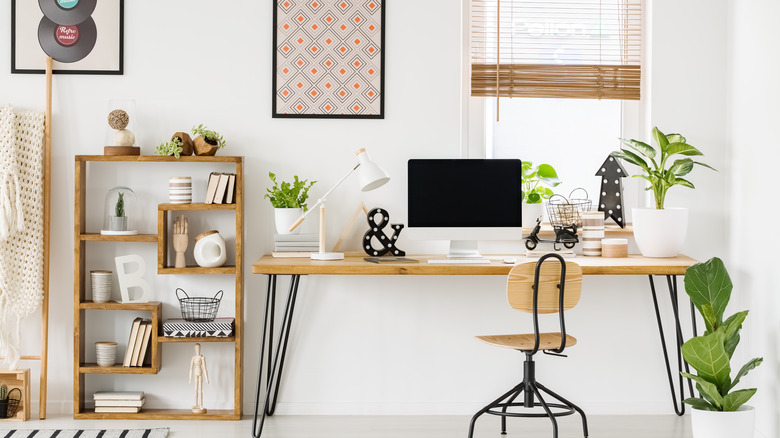 Ground Picture/Shutterstock
While your desk can be a place for work, in a bedroom, it can also be a great place to add décor that makes even the most mundane tasks stylish and fun. Here, a large desk and accompanying shelf houses both functional objects and purely decorative ones that define the room. 
9. Artwork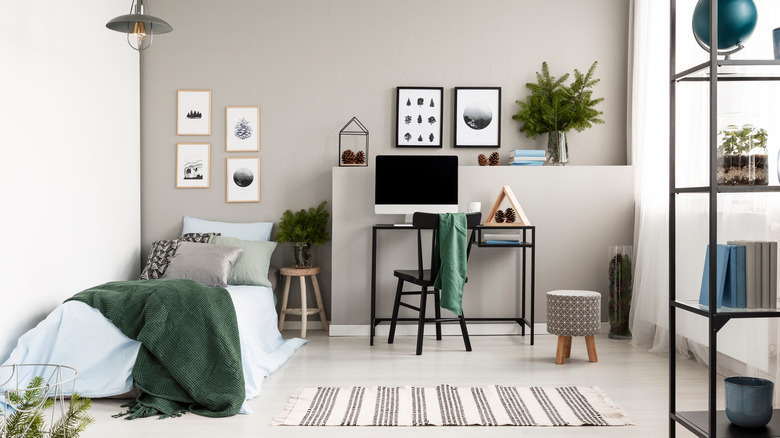 Ground Picture/Shutterstock
A key way to make your desk a seamless part of any bedroom is to surround it with artwork, which works particularly well to help give the room a cohesive feel. Here, the artwork on the wall and the contents of a low shelf created by a half wall help mask the presence of a large monitor. 
10. Lighting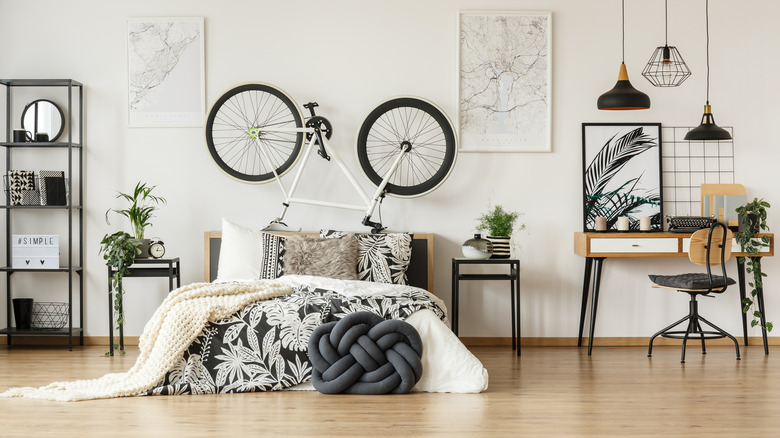 Katarzynabialasiewicz/Getty Images
While your initial impulse might be to use a basic, garden-variety desk lamp for light, there are endless other options that are as stylish as they are functional. Here, a trio of pendant lights above make the desk a centerpiece of the room.
11. Multifunctional spaces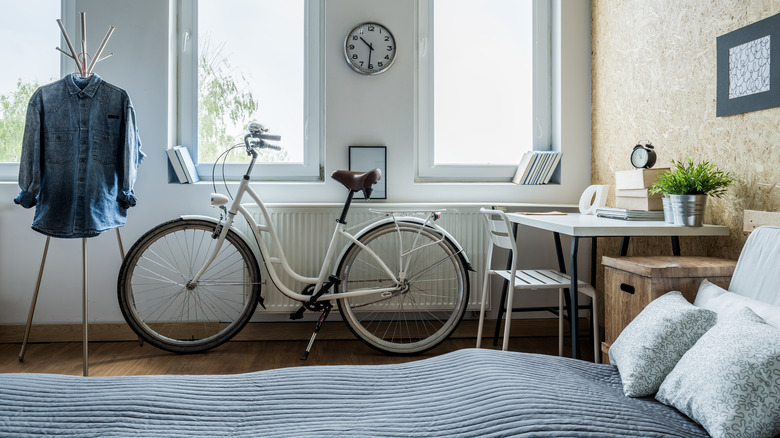 Katarzynabialasiewicz/Getty Images
In smaller homes or apartments, bedrooms also function in various roles, including wardrobe and storage. This multifunctional bedroom features room for other items while also providing a clean useful workspace with storage bins nearby. 
12. Light and bright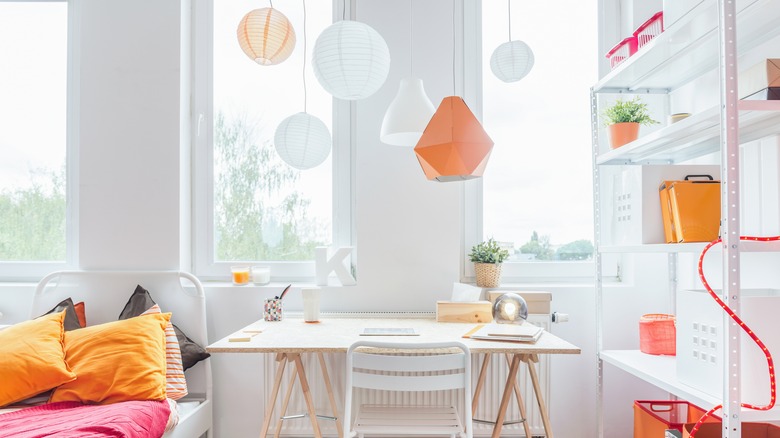 Katarzynabialasiewicz/Getty Images
Bright, sun-filled rooms immediately make any room feel larger. Here, a small space seems bigger by keeping things white and light with bright pops of color that tie it all together. 
13. Cohesive colors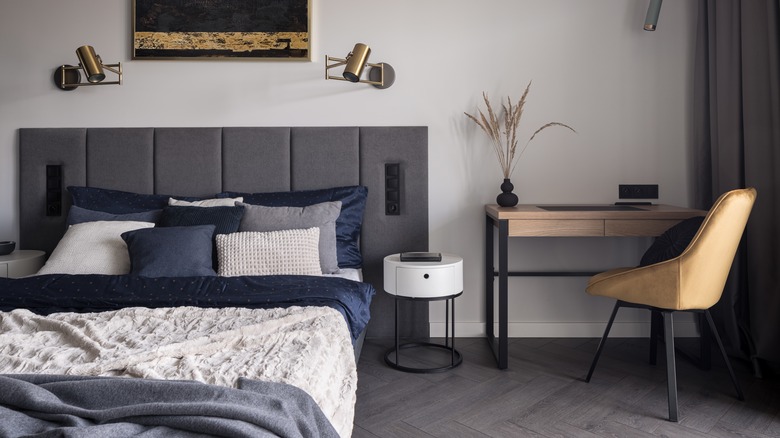 Dariusz Jarzabek/Shutterstock
One of the best ways to integrate a home office area into your bedroom is to make sure the workspace elements cohesively tie in with the rest of the bedroom's décor, creating an intentional space for rest and work. This modern and earthy bedroom does this by echoing the colors and materials of the bed and artwork above through the desk and chair.
14. Folding screen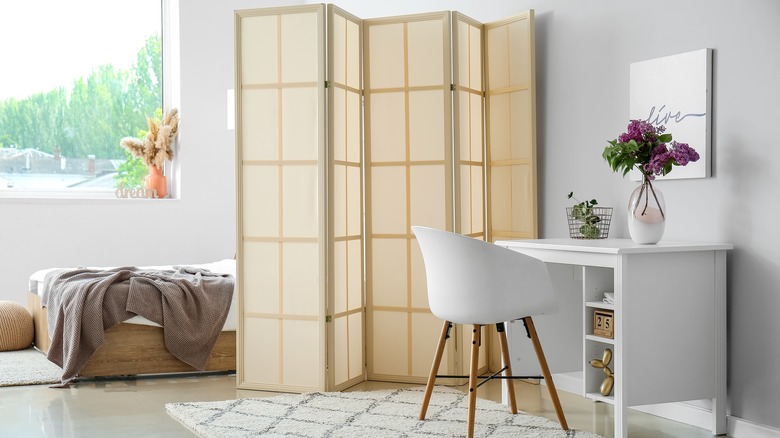 Pixel-Shot/Shutterstock
A folding screen or room divider is a perfect way to mark off a room into different zones in a room. This lightweight screen divides the desk area from the bed, allowing the work area and all its stessors to be out-of-sight from where you sleep.
15. Stylish seating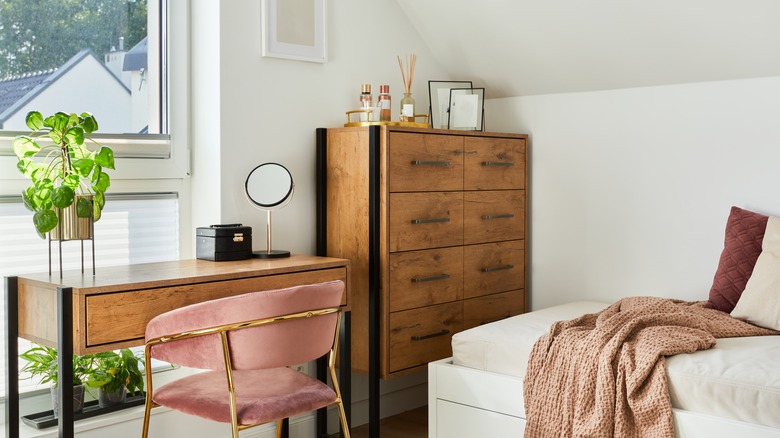 Followtheflow/Shutterstock
A good desk chair is a must, though you may be looking for something a little more visually interesting than your typical ergonomic office chair. This beautiful pink velvet deco style chair paired with a modern desk and bureau makes even this tiny room stunning. 
16. Paint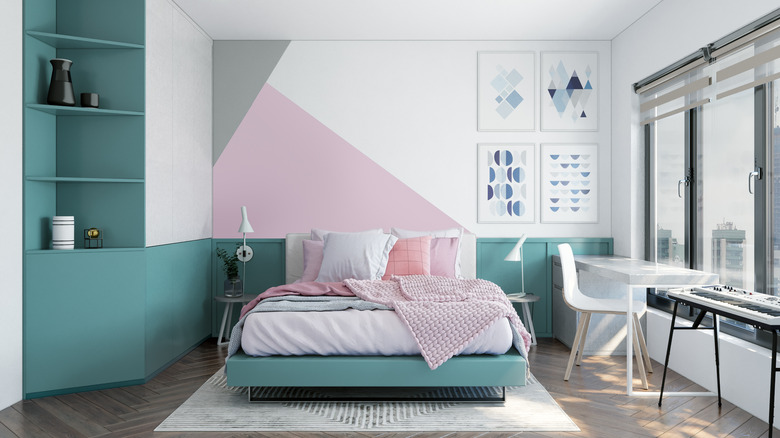 Tuan Anh Vu/Shutterstock
Another key way to separate zones in a room is by paint color. Here, a geometric accent wall in pink and teal separates the sleeping area from the desk and piano area near the window. 
17. Pattern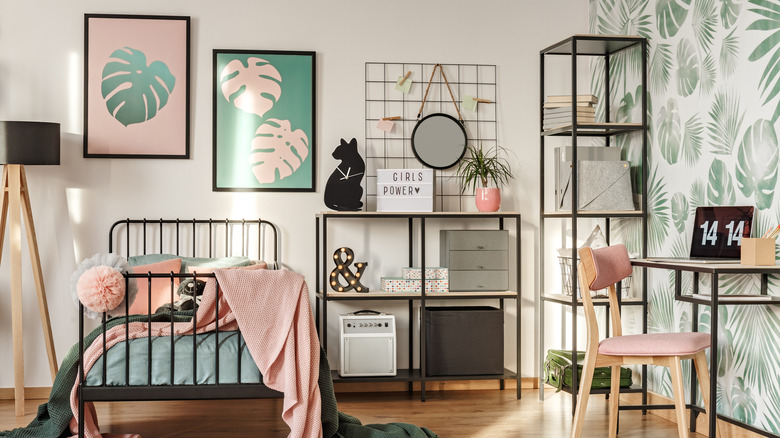 Ground Picture/Shutterstock
In this fun and bright bedroom and workspace, the motif of the palm fronds ties the room and its various functions together cohesively, appearing on the artwork over the bed and the wallpaper accent wall above the desk.
18. Clean and modern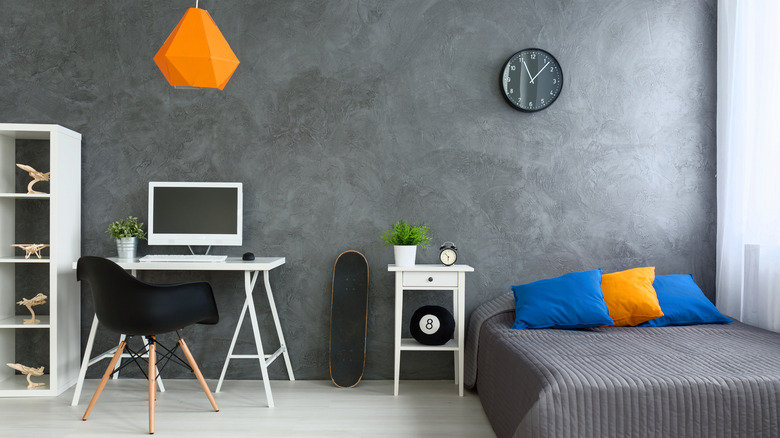 Ground Picture/Shutterstock
This fun gray bedroom combines a mostly monochrome color scheme with a few vibrant pops of shades like cobalt and orange. The bed's pillows are echoed in the bright, geometric lighting fixture above the desk, giving the space a very intentional feel. 
19. Window desk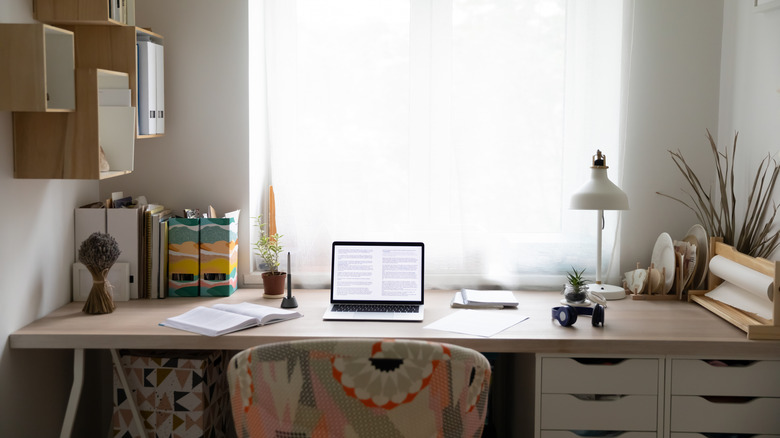 fizkes/Shutterstock
This window nook provides a perfect space for a large desk with ample storage drawers beneath. Additional floating shelves provides space for books and other essentials. The window adds additional light and a great view while working.
20. Comfy chairs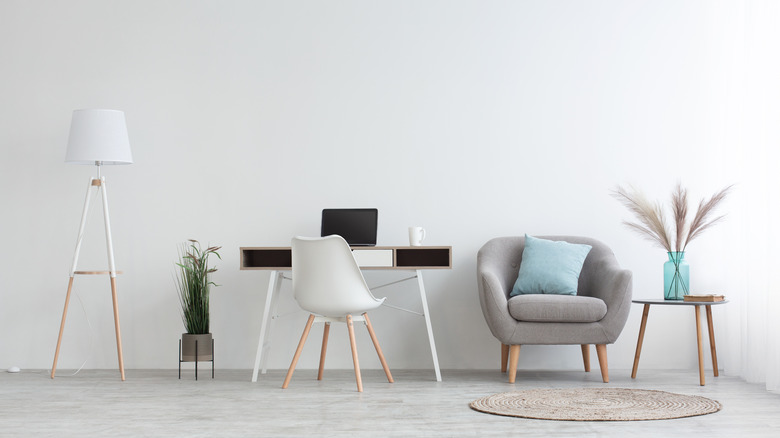 Prostock-studio/Shutterstock
If space allows, a great addition to a workspace area is a comfy chair. Perfect for reading or relaxing, an additional chair provides another seating option than the desk chair or bed. 
21. Built-in desk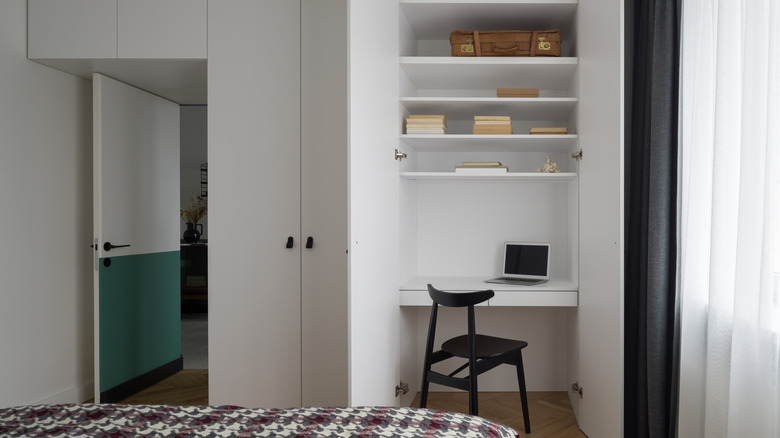 Dariusz Jarzabek/Shutterstock
Here, a wall of sleek cabinets and cupboards hides a small, secret desk and shelving up top. This option is great for hiding a messy desk or for spaces that double as guest rooms, keeping the office-function of the room out of sight. 
22. Shelves as partition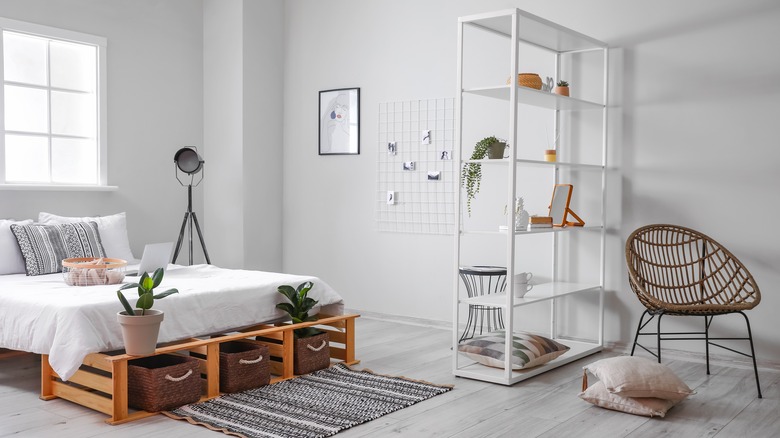 Pixel-Shot/Shutterstock
A utilitarian way to separate zones in a room is to use bookshelves as dividers, which provide much-needed storage on either side. Here, open shelves designate a separation of the bed area and the rest of the room while holding pillows and décor. 
23. Lofts and studio apartments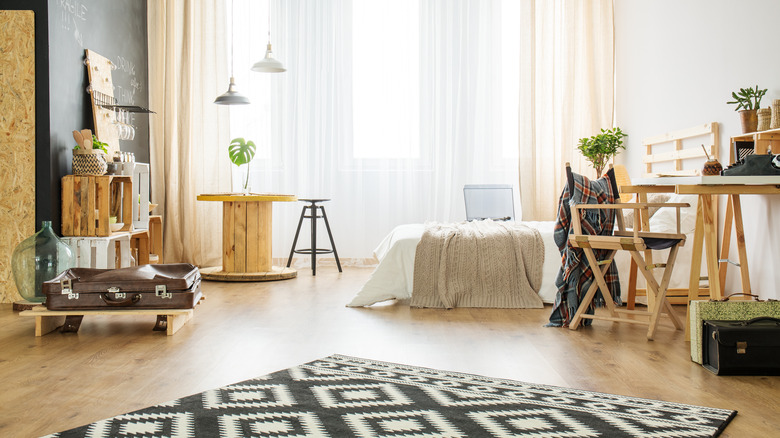 Katarzynabialasiewicz/Getty Images
Large, multiuse spaces are all the rage, particularly if you're living in a loft or studio apartment. Here, a desk setup fits perfectly into the room's décor where it echoes the wood of the table, crates, and pallets throughout the rest of the room. 
24. Curtains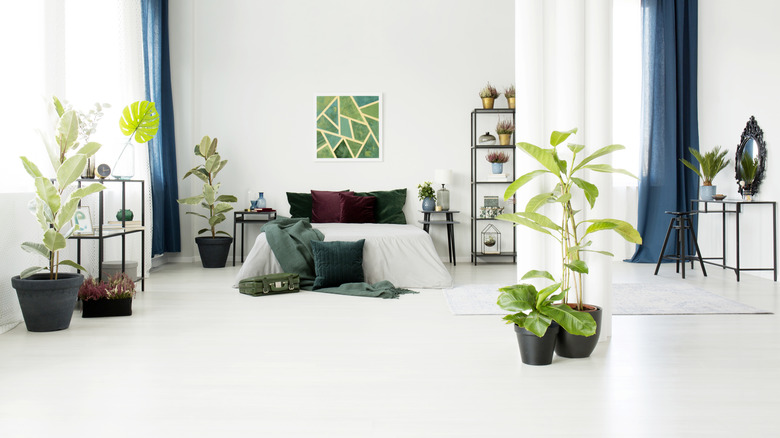 Katarzynabialasiewicz/Getty Images
Much like shelves or screens, full length curtains are also a romantic and boho-style solution to separating different areas of a room. This bright and dramatic bedroom features a simple white ceiling-height curtain to designate a desk (or here, a vanity) area.
25. Closet desk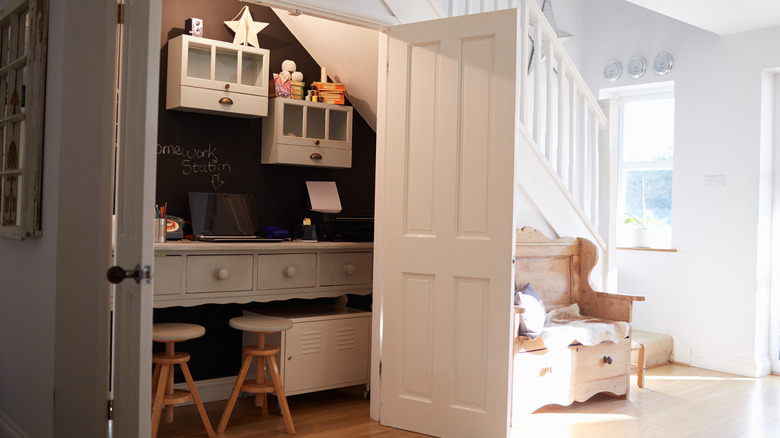 Monkey Business Images/Shutterstock
While closet space is always at a premium, an unused closet space (as seen here in a foyer) can serve as an excellent place to put a desk. The doors allow it to be shut away when not in use, and you can add storage underneath and above that keeps things organized and out of sight. 
26. Mirrors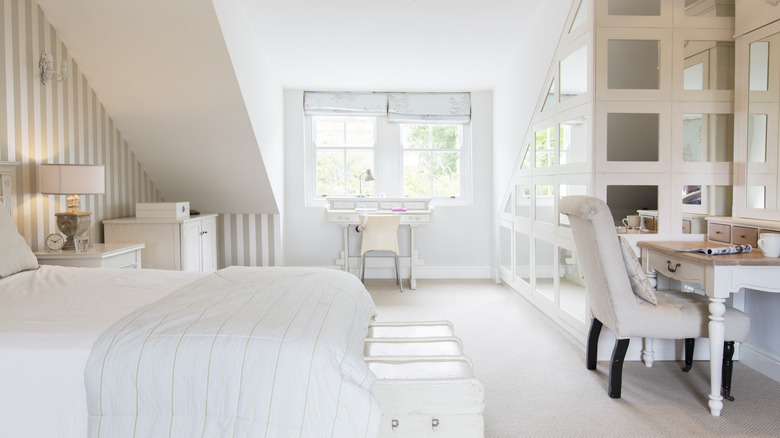 Astronaut Images/Getty Images
This attic bedroom features not just one, but two workspaces. While the ceilings are sloped, mirrored tiles on the wall give the illusion of more space in this room that belies its small footprint — a great solution to any multifunction room. 
27. Alternatives to a desk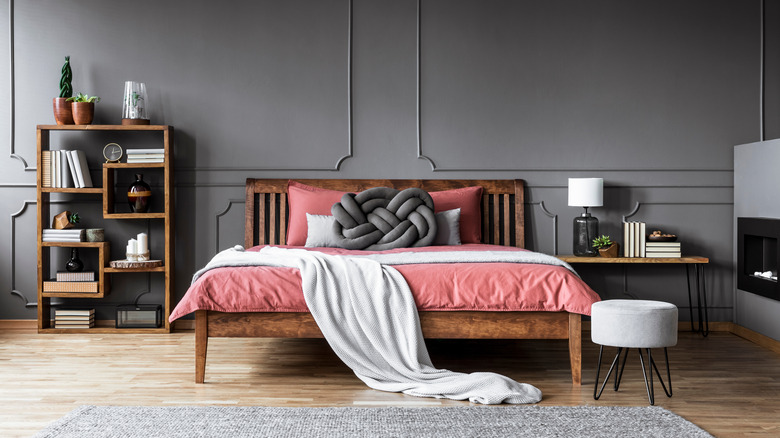 Ground Picture/Shutterstock
If you like to spend time working in your bedroom, but don't want to include a desk proper, there are other great ways to make the room still very functional as a working space, including attractive shelving for supplies and books, as well as a large bedside table that accommodates reading materials, technology, and other necessary elements. 
28. Lap desk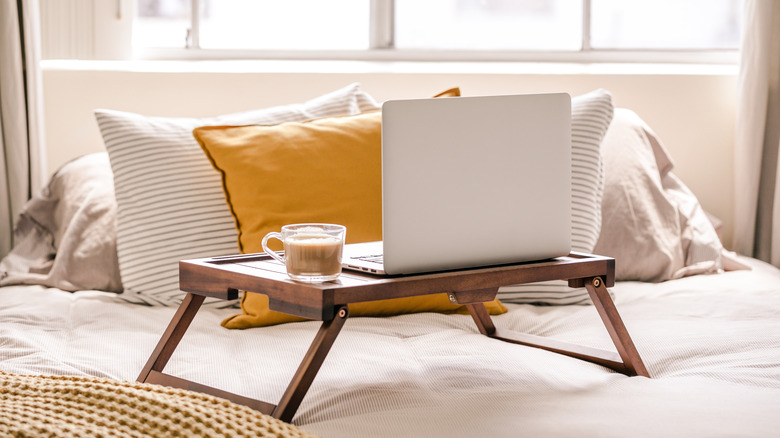 Lando Aviles/Shutterstock
Barring the room for a large desk setup in your bedroom, a small lap desk can work wonders if the bedroom is your favorite and most comfy spot to work. Combined with some nearby storage for things you'll need and technology, a lap desk is a great alternative if you like to work in bed.