This Is The Most Kid-Friendly Couch Fabric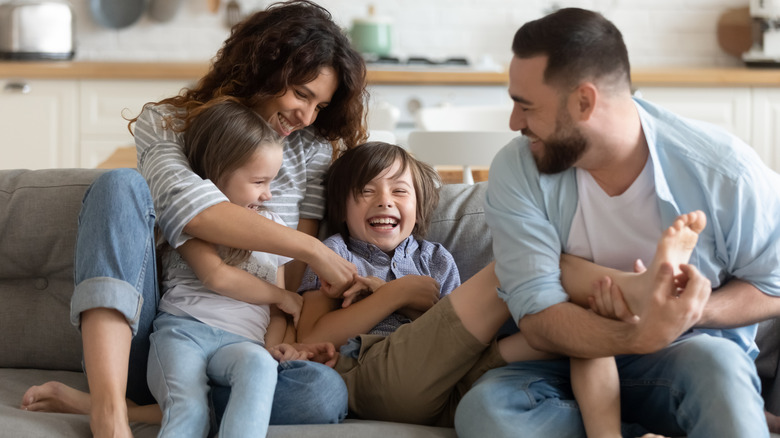 Shutterstock
If you're a parent, then you know that certain décor pieces aren't worth investing in until your kids grow out of their sticky-hands stage. Where there are kids, there are messes, and this leaves plenty of parents to wonder if they're destined to have dowdy furniture until their children become teens. 
But whoever said that utilitarian pieces have to be drab? There are plenty of kid-friendly couch fabrics that are as stylish as they are sturdy. You won't have to Scotchgard your furniture to keep it pristine when you have couches upholstered in one fabric in particular, which is both kid-proof and pet-friendly.
And it's forward-thinking to buy a couch in a durable fabric. The couch is one of the most heavily used items in the house, but the expectation for spills and messes on its cushions rises tenfold when you have a house full of kids. Juices get knocked over, markers leave streaks on cushions, and mystery rips happen along seams. But not all couch fabrics are created equally, and some are more kid-friendly than others. While certain upholstery fabrics are best used for pieces that are more decorative than functional, other fabrics can be put through the wringer and still come out looking new. Not even a brood of kids can make this couch upholstery look worn. Read on for the most kid-friendly couch fabric.
The most kid-friendly couch upholstery is durable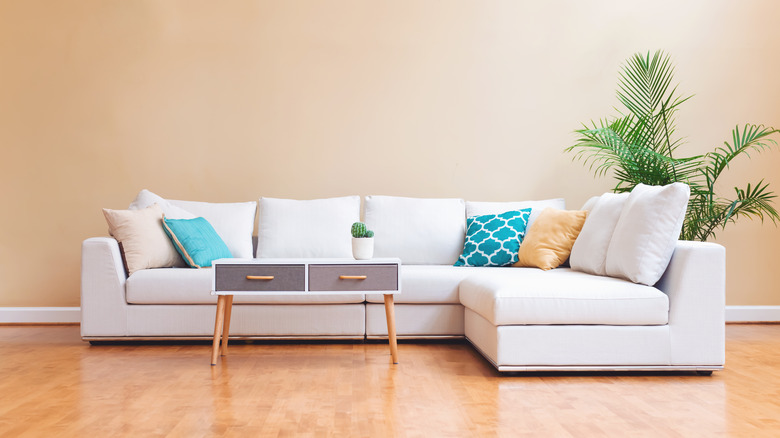 Shutterstock
When it comes to choosing kid-friendly fabric, you need to keep two things in mind: durability and stain resistance. Your best option is microfiber fabric, which lessens the appearance of wear and tear. Depending on its weave, it can mimic the feel of suede, velvet, or corduroy, making it a cozy pick for the family. But coziness isn't its defining factor — it's also one of the toughest upholstery fabrics.
According to Modsy, because microfiber is so tightly woven, it's one of the industry's "most durable engineered fabrics," which makes it particularly resistant to fraying and pilling. That means your kids can slide on and off the cushions all they want without creating wear. Microfiber also repels water, so all you need is a damp towel to clean microfiber furniture. The water will bead on top of the fabric, allowing you to quickly wipe it away without any damage done (via Apartment Ratings).
From sectionals to loveseats, microfiber couches are the perfect fit for a house full of kids — and the messes they inevitably make.