Why Peeling Paint In Your House Could Mean More Than You Realize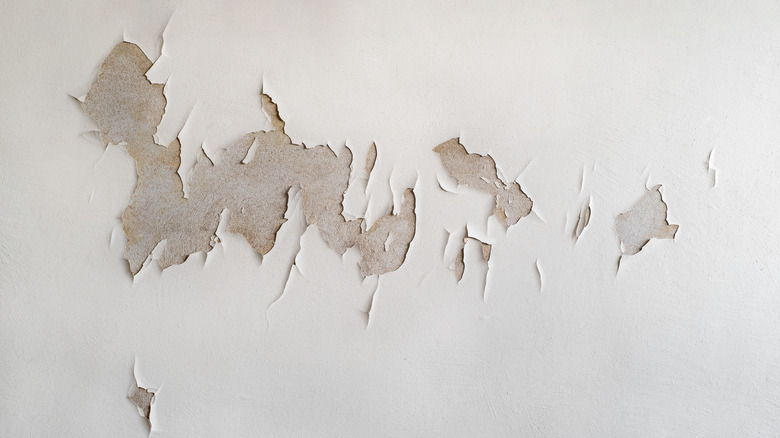 Shutterstock
A fresh coat of paint has almost a magic ability to transform a space. It can make a dingy space look fresh, a small room look large, or a cavernous space look cozy and welcoming. However, a lot of issues can crop up both during and after a paint job, even when it's done by a professional. "About one in 10 paint jobs goes awry," Sherwin-Williams Technical Manager David Chupka told This Old House.
One common problem that homeowners face is peeling paint. You might notice flakes of paint shedding off your wall and rush to call a professional to paint over it, but before spending that kind of money — $40 to $60 per hour on average and $2,400 to $7,000 for a single-story, 2,300-square-foot home with up to five painters (per Fixr) — it's wise to get to the bottom of the issue and find out what's causing the paint to peel in the first place. Keep reading to find out why peeling paint in your home could mean more than you realize.
Reasons why your paint is peeling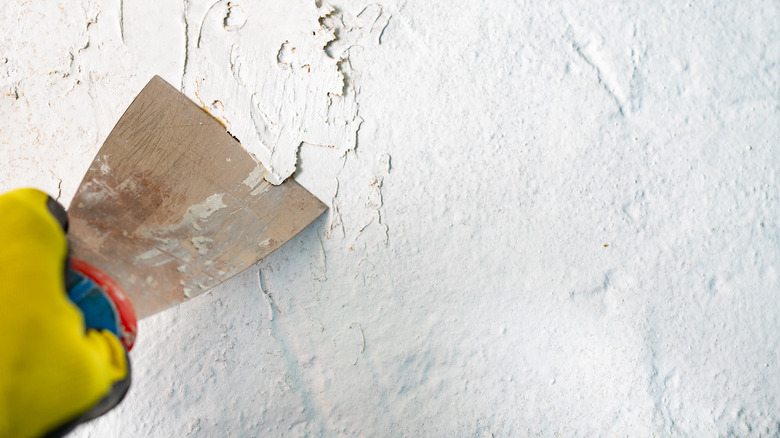 Shutterstock
Whether you're thinking about trendy paint colors for your abode or perhaps a chalkboard paint wall, there are several important factors that contribute to a high-quality paint job that lasts. David Chupka of Sherwin-Williams told This Old House that peeling paint often occurs because of people "cutting corners — not sanding, not scrubbing, painting just before a storm, and ignoring long-term moisture penetration." Rooms with increased humidity and moisture, such as bathrooms or kitchens, wreak havoc on painted walls, so keeping the relative humidity in your home between the Energy-Star recommended 30% and 50% can help keep painted walls intact.
Watching paint dry can be dull, but it's an important step! Severe cracking or "alligatoring" can happen if you don't allow your paint enough time to dry between coats, notes BobVila.com. Another culprit is purchasing low-quality paint, which can peel. And then it's not such a bargain after all, is it? If you painted your walls when they were moist or dirty, that could also cause the paint to peel off because it hasn't properly adhered to the wall.
According to The Home Depot, if your paint is only peeling in small sections, it can be an easy DIY fix in under two hours. It requires smoothing the wall's surface, evening out the texture, spackling, and then waiting 24 hours for it to sufficiently dry. After that, you are ready to prime and paint properly, and it should be smooth sailing from there.