Should You Be Home When Maids Come To Clean Your Home?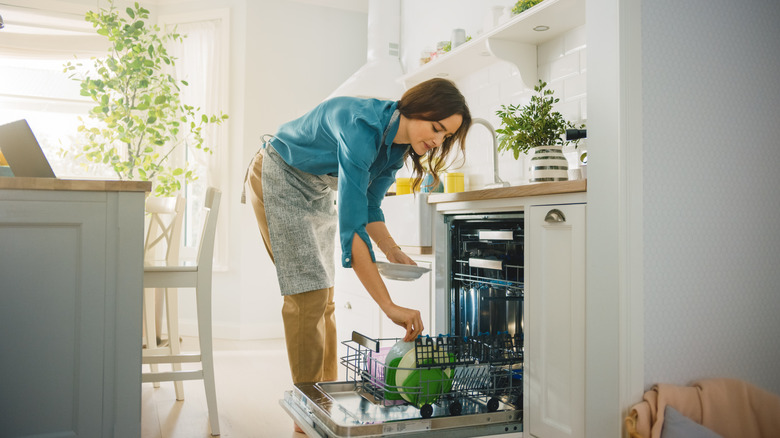 Shutterstock
Running your own household can come with a whole slew of important things to consider, including outsourcing your cleaning tasks by bringing a maid on board to scrub the bathtub, make your baseboards sparkle, or spot-proof your stainless steel appliances. However, the cost of hiring a maid isn't cheap. According to HomeAdvisor, it can cost anywhere from $116 to $235 to hire a maid to clean your space in 2021, with an average rate of $168. Typically, the rate is calculated by several factors, including your home's square footage, if the service is recurring, or it will be hour by hour, in addition to cleaning type and geographical location.
Wakefield Research monitored the time it took 1,000 people to clean their homes each week, and here's what they found in the 2018 ACI National Cleaning Survey Results. It took 15% of people five to six hours each week to clean, averaging six hours. The survey concluded that 28% of people clean for seven hours or more every week. The cleaning time increased for people with young children and those with furry friends, which can add hair, dirt, and debris.
With this time commitment, it's easy to see why people prefer to outsource their house cleaning, and finding a housekeeper who you can count on and trust is of utmost importance. This often begs the question, "Should you be home when a maid comes to clean your home?" Read on to find out the answer to this ever-popular household dilemma.
Hire a maid you feel like you can count on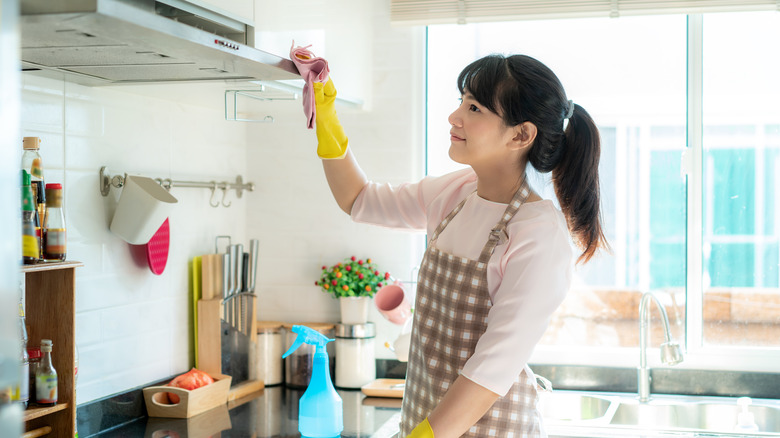 Shutterstock
There are several reasons why a homeowner may want to stay home while their house is being cleaned. Some of the main concerns include: Can I trust a stranger with my possessions? Can I rely on them, and will they do a good job? "Homeowners are looking for someone to count on," Betty Nicholson, owner of Mothers Cleaning Co-Op told Angi (formerly Angie's List). "Integrity is key — a person who gives their all, every time."
A major concern many people have is theft. However, there are certain things you as a homeowner can do that can give peace of mind while a maid is cleaning and you're out running errands. Angi suggested running a background check and verifying that the maid you hired has the proper insurance and bonding. They recommended only hiring maids who are fully insured with proof of liability insurance to protect against potential theft. One tip Angi gave is to make sure the insurance is up-to-date by calling the company.
Additionally, The Spruce suggests getting recommendations from friends or family, conducting an extensive interview asking just the right questions, and possibly kicking things off with a trial period to ensure the maid is the right fit for the job.
Hovering isn't a good idea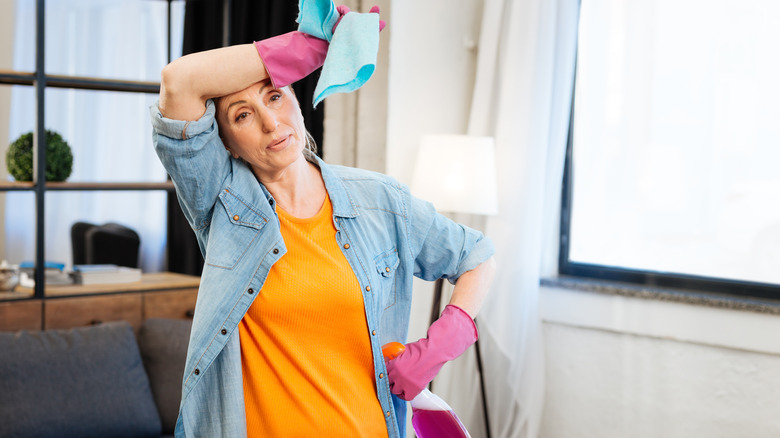 Shutterstock
Live Clean Today, a Florida-based company offering cleaning and maid services, gave solid advice to homeowners. The company feels that while you may want to provide tips and be there for the initial service, hovering can limit a maid's efficiency. Live Clean Today suggested providing clear expectations in your initial contract so there are no misunderstandings as to what needs to get done. Once the job is completed, you can give a verbal review, as fewer interruptions during the cleaning process will make the time more productive. That being said, the company recommended being home and available during the first session, but saving what you need to say until the end.
Housekeeping expert Angela Brown from Ask a Housekeeper noted that you could run errands while your maid is cleaning, because the feeling of judgment from homeowners, such as not spending a perceived amount of time in a room, can hinder the process. Brown explained, "You're working under a deadline, and your mind is preoccupied, and you're trying to hurry and get your stuff done. But what would happen if your boss came into your cubicle and pulled up a chair and just sat down and just kind of watched you and observed you while you were working?" Brown continued, "Maybe you're going to do all the exact same tasks you were going to do otherwise. But just having someone sit there over your shoulder watching you, makes you a little bit uncomfortable."