How The Fixer Upper Team Made This Shotgun House Worth $1 Million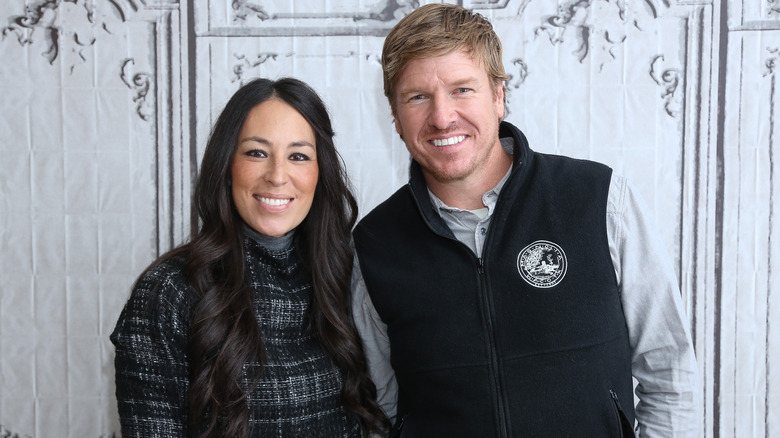 Rob Kim/Getty Images
Chip and Joanna Gaines have to be one of the best designer duos contributing to our HGTV obsession (besides the Property Brothers, of course) and our passion for covering everything in shiplap. Truth be told, sometimes we daydream of leaving a big city life behind to lay down roots in a quaint, smaller town, such as Waco, Texas. This is where Chip and Joanna Gaines, the designer dream team behind their company Magnolia is based. Who wouldn't love to have the talented couple completely transform the home of their dreams in their ever-so-lovely style? 
During our extensive research of Chip and Joanna's home transformations, there's one home in particular that truly gets us. A tiny, sustainable, shotgun-style house? Check. Perfectly designed kitchen with upgraded appliances and a large island with bar seating? Check. Loft-style office? Triple Check. An absolutely extraordinary-looking home that any one of us would completely love calling home? Too many checks to even mention.
During Season 3 of HGTV's "Fixer Upper," the team worked on this particular abandoned-and-rather neglected shotgun home for Cameron and Jessie Bell. Chip and Joanna, the dynamic design duo, transformed the house that was purchased for just $28,000 in 2016 to a complete dream home that listed for nearly $1,000,000, per Insider. Trust us when we tell you that you may have a hard time believing this jaw-dropping makeover once you see it, the stunning transformation is really that unbelievable.
Chip and Joanna turned a $28,000 home into an expensive listing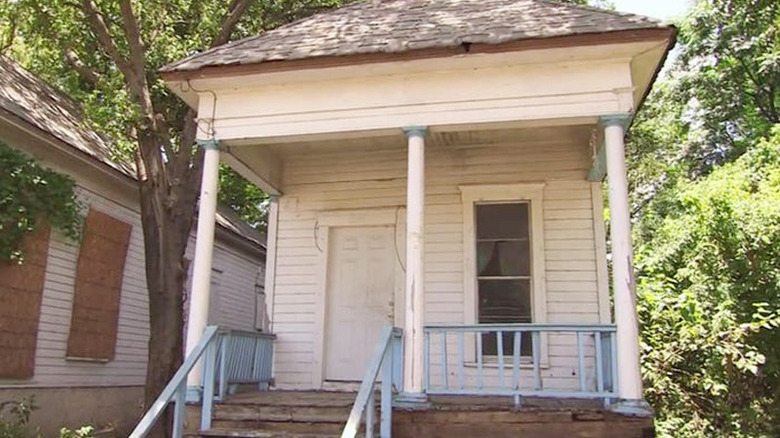 HGTV
The shotgun-style home had a significant renovation. It now looks like a completely different home, and with a bit of digging, it pretty much is, as the tiny house started at just 720 square feet. According to Joanna's Magnolia blog, here's how they handled the design of some of the key spaces. The team added a second floor balcony to the structure. They also changed the floor plan and made the kitchen and living room one spacious, open room. They created a combined laundry and master bathroom, and designed a beautiful teal-hued master bedroom. Finally, the exterior was painted a soothing green color that you notice as soon as you first lay eyes on the property.
Once you walk through the Dutch-style doors, the 1,050-square-foot home does feel so much more spacious thanks to its open floor plan, 20-feet ceilings, and that second-story loft-style office space (via Insider). The home's location is another plus. "It is within walking distance to The Magnolia Store and the Silos," said Briggs Freeman Sotheby's International Realty listing agent Jennifer Roberts in an interview with TODAY Home. But don't take our word for it. See the incredible transformation for yourself with this full tour by tiny home enthusiast Levi Kelly. You won't believe your eyes!
But, did it sell for nearly a million?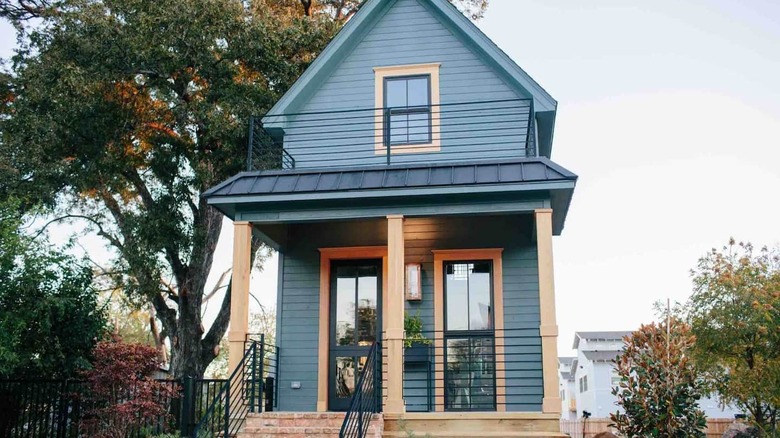 Airbnb
Kathy Schroeder of Coldwell Banker Jim Stewart Realtors revealed that the newly re-done home was "the talk of the town" to the Waco Tribune-Herald, and we are not at all surprised. Julie Pendergraph with Keller Williams Realty also noted the home's massive expense to the outlet, saying, "There is no way on God's green earth they are going to get that kind of money. That's $905 a square foot. It's a nice house, with one bedroom and one bath, and it's over there by Magnolia Market, but still." And we say, never say never!
As the Waco Tribune-Herald reported, the home's value was a mere $132,010 after the appraisal. The outlet noted that custom homes in the area generally sell for much lower than $950 per square foot — usually hovering around $100 to $200 per square foot. So while the house didn't sell for the listed $950,000, it has been an excellent investment for the couple.
We have great news you will be excited to hear. This extraordinary house can be rented on Airbnb for $325 a night. So not only can you see it in person, you can actually enjoy staying in the beautifully decorated rooms. We have one thing to say about this bit of news — Waco, here we come!