Here's Where HGTV's Love It Or List It Is Filmed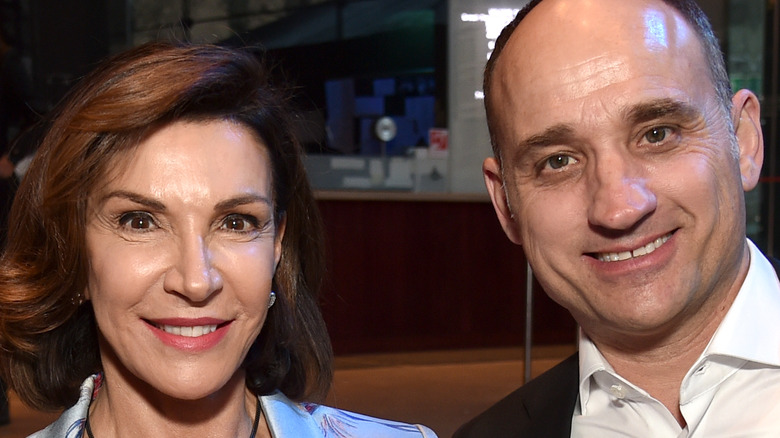 Bryan Bedder/Getty Images
After nearly 20 seasons of "Love It or List It," Hilary Farr and David Visentin have secured themselves the title of real estate TV icons. The show began in 2008 and since then, the pair have helped so many homeowners sell on their properties or redesign them to create the home of their dreams. Country Living writes that many "Love It or List It" fans found the series for their love of interior design and stayed because of Farr and Visentin's dynamic. It'd seem that it's a model that works just about anywhere. Distractify notes that over the many years that it's been on screens, "Love It or List It" has built up a massive international audience. They have spin-offs of the show in the UK, Australia, Ontario and British Columbia, and Quebec.
In an interview with Monsters and Critics, Visentin has said he'd like to take filming on the road. "Charleston and Nashville would be fun and be a great place to do business. I've been to Boston, I love Boston," he shared. "We've done just about every kind of house you can do in North Carolina. Change might be nice, but I don't push those buttons." But where is HGTV's "Love It or List It" filmed? The show has made two pretty monumental moves and the original filming location was a special place for Farr and Visentin.
They moved from Canada to the U.S. and back again
HGTV/YouTube
While many episodes of "Love It or List It" are shot in America, neither Hilary Farr nor David Visentin lives there. ALLVIPP writes that both live in Canada; Farr is based in Toronto while Visentin lives with his family in Barrie, Ontario. It would make sense, then, that the first six years of the show were filmed in Toronto and surrounding areas in Ontario, Canada.
However, more recent viewers of "Love It or List It" will recognize that this isn't the case anymore. Distractify writes that in September 2014, HGTV upped production and moved it to North Carolina. The "Love It or List It" Twitter account details that they've been working with homeowners in Raleigh-Durham or the very close surrounding areas since then. With Realtor listing the median listing home price in Raleigh as $354,000, it's much more affordable than some of the properties that were worked on during the show's time in Toronto.
However, in 2021, HGTV announced on Twitter that the pair would be returning to Toronto for a new season of "Love It or List It." On Twitter, they wrote, "The hit HGTV show is now casting in Toronto. To be eligible you must currently own a home in the GTA and surrounding area, [and] need expert design and construction help." Cheat Sheet has speculated that the show may have returned to Canada during the pandemic as that's where the two hosts are based full-time.