How The Fixer Upper Team Made This Barndominium Worth $1.2 Million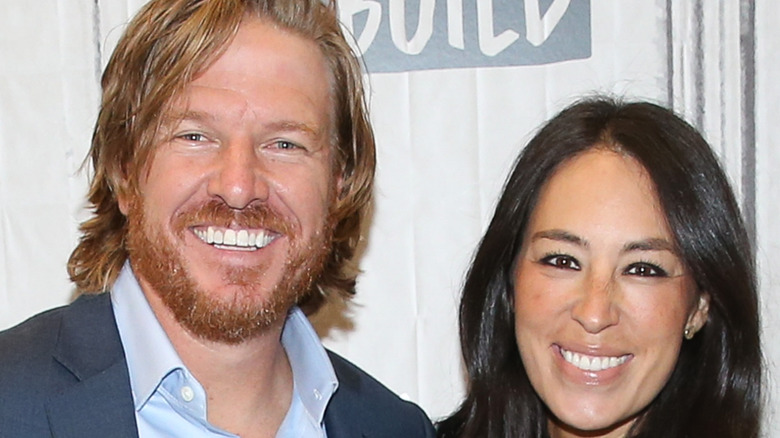 Rob Kim/Getty Images
Chip and Joanna Gaines have fixed up some pretty stellar homes on their top-rated show, HGTV's "Fixer Upper." Case in point: The Shotgun House the couple transformed — which was acquired for just $28,000 — went on to list for nearly $1 million, thanks to the couple's capabilities for incredible house transformations. So, it's safe to say we always get excited to see a home that was lovingly made over by Chip and Joanna. 
Next up, let's check out the Barndominium, a 2,653-square-foot-barn purchased for just $180,000 by the Meek family. Todd and Lexia Meek wanted the "spirit of country living," which was their vision for bringing up their three children, per Insider. According to HGTV, the couple had a few things on their wish list, including a home on sprawling acres and a kitchen with plenty of space for entertaining guests.
One of the unique aspects of this home renovation was that the barn was initially created for horses! So without further ado, here's how Chip and Joanna Gaines completely transformed the house in Season 3, Episode 11 of "Fixer Upper," making it not only beautiful but also suitable for people, while garnering a listing price of a whopping $1.2 million.
Chip and Joanna Gaines made some incredible upgrades to the former horse barn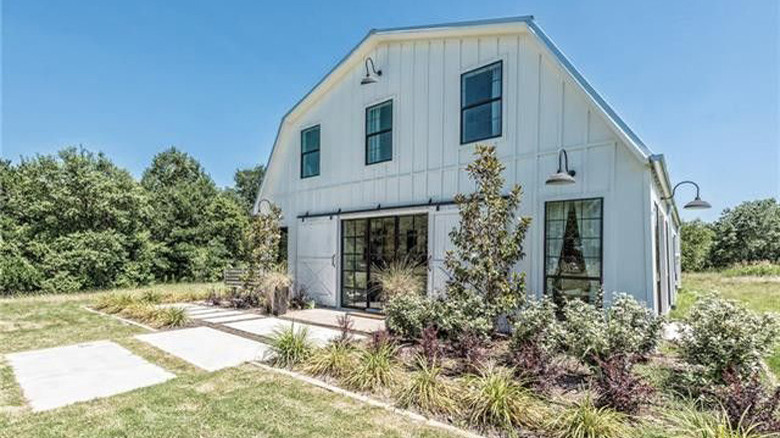 Realtor
Chip and Joanna Gaines had a plan for the horse-barn-turned-million-dollar-listing. Per the Magnolia Blog, the interior received some significant upgrades. One of the biggest changes on the to-do list was moving the stairs, initially on the home's exterior, and bringing them inside the house for easy access to the upstairs, formerly a tiny, two-bedroom apartment. The Gaines also turned the main floor's former stalls into three comfortable bedrooms with a bathroom, living room, and an ever-popular "floating desk" in an open-air corner office space near the stairs. The kitchen features a rustic island, patterned black and white backsplash, and stainless steel appliances in the heart of the home, with ample room to entertain. The dining room is another perfect room for family gatherings with a custom-built 17-foot table by Magnolia carpenter Clint Harp. Per the Waco Herald-Tribune, the home has five total bedrooms and can sleep 11 to 15 guests comfortably.
Other sprucing up efforts of the Barndominium consisted of new flooring, drywall, trim, jaw-droppingly beautiful barn doors, and lighting, making this modern barn-style home shine. It wasn't only the interior that received some love; the house also features new windows and siding, along with a durable metal roof and to the owner's delight, a small side garden that is fenced to keep small animals out. In addition, the property sits on 16 acres and has its own private lake filled with bass fish.
The Barndominium hasn't been entirely drama-free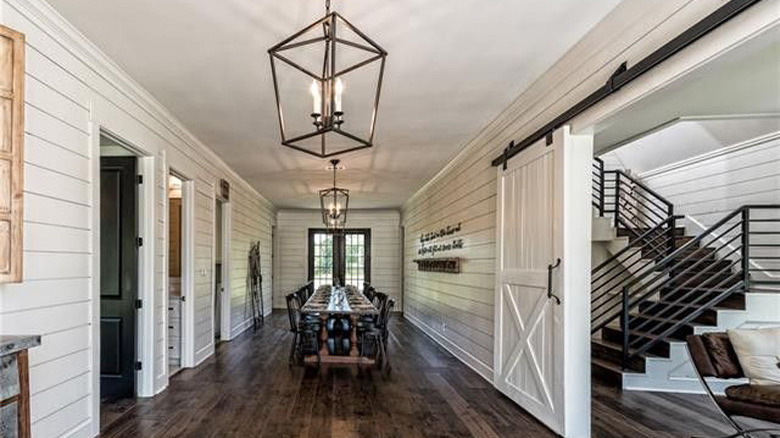 Realtor
The Meek family sold the Barndominium to real estate investor Kristi Bass, who listed it on short-term rental sites for $1,200 a night, per Curbed. According to Realtor.com, this infuriated neighbors and led to two city fines since Bass was operating a rental business without proper permits. After the initial renovation, the Barndominium was appraised for $400,000, according to Insider; however, the Lacy Lakeview, Texas home was listed for $1.2 million. Real estate agent Jennifer Roberts told Realtor.com, "It's a beautiful retreat located with private lake access and a private pond. It is immaculate inside, and the sale includes every item on the property — that means furniture, linens, dishes, and televisions, too."
Not surprisingly, all of this short-term rental house drama caught the attention of the Magnolia team, who understand why homeowners want to list these homes on Airbnb and VRBO. But, they explain, "We are going to be more strict with our contracts involving 'Fixer Upper' clients moving forward," said Brock Murphy, a Magnolia spokesman, per the Waco Herald-Tribune. "That's the true intent of our show, and we want to ensure that does not get lost in this new vacation rental trend." 
So if you buy a Magnolia-designed property, may we suggest that you plan to live there! "What started off with perfectly understandable intentions could cast a shadow of a doubt on the much bigger picture, and we are going to do our best to protect that moving forward," Murphy added.