Inside The Harry Potter-Themed Villa You Can Rent For Vacation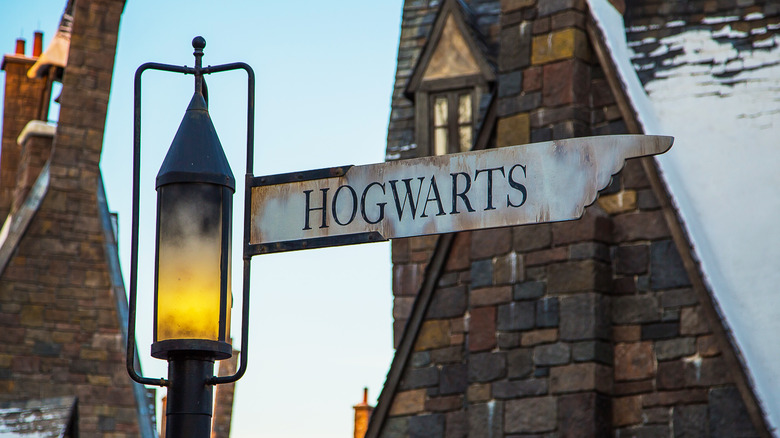 Shutterstock
Planning a trip to Orlando's Wizarding World of Harry Potter? While the city is home to countless lodging options, this private rental is sure to impress both children and adults alike. Diehard fans of the "Harry Potter" books and movies should consider saying at this whimsical vacation rental which is themed to make guests feel like they're staying at Hogwarts Castle. 
According to the listing, the property is located in a quiet residential area 10 miles from Universal Studio's Wizarding World of Harry Potter and six miles from Walt Disney World; this Airbnb is perfectly situated for a "Harry Potter"-themed family vacation. It has a fully-equipped kitchen, plenty of board games and video games, a pool under a lanai, a barbecue, and a large-screen TV. While this vacation rental is set up with everything you'd need for a memorable holiday with friends or family, there are also countless magical touches scattered throughout the home.
This magical Airbnb has surprises around every corner
This "Harry Potter"-themed Airbnb features four bedrooms on the ground floor, each of which is decorated to represent one of the four Hogwarts houses: Gryffindor, Hufflepuff, Ravenclaw, and Slytherin. You'll even find a sorting hat, which might be able to tell you which house you belong in. Upstairs, you'll find the master bedroom, which is decorated to look like Headmaster Dumbledore's office. The dining room is decorated to look like the Great Hall, complete with a suit of armor and candles "floating" above the table. The "Common Room" (AKA the living room) features a faux fireplace and comfy armchairs where you can curl up and read your favorite book in the "Harry Potter" series. Of course, copies of all seven Harry Potter books are waiting for you to dive into. You'll also find copies of tomes from The Hogwarts Library Collection including "Fantastic Beasts and Where to Find Them," "Quidditch Through the Ages," and "The Tales of Beedle the Bard." A wall of portraits looks like something straight out of the halls of Hogwarts, though unfortunately, the people in them don't appear to move.
The Airbnb listing gives the following disclaimer, just FYI: "The Magical Manor is not licensed, approved, or produced by J.K. Rowling, Warner Bros. Entertainment, Inc., Scholastic Corporation, Raincoast Books, Bloomsbury Publishing Plc., Or any other person, entity, corporation, or company claiming a proprietary interest in Harry Potter books, movies, or related products."