The Velvet Furniture Myth You Should Stop Believing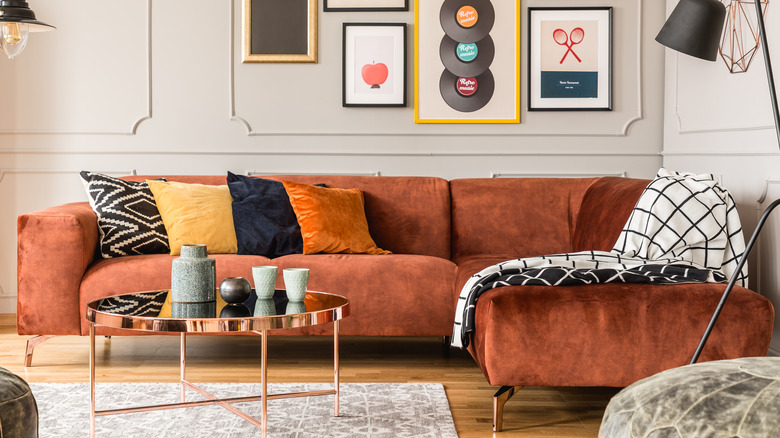 Photographee.eu/Shutterstock
Choosing couch fabric can be complicated since each material has its pros and cons. Whether you want something textural like leather or crisp and clean like cotton, there are things that certain fabrics do very well and other things they fall short on. One of the fabrics in particular that often gets the short end of the stick is velvet. Many think of velvet as a material only meant for luxurious spaces and assume that the plush feel means it's challenging to clean and care for. If you have children or pets, you might think it's a fabric to avoid. Or if you frequently host friends and know wine spills and appetizer drops are inevitable, you might think you should steer clear of velvet altogether, right? Well, not exactly.
Velvet being delicate is a myth. Kelly Collins, head of creative at the furniture brand Swyft, told Metro that velvet is "actually very durable." She also flags it as a pet-friendly choice since the tight weave helps prevent damage from pawing cats and gnawing dogs. Style by Emily Henderson concurs, adding that the dense top layer prevents stains from settling into the fabric as quickly as they would on other materials. Velvet might be luxurious, but it's also sturdy.
Picking and caring for durable velvet furniture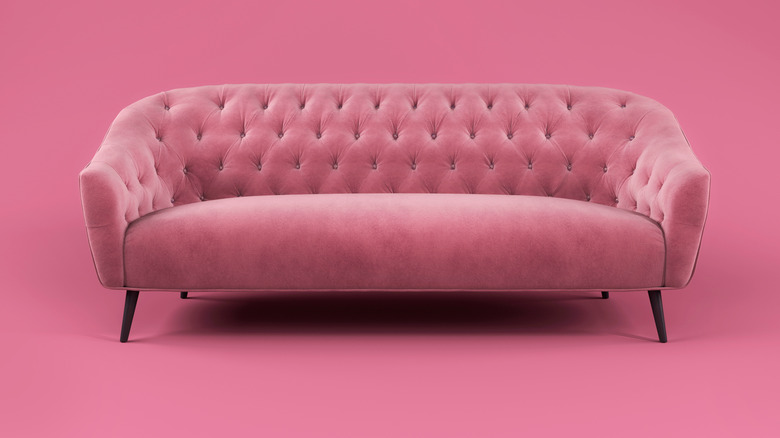 Arkhipenko Olga/Shutterstock
If all the arguments about velvet's durability have convinced you to try the fabric with your next furniture piece, that's great — there are just a few extra things you may want to consider.
First of all, velvet is typically available in both synthetic and cotton varieties. Style by Emily Henderson explains that synthetic velvet is a bit more durable and resistant to stains. It also doesn't fade in color the same way cotton velvet does, making it the ideal choice for those seeking durability. You also want to find a high "rub count," which is a way of determining how durable a particular fabric is through a mechanical test (via Plumbs).
According to Metro, once you've selected the right piece of furniture for your specific needs, there are just a few maintenance tips to keep in mind to keep it looking pristine. Consider investing in a fabric brush to help keep your velvet looking new. It would also be best to be cautious about where you place your velvet piece. Since velvet has a deep pile, it can get imprinted if wedged against something like a radiator or a side table. (Think of the deep imprints your couch legs make on an area rug with a semi-deep pile).
Overall, velvet furniture is a lot more durable than you may have initially thought — and who doesn't want to enjoy the luxe look and feel of the fabric?