The Real Reason Chip And Joanna Gaines Painted Their Nursery Gray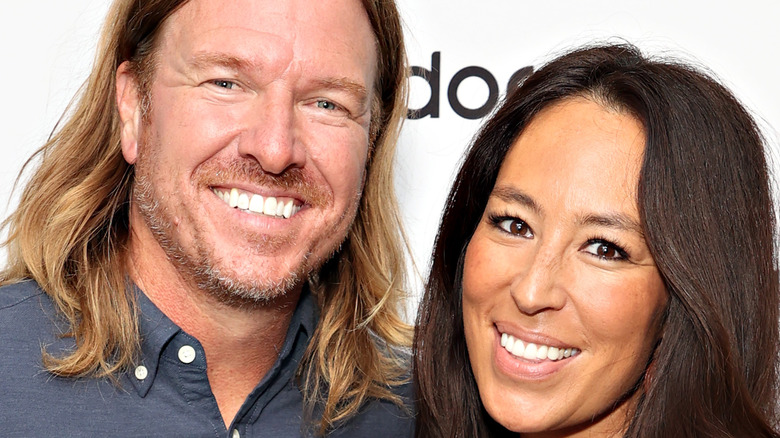 Cindy Ord/Getty Images
Anyone who has watched them transform homes on "Fixer Upper" knows that Chip and Joanna Gaines have the skills to give any space a whole new look. Whether it's adding just the right pieces of furniture or selecting a soothing paint color that gives a cozy vibe to a room, the Gaines have left their mark on countless homes over the years. So, when it comes to their own home, it's only natural that fans would be curious. As Country Living shows, the duo have shared design details from their Texan farmhouse previously, but obviously they make changes from time to time, such as when they welcome a new addition to their family.
While you may assume a nursery would get painted a playful pastel hue, Joanna opted to go in the opposite direction and paint her son's nursery a neutral gray shade. However, it isn't at all because she wanted to keep color out of Crew Gaines' room — rather, she wanted the wall color to be a neutral backdrop that would allow other elements in the space to truly shine.
As Joanna told House Beautiful, her son's personality is "so layered" that rather than highlighting the wall color in his space, she wants the backdrop to highlight items like his colorful books and stuffed animals, with the walls providing a blank canvas of sorts.
The specific hue — and Joanna Gaines' stance on decorating for children
Rob Kim/Getty Images
For fans who want to know exactly what paint color that rich, moody gray in Crew Gaines' room is, it's of course a paint color from Joanna Gaines' own Magnolia Home-branded line of paint: It's the shade "Garden Trowel," according to Apartment Therapy. She paired the gray hue with cream-colored accents, such as a textured cream area rug, a framed photograph in sepia tones, and wood and brass touches for a space that's warm and inviting.
The designer extraordinaire also shared a bit about her stance on decorating for children, something she has likely honed over the years raising her five children and revamping their spaces as they grew. While 3-year-old Crew may not have too much input on how his mother decorates his space or understand the intention behind her color choice, Joana doesn't hesitate to consult her children as they get older. After all, if she's designing the space for a particular child, it should cater to their likes and dislikes. As Joanna told House Beautiful, "As the kids get older, they really teach me how to design just by listening and hearing what they love." She also believes that rooms "should feel like the child and not like the designer," a philosophy that Joanna demonstrated with her choice of the gray paint to allow Crew's personality and interests to shine.