This TikTok Hack Will Change The Way You Store Wrapping Paper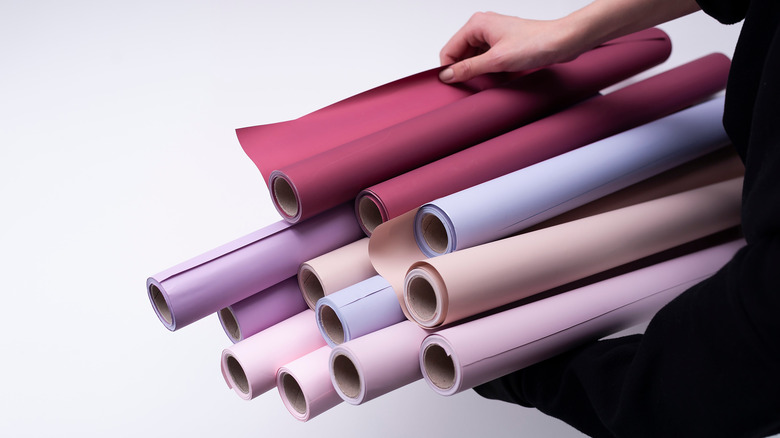 Catherine.Things/Shutterstock
Unless you happen to live in a mansion that comes with its own gift-wrapping room, you probably faced the irritating conundrum of trying to remember where you put the wrapping paper when you last used it. When you finally find a few rolls in a messy closet, chances are the paper has become torn, wrinkled, or otherwise damaged. It's not exactly an ideal situation, especially when you're in a rush to wrap a gift before heading off to a party.
You certainly don't want to buy new rolls every time you need to wrap something, but at the same time, you may not have enough space to devote an entire drawer or closet to wrapping paper. While it would be great to carefully position your wrapping paper so you not only see everything you have in stock but also ensure it doesn't get damaged in any way, not everyone has that kind of closet space. Luckily, there's a TikTok hack that will revolutionize the way you store wrapping paper. It requires just a few inexpensive items that you likely have at home already or can easily find. The tip comes from TikTok user @howdoesshe, who typically shares hacks and money savings tips to make your life a little easier. To change the way you store wrapping paper, all you'll need is a clothes hanger and a garment bag. Seriously, that's all!
A new system for storing wrapping paper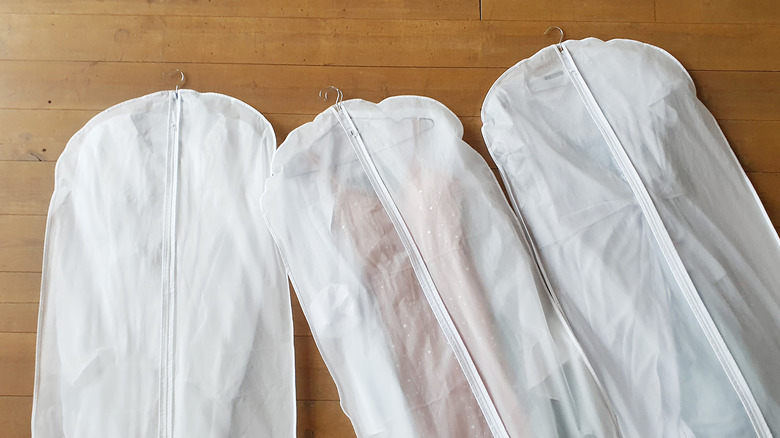 July Ko/Shutterstock
According to MSN, all you need to recreate @howdoesshe's hack is a garment bag. Grab a garment bag and place it over a hanger, the same way you would when putting away a piece of clothing that requires a little extra protection. But instead of hanging a coat or dress from that hanger, you'll use it as a way to keep the garment bag on the closet rod. Then, fill the garment bag with all your rolls of wrapping paper. The garment bag will help keep them protected and upright, allowing you to hang up the collection of wrapping paper in any closet. Then, when you need to wrap something, remove the hanger, unzip the garment bag, and take out whatever you need. It couldn't be simpler.
One great perk of this organizing hack is that it works for various sizes of wrapping paper. It doesn't matter if you have shorter or longer rolls or some thicker or skinnier rolls. And, if you want to level up this storage system, you could even consider adding a few extra items to the bottom of the garment bag, like a pair of scissors, a roll of tape, and perhaps a few ribbons and bows. That way, you will have absolutely everything you need on hand when it's time to wrap a gift.