What Happens If You Put Furniture On Wet Carpet?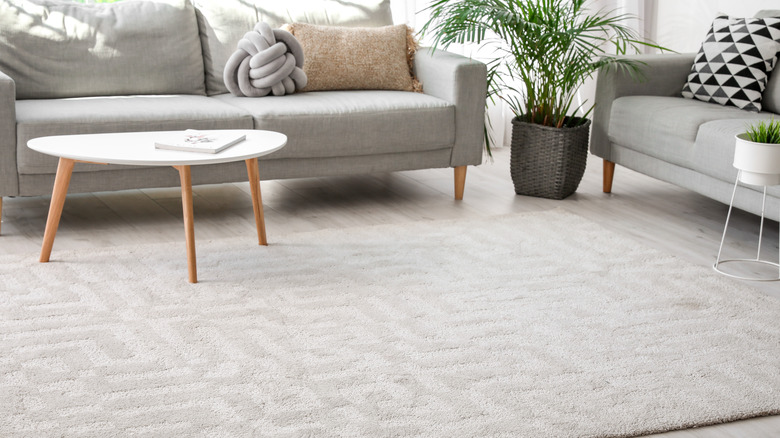 Pixel-Shot/Shutterstock
Whether you have carpeting throughout your entire home, in certain rooms such as the bedroom, or have oversized area rugs, it's important to note how often they should be cleaned. According to Angi, each household is different. Homeowners and renters should look at their unique situation, such as if kids and pets live in the home, carpeting color, and whether or not you're a homeowner with allergies. Besides regular vacuuming sessions, the company notes that a professional deep clean is recommended each year.
HomeAdvisor says that, on average, a deep clean by a pro comes in at $178. It is generally $121 to $234 across the country, but depends on if stains are present and the size of the home. If you are getting your carpets cleaned professionally, we bet you are moving your furniture to ensure you are getting every square inch of your house tidied up. But, what happens if you put your furniture on damp carpeting once the carpets are cleaned? Read on to find out!
This is what happens to carpet if it isn't completely dry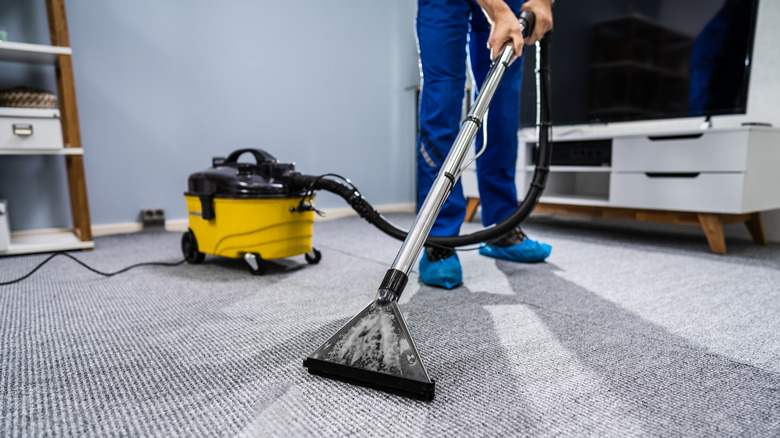 Andrey_Popov/Shutterstock
Portland-Oregon-based Curtis-E Carpet Cleaning explains that if you place your furniture back on your carpet too quickly after it's cleaned and is still damp, the furniture can create stains or rust. This would be awful, especially if you have light carpeting. Instead, the company suggests placing thin wooden or styrofoam blocks underneath the legs of the furniture to avoid this if you simply must put your furniture back in its original place. Prior to removing these blocks, ensure that your carpeting is dry.
Danny Kane, Owner at Bruce's Carpet Cleaning, tells Quora, "You can put things on [wet carpet] that have plastic feet, but nothing metal that can rust. At least rust can come out if you do get some on the carpet, but never put wood furniture on wet carpet. The stain on the furniture will come off onto the carpet, and that is a permanent stain 100% of the time." So there you have it! If you can be patient, wait to put your wood furniture back until the carpeting is completely dry.