The Food Storage Hack You've Been Missing Your Whole Life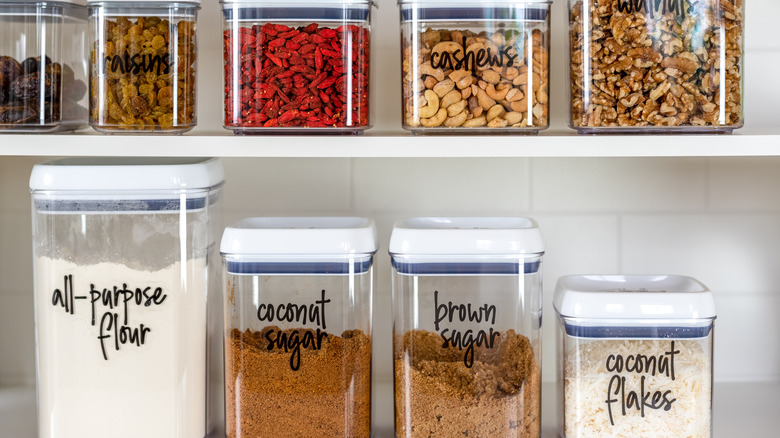 Kristen Prahl/Shutterstock
Many individuals — especially those who love to cook — dream of magazine-worthy walk-in pantries with enough room to organize everything perfectly and tuck all their bulky small appliances away out of sight. However, that's often just not most people's reality; your space may have a tiny pantry that's little more than a closet, or in some cases, may not even have a pantry at all. And, if your kitchen storage is already fairly limited, you probably don't want to give up any precious cabinet space for food storage. After all, if you fill every square inch of your cabinets with cans and packages of dried pasta, where are you going to put all your pots, pans, and plates?
Well, there's one food storage hack that is so obvious you may have overlooked it before — and it's a total game changer. Whether you're looking to gain additional food storage due to a smaller pantry, or whether you need to essentially create a pantry from scratch, it's a fantastic, budget-friendly option.
As Apartment Therapy outlines, simply take a trip to IKEA and pick up a BILLY bookcase (or a few, depending on the size of your space and your food storage needs). The brand's signature, budget-friendly bookcase line is insanely popular, and according to IKEA, there's one sold every five seconds. All you need to do is measure your space, buy the appropriate bookcase or bookcases, and then get started on filling and organizing your new pantry.
Why this food storage solution works so well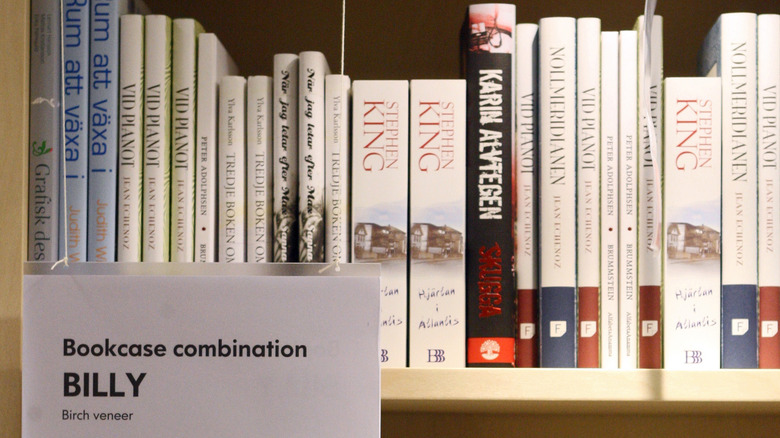 Bloomberg/Getty Images
The BILLY bookcases are just 11 inches deep, as per IKEA, so they can be fairly easily tucked against the wall and shouldn't take up too much of the square footage in wherever you're looking to set up your additional food storage. Additionally, the variety of offerings within the BILLY series means you can customize it to fit your needs, as A Savory Feast explains. There are typically three different finishes, so you can either keep things light with white bookshelves, maintain a classic, modern look with the black variation, or keep things natural with the birch veneer finish. You can also find two widths, as well as some shorter options height-wise, in case you're looking to squeeze it into a super small space. The shelves can also be adjusted easily to accommodate any appliances or taller items.
And — a perfect addition for the often messy kitchen area — while you can certainly set up your pantry without any doors, there are also a few options for doors that fit the BILLY bookcases if you want to add that extra touch. Those who want to show off their artfully arranged food storage can opt for glass doors, those who prefer to keep things hidden can go with the solid doors that can be closed to hide everything, and those who want a little bit of both can select doors that feature a glass panel on the top and solid panel on the bottom.