25 Of The Trendiest Indoor Planters
Choosing a planter can be tricky. The trendy planters of the moment are simple with solid colors and simple textures. It's also popular to place large plants in woven baskets and small plants in macramé hanging planters. 
Of course, you want a pot that matches your aesthetic and fits in with your décor, but there are a few requirements every plant needs to thrive in its pot. The biggest requirement is drainage holes. Luckily, drainage holes can be drilled in plastic, ceramic, and terracotta pots, according to Apartment Therapy. The second biggest requirement is that the size of the pot is correct for the plant. When repotting a plant you want to choose a pot that is about two inches larger than its current pot, according to The Sill. Some popular plants to put in your trendy planters are fiddle leaf figs, pothos plants, Chinese money plants, heart leaf philodendrons, aloe plants, and snake plants. 
1. Solid white planters
Solid white planters look simple but make a big statement. They move the focus onto the beauty of the plants potted in them. 
2. Macrame hanging planters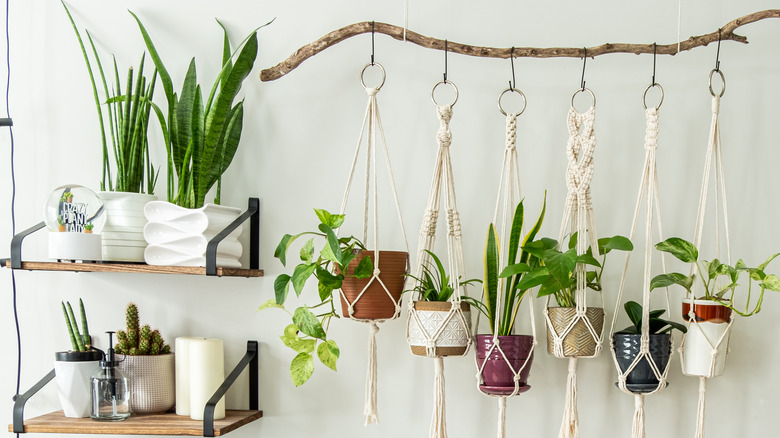 TippyTortue/Shutterstock
Hanging macrame planters fit perfectly in boho-style homes. They are also a great way to put your plants near a window without having to use a table or move existing plants from the window sill. 
3. Neutral tones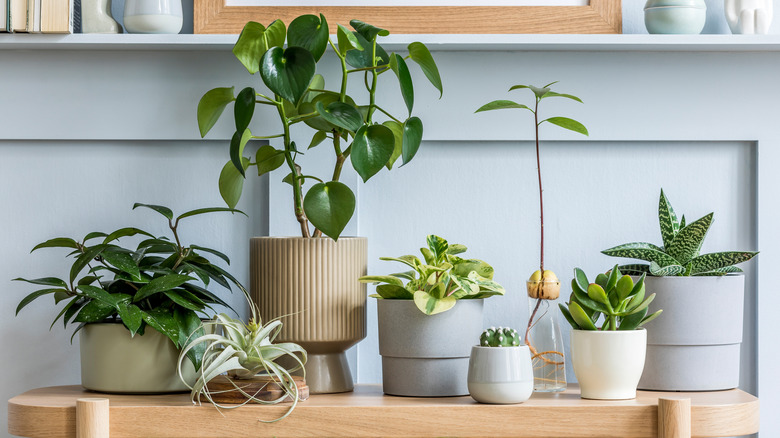 Followtheflow/Shutterstock
One way to create a styled look with all your planters is to use colors within the same color palette. 
4. Marble print pots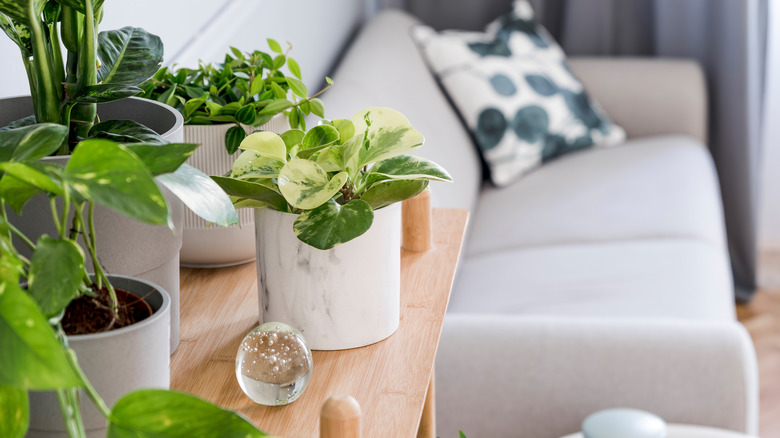 Followtheflow/Shutterstock
Marble printed pots like this one are great to pair with variegated plants like this American rubber plant. 
5. Woven pots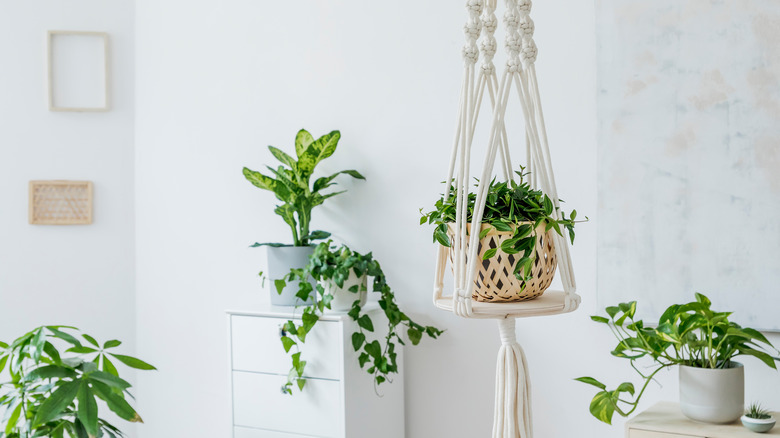 Followtheflow/Shutterstock
Woven pots like this one are purely decorative, so don't forget to keep your houseplant in their nursery pot or repot them into another grow pot. 
6. Cement pots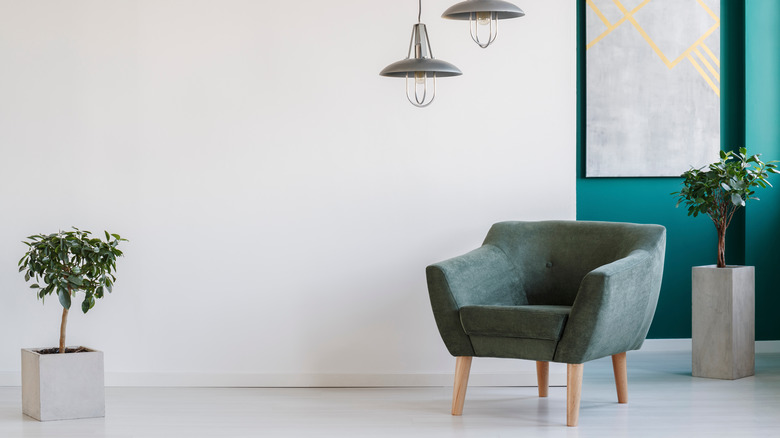 Photographee.eu/Shutterstock
Square cement planters like these are better styled with industrial décor because of the harsh edges and cool grey tone of the cement.
7. Large clay pots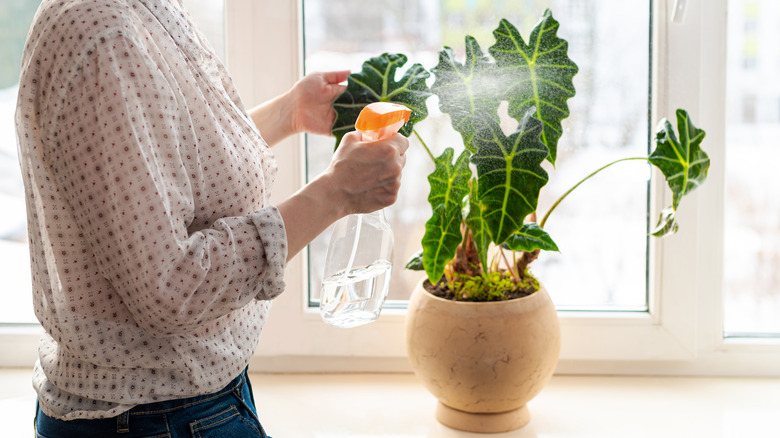 TSViPhoto/Shutterstock
This large clay pot is beautiful and unique. It's not often that you can find a sphere-shaped planter like this one. 
8. Matching sets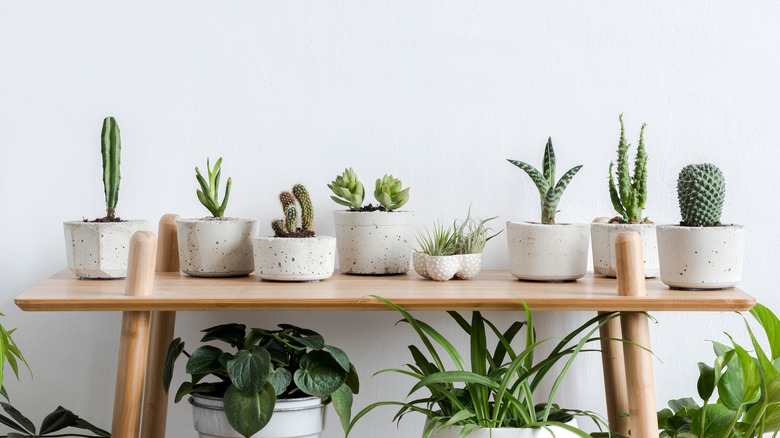 Followtheflow/Shutterstock
A matching set like this one looks beautiful. It's styled with cacti and succulents, making it look even more cohesive. The trick here is to use pots of different shapes and sizes while keeping the color and pattern the same. 
9. Glass pots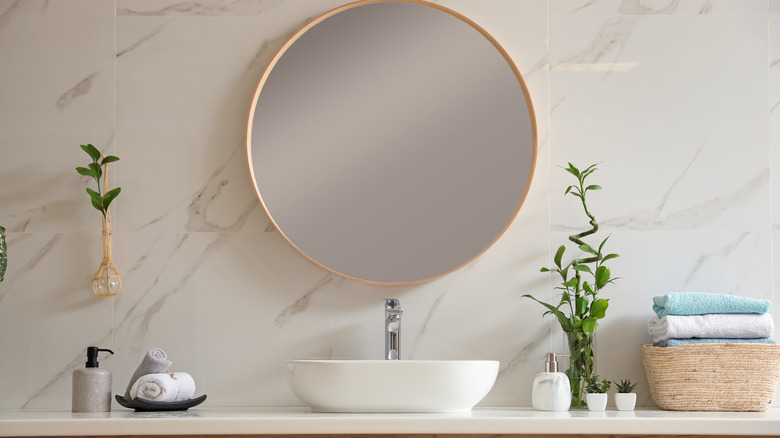 New Africa/Shutterstock
If you want to use a glass pot, then bamboo is the plant to choose. The roots need to stay submerged in water so there's no need to worry about drainage holes. Bamboo plants also love humidity and will look great in a bathroom like this one. 
10. Different shapes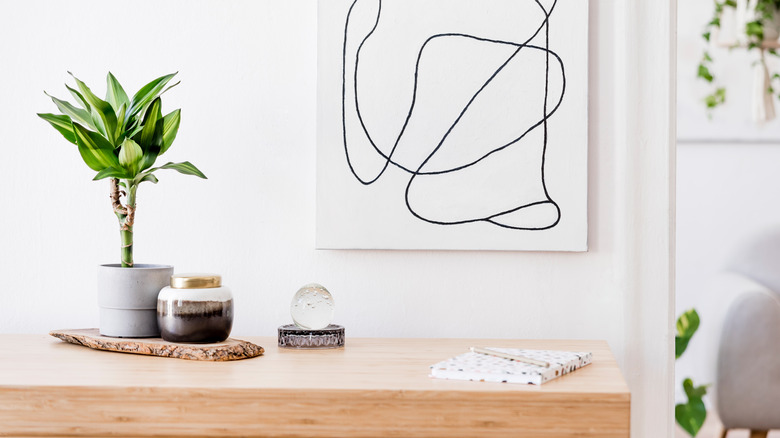 Followtheflow/Shutterstock
Another way to change up the look of a pot is to choose one with an interesting shape. This pot has a base that's smaller than the opening, which adds interest without making a bold statement. 
11. Homemade clay pots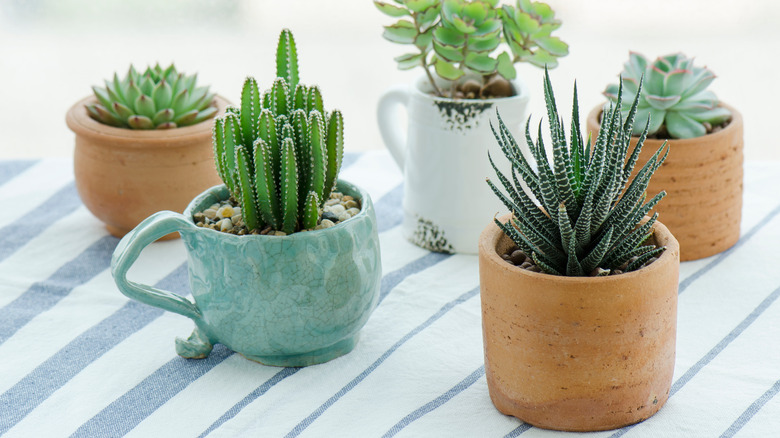 panattar/Shutterstock
These tiny succulents look cute in their mini clay pots and homemade mugs. Making your own pinch pots is a fun project that you can do at home with air-dry clay or with traditional clay if you have access to a kiln.
12. Woven baskets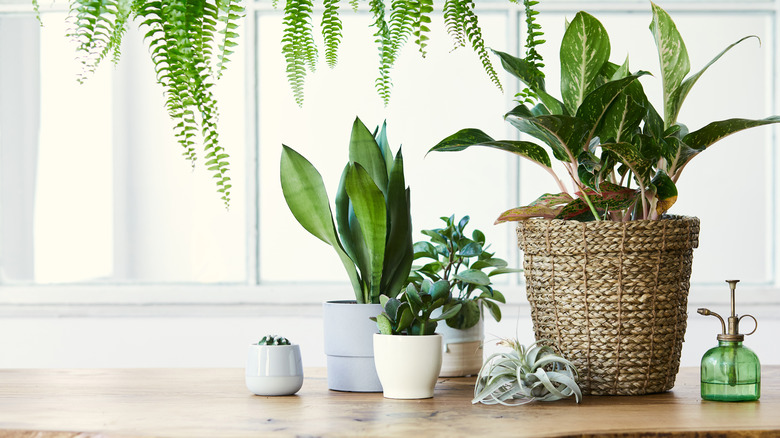 Followtheflow/Shutterstock
Putting plants in a basket like this one is very popular. It's an easy way to style your new plants since all you need to do is place them in the basket, without removing them from their nursery pot. 
13. Glass terrarium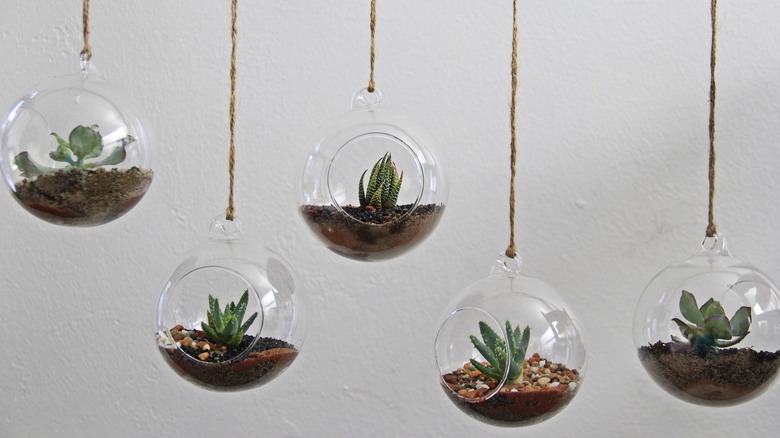 Chene Taljaard/Shutterstock
Tiny glass terrariums are often used for succulents, but you need to be careful when watering them. Succulents are susceptible to root rot if water is constantly sitting at the bottom of their pot, which can happen in glass terrariums like this one that can't have drainage holes.
14. Simple hanging planters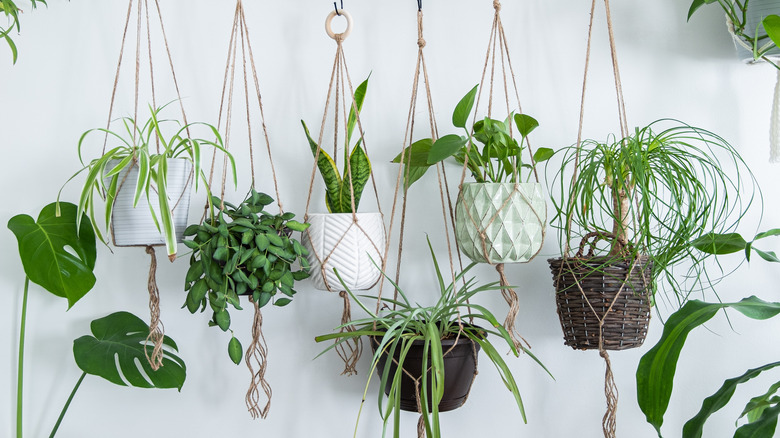 TippyTortue/Shutterstock
Hanging planters like these don't include the designs that macrame planters have. If you're going for a simpler look, then hanging planters like these are the ones you should choose. 
15. Large baskets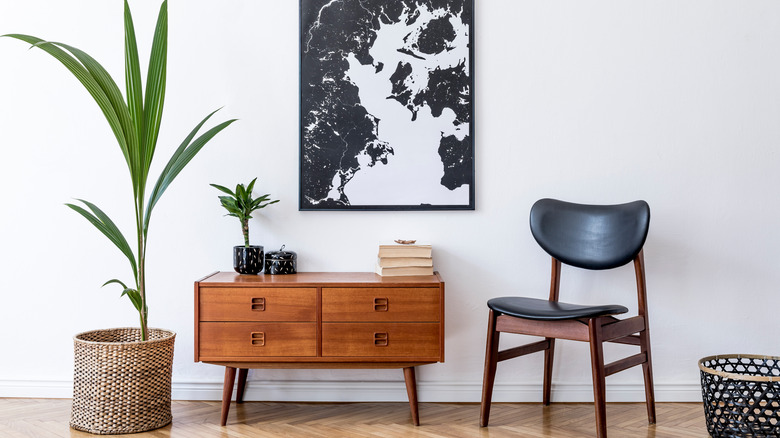 Followtheflow/Shutterstock
It's very trendy to place large plants in a big basket. The basket adds texture that plastic or ceramic pot wouldn't be able to. 
16. Match colors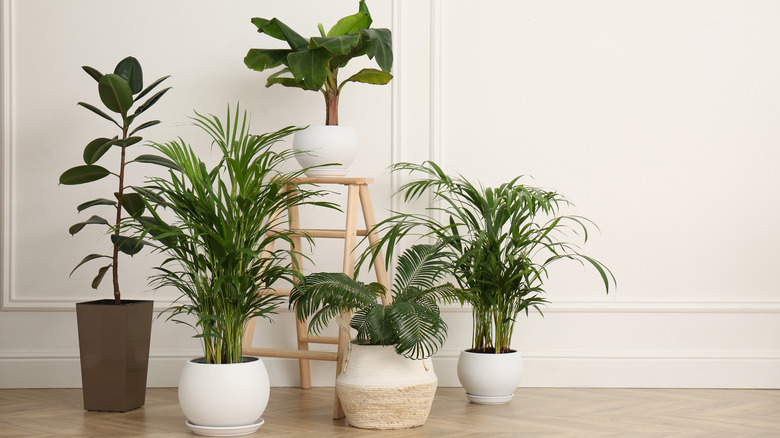 New Africa/Shutterstock
A collection of plants looks put together when you coordinate their pots. Here there are three round white pots in various sizes and a basket half painted white. This small choice of similar planters takes the look of these plants up a level.
17. Jewel-tone ceramic pots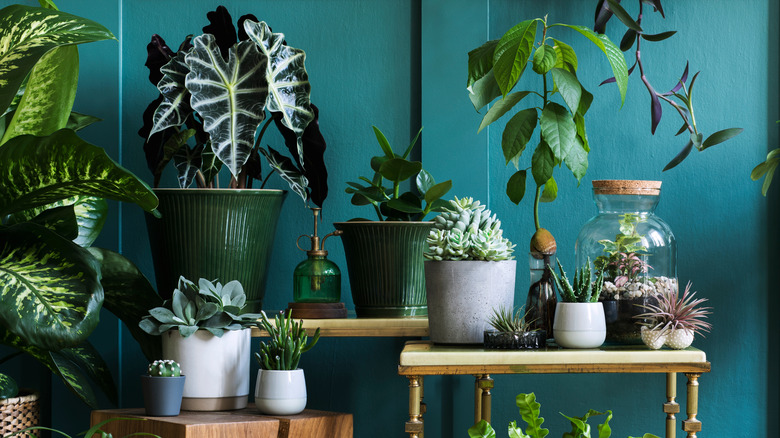 Followtheflow/Shutterstock
The green jewel tone color of these two ceramic pots is beautiful and enhances the vibrancy of the plants potted in them. 
18. Teapots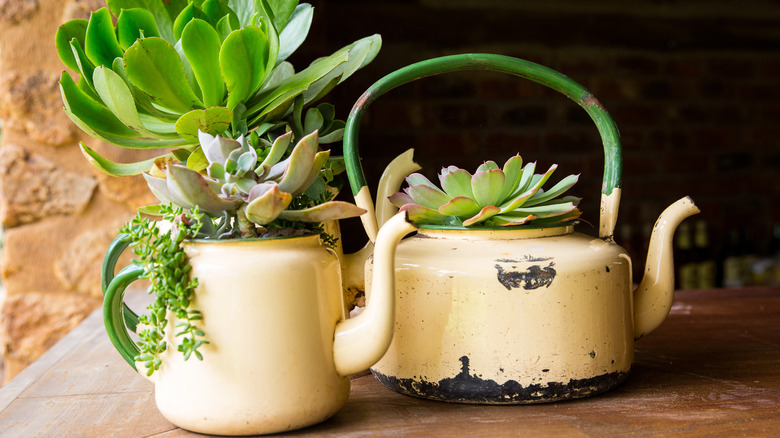 dave_liza/Shutterstock
Anything can be a planter. These succulents are potted in teapots, but the only issue would be no drainage holes. If you don't want to drill a drainage hole, you can add rocks to the bottom before adding dirt — and make sure not to overwater. 
19. Ceramic pots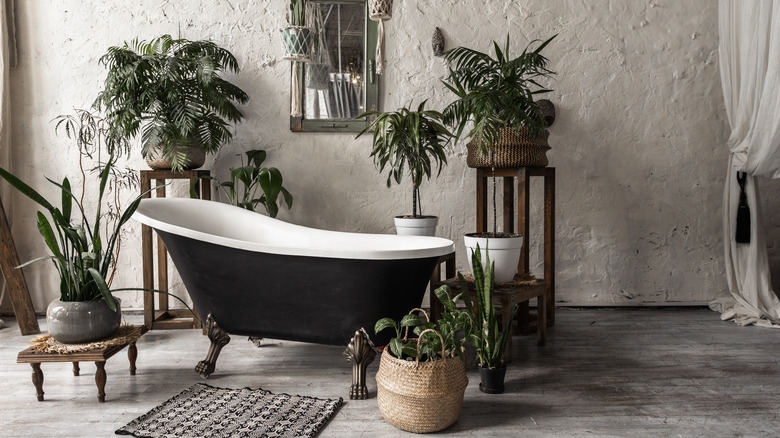 brizmaker/Shutterstock
Here there is a ceramic pot holding a large snake plant. The glaze of the pot makes it shine beautifully, especially when it's contrasted against other plants potted in baskets. 
20. Metal pots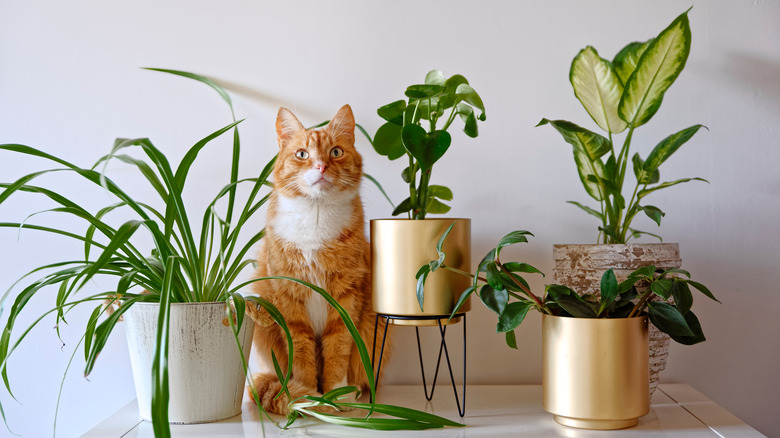 Damian Lugowski/Shutterstock
The two matching gold metal pots here make the green leaves of the plants pop. It is also nice that one is in a plant stand to add varying heights. 
21. Crates and baskets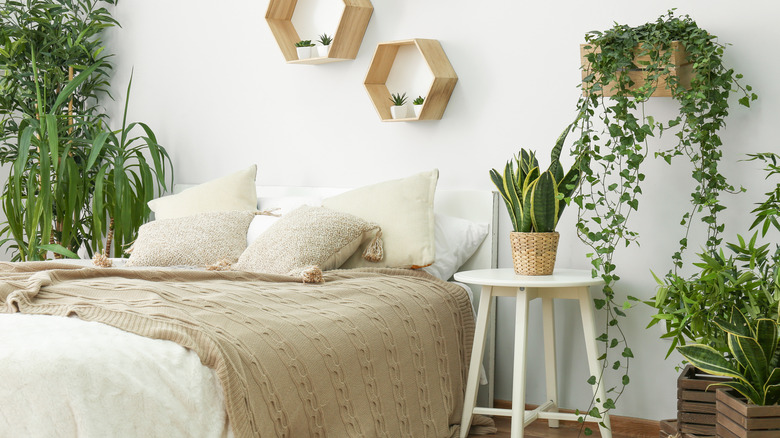 Pixel-Shot/Shutterstock
This boho-style room includes a lot of natural wood. The woven planter of the snake plant fits right in as well as the crate holding an ivy plant. It's a great idea to put the large ivy plant in a wood crate hung on the wall to accentuate the cascading vines. 
22. Glass jars
Propagating is an easy and affordable way to grow your plant collection. When propagating, glass jars are often chosen because of how satisfying it is to see the roots grow. 
23. Textured ceramic pots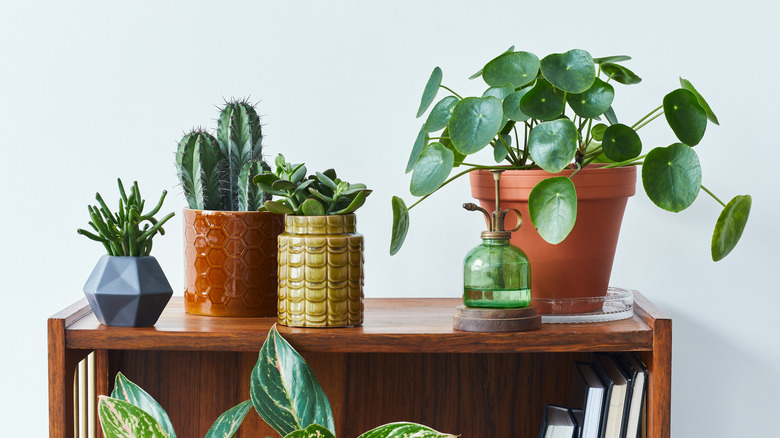 Followtheflow/Shutterstock
Planters with solid colors are popular now, but pots with subtle patterns like these add more visual interest without taking away from the beauty of the plant. 
24. Painted pots
tete_escape/Shutterstock
If you can't find a pot that fits your décor, make one. Using acrylic paint and terracotta pots you can create any design you'd like. 
25. Solid colors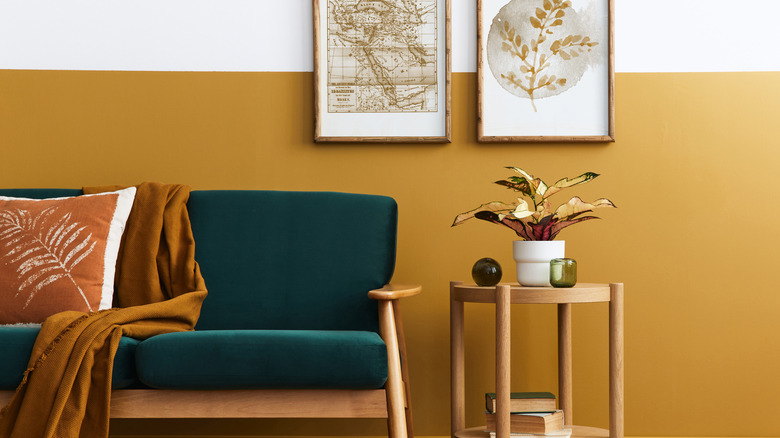 Followtheflow/Shutterstock
If your home is already filled with bold colors like this, then a solid white planter stands out the best.