Alex Trebek's Last Residence In L.A. Hits The Market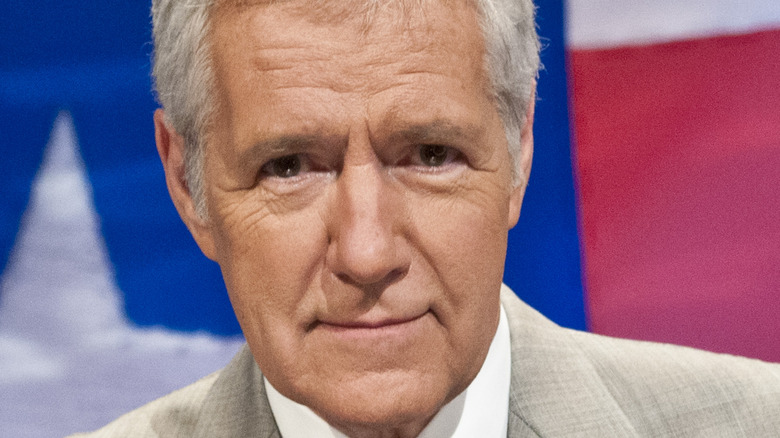 Kris Connor/Getty Images
The late Alex Trebek was most famous for the 37 years he spent hosting "Jeopardy!" Finally, his last L.A. residence has hit the real estate market. Alex lived in the home for more than 25 years with his wife, Jean Trebek, and three children who they raised in the home. Emily Trebek, Alex's youngest daughter, is the real estate agent selling the house, which is listed on Compass as a Mediterranean style mansion in Studio City, sitting on 1.5 acres of land and boasting 10,000 square feet of living space. The abode is currently listed at just under $7 million.
There are two houses on the property; the main house sports four bedrooms, nine bathrooms, a formal and informal dining room, a home theater, and a bar. There is also a detached guest house with one bed and 1.5 bathrooms, as well as a pool and beautiful backyard, full of greenery and gorgeous landscaping.
A Mediterranean mansion with modern flair
The "Jeopardy!" host's house was built in 1923, and purchased by he and his wife in 1991 for $2.15 million, per the New York Post. The house is a mix of classic Mediterranean style with modern touches, reflecting the Trebek family's long history in the residence. The foyer stuns with a two-story entry, met at the second story by two spiral staircases with wrought iron railing. Breaking up the classic tile and wood are the bright teal doors and light, airy color design. The teal aspects are seen around the house's exterior — gates, awnings, and railings all sport the color.
Additionally, the residence is a mix of comfortable, homey, and glamorous. The kitchen cabinets, fridge, and island are a warm-toned wood, paired simply but classically with white tiled countertops and backsplash. Moving to the entertainment rooms — the bar, home theater, and sitting room — there is a shift to luxurious red velvet carpeting, as well as gold and mirrored design aspects at the bar.
The master bedroom features a round, cut-out sunroof sitting area, as well as a private balcony overlooking the bright blue swimming pool. People reports that Alex spent his last days in his home, both due to the pandemic and the progression of his cancer, stating that he was enjoying his time spent there with his wife and children.