The Mansion Where The Manson Murders Took Place Just Hit The Market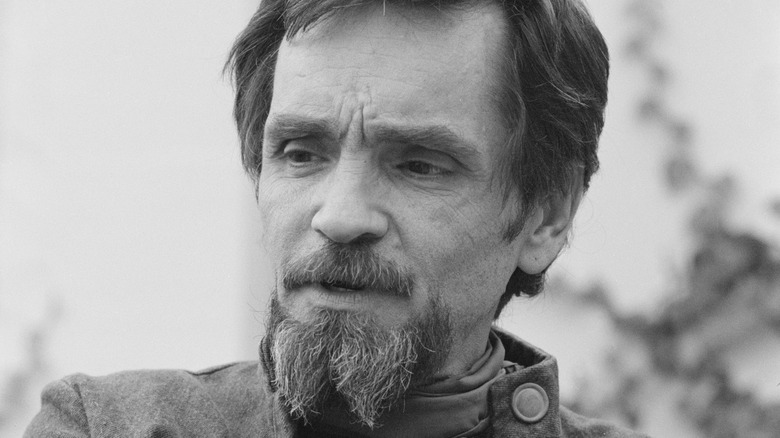 Michael Ochs Archives/Getty Images
According to Biography, Charles Manson (head of the notorious American communal cult the Manson Family) may not have killed his own parents, unlike Tom Odle. However, Manson and his devoted followers executed many grave assassinations during their tenure. But of all the murders committed by the 100-strong group, none was as infamous, grisly, and shocking as that of poor Sharon Tate (who was eight months pregnant) and her four guests inside a luxurious Cielo estate mansion — which is now up for sale.
Additionally, SceenRant writes that shortly after the bloody event on the night of August 8, 1969, producers started rolling out movies inspired by the Tate murder. Most of these movies suggested it's possible Tate's household wasn't Manson's target (he wasn't present at the scene), though an article published by Time says otherwise. 
Either way, even after the death of Manson on November 19, 2017, the $85 million house at 10050 Cielo Drive in Los Angeles remains uninhibited. The nine-bedroom, 18-bathroom abode went from one buyer to the next until Jeff Franklin (creator of "Full House") bought it in 2007 — and he's finally ready to pass it on for $85 million now that houses are hard to buy. Perfect timing, Jeff! Anyway, below, let's take an eerie walk around the mansion that's making the headlines for home of the week.
Inside the mansion where the Manson murders took place
According to Yahoo! Sports, the compound where the Manson murders took place features a 35-car capacity parking space, five exquisite aquariums, three waterfalls flanking a 75-yard pool, a cabana, and fire pits. Other sources, such as Realestate, also share there's a private grotto and swim-up bar, plus a traditional koi pond on the compound. And when you walk inside the house, you're captivated by an extravagant living space that connects to recreation rooms where you would want to spend your free time. But the most striking feature in the residence is an elegant spiral staircase, which Inquisitr says was the work of Franco Vecchio, the famous Sicilian interior designer. Additionally, Robb Report describes the living space as featuring vaulted ceilings above glossy tiles that represent glamor and wealth.
As noted by Mirror, one of the spaces is a game room with a standard vintage snooker billiards table near a fully-loaded bar completed by a set of elegant furniture. Then, another room is a stylish master bathroom with a huge soaking tub where you can take in views of Los Angeles, whether day or night. Other spaces include a fully furnished kitchen, a loggia with outdoor/indoor access, nine bedrooms, and 18 bathrooms (via the New York Post.) So, why is big Jeff Franklin selling the mansion? Well in his words to The Wall Street Journal (via Robb Report), Franklin is moving to Miami and, therefore, had to let the mansion go.