How Candis Meredith Guilt-Tripped A Home Work Homeowner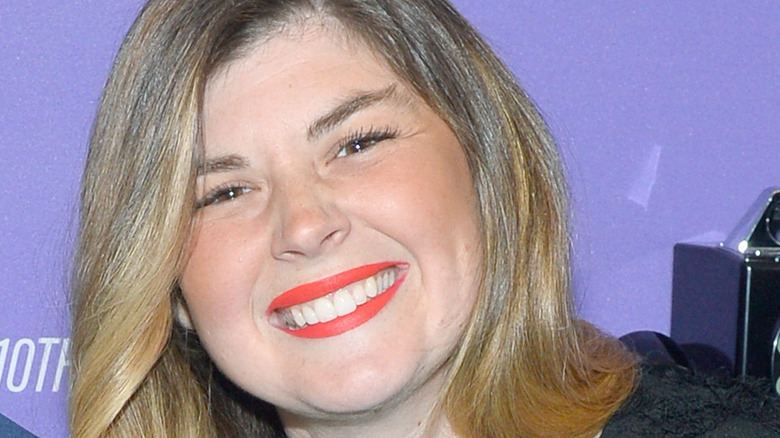 Noam Galai/Getty Images
Following the allegations that Andy and Candis Meredith conned four guests of the Magnolia show "Home Work," tons of roasting, shading, and calling-out on social media have been exchanged between the parties involved. Candis went so far as to respond to the situation by guilt-tripping one of the four guests, Aubry Bennion. 
In 2018, a San Diego-born resident of Utah, Aubry, bought a 1950s bounty house on the northern edge of Salt Lake City (via J News). Aubry loved this home so much that she shared loads of pictures of it with her DIY fans on IG with the hashtag #thewallsthatballsbuilt. However, according to East Idaho News, the kitchen needed a revamp, and the opportunity presented itself quickly in August 2019 when the Merediths asked to do it for $20,000 in a few weeks.
While Aubry was skeptical about the low budget and tight timeline at first, she was happy to take the offer considering she'd stayed in contact with the Merediths for a few years and the promise that her home would be shown on the Magnolia, KSL wrote. According to Utah News, after Aubry paid an initial deposit of $18,000, the project was left unexecuted for months, and the Merediths raised the $20,000 execution budget to $40,000.
Aubry, who was initially silent about the whole issue, finally took to her IG page to share an 18-parts story that started with, "Hi! It's time to tell the story of my made for tv kitchen renovation ..."
Candis of Home Work guilt-trips Aubry
In this 15 minutes video posted on IG on January 5, 2022, Aubry narrated what she called "a nonsense phone call," detailing how Candis guilt-tripped her.
Aubry was expecting a reply from the Merediths following the "figure it out by Friday or I quit on Monday" text she sent to Candis that day. She called her husband to ask if he was around to change the garage door combinations to prevent the Merediths from taking a cabinet that hadn't yet been installed. In the middle of the duo's discussion, a text message from Candis came in, asking Aubry to call her.
In the video captioned "make-it-or-break-it conversation with the manager of my kitchen construction," Aubry narrated that Candis said she wasn't expecting her to react that way. In this written version of the video, Aubry said the phone call included these statements from Candis; "I want us to be on the same team," "when things like this happen, I want to go out for ice cream together and shake our fists at the world," "Utah influencers don't like me because I'm not Mormon," "I can't give you a schedule because then you'll hold me accountable to it ..." The call ended with Candis increasing the budget of the project. In Aubry's words, "We were single-digit days away from the four-month late deadline for the completion, and she was telling me for the first time that she spent 60% more than the approved budget ..."