HGTV's Jasmine Roth Reveals Her Biggest Regret About Her New House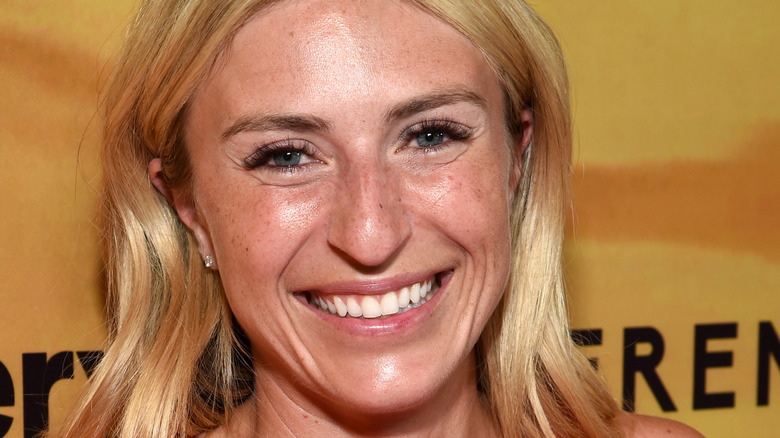 Michael Kovac/Getty Images
Jasmine Roth is most well known for her various HGTV appearances, including hosting "Help! I Wrecked My House" and "Hidden Potential," as well as winning season one of "Rock the Block." The designer and decorator is also the founder of Built Custom Homes and The Shop by Jasmine Roth, as well as a new mother to her daughter Hazel, who was born in 2020.
Roth recently sat down with Realtor to talk about her recent home renovation reveal, which has been three years in the making. In the interview, Roth spoke about her experience renovating the home, as well as her experience working on various shows and renovating other people's houses — what DIYs worked and what didn't, behind the scenes facts, her favorite aspects of renovations, and more. Roth recalls the time she made a family add 15 minutes onto their daily commute so they wouldn't accidentally see their home while it was being renovated. She also revealed her biggest regrets about her own home renovation.
Jasmine Roth's renovation regrets and tips
Roth told Realtor about all the favorite aspects of her house, as well as tips for other's renovations. One room she gave tips about was the nursery and playroom, stating, "it doesn't have to be a space that an adult doesn't want to hang out in. Meaning it doesn't have to be unaesthetically pleasing." Roth's playroom certainly reflects that, with a fun and unique crossword wall, a twist on cubbies, a sitting area suitable for adults and children, and a fresh aesthetic.
Roth also talked about her secret speakeasy room, which is hidden behind a bookcase. "We call it a wine tasting room. It just has a bench in there and a window, and it's just real small. If you don't know it's there, you don't know about it."
Roth has regrets about her renovation, though. For one, it took three years to renovate. Roth and her husband weren't able to move in until three months after the birth of their daughter.
"We started with dirt," she told Realtor. "And there's a lot of things I probably would have done differently." She also said she regrets not adding enough office space. The home has one office, but both Roth and her husband work from home. "We're trying to carve out another area where both my husband and I can work from home at the same time, take interviews, talk loud, and not have to worry about waking up the baby or stepping on each other's toes."