20 Best Taupe Paint Colors For Your Home Interiors
Followtheflow/Shutterstock
Figuring out the best paint colors to paint your home's interior can be a hard decision, especially since it's something you have to live with for a while. Some homeowners may select hues that can be bold and bright, while others think a muted, neutral color palette is the ideal way to go, which brings us to the shade taupe. According to The Spruce, the hue is a glorious neutral between shades of gray and brown, not to mention a soothing color that can be an excellent tone for some of the best rooms in your home, especially if you have warmer woods in your space or gold accent pieces.
If you go with taupe as your backdrop color for your walls, you may want to keep this in mind: Paolo Moschino of award-winning design studio Paolo Moschino Ltd. told Homes & Gardens, "Taupe is a beautiful color and a wonderful starting point, but it can err on the side of boring, so I always recommend introducing a contrast. I've covered walls in a taupe linen for a bedroom, which I then trimmed in electric blue to give a splash of color." Keep scrolling to see how your home's interior can look inspirational with the best taupe paint colors!
1. Taupe walls look stunning with vaulted ceilings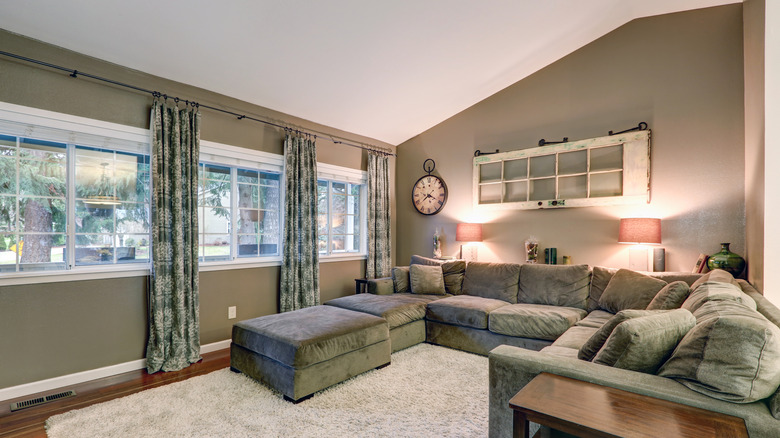 Artazum/Shutterstock
These gorgeous taupe walls bring out the high vaulted ceilings in this living room. Low-lit matching lamps create an overall calming and comfortable vibe to the space.
2. A hallway dressed up in taupe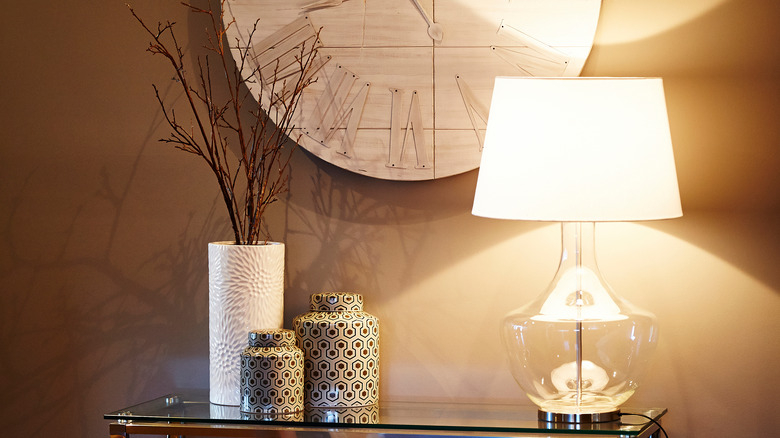 PhotoMavenStock/Shutterstock
This taupe wall in a smaller hallway draws the eye in with a gorgeous clock in a French provincial style and the perfect lighting.
3. A Hamptons-style retreat with the perfect pops of color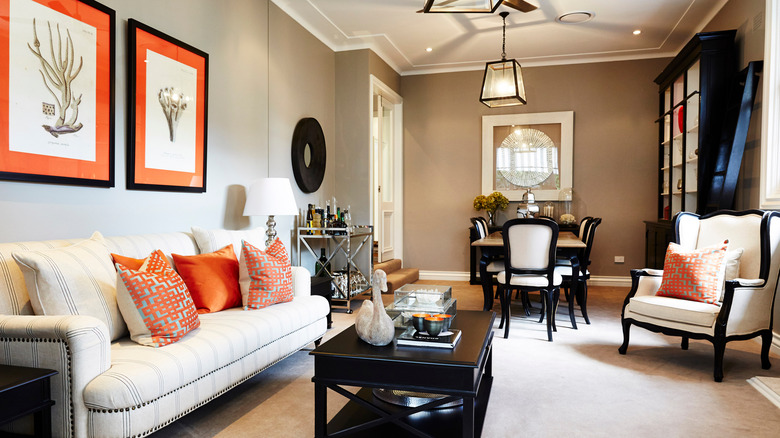 PhotoMavenStock/Shutterstock
The taupe walls come alive in this Hamptons-style home with a combination dining and living area featuring bright pops of orange, as seen in the artwork and pillows.
4. A comfortable living room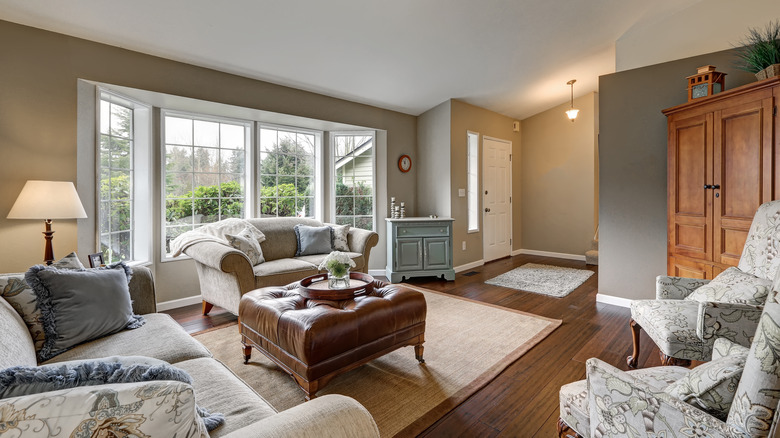 Artazum/Shutterstock
This living room oozes comfort with plush sofas, large windows, and wide plank floors, making the taupe walls stand out.
5. These taupe walls look completely classic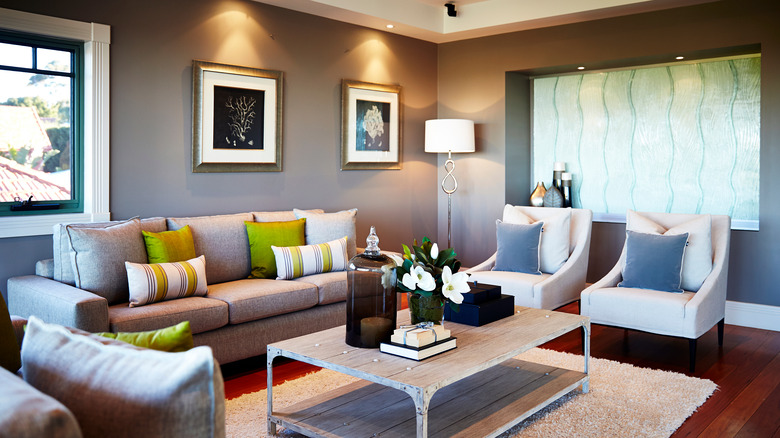 PhotoMavenStock/Shutterstock
The taupe walls and beige sofa may be classic, but never dull! It looks like a stunning yet relaxing place to lounge with the right art and lighting.
6. A touch of taupe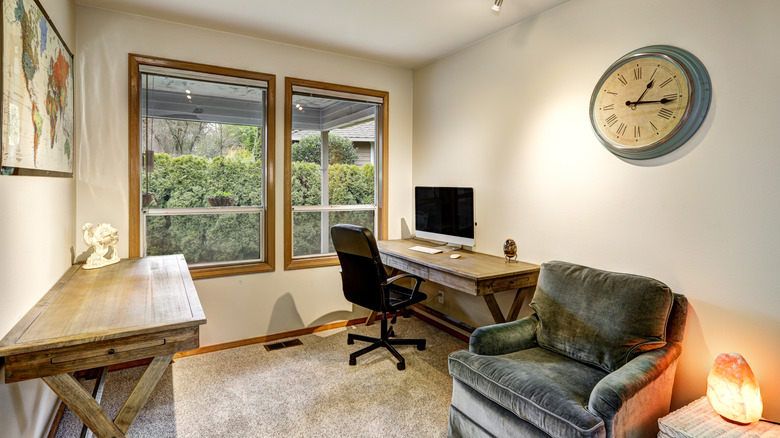 Artazum/Shutterstock
This beige office uses a touch of taupe highlighted on the trim of the windows, which is definitely an unexpected use of the neutral color, and we are here for it!
7. Taupe can make basic white stand out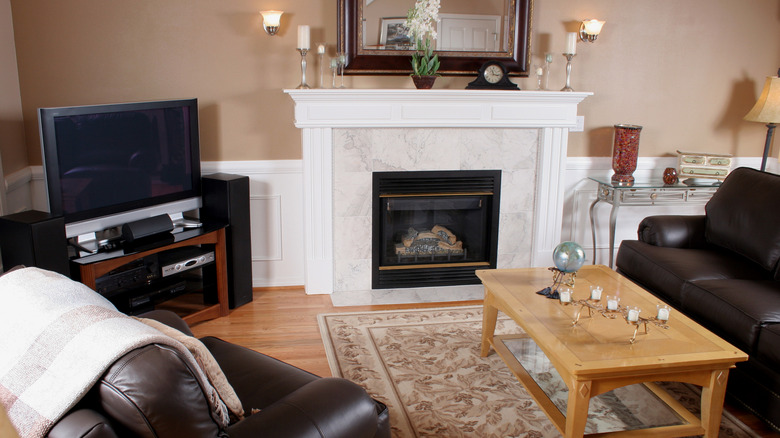 Lisa Turay/Shutterstock
Who knew that painting taupe on your walls could make a white mantel stand out, creating a totally cozy vibe?
8. A calming look in the dining room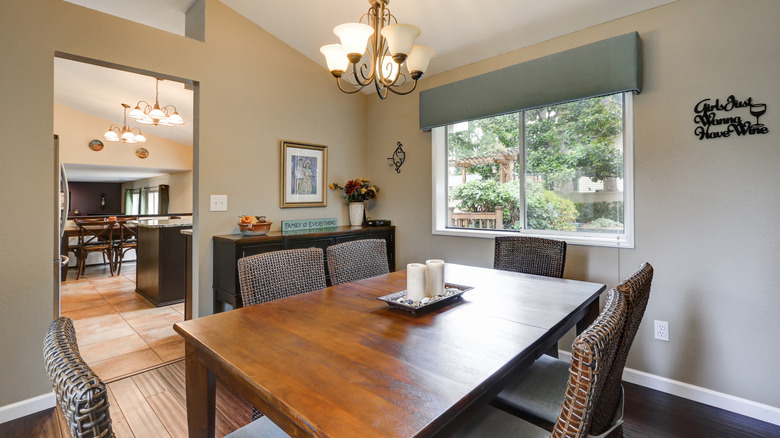 Artazum/Shutterstock
Neutral tones are seen throughout this home, and while the kitchen boasts beige walls, the taupe color used in the dining room gives this space distinction.
9. A touch of taupe is romantic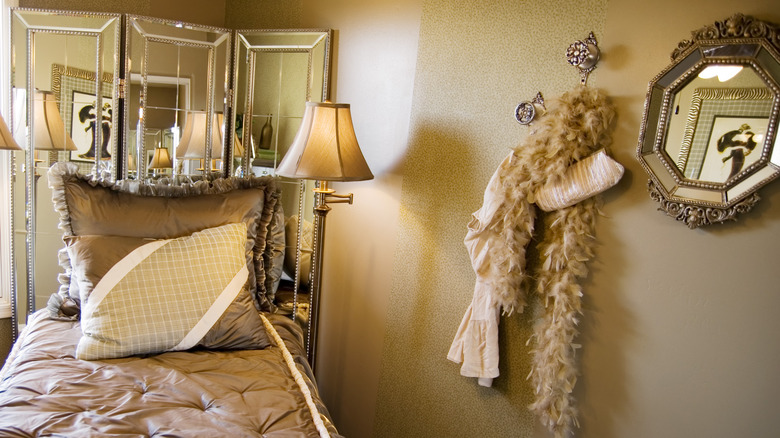 BCFC/Shutterstock
A '20s style boudoir is so calming and utterly romantic. Homeowners started with the subtle hue on the walls and added mirrors and low-lit lighting to set the overall mood.
10. A unique perspective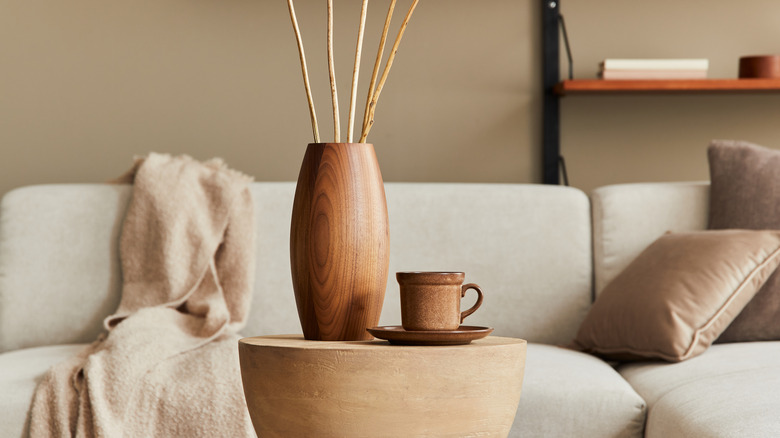 Followtheflow/Shutterstock
The color taupe moves seamlessly through this stylish living room. It's seen on the walls and brought front and center with a uniquely shaped coffee table.
11. Paint a textured wall the stunning shade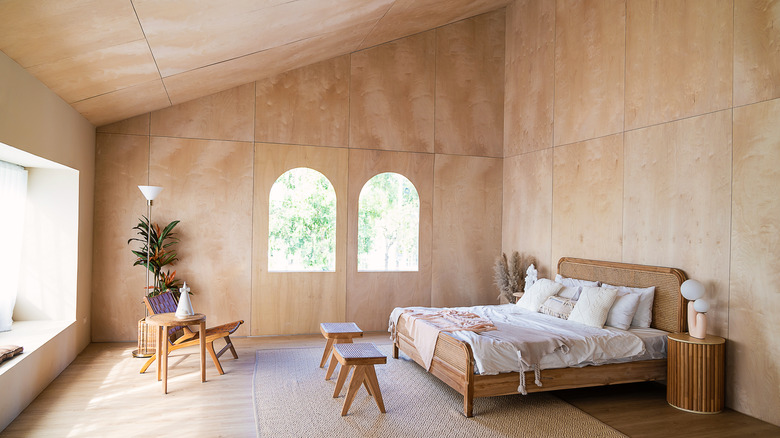 paulaphoto/Shutterstock
Create a rustic feel by painting a wood wall in a glorious shade of taupe. Add wood furniture, including a bed, chair, benches, and you have yourself a stunning bedroom oasis.
12. A classic monochromatic space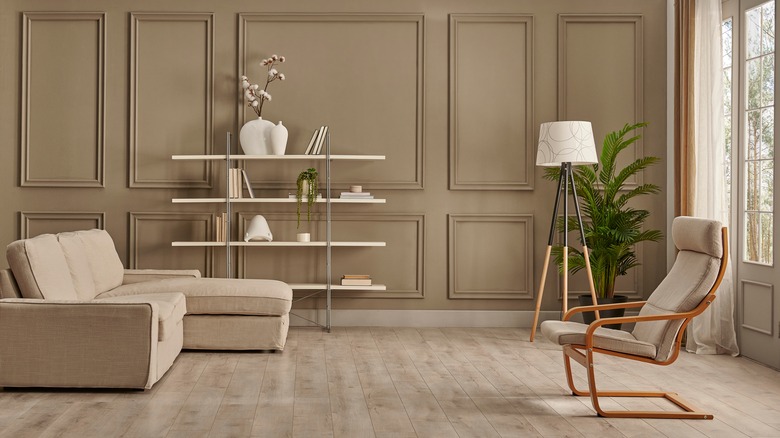 united photo studio/Shutterstock
The taupe paint color in this room is such an ideal choice! The walls feature an elegant trim detailing, highlighting the perfect taupe shade. The homeowners chose a cozy cream color for the sofa and tied the look together with chic furniture, including a bookshelf and tall lamp.
13. A bohemian home office
Followtheflow/Shutterstock
Adding a touch of boho-chic style in this office inspires us to be extra creative. The taupe walls are the perfect backdrop. Just add a macramé hanging, rattan touches, and plants.
14. A bathroom bathed in taupe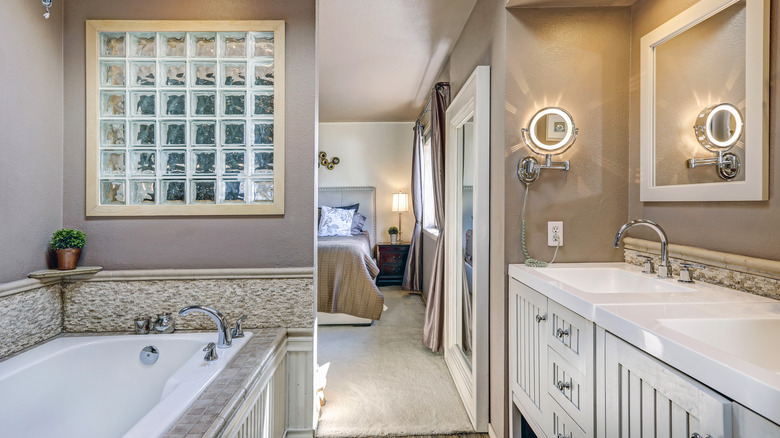 Artazum/Shutterstock
This gorgeous bathroom with white cabinets is painted in a relaxing taupe hue that matches the bedding and the drapery in the bedroom.
15. A chic space to relax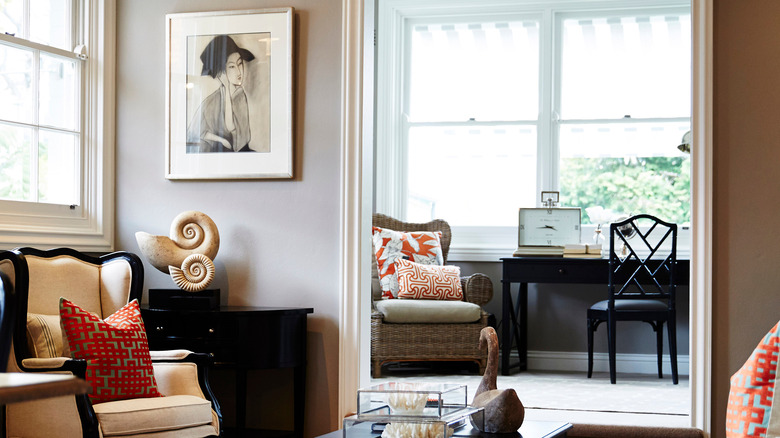 PhotoMavenStock/Shutterstock
Taupe walls with white trim give this living room an elegant vibe. The black coffee table and console make the room a total standout.
16. An ultra-luxe living space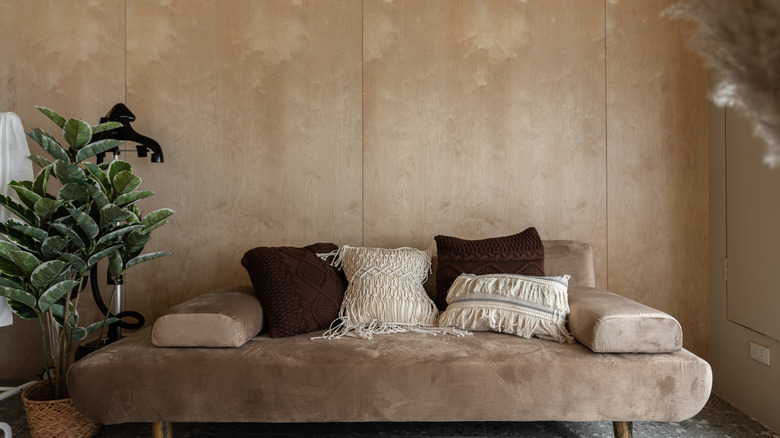 NMC2S/Shutterstock
Taupe walls and a luxurious velvety couch are all you need to create a room that is a knockout when it comes to style.
17. A light taupe that wows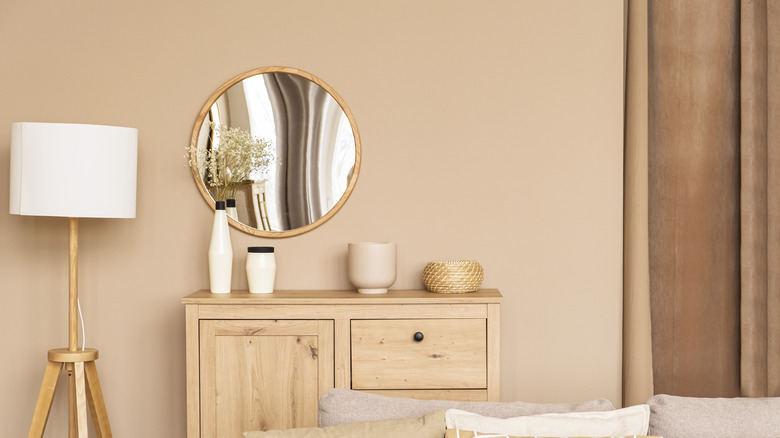 AliceCam/Shutterstock
Opt for a light taupe color to create a calming atmosphere for your interior. Bring light woods in the space for the ultimate room makeover.
18. A chic child's room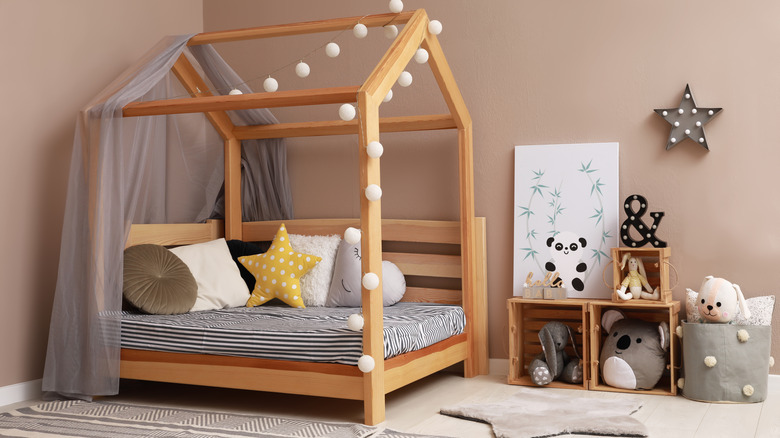 New Africa/Shutterstock
This kid's room looks absolutely elegant with taupe walls that happen to mix really well with gray accessories.
19. Add dimension to your neutral walls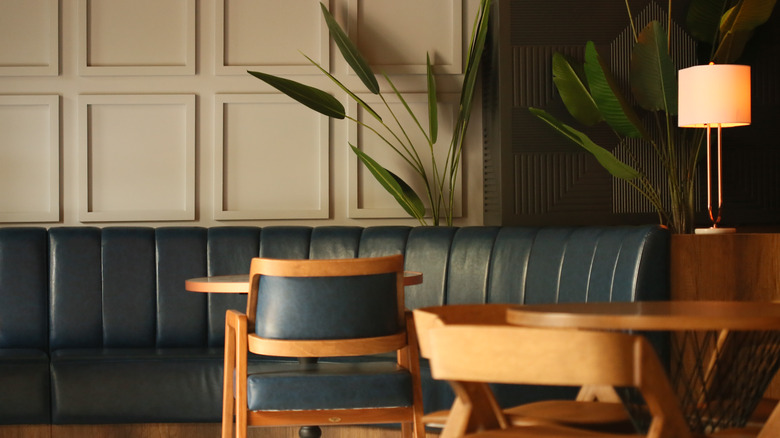 burcukirkin/Shutterstock
Taupe walls look incredible when you add a bit of dimension. These square patterns on the wall are anything but basic, and the luxe green leather furniture creates the ultimate glamorous space.
20. A taupe ombre effect is visually stunning
paulaphoto/Shutterstock
If you want to do a neutral shade like taupe but would like to give it a unique spin, consider creating an ombre effect to add interest.