20 Teen Bedroom Ideas To Upgrade Your Child's Space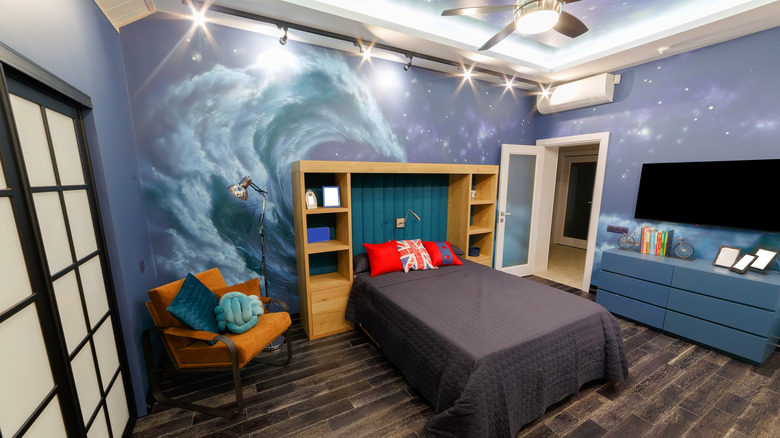 Vrn36/Shutterstock
If we know anything about teenagers, it's that their rooms are their domains. It's where they spend a bulk of their time, from catching up on homework to scrolling on their phones, spending hours getting lost in the worlds of TikTok and Instagram.
Kimberly M. Stone, owner of the interior design firm Adore Your Décor, explained to LoveToKnow that there are a few things to consider when you're designing a teenager's room, including infusing vital elements into the space such as function, personality, and memorabilia. "Invest in some furniture that has an adult feel, so that your teen will not outgrow the room's décor in a couple years. This furniture could even be something they take with them later to college or their first apartment," said Stone.
Livingetc suggested that parents and teens collaborate on the room together, creating mood boards and talking about everything (to avoid meltdowns, of course). So if you're ready to get inspired to take on your teen's bedroom space, keep scrolling.
1. High on style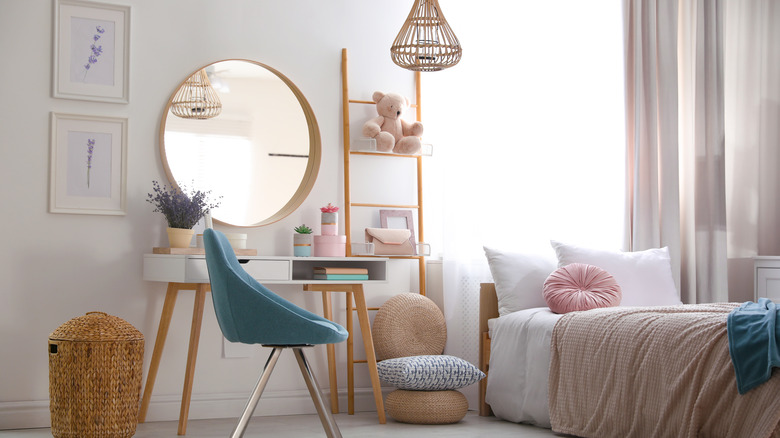 New Africa/Shutterstock
This teenage bedroom features neutral tan tones, giving it a sophisticated flair. A workspace for homework, boho-style lighting, and sheer drapery ties it all together.
2. White and gray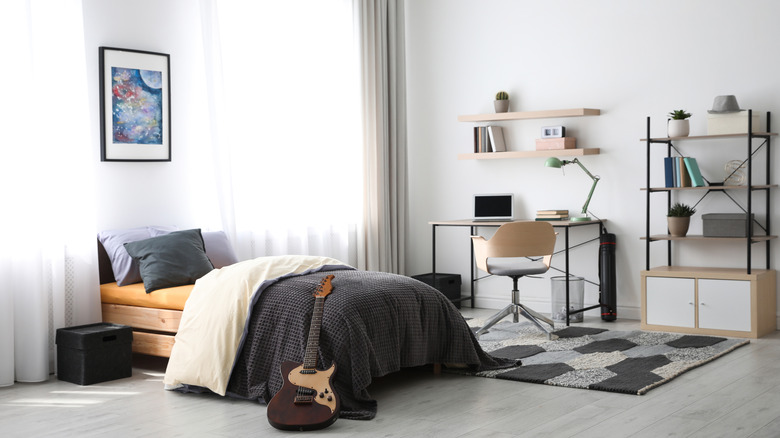 New Africa/Shutterstock
White walls look crisp paired with gray bedding, pillows, and a patterned area rug. A work area with open shelving makes this room organized and functional.
3. A mid-century modern work area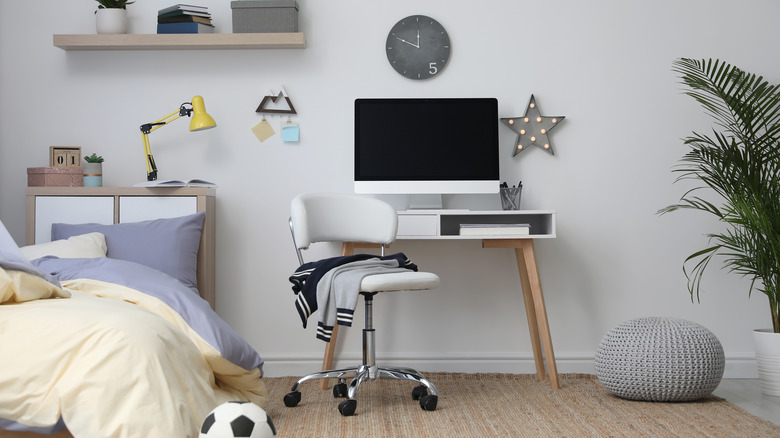 New Africa/Shutterstock
The focal point of this room has to be the mid-century modern desk that brings sophistication to the space and is definitely a piece your teen will take with them and use for many years to come.
4. A touch of pink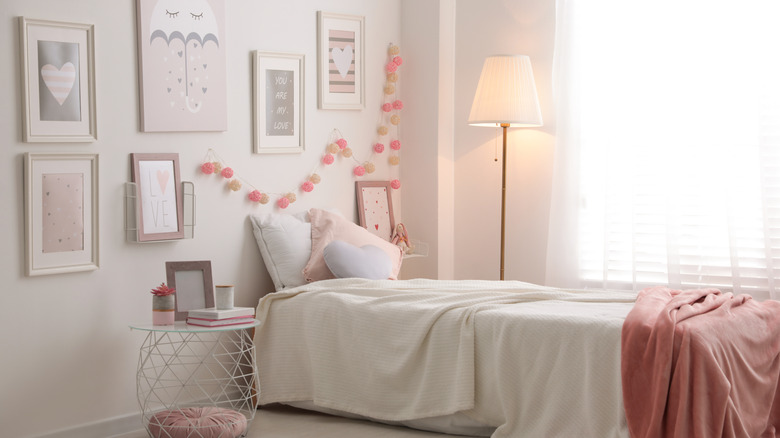 New Africa/Shutterstock
Add a whimsical touch of pink throughout the room for a stylish and simple upgrade to your teen's bedroom. Accessories such as a cozy throw blanket and some pom accents make the room both cute and cool.
5. Into the Blue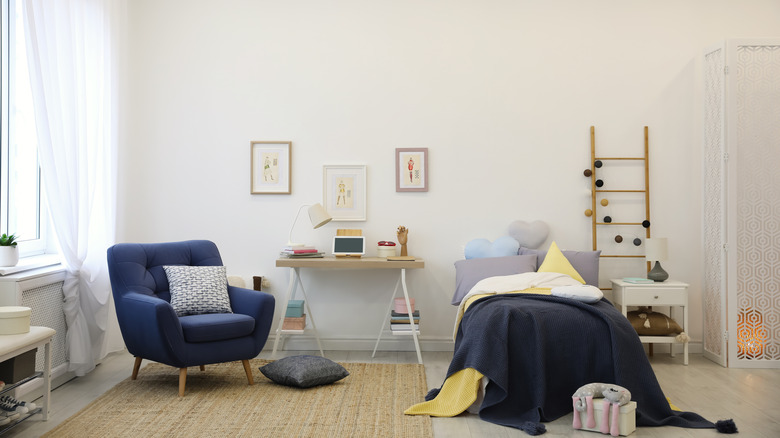 New Africa/Shutterstock
This simple room upgrade shows that it doesn't take much to change up a room, as long as you have the right accessories, artwork, and beautiful bedding, like this deep blue comforter with gray and yellow pillows.
6. Electrifying Art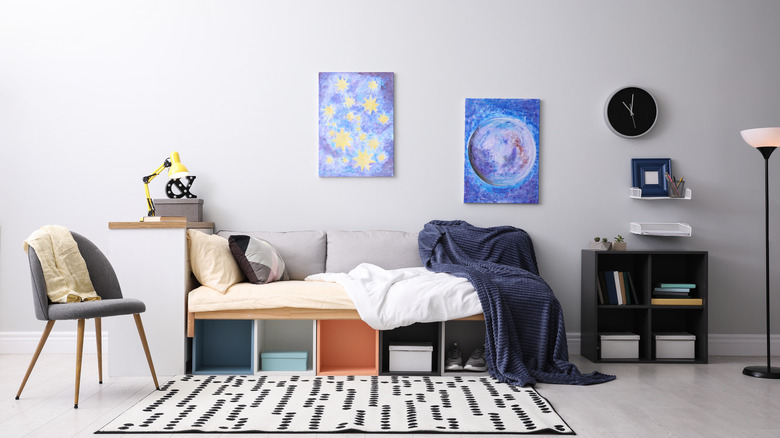 New Africa/Shutterstock
Infuse your teen's room with stunning artwork that can inspire them to reach for the stars and give them ample space for storage, too.
7. A relaxing neutral palette
brizmaker/Shutterstock
Some boho accents can bring a relaxed vibe to the room, from the macrame wall hangings to the twinkling lights.
8. Peachy-pink and gray is a divine combination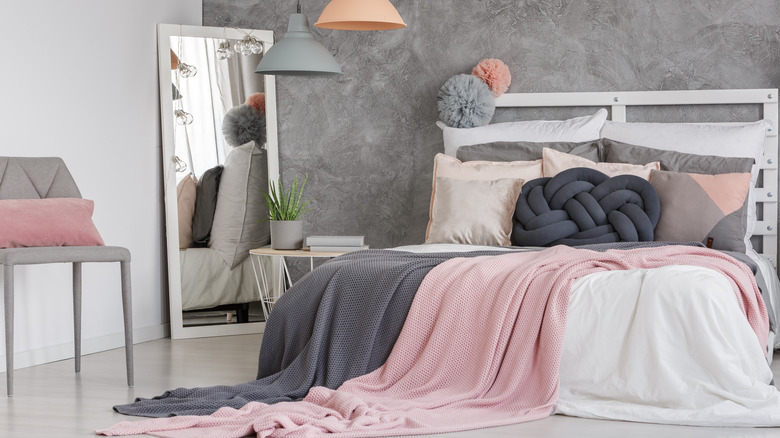 Photographee.eu/Shutterstock
An ombre gray accent wall sets the stage for this room design. We love the mix of peachy pinks and gray in the space, from the lighting to the bedding.
9. Gorgeous accent wall with shiplap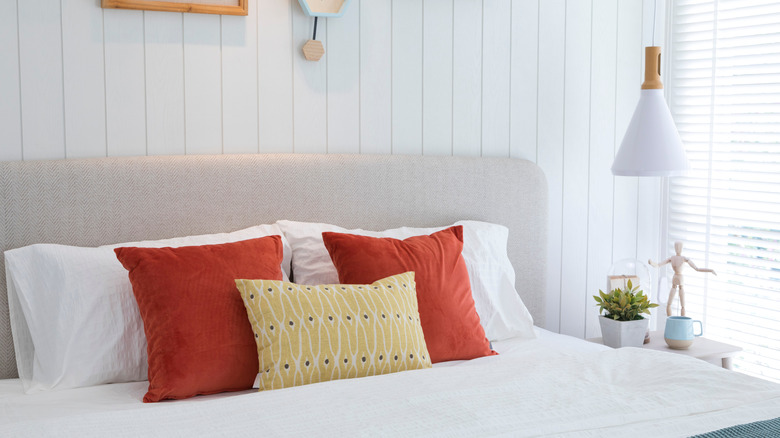 ben bryant/Shutterstock
These crisp, white shiplap walls are so fresh in this teen's bedroom. A plush headboard, white bedding, and colorful pillows finish the look.
10. A Peach oasis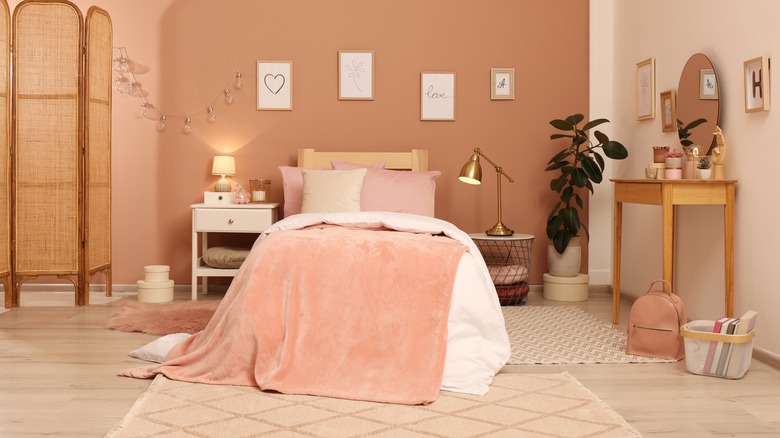 New Africa/Shutterstock
This stunning peach bedroom packs a lot of punch. The walls are doused in the shade, as is the bedding, making an exquisite transformation.
11. A dreamy room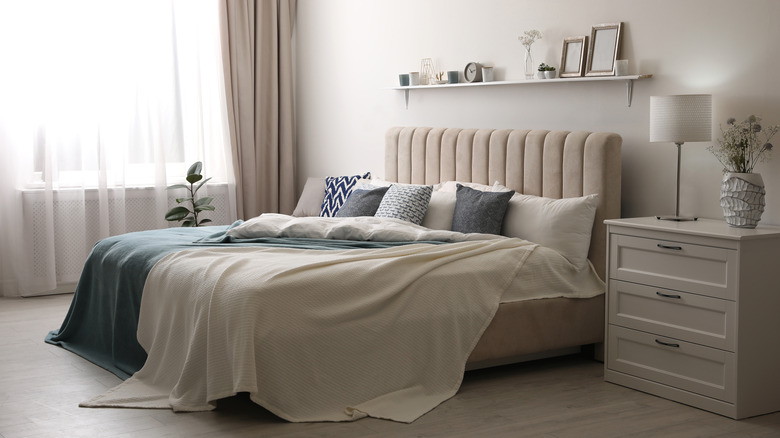 New Africa/Shutterstock
This dreamy room gives us total ethereal vibes with soft bedding, flowy drapery, and just the right amount of accessories for a look that's all grown up. 
12. A unique paint perspective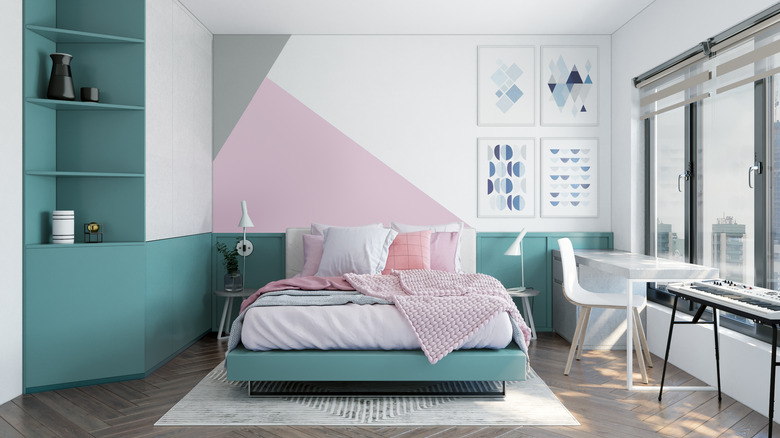 Tuan Anh Vu/Shutterstock
Paint is one of the best ways to create an awe-inspiring space in your teen's room — and the mix of teal, pink and gray geometric shapes really makes this space pop.
13. Light pink dream space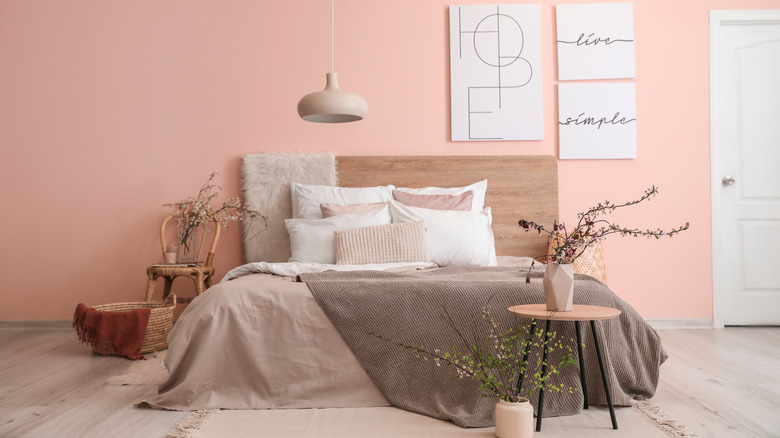 Pixel-Shot/Shutterstock
Light pink covers the walls of this sophisticated teen's bedroom. Add gray bedding with white, pale pink pillows and artwork.
14. Beige is so not boring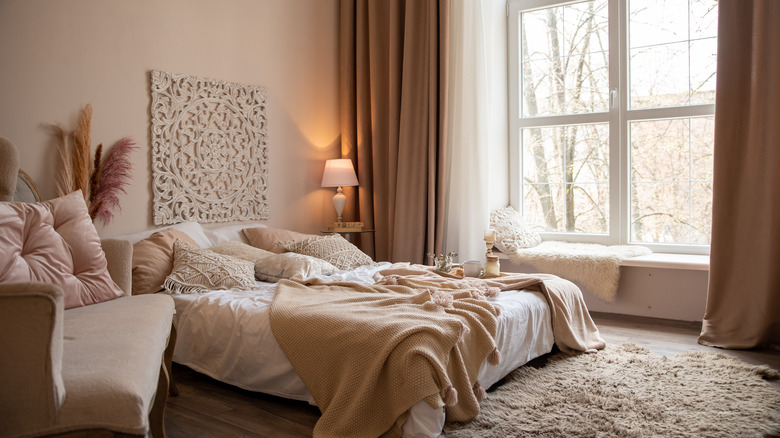 Marianna_ Zh/Shutterstock
If your teen thought beige was so uncool, show them this inspiring bedroom with flowing drapes and throw blankets in a neutral hue. We also can't get enough of that oversized textured piece of artwork above the bed!
15. When in doubt, add life with plants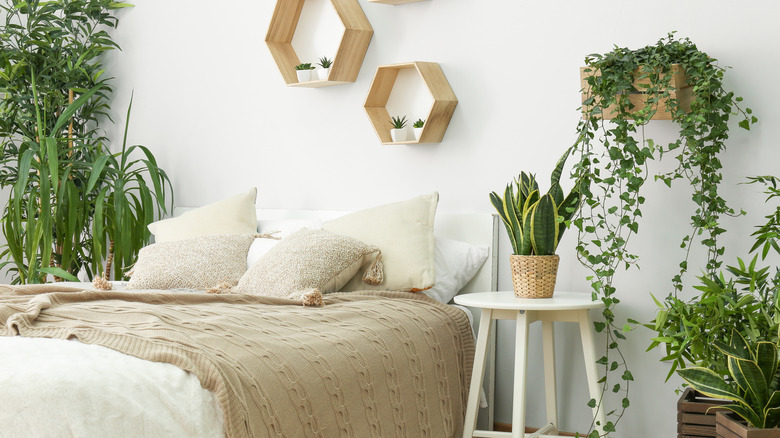 Pixel-Shot/Shutterstock
When sprucing up a teenager's bedroom, you may want to consider adding plants to their room. Not only will it fill the space with life and look beautiful, but it will also get them to take care of something, too!
16. Paint it green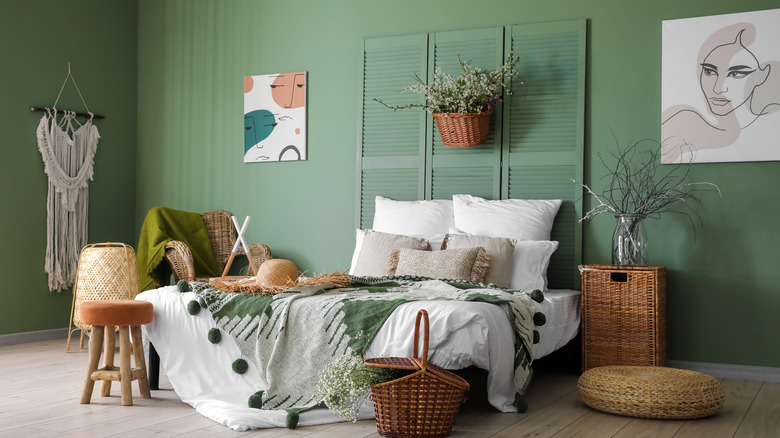 Pixel-Shot/Shutterstock
Go green, and add a little inspiration to the walls and some artwork that a teenager can really get behind, and you have yourself a winning combination!
17. A bright yellow accent wall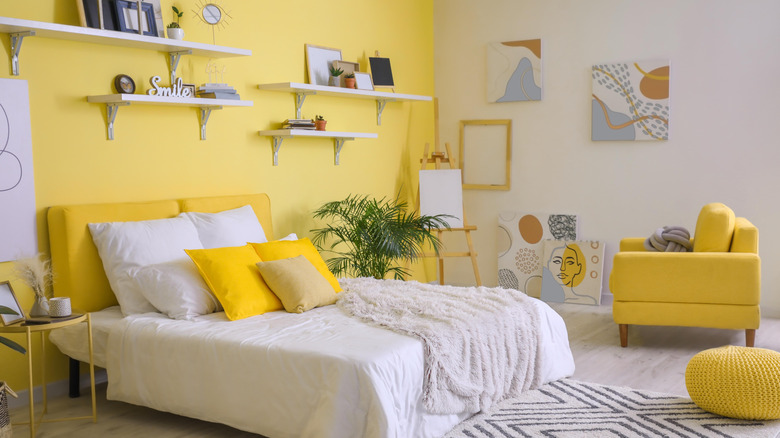 Pixel-Shot/Shutterstock
Give your teen something to smile about as soon as they walk into their room. This bright, yellow accent wall will surely do the trick, especially when paired with neutral accessories.
18. A mix of colors that works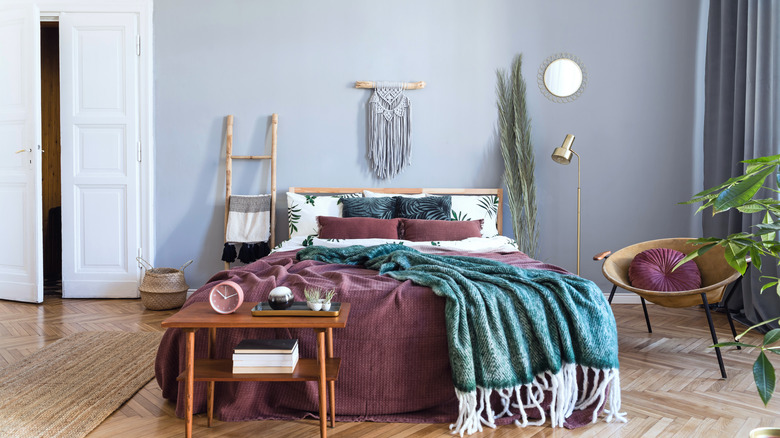 Followtheflow/Shutterstock
The light gray walls and drapery look divine with the burgundy and teal bedding. This is a style that could take anyone well into their adult years.
19. Mustard yellow vibrance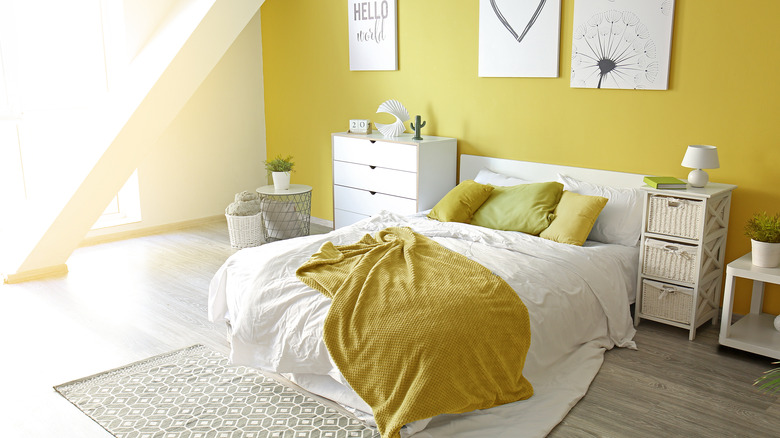 Pixel-Shot/Shutterstock
A mustard yellow is always a good idea. Nivara Xaykao, associate manager of color marketing and development at Benjamin Moore, tells Better Homes & Gardens that "the color is very decadent, a stylish alternative to gold." We couldn't agree more, and it looks totally fresh when paired with white bedding and furnishings!
20. Fit for a queen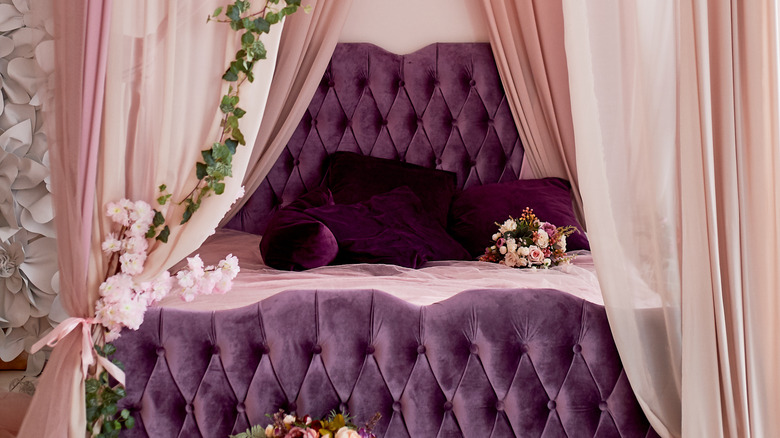 Galina F/Shutterstock
We can't get enough of this dreamy space that your royal teen will surely fall in love with. From the luxe purple tufted bed to the drapery, who wouldn't want to wake up here every day?