What Color Palettes To Use If You're Featuring Yellow
Yellow is a color that inspires joy in many people. It's the color of the sun, commonly associated with warm weather, happy memories, and so on. According to My Move, yellow relays a sense of happiness, as well as capturing the essence of sunshine. Similarly, Empower Yourself With Color Psychology says the color is uplifting, instills a sense of hope, happiness, and cheerfulness, inspires creativity and originality, and helps encourage new ways of thinking or creative problem-solving.
However, the color is also associated with being anxiety-inducing and can instill feelings of jealousy, aggression, and frustration. Yellow is a pretty bold color, no matter what shade, and can easily overpower a room. That doesn't mean it shouldn't be used to decorate, though. My Move even suggests painting whole rooms, like living rooms, bathrooms, kitchens, and dining rooms yellow. You just need to know how to incorporate the color naturally into a room, which can be done with careful color matching. Blues can be used to bring down the aggression, green and orange can help root the color, etc. Read on for more ideas on how to feature yellow in a room.
Light yellow and terracotta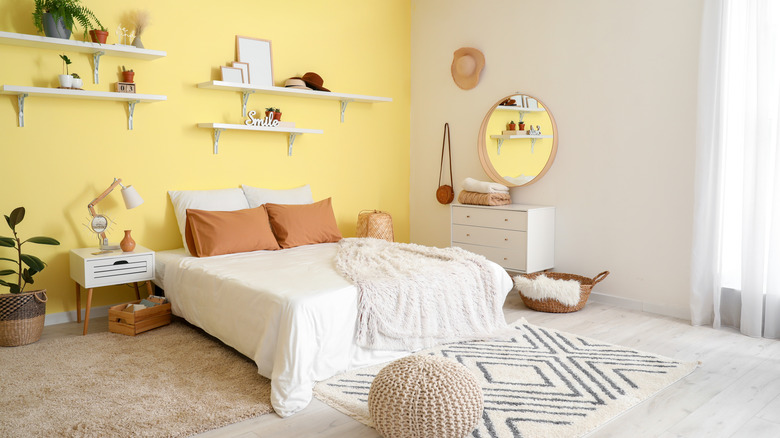 Pixel-Shot/Shutterstock
Yellow is a color that influences lots of other colors, such as various shades of orange. Keep the orange and yellow duo more subtle and earthy by choosing a lighter yellow and heavier, more terracotta-toned orange.
Yellow and gray
Brighter shades of yellow pair well with cool shades of gray, offering tone contrast while looking nice together. Opt for a more rustic shade of both yellow and gray, paired with rougher wood finishes for a rustic look.
Bright yellow and blue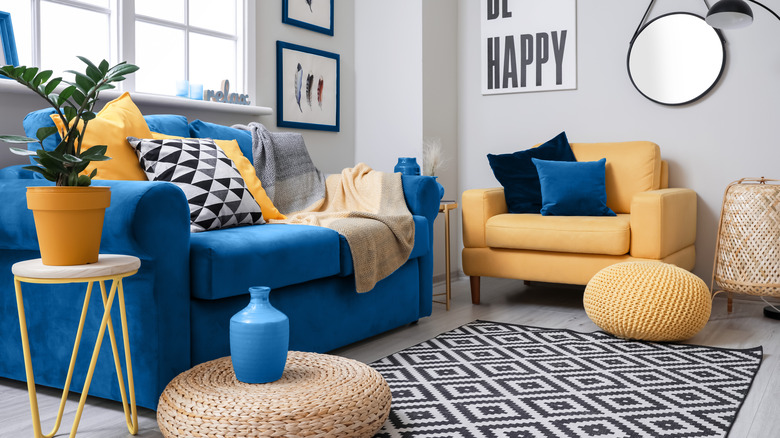 Pixel-Shot/Shutterstock
Yellow and blue are classic colors to pair together, offering a nice blend of warm and cool tones while still being bright and punchy. Pair a bold shade of blue with a sunshine yellow for a funky, bright room.
Yellow and bright green
Yellow and green are a great color combo because yellow is a part of achieving green. Pair a muted but bright yellow with a slightly muted lime green for a bright but classic look.
Mustard and sapphire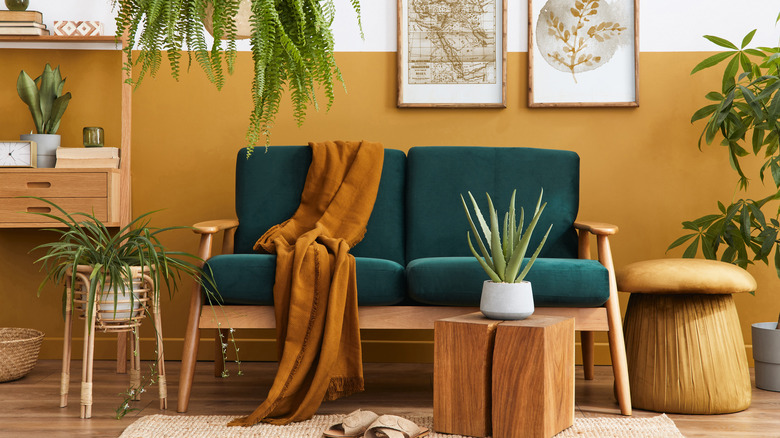 Followtheflow/Shutterstock
Yellow and blue as a color pairing don't have to be bold. For a more subdued look, opt for a deeper, mustard tone of yellow with a richer, sapphire jewel-toned blue.
Dark gray and yellow
For a more modern twist on the yellow-gray combination, choose a deeper, more blue-toned gray with a darker muted yellow. Pair with classic modern black and white furniture and decor for the full effect.
Yellow and oak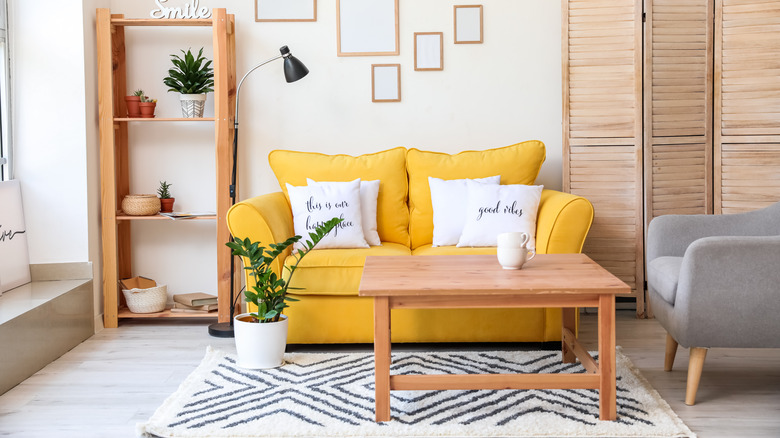 Pixel-Shot/Shutterstock
Yellow can be a very powerful color and is hard to decorate around. Avoid this problem by simply featuring only yellow and pairing it with yellow-toned oak and bamboo-colored furniture, letting yellow take center stage.
Honey and gold
Create a really warm look and feel in a room by choosing to feature a warm, rich, honey-toned color of yellow — pair with gold to match, adding a sparkle to the deep shade.
Modern blue and yellow
Blue and yellow can also be used to achieve a modern and trendy feel. Choose a darker, almost gray-toned blue to pair with a bright and flat shade of yellow.
Yellow, blue, and green
Yellow, green, and blue are colors that go excellently in any combination and go great together. Keep them in the same level of bright to dark for a more uniform look, or play with depth for visual texture.