AirBnBs In Ukraine Are Being Rented Like Crazy - Here's Why
Ascannio/Shutterstock
When Russia began its full-scale invasion of Ukraine on February 24, 2022, online defense strategies by ordinary people sprouted almost immediately to help Ukrainians thwart or derail Putin's unlawful intrusion. Considering the various fundraising campaigns, rapid fact-checking efforts, innumerable donations, cyber attacks against propaganda-riddled Russian websites and TV channels, and governmental sanctions aimed at boosting President Zelenskyy's unwavering leadership, it is safe to say that the world stands with Ukraine.
The latest humanitarian efforts, which involve Airbnbs, have affirmed our faith in the internet. It all started when a notable Instagram account, @quentin.quarantino, run by Brooklyn-based influencer Tommy Marcus, shared a screenshot of a trailblazing tweet sharing with people an idea to rent rooms from Ukrainians in the most hard-hit areas" The original tweet and Instagram post went viral, with hundreds of people joining the movement to rent rooms in a country they have no immediate plans of visiting or touring.
Airbnb jumped on the bandwagon to waive all host and guest fees associated with using their service in Ukraine. They also announced their plans to provide free, short-term housing to up to 100,000 refugees fleeing Ukraine. Marcus is no stranger to rallying his followers to support altruistic causes. In August 2021, he organized and raised $7 million on behalf of Raven Advisory LLC, The International Women's Media Organization (IWMF), and other non-profit organizations to help fund evacuation flights for Afghan civilians fleeing Taliban rule.
How it works and how you can lend support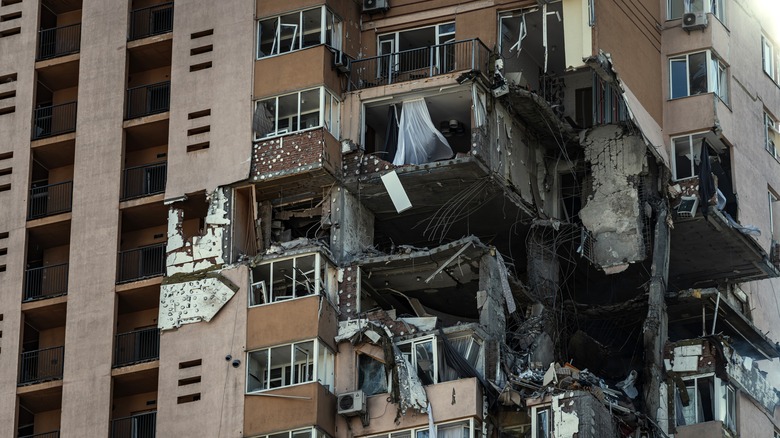 Serhii Mykhalchuk/Shutterstock
Simply hop on Airbnb Ukraine and book a room as a gesture of solidarity and encouragement. It is best to choose small to mid-sized rooms or apartments in cities that have been hit the hardest by Putin's deadly strikes. Per our research, at the time of writing this article, such places include Kyiv, Zhytomyr, Chernihiv, Severodonetsk, and Kherson. Consider booking close dates to ensure that the hosts will receive the money as soon as possible since they are paid 24 hours after the guest has checked in. We also recommend contacting the host to let them know that you will not be making the trip.
According to Airbnb, people from all over the world have booked 61,000 nights in Ukraine so far, grossing nearly $2 million. Per the breakdown, 34,000 nights were booked by U.S. users, 3,000 from Canada, and 8,000 from the U.K. If you prefer to host or donate to Airbnb's efforts to provide housing to refugees fleeing Ukraine, head over to Airbnb.org to lend support. Per Marcus, another novel way to support and encourage Ukrainians requiring financial aid is to purchase digital products or physical goods that you do not intend to have delivered. Explore platforms such as Amazon, Etsy, Artfire, Ruby Lane, and top-ranking e-commerce websites in Ukraine.