What Color Palettes To Use If You're Featuring Purple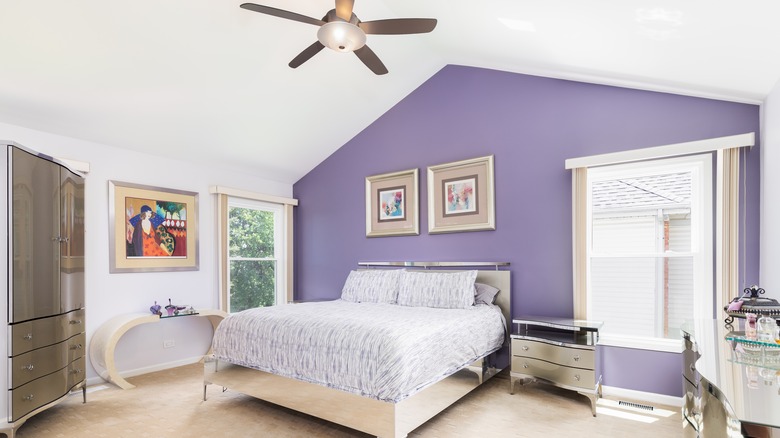 Hendrickson Photography/Shutterstock
When designing your home, deciding what color you're going to incorporate is one of the most exciting parts of the journey. Purple has become one of the trendiest colors in the last couple of years. It works great in fashion, whether that's clothes or accessories, but it works especially well when it comes to interior design and decor. Purple is so versatile that however you envision your space to look like it can come to life.
Purple symbolizes different things for different people, but it naturally means bravery, wisdom, and spirituality while also resonating with wealth and royalty, according to VeryWellMind. Everyone has their own connection to the different shades of purple, but they each have significant meanings. Lighter shades of purple, such as lavender, resonate with romantic sparks, and darker shades of purple resonate with a deeper feeling like sadness.
Even though purple can hold its own significance and give different meanings to the people who look at it, it can affect their physical being in terms of how they respond to the hues of purple in a space. Purple can create a sense of peace and calmness within a person, according to Sensational Color.
Lavender and bright yellow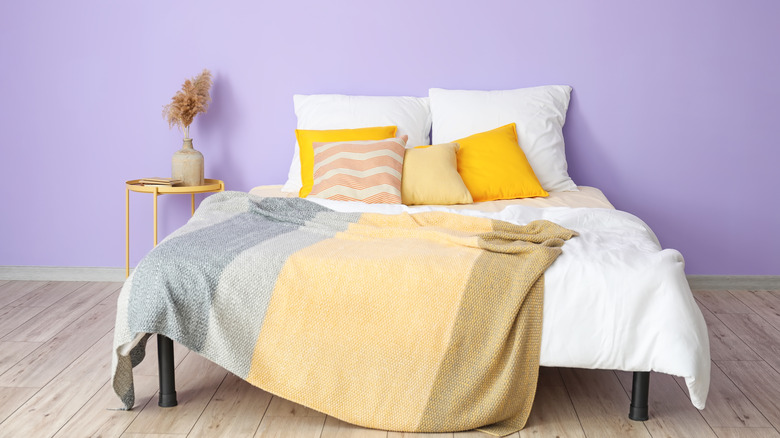 Pixel-Shot/Shutterstock
Light purples like lavender is a softer color, so it can be perfectly paired with brighter colors such as yellow. Adding yellow cushions to white bedding against a purple wall will make it stand out. If you have a neutral-colored room, you can add purple rugs to add some color.
Dark purple and light pink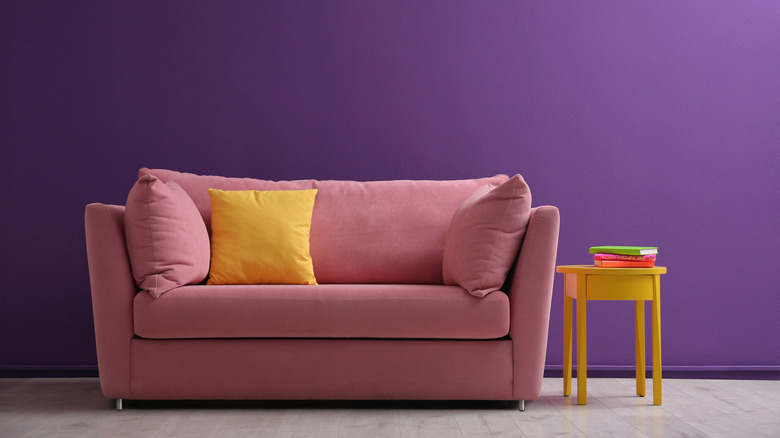 New Africa/Shutterstock
A dark purple wall can be a little intimidating, but pairing it with soft colors like pink can brighten up the room. Adding a touch of yellow can lessen the intensity of the dark purple. 
Purple with traditional black and white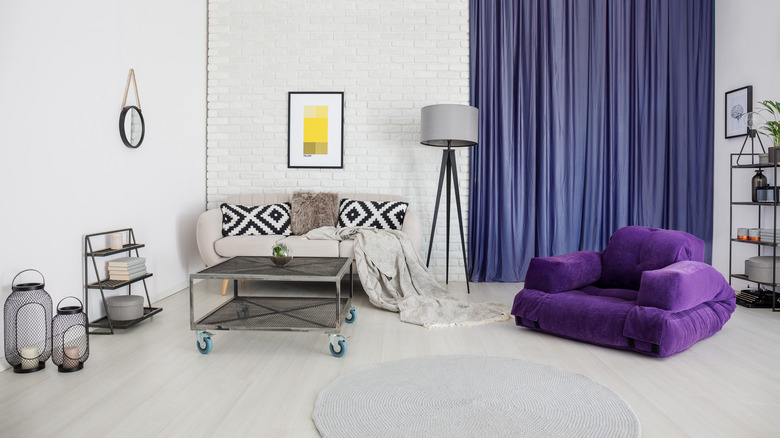 Photographee.eu/Shutterstock
Sticking with traditional colors such as black and white always makes a room appear clean and modern, but when you incorporate purple, it adds a touch of chicness. You can add purple furniture to elevate the look of the room.
Purple and gray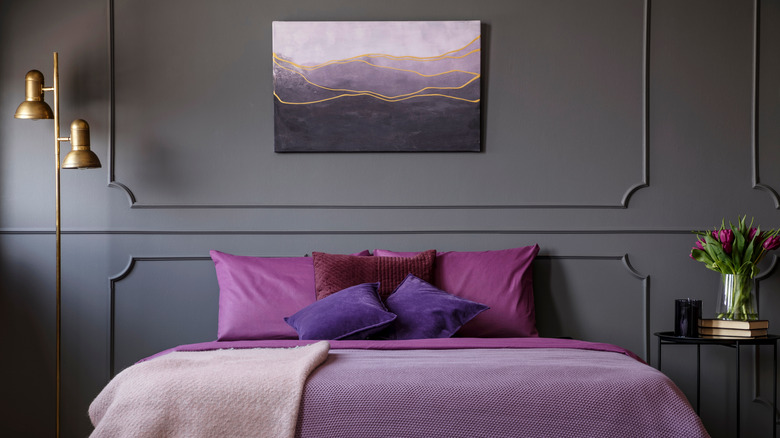 Photographee.eu/Shutterstock
Gray hues can make any room intimate, but if you want purple to be the focal point, paint the walls a dark gray color and add purple furniture for a nice blend. Adding some green plants will create a soothing environment.
Purple and lime green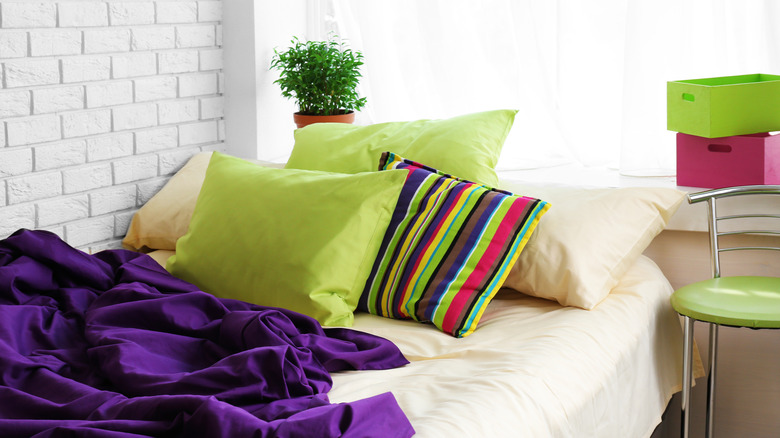 Africa Studio/Shutterstock
Oftentimes it can be a bit much if there are too many accent pieces when working with purple. However, lime green is so fun and bright that pairing it with purple will make it a subtle look, such as lime green pillows and a purple comforter.
Purple and brown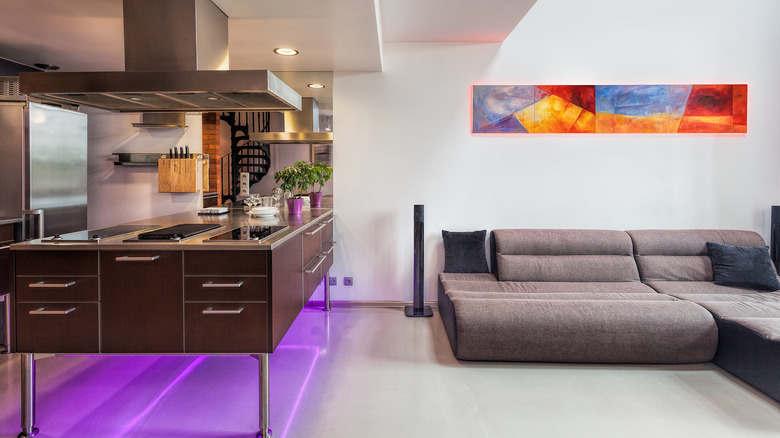 Photographee.eu/Shutterstock
The epitome of neutrals is brown, any shade from light to dark can add some flare to a room with purple accents to accompany the space. It could make a room luxurious, given your main focus is purple decor with brown furniture, or make it funky with having purple as your focal point.
Lilac and light blue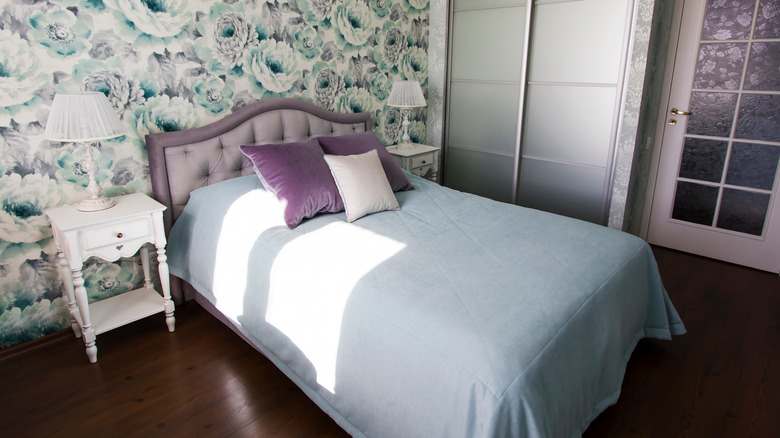 Galina Zhigalova/Shutterstock
Using pastel shades of purple, like lilac, can brighten up any room. If you pair it with a few pastel blue hues, it will keep the soft tone of the room.
Violet and silver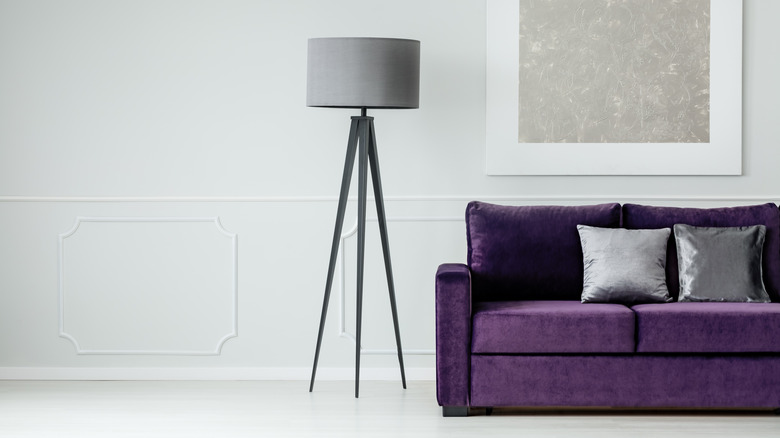 Photographee.eu/Shutterstock
Adding a touch of purple to a silver-filled room can create a luxurious feel. Purple doesn't have to be for just kids; using a darker shade, like violet, will elevate the room with the silver details.
Purple and Emerald Green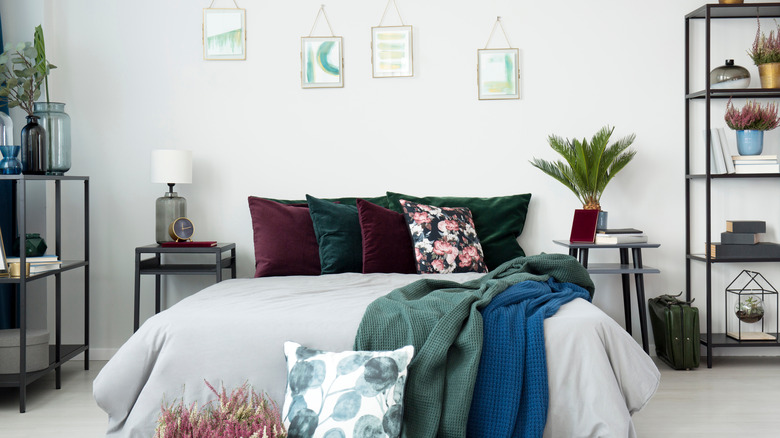 Photographee.eu/Shutterstock
Although these two are darker colors, they can be fun to play around with, whether that's adding emerald and purple accents such as cushions to a room with white furniture to create a traditional feel or purple chairs or rug against an emerald wall to direct focus to the purple.
Purple and red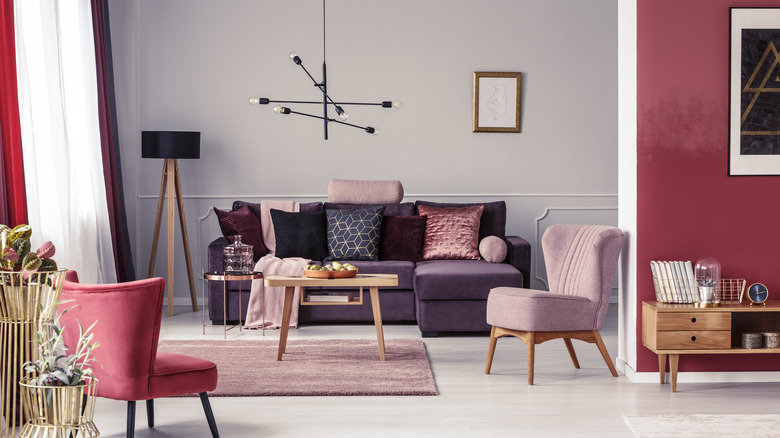 Photographee.eu/Shutterstock
For a royal treatment, a purple and red interior will spice up any room in your home. It creates a high-energy space as the colors bounce off from one another. They're versatile, so you can combine them however you see fit.
Purple and purple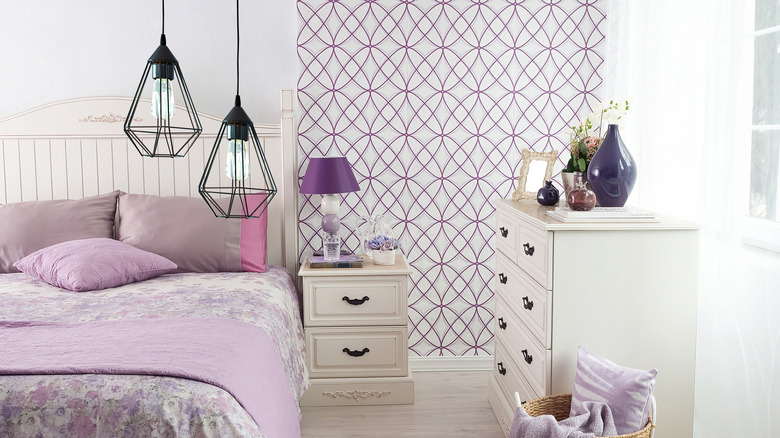 Ds design studio/Shutterstock
A monochromatic look is one of the easiest combinations to put together. Using different shades of purple together can make a room snazzy in a subtle way.