15 Gray Bedroom Wall Paint Colors To Make Your Room Feel Relaxing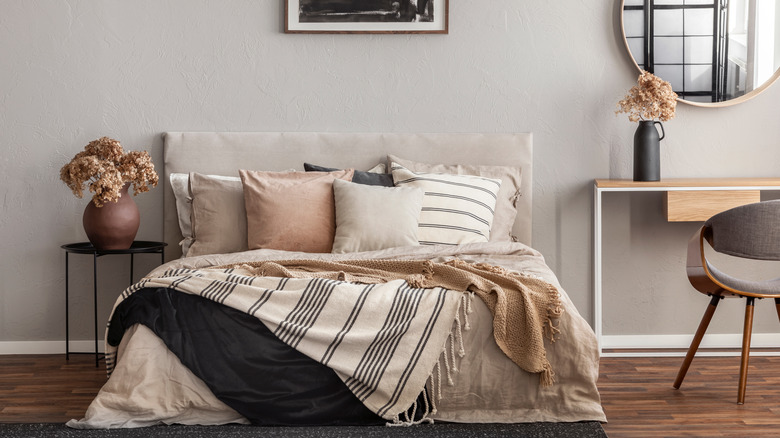 Photographee.eu/Shutterstock
Neutral hues in bedrooms are timeless for a reason. Warm beiges create a cozy atmosphere, while bright whites allow vibrant décor and artwork to stand out. However, if you want to paint your bedroom, but can't decide between white and beige, gray is the answer.
Gray is always in style, as Real Homes notes. Gray comes in so many tones and colors that you're bound to find one that suits your taste. For example, in a lofted space, you can use dark gray paint to create a statement wall. But, if you want to create a peaceful spa-like bedroom, you can use a blue-hued or a light gray. You can even use a gray paint on your bedroom floor to prevent obvious scuff marks that show on natural wood. Once you've selected your perfect gray tone, add a burst of personality to your home with an accent color or two. Take a look at these gray bedroom ideas.
Pale gray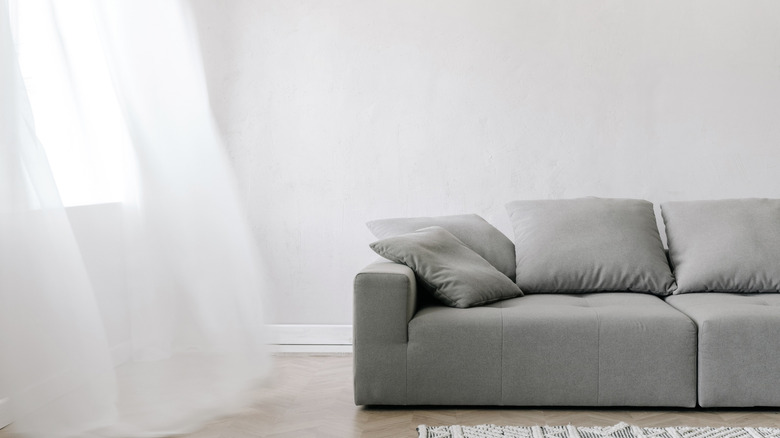 Brizmaker/iStock
Are you looking for something that isn't too far from a traditional white? Pale gray color combinations, such as a soft gray wall and a just slightly darker couch, are an excellent choice. They work well with a wide range of color schemes and designs, and they keep the room feeling light and airy.
Silvery gray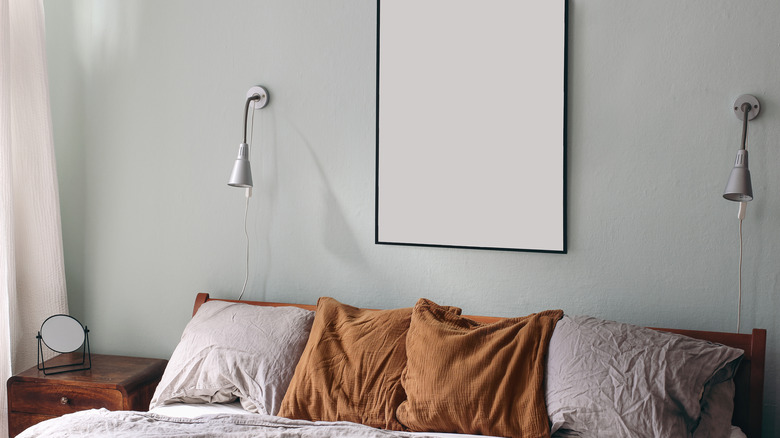 TabitaZn/Shutterstock
This silvery-gray paint for bedroom walls gives a neutral finish throughout the day, appearing warm or cold as the light changes. Complement the hue with silver light fixtures that reiterate the paint color.
Pavillion gray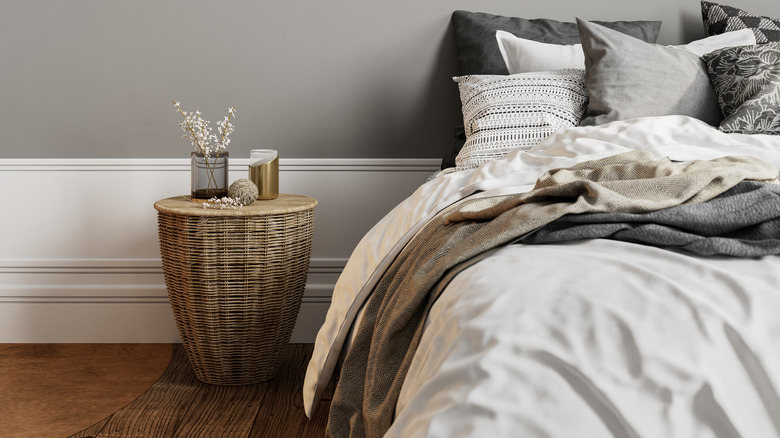 YKvision/iStock
This classic gray with cool undertones enhances your bedroom in ways you never thought possible. With natural floorboards and plenty of light, this paint shade will leave you to admire your room for days on end.
Lightest-of-the-light gray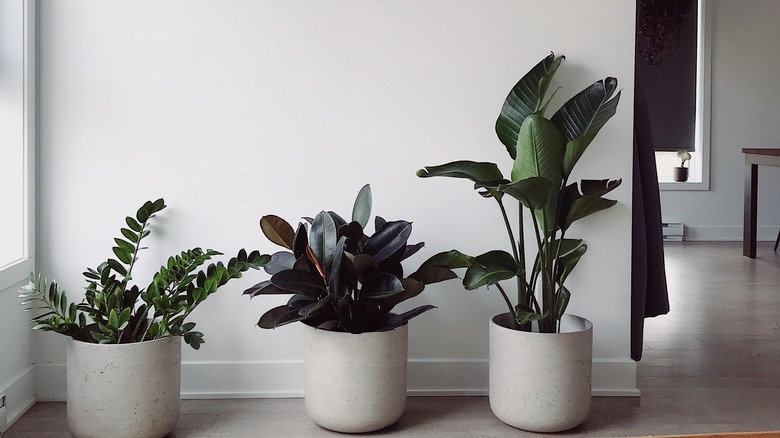 Lekeisha Bennett/Unsplash
If you want to try out gray paint, but are hesitant, go with something similar to this light gray. It is feather-light and allows other aspects of the room (such as a plant collection) to stand out.
Warm gray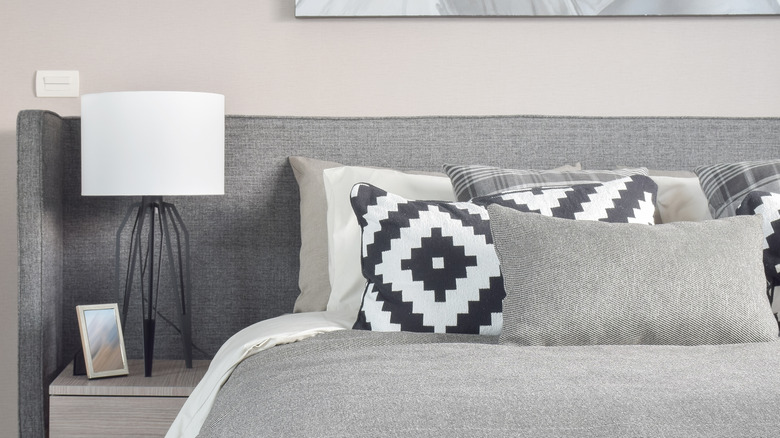 WorldWide/Shutterstock
Warm gray rooms are very modern, and they're a fantastic choice if you want to add a cozy feel to your bedroom's design. Warm lighting and natural textures go well with this paint's undertones.
Repose Gray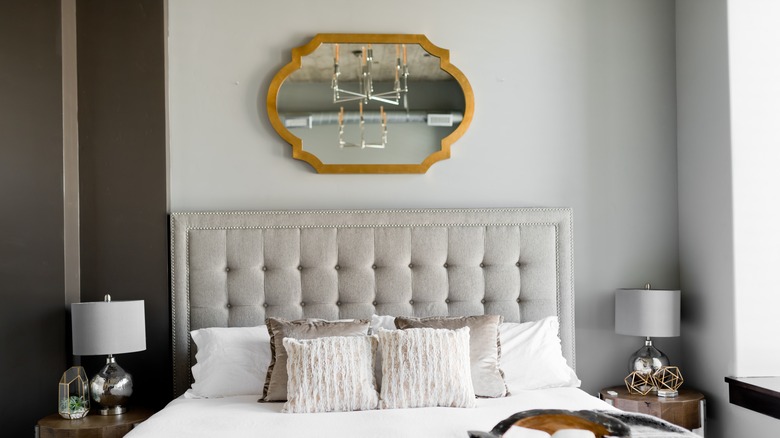 Adam Winger/Unsplash
This hue is what's known as greige. To create a romantic, layered feel to a room coated in Repose Gray, incorporate other gray tones through furniture and linens.
Retro-style gray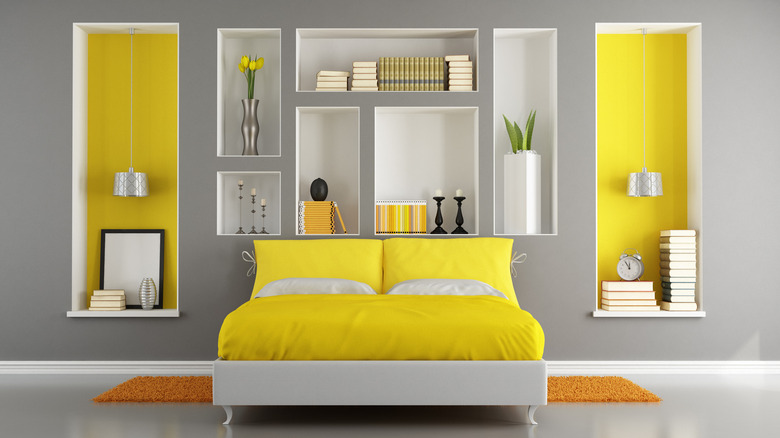 Archideaphoto/iStock
Create a retro-style bedroom by setting off a medium gray with prints, patterns, or splashes of color. The vibe will be insanely fun.
Textured gray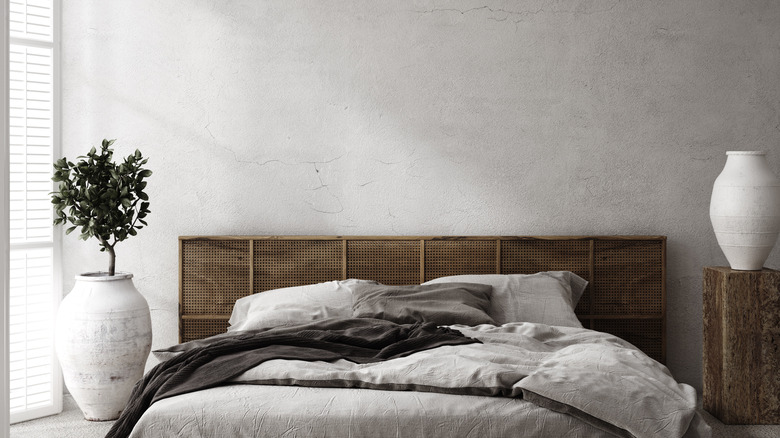 Artjafara/iStock
Because gray is a neutral, you may want to add interest to your walls in other ways. Certain types of paint application add texture to a wall, making even the lightest shade of gray pop.
Cool gray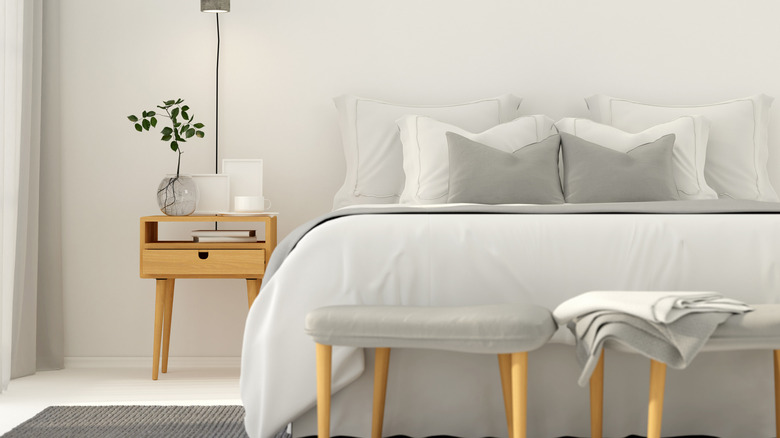 JZhuk/iStock
If you prefer minimalist styles but want a hue that's a little more vibrant than white, this shade of gray is a fantastic option. A light, cool gray with blue tints gives your walls a shimmering sheen.
White-gray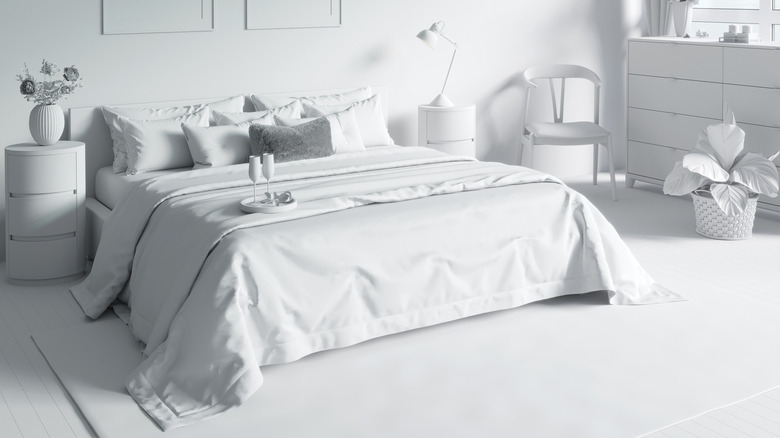 Gamespirit/iStock
Are you trying to decide between gray and white? Consider a white-gray paint as a potential solution. This hue is soft enough that some might call it a dark white. It's hazy and serene, creating an elegant hotel-like feel in any bedroom. 
Green-gray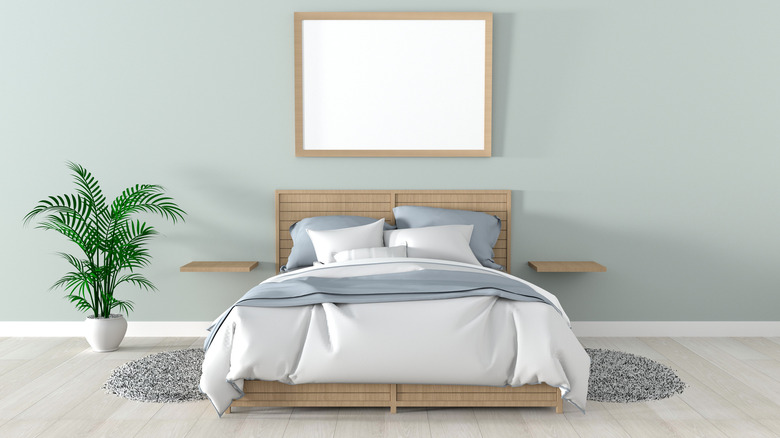 Thibault Renard/iStock
A green-gray paint is a homey, farmhouse-friendly hue that pairs well with light wood. The green tint adds depth to this gray, making it relaxing and inviting. It also adds a vintage feel to any bedroom and looks especially good alongside plants.
Edgecomb Gray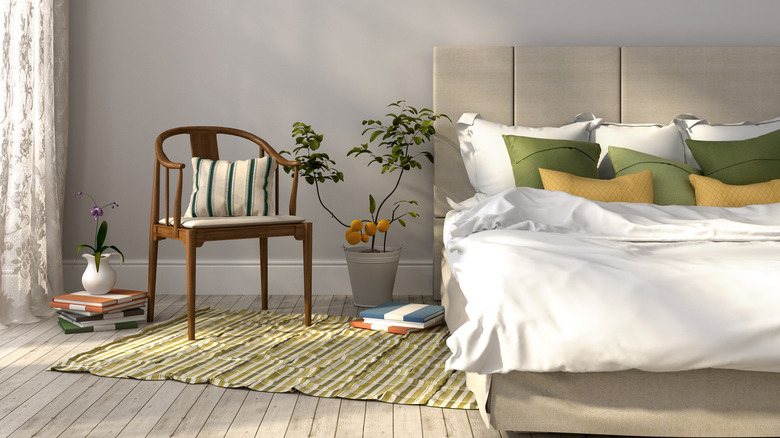 JZhuk/iStock
Because it's warm and velvety, this paint is a fantastic gray for bedroom walls. Another example of a greige tone, this hue is almost beige in a well-lit environment and slightly grayer in darker settings. 
Agreeable Gray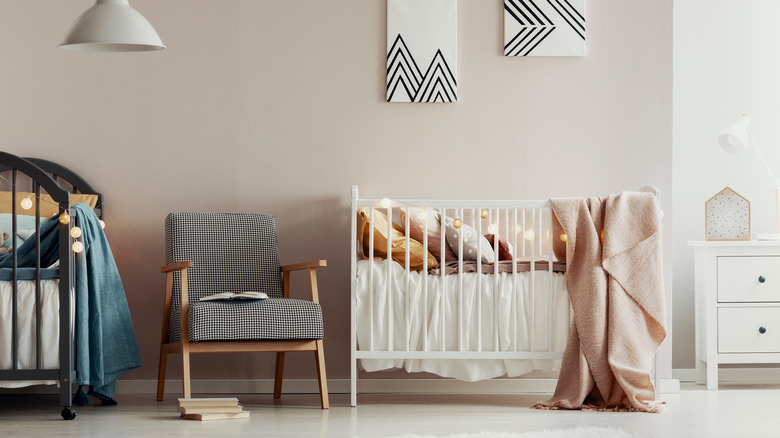 Katarzyna Bialasiewicz/iStock
This warm gray paint color plays to the type of light in the room, with cool lighting making the walls look more blue, and warm lighting setting off brown undertones.
Seagull Gray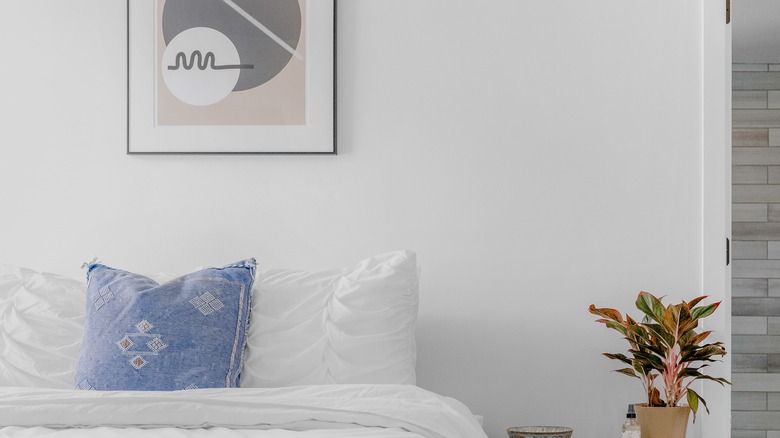 Shop Slo/Unsplash
Seagull Gray is a clean and contemporary shade that has a nice balance between warm and cool. Since it's subtle, it allows other aspects of your décor to play a starring role.
Modern gray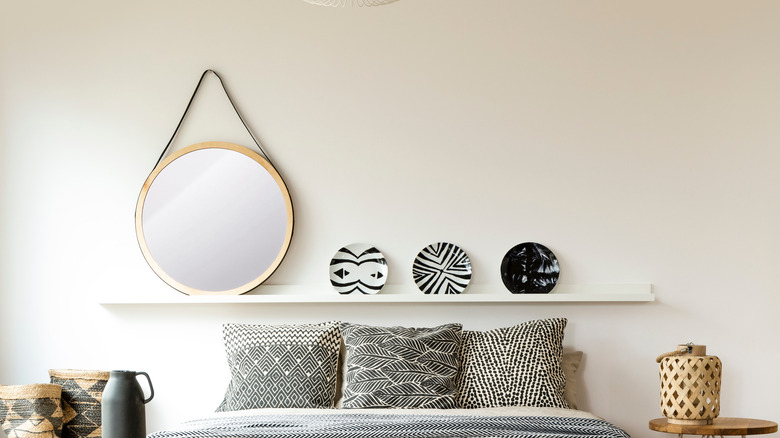 Photographee.eu/Shutterstock
This is the perfect paint hue for anyone searching for a warm, friendly gray. The taupe undertones make it work well with natural colors and textures.