What Color Palettes To Use If You're Featuring Orange
Orange — the color of falling leaves, autumnal landscapes, and pumpkins. Or the color of fresh peaches, oranges, mangoes, and the sunset. The color orange has lots of seasonal versatility, be it warm or cold, as well as plenty of decorative variety. According to Very Well Mind, the color orange has the psychological benefits of enhancing energy, engaging feelings of playfulness, aiding in getting attention, and creating feelings of joy. It is also conversationally, physically, and mentally stimulating, according to Empower Yourself With Color Psychology.
Orange can be a more subdued color in rusty, earthy darker shades, bolder in brighter and more vibrant shades, and subtle and soft in pastel peach tones. Orange can also be an incredibly versatile color — paired with other warm tones for a rich, inviting feel, paired with grayscale colors for a modern approach, mixed in with darker cool tones such as purple and green for contrast, or featured in an all-white room for a pop.
Rustic orange and brown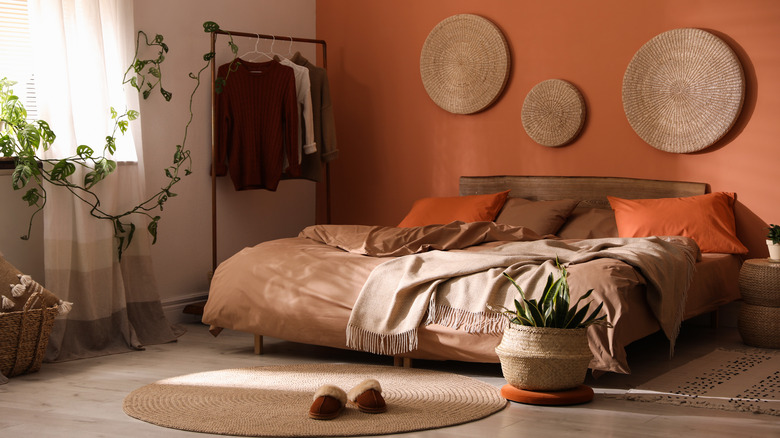 New Africa/Shutterstock
Rustic shades of orange pair wonderfully with browns. One reason for this is that many shades of brown are just very dark oranges. Another reason is that the rust tone of a more earthy shade of orange matches well with the earthiness of brown colors.
Bright orange and white
A quick and cheap way to change up your kitchen is to paint or change out the cabinets. Liven up a plain white kitchen with bright, bold orange cabinets.
Orange, yellow, and pink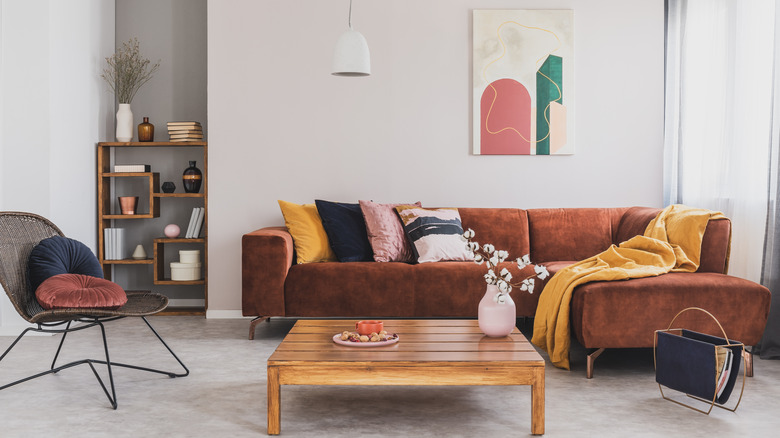 Photographee.eu/Shutterstock
Orange, being a warm color, goes excellently with other warms. Orange is a combination of yellow and red and, as such, mixes well with those two colors in any variety — dandelion yellow, dusty pink, etc. Break up the warmth with a dark blue.
Modern orange and gray
Bring some life and joy into a plain, gray room with hints of orange. You won't need much — a lampshade, curtains, and some throw pillows — since the color will contrast against the gray.
Orange and creams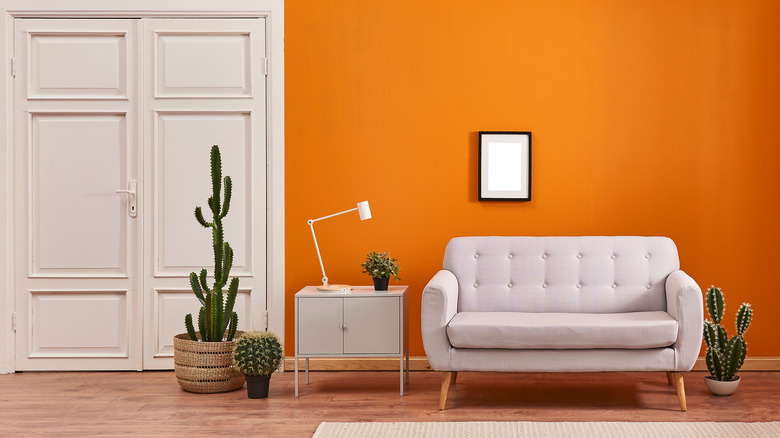 united photo studio/Shutterstock
Cream is a slightly darker, warmer shade of white. Pair orange with cream tones, ranging from a light eggshell to a deeper custard, to warm up the classic white/orange dynamic.
Burnt orange and olive
Orange and green are both colors that are combinations of primary colors and are both made up partially of yellow. Even though one is warm and one is cool, matching shades and tones of green and orange (rust and olive, for example) will pair excellently together.
Peachy orange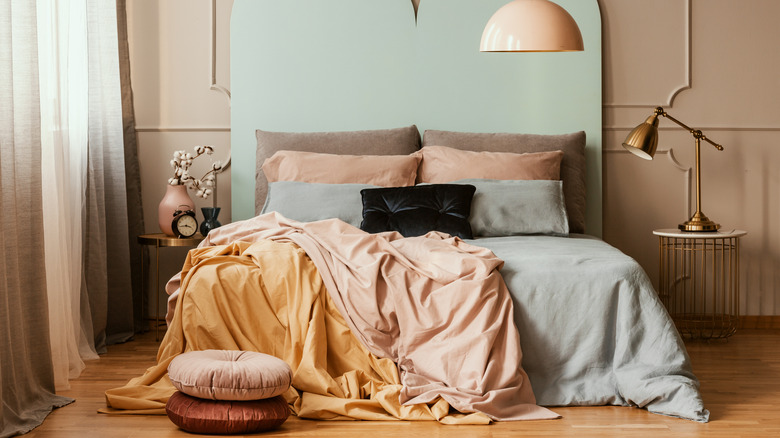 Photographee.eu/Shutterstock
Peach is a lighter, softer shade of orange. It also comes in various hues, from softer, almost pink tones, to brighter, fleshier colors. Consider mixing and matching various shades of peach.
Orange and purple
Orange and purple aren't quite complementary colors, but they are highly contrasted. Pair the two in a room for a really bold, textured look.
Orange, yellow, and oak
As stated earlier, orange goes excellently with any warm color pallet. Keep it light by using red, pink, yellow, and orange as accessory colors against a white base color. Oak or bamboo-toned woods have a warmth to them that pairs excellently with orange.
Orange, purple, and gray
Orange and gray are quite dynamic colors, as stated earlier. However, orange doesn't have to be a bold pop against a plain gray. Warmer grays and oranges, mixed in with plums and greens, can create a really retro, unique look.
Coastal orange and gray
When you think of a coastal aesthetic, you likely think of blues, grays, and whites. While that is traditional, consider swapping out blue for its complementary color, orange. This will create a warmer, homier effect while still achieving the nautical look.