Steven Seagal's California Ranch Just Sold For $7 Million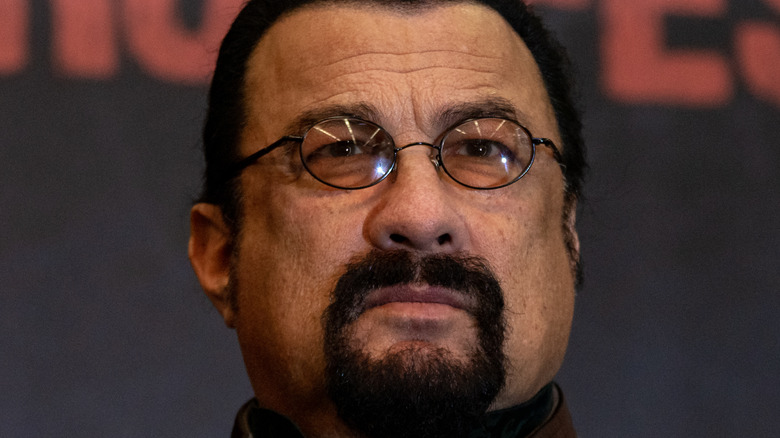 Markus Wissmann/Shutterstock
Action star Steven Seagal awed his audience with his impressive martial arts skills in his famous late 1900's actions movies, like "Hard To Kill" and "Under Siege." According to Biography, Seagal fell in love with martial arts at a very young age and perfected his skills on a trip to Japan when he was 17, where he was tasked to teach English. He remained in Asia for nearly 15 years before bringing his skills back to the U.S. But before his journey home, he focused on his studies in Eastern philosophy and occasionally helped coordinate fight scenes for developing action moves.
Back in the U.S., he became a bodyguard for Hollywood celebrities. He protected celebrities like Kelly Lebrock and Michel Ovitz. Alongside his bodyguard work, he also opened up a martial arts academy. Eventually, he began staring in major action films for which he is known for today. His fame got him many places, but no place as unique as a place next to Russian President Vladimir Putin. The U.S. Sun explained that the two befriended each other at an event and bonded over their love for martial arts. They refer to each other as "brothers" in a seemingly inseparable relationship. As Seagal's friend was planning the attack on Ukraine, however, Seagal finally sold his California ranch for $7 million, which has dropped in price by $4.5 million since it entered the market in 2014 (per New York Post). Here's a peek inside the California property.
Around the property
Seagal's ranch is located on the California-Oregon border in Montague, in an area known as the Shasta Valley. Before, the area was known as Lava Lakes Nature Preserve Ranch. The ranch has a total of 5,300 acres of land and, since its original purchase in 2003, has accumulated a 14,000 square foot main house, 4,200 square foot guest house, along with several barns and animal enclosures, according to New York Post.
The property is scattered with beautiful, natural elements. One of which is the property's lake, which is buzzing with a variety of wildlife. The property also includes woodland areas, meadows, and even pieces of rock formations (per Zillow). From the home, you also get a perfect view of the snow-capped mountain of Shasta (per Dirt). It is a beautiful property with many functional details, as well. The private estate not only acts as a home, but it is also a nature reserve and working cattle ranch.
Inside the home
There are two major houses on the massive property: a main house and a guest house. Dirt mentioned that the 14,000 square foot main house is a cabin-style home made of Tennessee pine. The cabin-style mansion has a total of ten bedrooms and eleven bathrooms, perfectly set for a luxurious escape. The house and its many windows attain a perfect view of the estate's lake and the Shasta Mountain that overlooks it. Zillow mentioned that the houses is also set with an extensive water system and back-up generators, allowing the estate to continue running, in the case of an unfortunate event, without help from an outside source.
About one mile away from the main house is another house with an additional 4,200 square feet of living space added to the estate. This house is the ranch's original main house, built prior to Seagal's purchase. It is known as the Olander House and is set with three bedrooms and three bathrooms. Another, small two-bedroom house is also on the property, created for workers who help run the ranch (per Dirt).