Where The Former Pastor Of Hillsong Church Lives Now Post-Controversy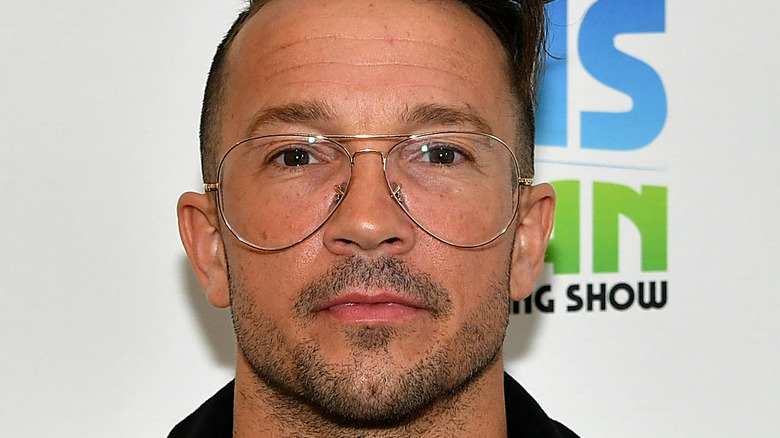 Slaven Vlasic/Getty Images
Photos have leaked of Carl Lentz, a former pastor of the highly controversial Hillside Church, after his 2020 firing following news of being unfaithful to his wife, reports the New York Post. Lentz was also pastor and spiritual advisor to celebrities including Justin Beiber, Chris Pratt, Selena Gomez, and the Jenner sisters, to name a few (via People). He was exposed for cheating on his wife and mother of his children, Laura Lentz, in 2020, after his mistress, Ranin Karim, revealed the truth about their relationship.
More controversy plagued Lentz, though, through the downfall of Hillside Church. After Lentz and his wife were fired, accusations came out that the church "operated like a nightclub" and favored their celebrity congregants, misused money, abused congregants, and behaved in a cult-like manner, per the Post. A three-part documentary is coming to Discovery+ on March 24, 2022 following the megachurch's controversy, titled "Hillsong: A Megachurch Exposed." It will cover the rise and fall of Hillside, as well as investigate claims made by congregants against the church, per Variety.
The Lentz's relocation to Tampa
Just before Carl Lentz was exposed and subsequently fired for his affair with Ranin Karim, which will also be covered in the Discovery+ documentary (via The Sun), he sold his New Jersey home. Selling at over $1.5 million, Lentz very luckily managed to pocket some cash before both he and his wife were terminated from their prestigious pastoral roles with Hillside Church (per the New York Post). The couple and their three children relocated to Los Angeles thanks to the help of Tyler Perry, who lent the family $100,000 to rent a luxurious 5,000-square-foot home; its value is estimated at $4 million, and it cost over $16,000 per month, according to Page Six.
The Lentzes do not have to rely on the famous actor and producer anymore, though. Recent pictures of the Lentz's new Tampa residence have been leaked, which is reported to be a three-bedroom, three-bathroom home worth $700,000. While this is more than enough for most families, it is a serious downsize for the duo who once only fraternized with Hollywood's best.
While this is the first time anyone has seen the exterior of the home, Laura Lentz has been posting pictures (like the one above) of the interior renovation process, rebranding as an interior designer on her Instagram.