Cindy Crawford's Former Residence In Malibu Has Been Listed For $99.5 Million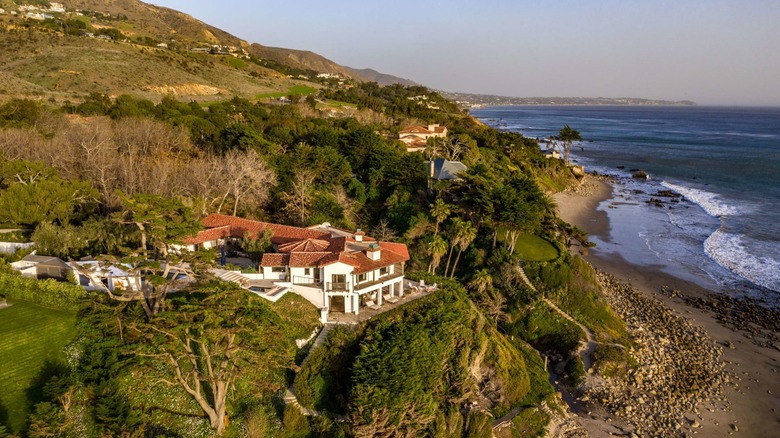 Jade Mills
If you love being at the top of every latest trend and news of the beauty world, then you probably know Cindy Crawford, the gorgeous American fashion supermodel of the 1980s. At the age of 19, Crawford got her big break in1985 when Vogue magazine flaunted her one-of-a-kind beauty in over 1000 copies of their magazine, according to Time.
Ever since then, the model has been a person to look up to in the world of modeling. The now 56-years-old Crawford and her 20-years-old daughter Kaia Gerber (who is also a model) are role models to many aspiring models. However, beyond setting fashion trends, striking modeling deals, and winning awards, the $225 million worth Crawford is also a real estate investor, as noted by New York Post.
According to LA Times, she sold a Beverly Hills Midcentury home for $13.5 million in 2021. And that was a different house to the one now up for sale, a Malibu mansion which she and her husband, Rande Gerber, sold to Adam Weiss for $45 million in 2018, per Nine. And guess what, Adam Weiss is finally unloading it for $99.5 million amidst house scarcity, and below is everything we know about the house.
A peak at Cindy Crawford's former $99.5 million home
Imagine what it would be like to wake up to the view of dolphins splashing water and dancing right out of your window near the Malibu beach in a breathtaking three-acre mansion. Well, this and more is what you're about to get for $99.5 million. According to Robb Report, this two-story residence is for lovers of nature and architecture; it is surrounded by a popular bird habitat, a walkaway that leads to the beach, and an outdoor pool with a cabana and a fireplace.
A closer look at the listing on Jade Mills revealed a driveway winding from the gate, passing by a tennis court on the property, and leading to the 7,450 square foot beauty of four bedrooms, five bathrooms, and a half bath. Based on the listing, the main floor of the house features a den, a living room, a gourmet kitchen, and a dining room. In the Compass listing of the house, you can learn about its upper floor two en-suite bedrooms and one spacious master bedroom boasting a walk-in closet, dual bathrooms that look like a spa, a sitting area, and a fireplace. This listing further revealed that the fourth room has a classic private entrance, a bathroom, and a kitchen.
An overview of Cindy Crawford's $13.5 million house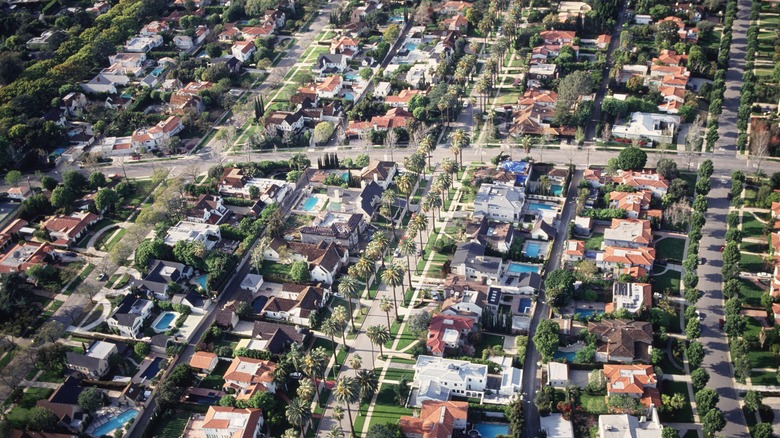 George Rose/Getty Images
In mid-2021, Architectural Digest reported the listing of a $13.5 million Beverly Hills home which turned out to belong to Cindy Crawford. The report explained that it was a 1959 one-story that used to belong to Ryan Tedder of OneRepublic, from whom the supermodel claimed it in 2017. Mansion Global gave further details on the listing, describing it as a quintessential mid-century modern house with a swimming pool. It had a large living room with a bar, another 5,400 square foot living space having its own five bedrooms, a gourmet kitchen, a media room, six bathrooms, and an open-space family room.
The Real Deal revealed that the house, which Crawford and her husband Rande Gerber got for $11.6 million, was previously listed by the couple at an asking price slightly below $16 million. They also mentioned that the mansion had a massive motor court to the front part of it together with a three-car garage. Giving the final details, Cross Roads Today said the open floor plan property is a combination of high ceilings and see-through walls made of glass.