10 Furniture Ideas For An Industrial-Inspired Home
The industrial interior design originates from the style in which factories were built in the 19th and 20th centuries, according to Vevano. As these workshops closed down, people started to refurbish them. The hallmark of industrial interiors is the uncovered elements of the home, such as exposed pipes, rough brick and stone walls, and displayed beams. Homes that show this décor style also tend to have a very open floor plan.
Whether you live in a house decorated in the industrial style or not, you can still enjoy the stylistic elements of the design approach. This includes clean and straight or curved lines, neutral monochromatic colors with earthy accents (rust, wood, copper, navy, etc.), and many metal finishes, such as copper, black steel, brass, and chrome. As for furniture, there are various approaches to displaying industrial décor. Some prefer a more rough, almost vintage Industrial Revolution-inspired concept, and some prefer combining the design style with modern décor for a clean and polished look. Here are a few furniture ideas that will bring a touch of this simple yet impressive style to your home.
1. Leather couch
One of the most basic and arguably important items for an industrial living room is a leather couch and/or chairs. Of course, lighter brown leather is the trendier option, but a sleek black leather sofa can also help create a lovely modern feel.
2. Metal shelves
Instead of bookshelves, swap in metal shelving units for a truly industrial look and feel. These can be as basic as wire kitchen racks or more sophisticated and tailored to the aesthetic. The latter option can have wood slats and other more polished features.
3. Wood pallet bedframe
Industrial bedrooms tend to prefer lower-to-the-ground beds. Although there are many ways you can achieve this while still amplifying an industrialized feel, a great bed frame option is a wood pallet. Go for an actual bed frame modeled after a wooden pallet for a more polished look.
4. Brick wall
Brick and stone walls are a staple of industrial lofts and décor styles. If you have an exposed brick wall, highlight it and feature other modern furniture. Get brick peel and stick wallpaper to create a temporary and cost-effective solution if you don't.
5. Black steel accent furniture
Consider getting thin, geometric-shaped black steel furniture if you're all in for a light industrial feel. The black iron will create a very technical yet lightweight, not clunky, and, usually, a little cheaper than heavier metal or wood furniture.
6. Locker
Lockers are not typically used in people's homes, but they fit in very well with this décor style. So leave it as is, whether it's shiny and new or worn down and rusted, or paint over it with a matte finish pigment in your preferred color pallet.
7. Lofted furniture
Industrial lofts tend to divide up their tall ceilings to create more living space. If you don't have a built-in loft, consider elevating furniture pieces, like your bed, for a more technical feel without altering the architectural makeup of your home.
8. Glass room divider
This style prioritizes open spaces, making room dividers a bit of a challenge. For a more open look between rooms or sections of a loft or studio, consider opting for a wall of glass panes framed by sleek black steel. Install as a permanent fixture, or get a standing glass divider for a temporary situation.
9. Workbench
The industrial aesthetic is all about making the functional decorative. As seen in the picture above, consider bringing a utilitarian piece of furniture into your space, such as an old workbench for a desk.
10. Sleek light fixtures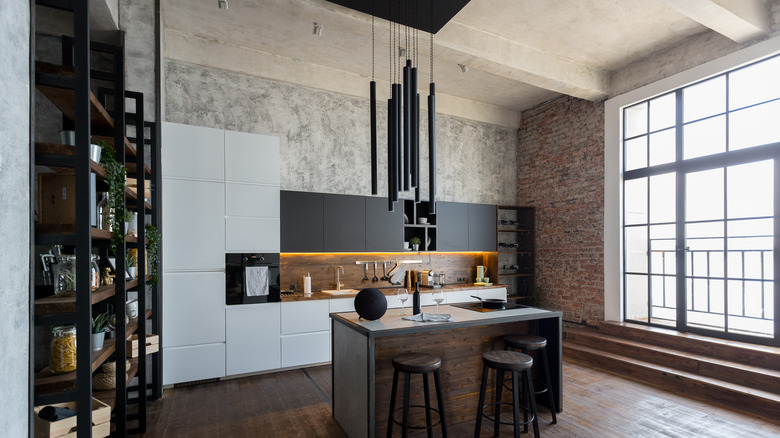 PinkyWinky/Shutterstock
A quick and easy way to make a room display an industrial tone is with a sleek, metallic lighting fixture. Some prefer a rougher look with wire-hanging lights and Edison bulbs, while some prefer the polished look of a modern light fixture. You can't go wrong with either.