40 Design Ideas For Your Home Game Room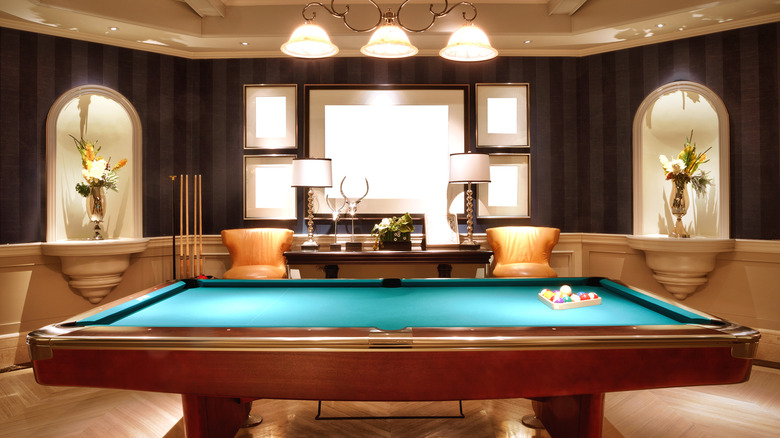 zhu difeng/Shutterstock
When we think of aspirational rooms in a home, there are a few we dream of creating— a movie room with a massive screen and cushy seats just like in a theater, and a game room where you could play, relax or do a mix of both. As House Beautiful points out, adding a game room to your home can bring a lot of fun, just as it is at a bar with game tables, including pool, ping pong, foosball, shuffleboard, poker table, darts, golf simulator, or arcade games! Consider adding a fully-stocked bar to your game room so that you won't even want to leave the house.
Adding a game room to your home doesn't have to be too tricky, but there are a few ideas you may want to consider before getting started. According to Neighborly, you'll want to prepare the space (deciding if current furniture works), create a theme, paint the room, buy unique seating (think oversized bean bag chairs!), etc. The company also suggests looking at the age of each member of your household to decide on what will work in the space when it comes to choosing to add a foosball or pool table, arcade games, darts, a karaoke machine, and other amenities.
Are you inspired yet? Here are 40 great game rooms that can take your home's entertainment to the next level.
A chic sage game room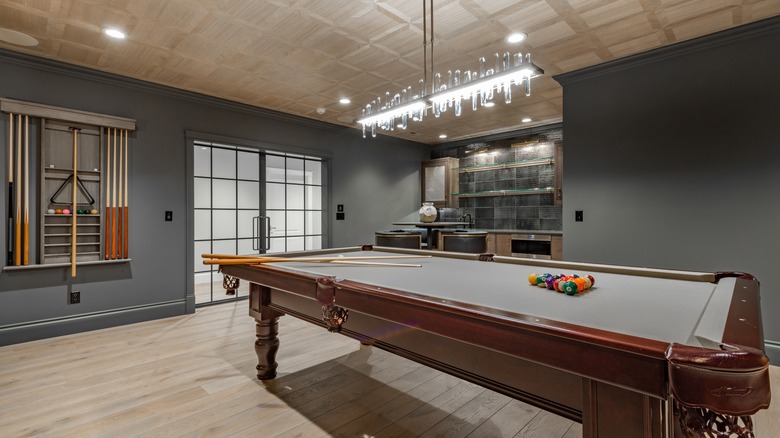 Sheila Say/Shutterstock
A game room can be chic with a suitable color scheme. Douse the walls in sage green, which happens to match the felt on the star of this room — the pool table.
An architecture lover's dream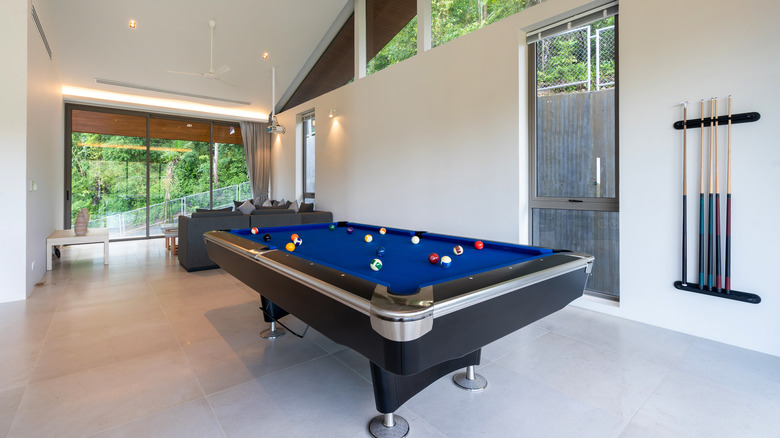 Alan SK/Shutterstock
This unique game room features a pool table with electric blue felt, white floors and walls, and floor-to-ceiling windows with views of nature.
A game room with a bar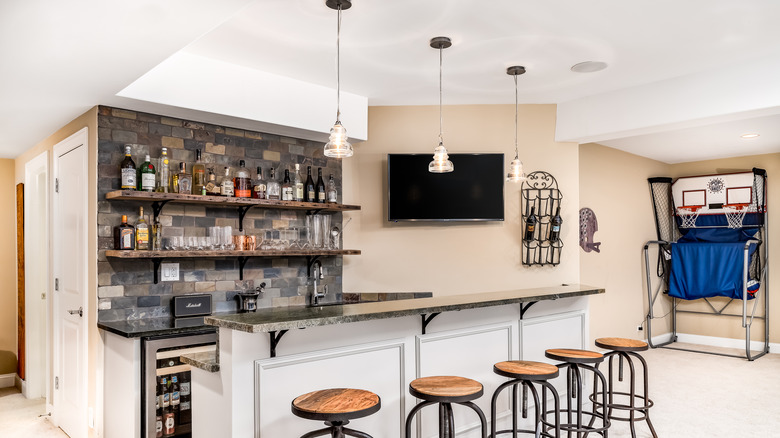 Hendrickson Photography/Shutterstock
To create the ultimate rec room, consider adding a fully-stocked bar with ample seating and a TV to catch the latest game. Add an indoor portable basketball station for the perfect place to shoot some hoops.
An inviting atmosphere with a fireplace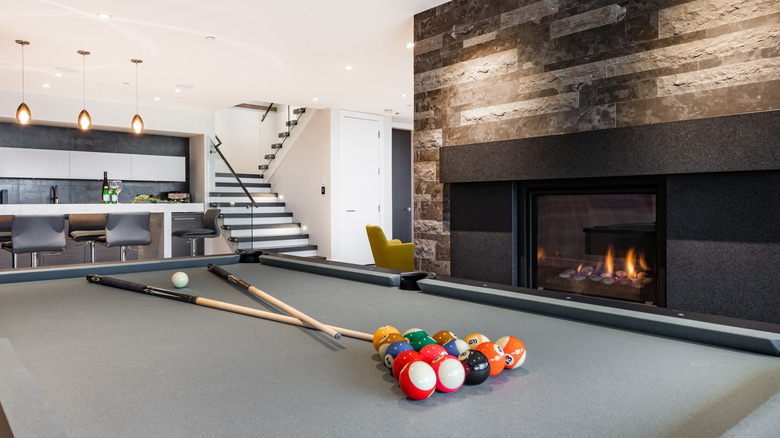 Sheila Say/Shutterstock
A massive fireplace sets the stage for a game room that is cozy and stylish.
A living room/game room combo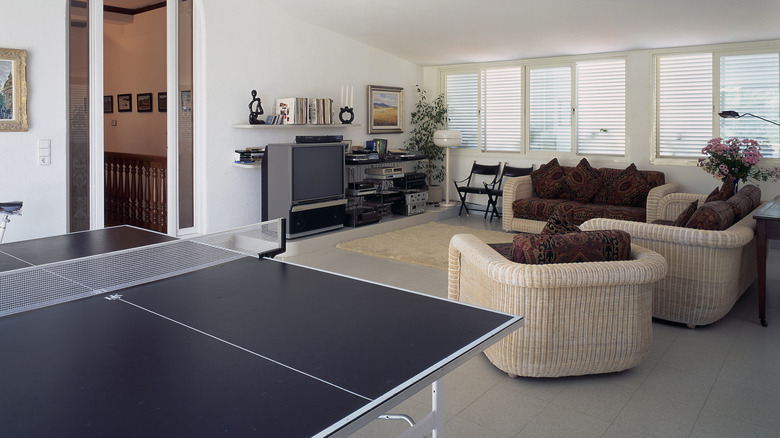 Construction Photography/avalon/Getty Images
No extra room? No problem! If you want to add a dose of fun to your living room, consider combining the space with a game room necessity like a ping pong table.
A second-floor game room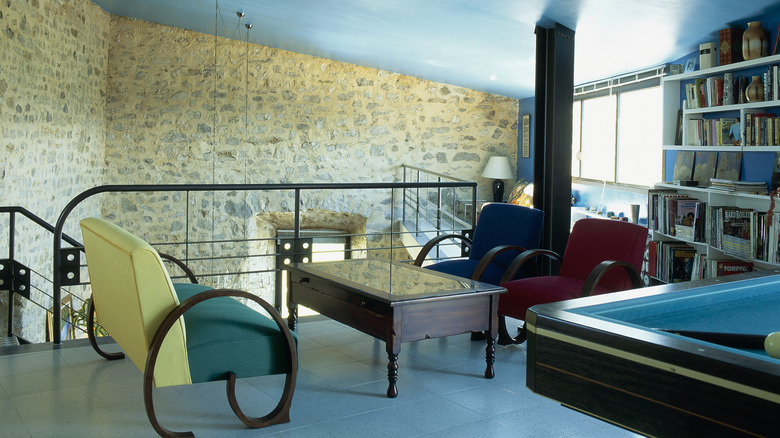 Construction Photography/avalon/Getty Images
A game room doesn't only belong in the basement. A second-floor rec room with an open floor plan is a game-changer!
A light-filled gaming loft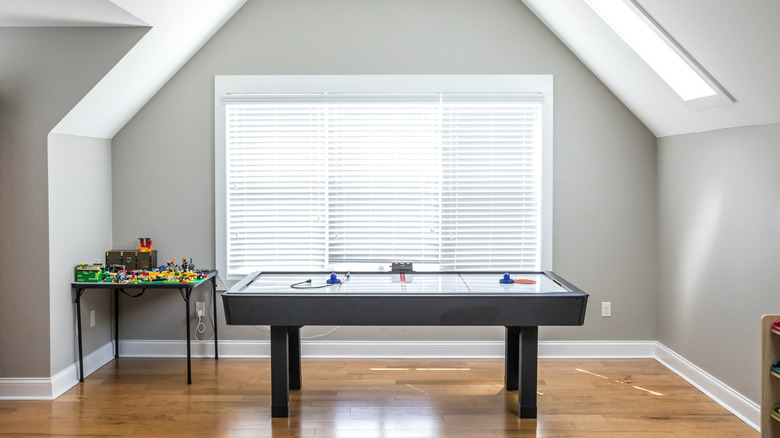 Ursula Page/Shutterstock
If you have a loft-style attic space, add your favorite game, such as air hockey, for the ideal hang-out for guests.
A transformed garage
Pipas Imagery/Shutterstock
A garage can be transformed into an extremely cool game room like this one with natural wood, exposed truss ceilings, fun signage, and string lights.
A black and yellow game room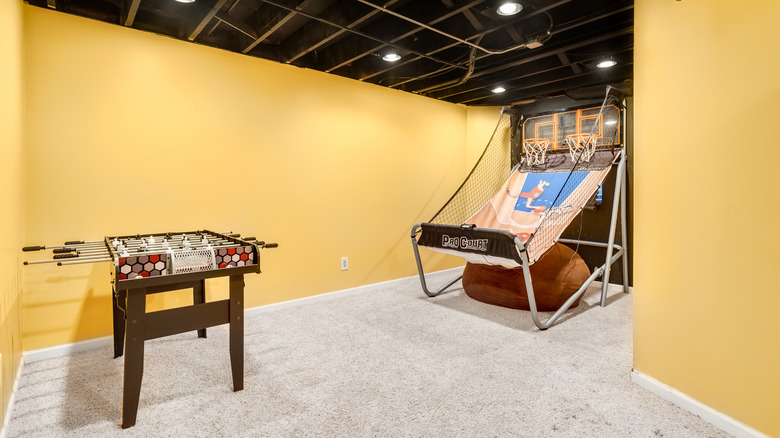 Hendrickson Photography/Shutterstock
It doesn't take much to create a unique space. Bright yellow walls and a black ceiling make the room with a foosball table and foldable basketball game totally pop.
A temporary solution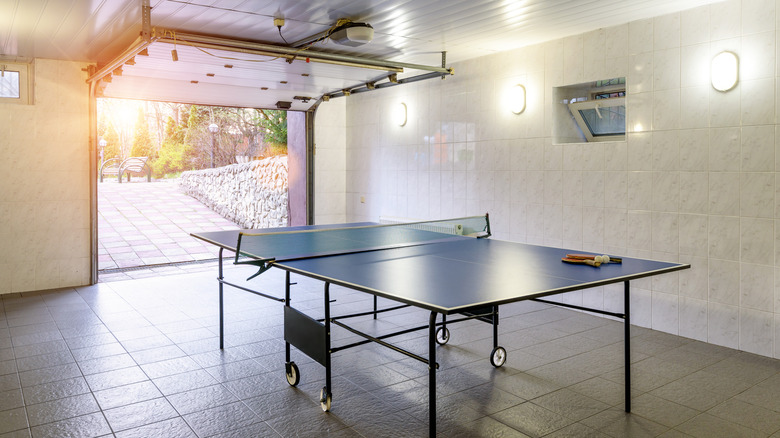 Viacheslav Lopatin/Shutterstock
Don't want a full-time game room? Swap out your car with portable table tennis for a night of fun with friends.
Luxe gaming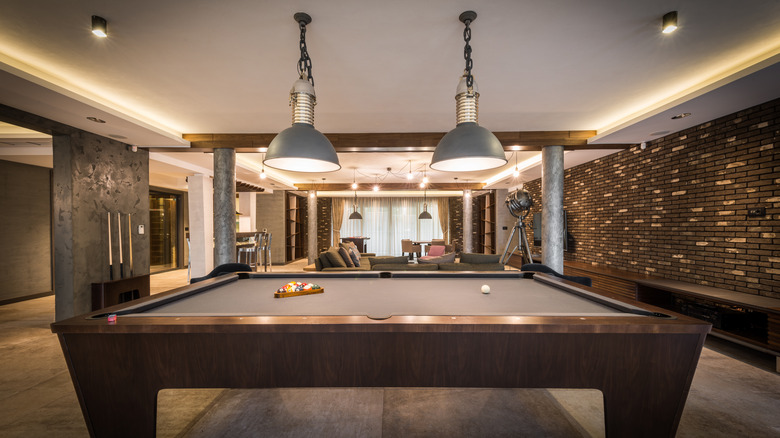 Marko Poplasen/Shutterstock
This luxe space has upscale elements that we can't get enough of, including a dark brick wall, industrial lighting, and a comfy sitting area for the ultimate hang-out.
Wow them with electric blue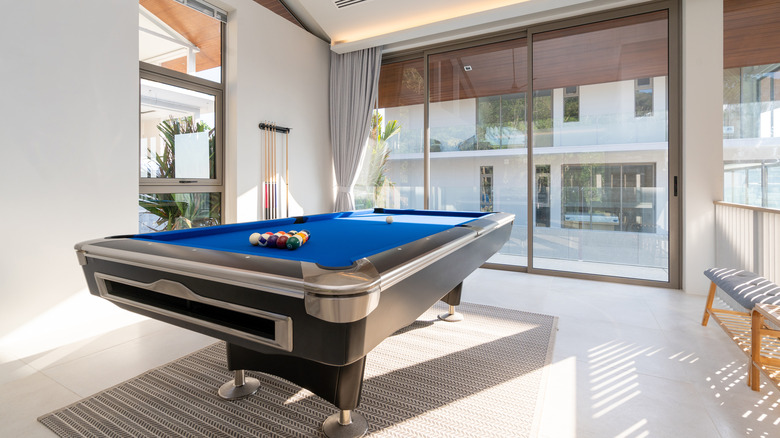 Alan SK/Shutterstock
A simple white game room becomes an exhilarating space with an electric blue pool table.
A luxurious space for billiards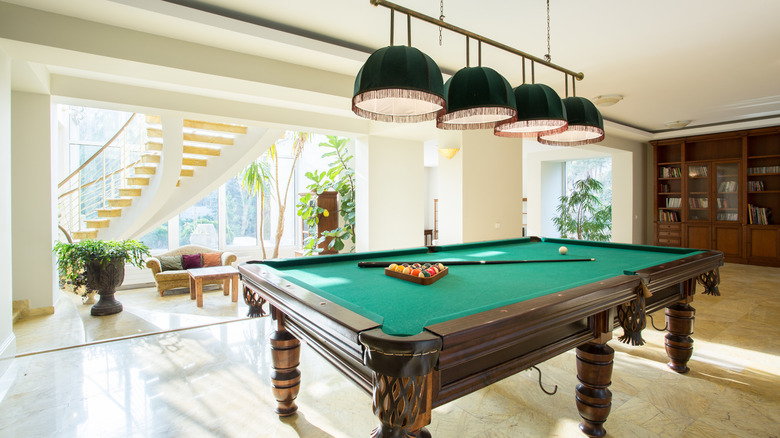 Photographee.eu/Shutterstock
This luxe home features a beautiful billiards table with rich wood, which is an absolutely gorgeous showpiece.
A crimson dream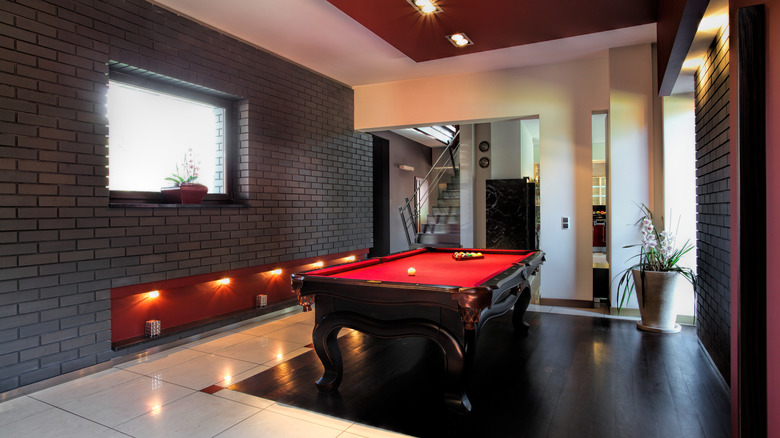 Photographee.eu/Shutterstock
This gray and red game room couldn't be more of a statement maker. It's lush and luxurious.
The pool house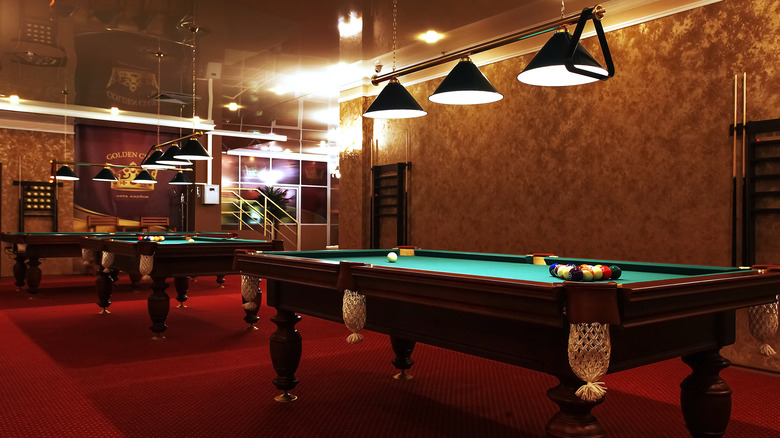 Kichigin/Shutterstock
If you're really into playing pool, you may consider getting two billiards tables for the ultimate game nights.
Into the blue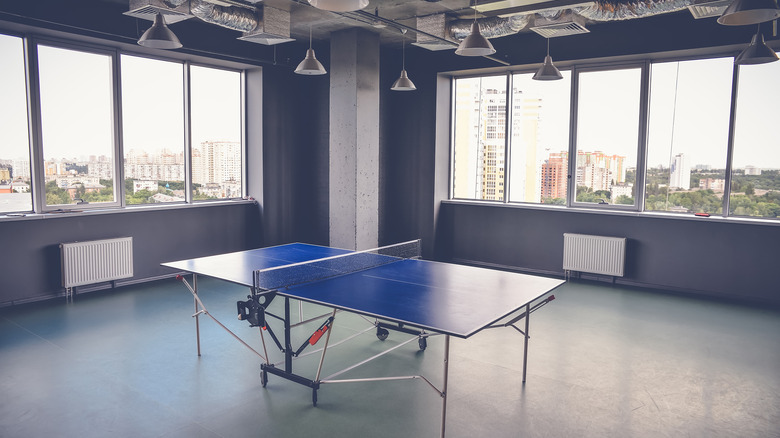 badahos/Shutterstock
This gorgeous game room with a ping pong table as the centerpiece has loads of natural light and is painted a relaxing blue hue.
Luxury calls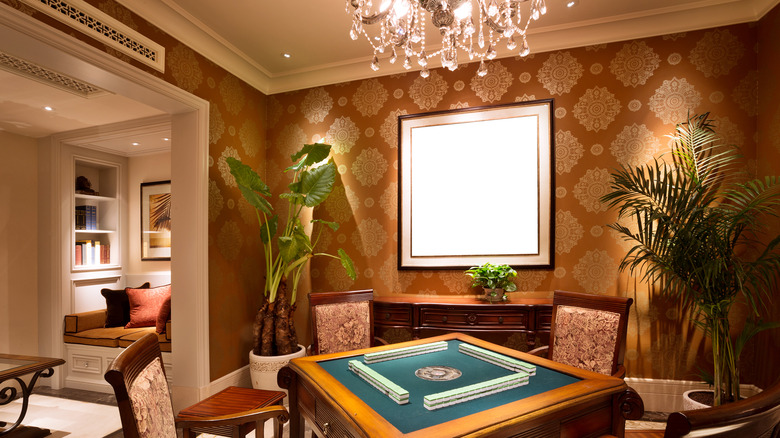 zhu difeng/Shutterstock
Create an elegant rec room with a luxe, stylish patterned wallpaper, a fancy chandelier, and some delightfully sophisticated seating.
The ultimate game room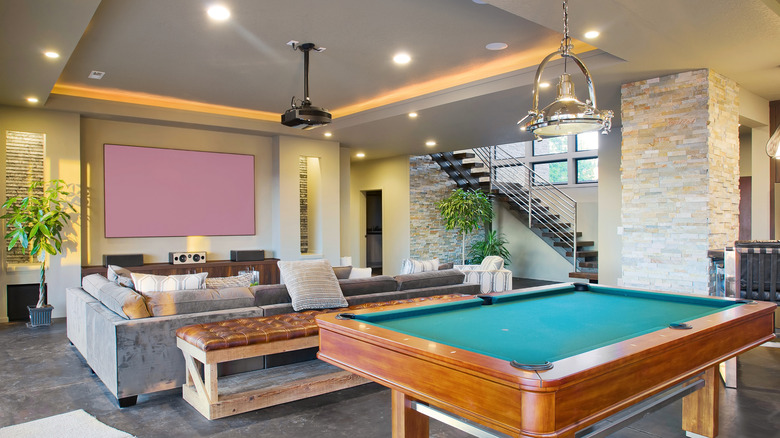 Breadmaker/Shutterstock
A large family room with a chic gray couch and massive TV is made more epic with a pool table. We don't have to guess where all your friends will want to hang out!
A movie theater space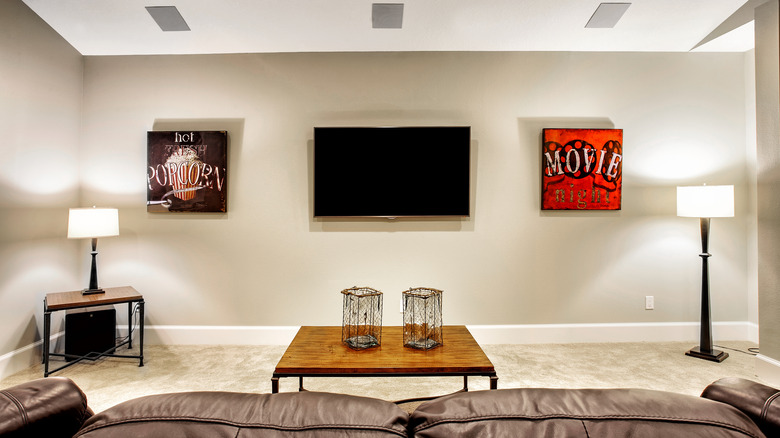 Breadmaker/Shutterstock
If a movie theater is more your style, create an ideal room for taking in your favorite films. Get a big screen with TV lights to set the mood, surround sound, a nostalgic popcorn cart, and theater-style seats.
An artistic room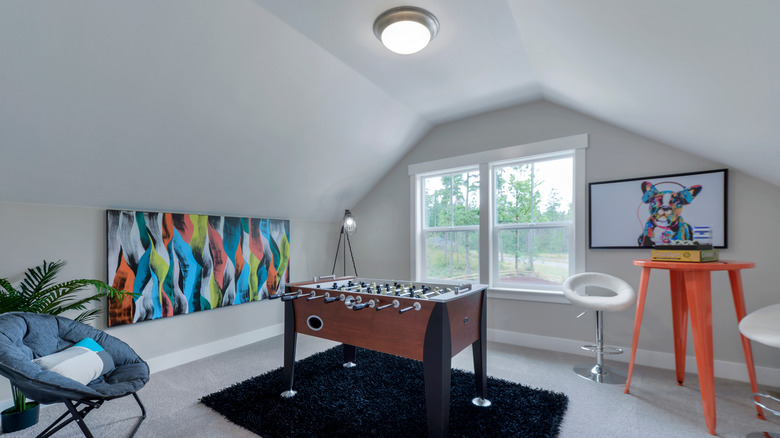 Jonathan Park/Shutterstock
A game room doesn't have to be sports-focused. Display mesmerizing paintings on the walls, which you can admire while playing foosball.
Make it glam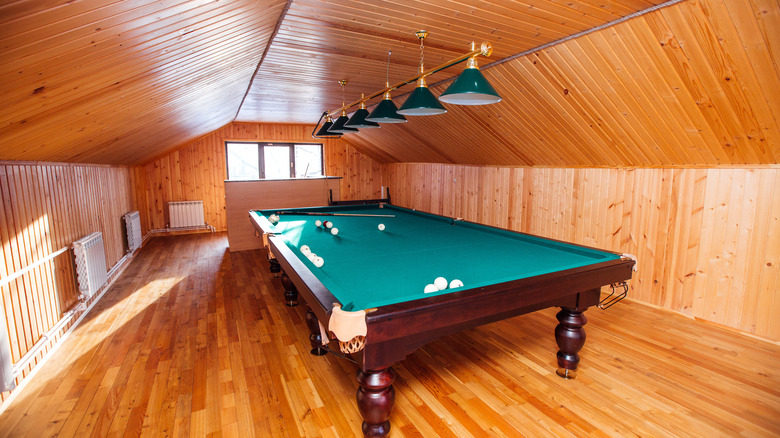 Nikita Shevchenko/Shutterstock
This large cabin featuring shiny warm woods has the perfect space for game night with family and friends.
Deep mahogany and electric blue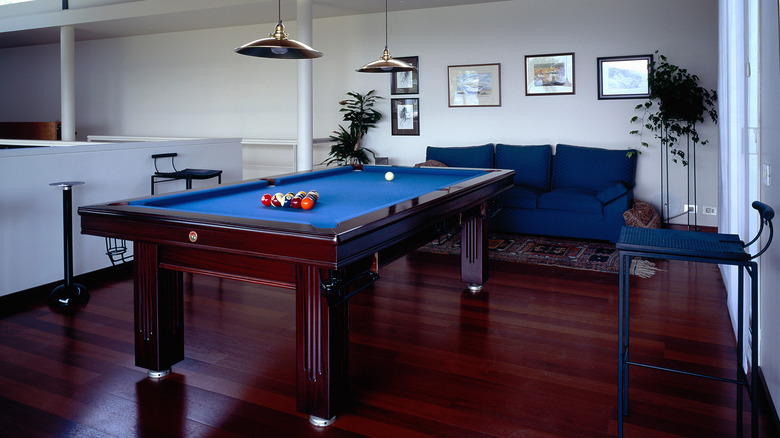 Construction Photography/avalon/Getty Images
We love how the bright, electric blue color on the pool table and couch pop against the deep mahogany floors.
An arcade haven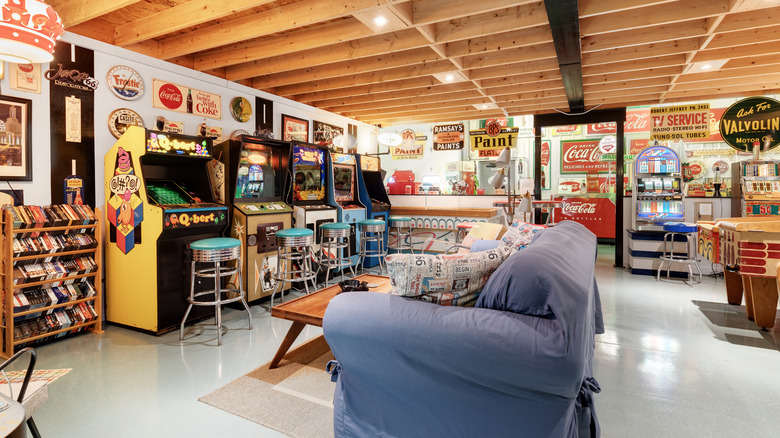 Hendrickson Photography/Shutterstock
This sentimental basement has several classic retro arcade games, nostalgic steel signs, and comfy seating. So all you have to do is pick your favorite 80s arcade games, from Pac-Man to Frogger, for the best time ever!
Add interesting seating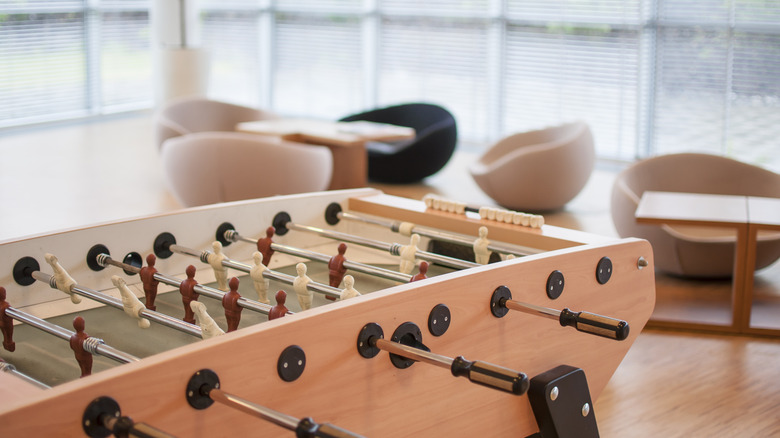 dimidrolius/Shutterstock
Sculptural-like seating adds plenty of artistic interest in this game room that features a table soccer game.
For a more traditional game night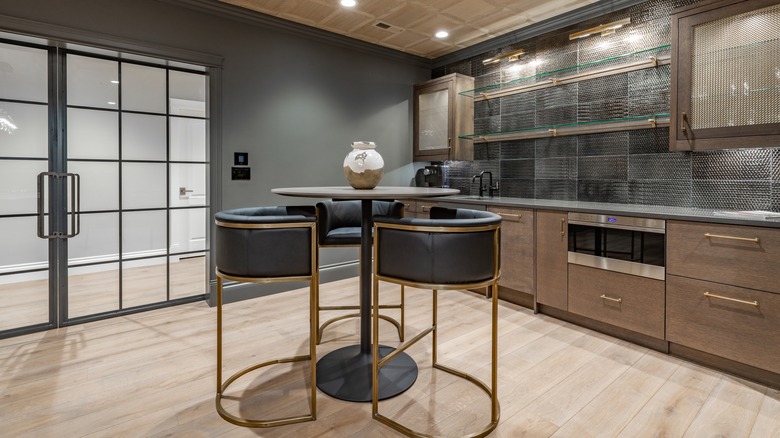 Sheila Say/Shutterstock
Imagine playing your favorite board games like Monopoly, Scrabble, or Chess in this glamorous room. Plus, you can stock plenty of snacks in the cabinets!
A movie/gaming oasis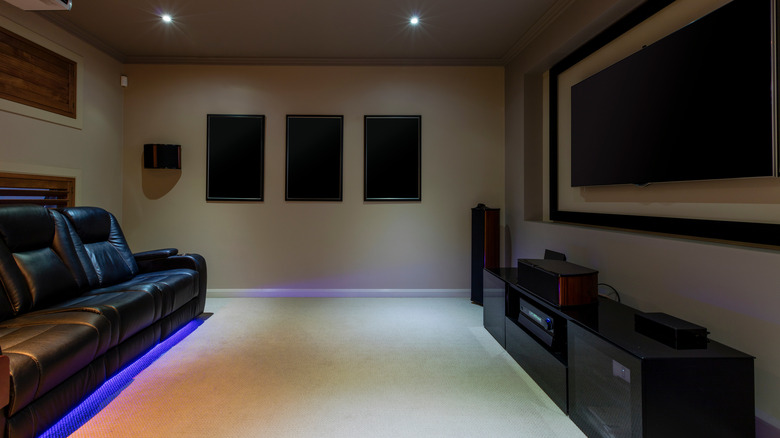 zstock/Shutterstock
If you have kids (or a spouse!) that is obsessed with gaming, creating a room that can double as a theater or gaming room is an ideal choice.
Black walls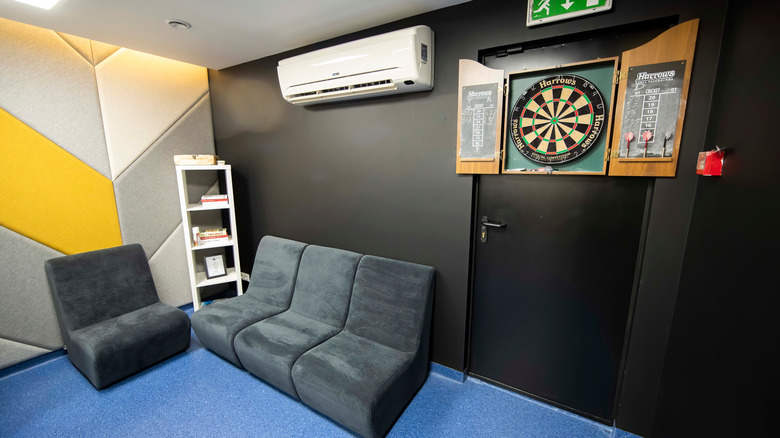 Karolis Kavolelis/Shutterstock
If you have a game room and want to make a big impact, paint your walls black, add comfy seating that is ideal for hours of gaming, and add a dartboard for more options!
A Medieval-style inspired game room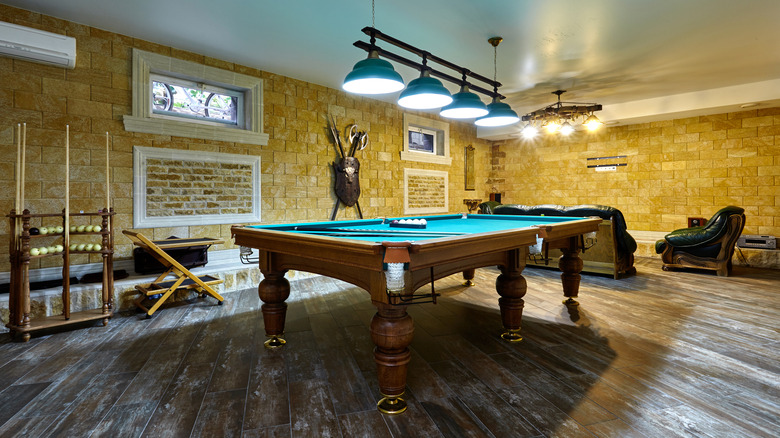 Stelmakh Oxana/Shutterstock
If you take a closer look at the wall hanging, it features Medieval-style swords and a shield, setting the stage for an epic battle of pool.
Bright sea green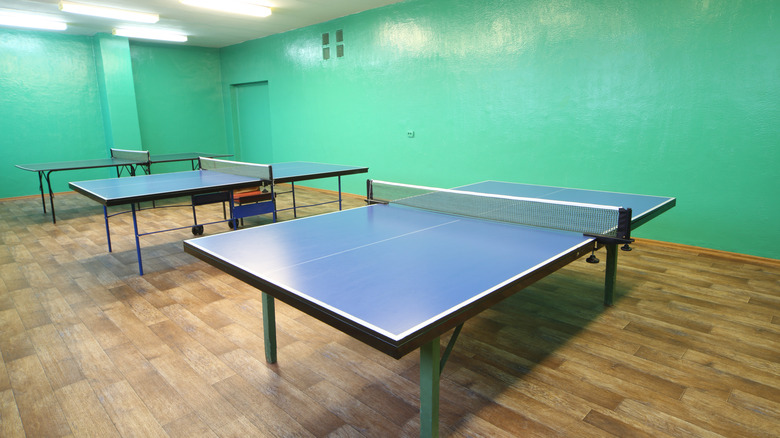 Pavel L Photo and Video/Shutterstock
Instead of painting your walls white, try going with an eye-popping sea green and adding a few ping pong tables for a tournament with all of your friends.
A relaxed setting for Chess lovers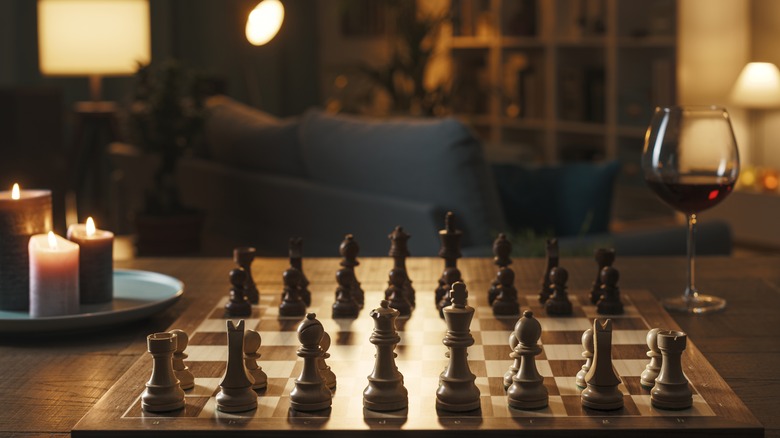 Stokkete/Shutterstock
A low-lit atmosphere is the perfect setting for a night of playing Chess, whether you are an experienced player or just starting.
Create stadium-like seating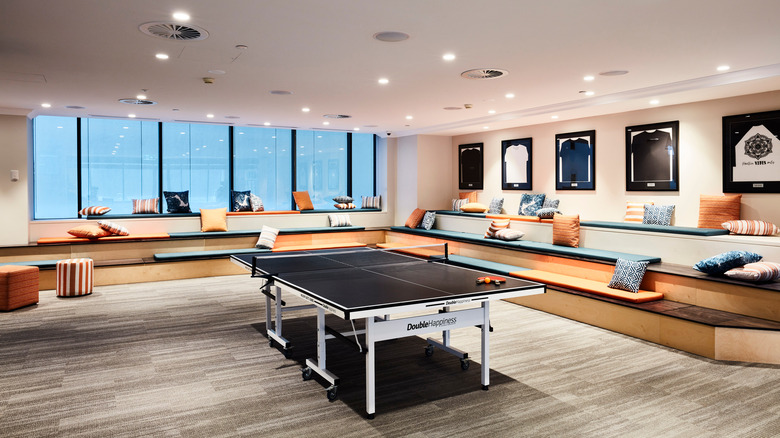 PhotoMavenStock/Shutterstock
To take your ping pong championships to the next level, consider installing stadium-like seating in your game room for extra excitement.
A black and white retreat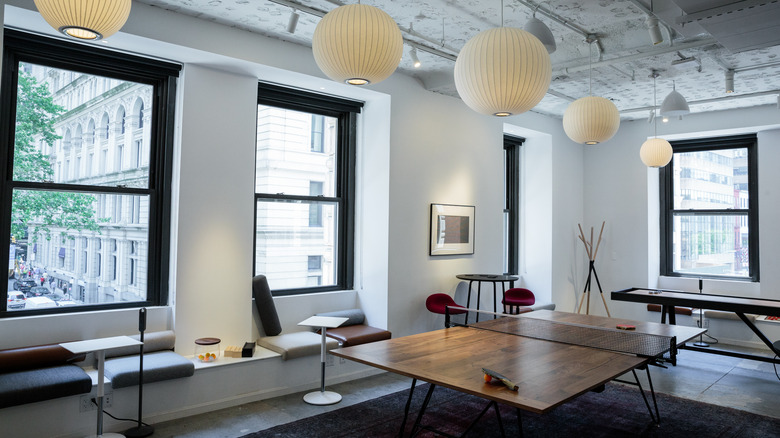 Bloomberg/Getty Images
White walls with black-lined windows, modern circular lights and an upscale wood ping pong table look stunning in this city condo's game room.
A traditional space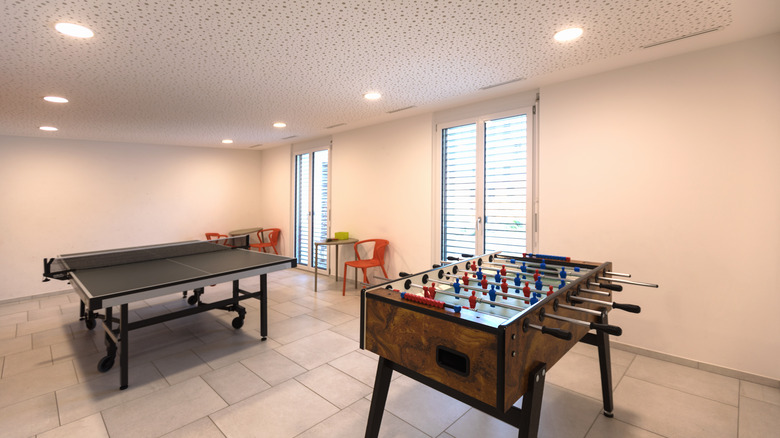 alexandre zveiger/Shutterstock
White ceilings, walls, and tiled floors are punched up with fun ping pong and foosball games. A few lime green tables with orange chairs finish up the look of this otherwise simple game room.
Introduce hanging chairs to the space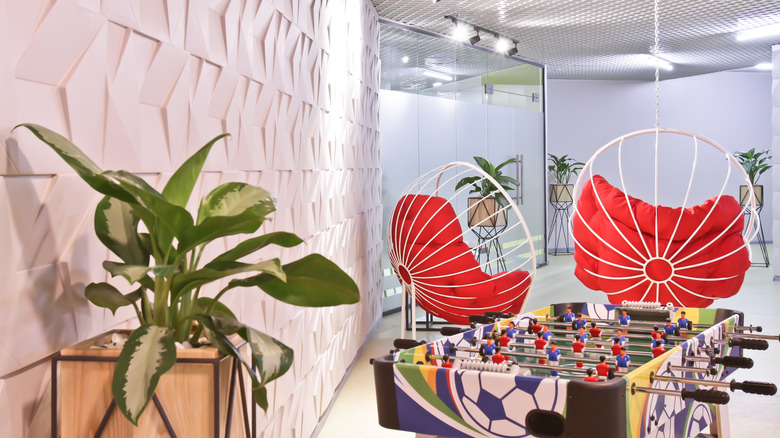 ShapikMedia/Shutterstock
Create a unique environment in your game room by adding whimsical hanging chairs with bright yellow cushions to watch a game of table soccer.
A touch of neon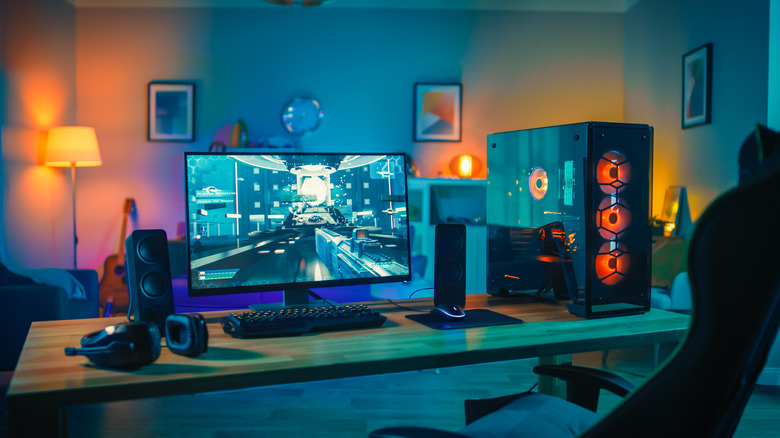 Gorodenkoff/Shutterstock
Neon lights abound in this fantastic gaming world that has all of the necessities one would need for an epic night in.
Lime green stunner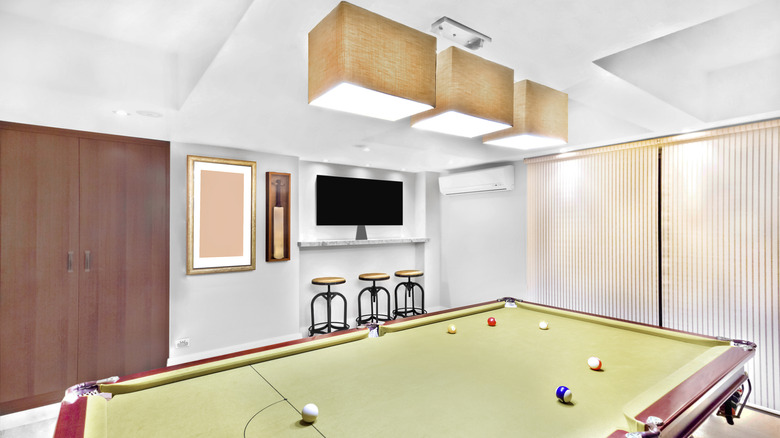 JR-stock/Shutterstock
This simple room features a pool table with lime green felt and has three modern lamps hanging above. Plus, a seating area to take in the game and enjoy a drink is close by.
Start them young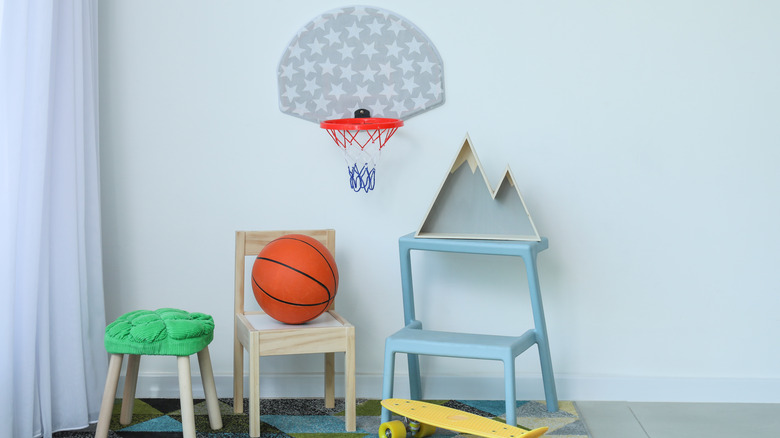 Pixel-Shot/Shutterstock
Give your kids a fun game room with a few essentials like a wall-mounted basketball hoop to practice their skills!
Do a marine theme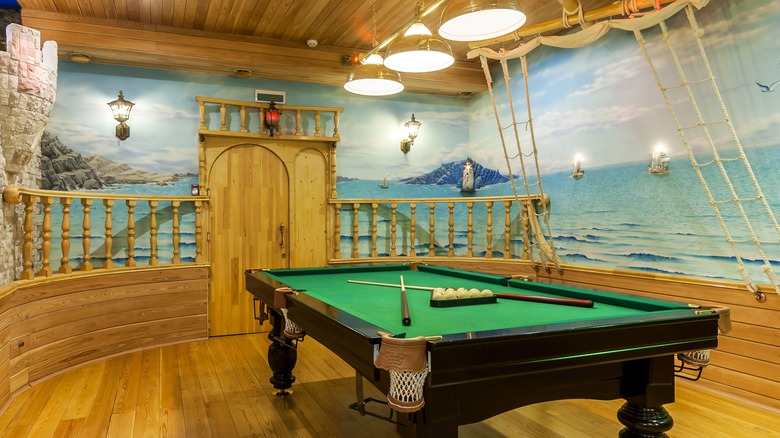 Alhim/Shutterstock
If you're obsessed with the sea, consider making your game room feel as if it's actually a boat, with wood tones, a sail, and the ocean painted on the walls.
A media room with high-end finishes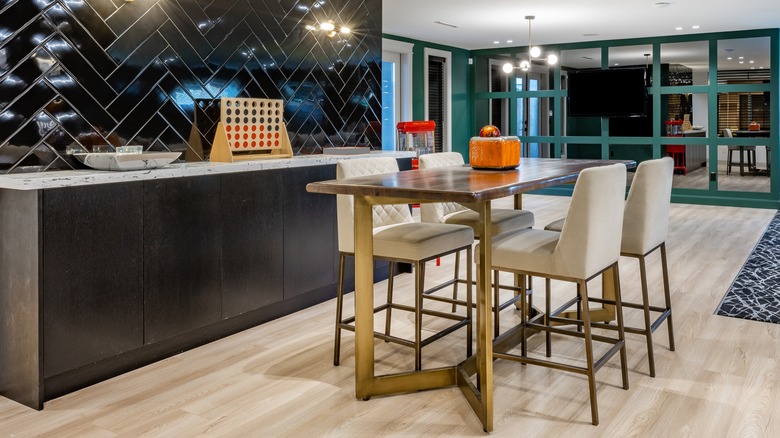 Sheila Say/Shutterstock
This simple room features a pool table with lime green felt and has three modern lamps hanging above. Plus, a seating area to take in the game and enjoy a drink is nearby.
Invest in some retro pinball machines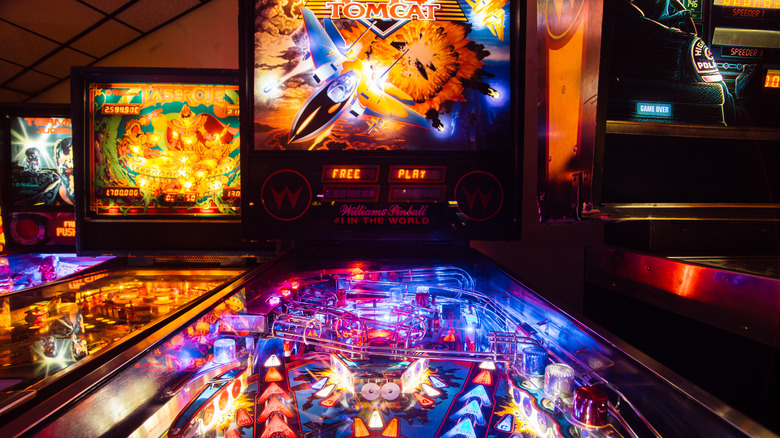 Atmosphere1/Shutterstock
Nothing screams game room more than picking up one or several incredible retro pinball machines to create the coolest atmosphere!