10 Furniture Ideas For A Bohemian-Inspired Home
Boho, short for bohemian, refers to a trendy, earthy, out-of-the-box décor style. Bohemian itself refers to someone living an unconventional lifestyle, the interior design style reflecting a carefree, avant-garde, or new and experimental sensibility. There is no one way to decorate in the boho fashion, as that would go against its principle. Older and vintage bohemian styles are a bit more colorful and eclectic, whereas modern boho is a little more streamlined and neutral, though not exclusively. There are also style combinations, such as Scandi-boho, a Scandinavian and boho aesthetics mix, and eclectic boho, a brighter and more colorful style, focused on bold patterns.
Better Homes & Gardens says the bohemian style is laid back, combining different global elements to create layers to a space, ultimately reflecting the decorator's personality. Certain hallmarks of this décor style include patterned rugs and throw blankets, fringed furniture and/or décor, mismatched textiles, thrifted/refurbished furniture, and so on. Decorating in the boho fashion can feel overwhelming for some since there aren't any rules to follow or break. Still, this article will help provide an array of décor and furniture ideas for your dream boho paradise.
1. Rustic wood headboard
The bohemian style tends to have a very earthy focus, with rougher, more rustic finishes. To instantly create the rugged, down-to-earth feel of this approach, consider swapping out your current headboard for a rustic finished wood one.
2. Macramé wall decor
Macramé, made by knotting a natural material such as hemp, yarn, twine, etc., is a stylish way to decorate a bohemian-inspired room. The neutral colors go well with any type of boho style, whether eclectic and colorful or simple and beige, and the natural materials and organic shapes create a unique final product.
3. Wicker chair
Wicker is another organic, neutral, and earthy material that goes perfectly in a boho room, no matter what variety. Wicker furniture, in general, will seamlessly blend in with other bohemian pieces, but peacock-shaped wicker chairs, like the one pictured above, elicit a particular boho energy.
4. Gray sofa
A simple gray sofa is versatile and will look especially good in a more neutral, subdued boho living room. Incorporate warmer neutral accents, wicker, and other natural materials for the full effect.
5. Plants in wooden pots
Plants will give any room life, bringing lots of energy and vibrancy. This is especially true for the boho aesthetic, which focuses on visual feelings of earthiness. So, bring in many plants for an indoor jungle look and give them a wooden or clay pot: They will go perfectly well with other bohemian furniture and decorations.
6. Wicker room divider
Another great wicker piece of furniture for a more vintage-inspired approach to this rustic style is a room divider. For instance, grand, retro shapes create a very eclectic and almost dramatic flare, whereas a clean line silhouette will help support a more modern approach.
7. Shelf clutter
While nothing is necessarily essential for achieving a boho aesthetic, clutter is a very commonplace, standard element. Instead, opt for more bright colors, bold patterns, and rich metals for a busier, eclectic take on this décor fashion. For a sleeker take, choose a neutral pallet and carefully arrange the clutter, like pictured above.
8. Simple abstract art
Lots of blank wall space is generally avoided when decorating in the boho style. Of course, what you put on the walls is a matter of personal preference and depends on what personality you wish the room to convey, but a fantastic and subdued option is an abstract, muted color print.
9. Dried grass
As stated earlier, earthy elements are trendy and commonplace in bohemian décor. Dried grass is an excellent option for a wash of beige and a touch of drama when large and fanned out. Display it in a vase or jar, or get creative and make a false headboard out of fanned-out dried grass.
10. Statement mirror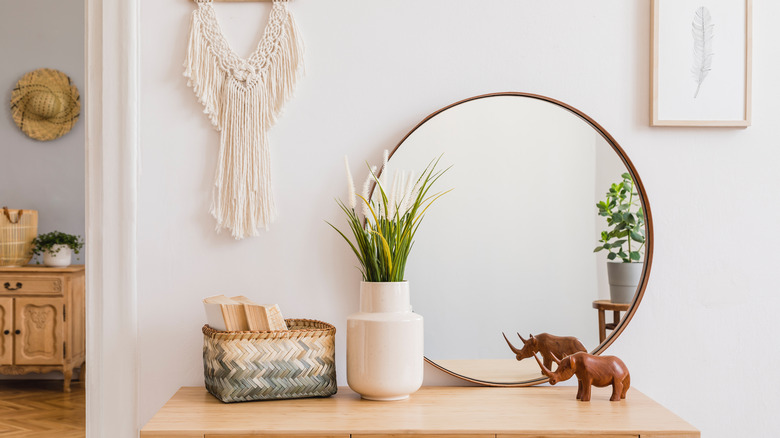 Followtheflow/Shutterstock
Mirrors are something everyone uses and decorates with, and they are a great way to reflect the personality of a room. Look for either a large standing mirror, a funky shaped mirror, or a simple round mirror for a boho-inspired space. Warm-toned metal finishes, like copper, brass, gold, and/or rose gold, will best reflect this style.