15 Subtle Ideas To Incorporate An Ocean Theme In Your Home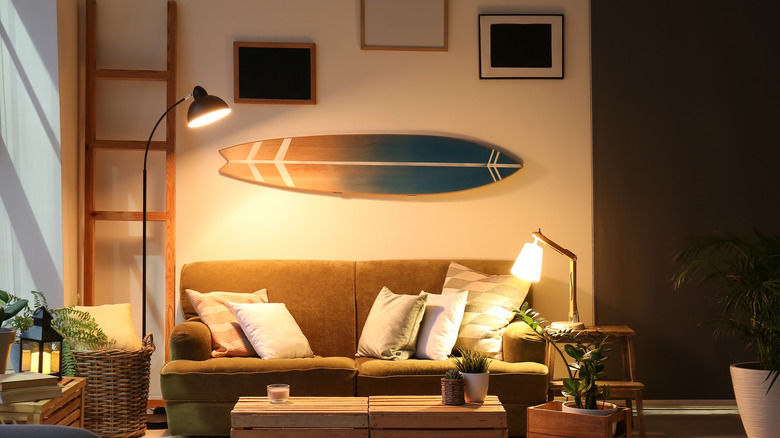 Pixel-Shot/Shutterstock
Your home is the one place you spend most of your time outside of work or leisure activities, so decorating it to fit all your needs and create a warm, calming environment is important. When decorating your home, you should think about the things that calm you the most and incorporate them to relax you. It can be difficult to figure out which style to go with, but one of the most serene feelings is being by the ocean. Being near an ocean immediately improves your mental health, according to WebMD. Anywhere with blue spaces can boost your mood, especially taking a short walk along the water.
When you're essentially living the same day by waking up and going to work or simply engaging in the same day-to-day activities, it can be stressful and mundane. Going to the beach or to different places outside of your norm allows you to experience new tastes, sounds, and smells, per WebMD. Incorporating some blue hues in your home or playing ocean sounds in your home can create that relaxing effect. An ocean-themed home has a plethora of positive effects on your well-being. Using warm colors as accent pieces or wall colors such as beige, green, pink, and blues will create a peaceful and harmonious environment, according to Beaver Dam Woodworks. The textures of certain decor, such as boats and lighthouses, can stimulate and soothe your emotions.
1. Sea creature wall art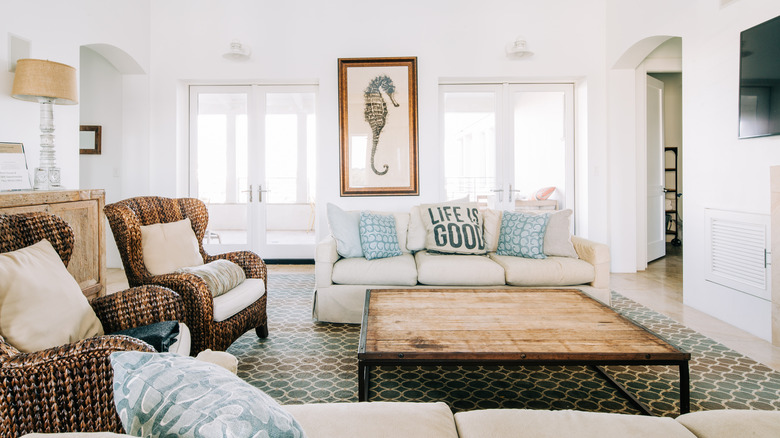 Karen Culp/Shutterstock
Hanging up wall art of any sea creatures, such as dolphins, fish, seals, and others can add value to your beach theme interior. The seahorse wall art shares the same colors with the furniture and pillows on the couches. The bright space with blue hues and warm patterned rug make the space soothing. 
2. Palm leaf wallpaper
Ocean-themed walls don't have to tailor specifically to blue hues; they can be patterned wallpaper such as this palm leaf wallpaper in the living room. The wallpaper works well with the plants and the bean bags, but if the couch were white or a lighter gray color, then it would create a fresh look. 
3. Sailor decor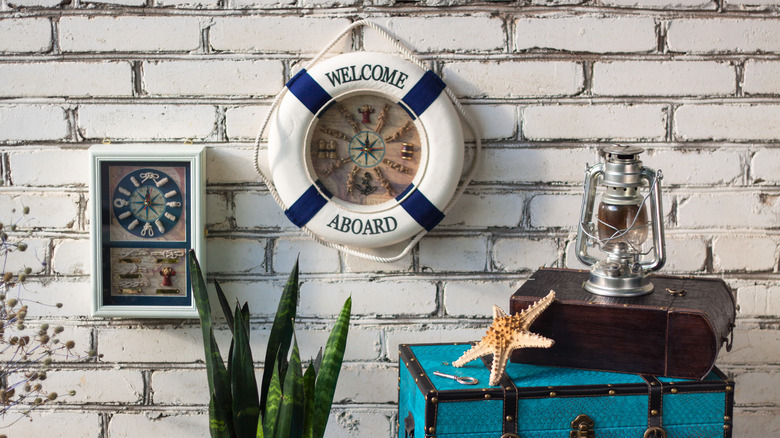 Pushba/Shutterstock
Including some ocean-themed decor such as lifebuoys, ceramic starfish, or treasure chests will make you feel like you're out sailing. These accent pieces work great with a rustic tiled background making them stand out. 
4. Decorated anchor pillows
A clean minimal space with blue accent pieces such as anchor-designed pillows and a small reef side table decor give the room a subtle ocean theme. The painting hung on the wall encapsulates the feel of being in the ocean. Adding blue-colored curtains instead of the beige curtains would add more of the ocean feel to it. 
5. Various shades of blue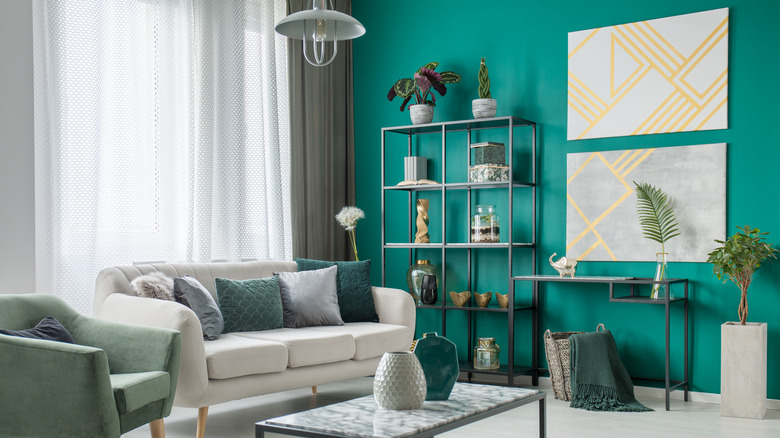 Photographee.eu/Shutterstock
If you're not a fan of ocean-themed decor, there are other ways to make your space fit the theme. Painting one wall or all walls a shade of blue can make the room feel calm and relaxing. Some green and white furniture will balance out the bold blue but adds value to the space. 
6. Surfboard accents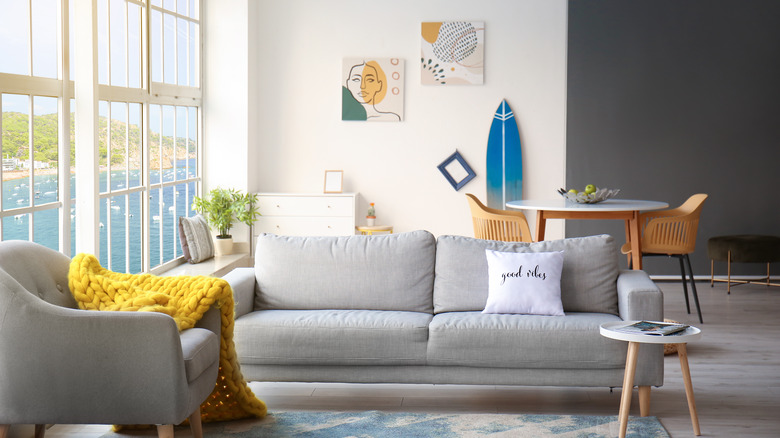 Pixel-Shot/Shutterstock
If your home is located by the ocean, then you're well on your way to being the most relaxed you could be, and you could still incorporate some pieces into your home to keep the feeling going. A surfboard lying against the wall in the minimalistic room makes that wall the main focus and channels those ocean feelings. 
7. Built-in bay window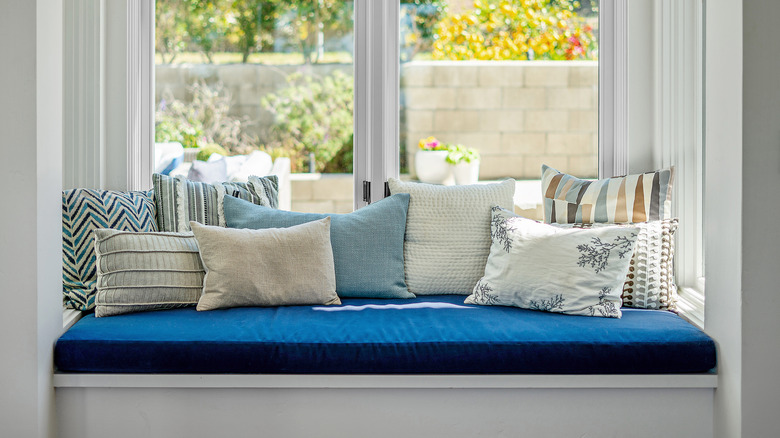 C Woods Photography/Shutterstock
Installing some sort of seat in an area where there's a lot of natural light, like the built-in bay window seat, gives you a place to sit and relax after a long day. Decorating it with blue colors and light patterned pillows will create the ocean effect. 
8. Striped rugs
Adding just the smallest touch of color can make any room stand out. This office space has a minimal interior, but the blue chair and striped rug create a soothing environment in the workplace. Hanging some wall art in brighter colors such as yellow or more shades of green can associate it with the ocean. 
9. Ship trinkets
Windowsills make the ideal location for small trinket items that be related to the ocean or the beach, such as ship decor, sailing books, mini anchors placed anywhere. They're small but carry value in a room that has minimal decor pieces. 
10. Green curtains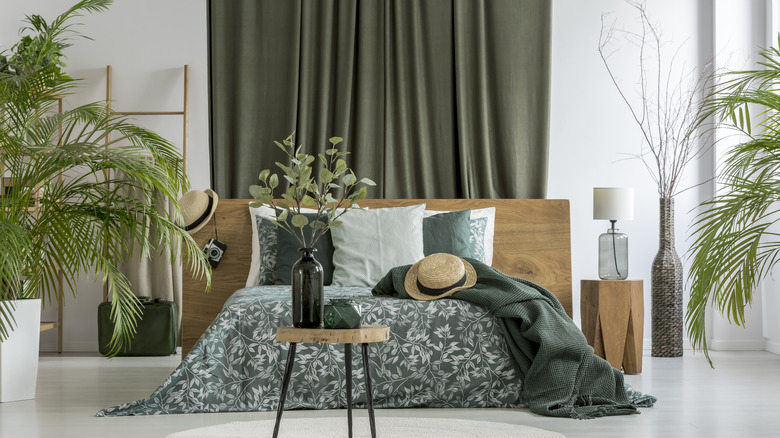 Photographee.eu/Shutterstock
The ocean is completely surrounded by all things nature, so every shade of green can be used at hand. Having green curtains, green bedding, and a few plants will make the environment feel calming. Mixing in a few furniture pieces or decor in a blue shade will balance the room out. 
11. Beach bathroom
Allowing your bathroom to be your sanctuary could benefit you the most in the sense that you can incorporate the tiniest elements to make it feel like you're at the beach in the water. Add a couple palm trees and some rocks or sand to create the perfect beach mood. Some wave sounds round out the full experience.
12. Sand colored walls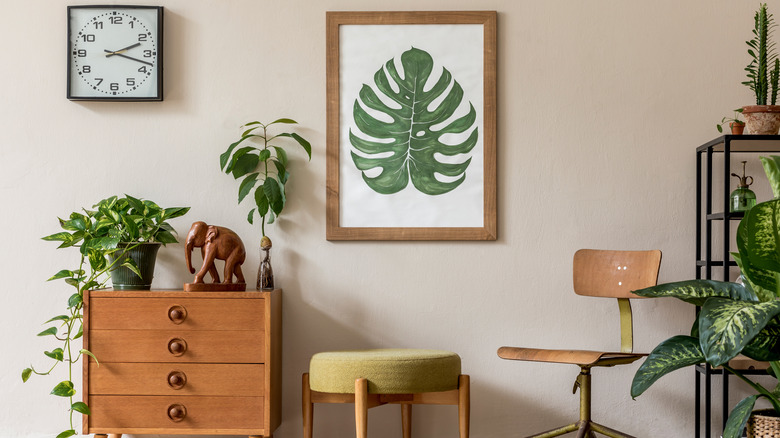 Followtheflow/Shutterstock
Having a beige interior allows room to play around with color and texture and gives off the look of sand. This room has a lot of brown and green hues, which match perfectly; the plant becomes the focus. For an ocean theme, add some wall art pieces of algae or different colored fish to keep it subtle. 
13. Soft pink tones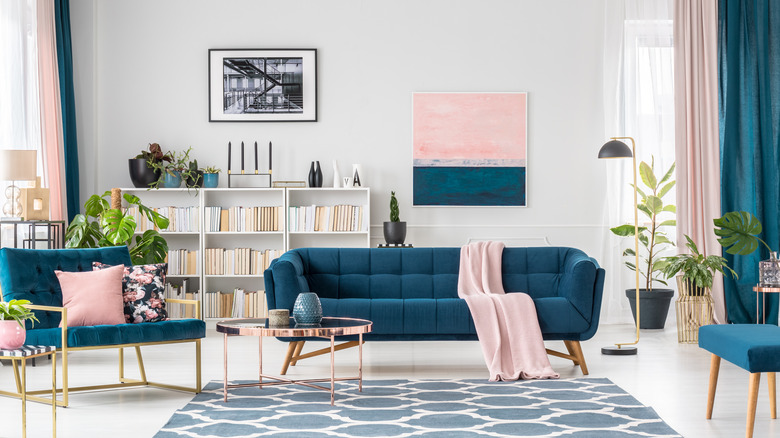 Photographee.eu/Shutterstock
An ocean-themed room doesn't have to merely follow a certain style; mixing colors can still create a subtle effect. Using pink as an accent color balances out the dark blue hues, making the room feel light and calming like a sunset. The painting changing from pink to blue looks like the pink sky on blue water. 
14. Sea creature towel hooks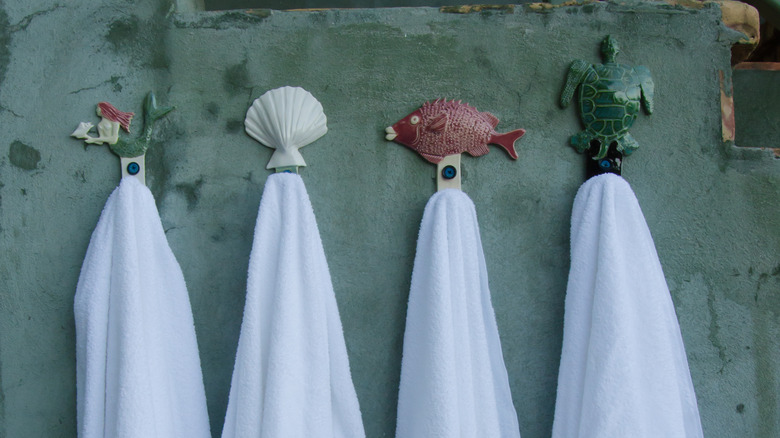 Kelly vanDellen/Shutterstock
Decorating your space with cute little sea creature towel hooks is the ultimate subtle look to an ocean theme in your home. You can place these in any bathroom all at once or switch them out every once in a while. They could match back to some sink holder decor as well. 
15. Striped accent wall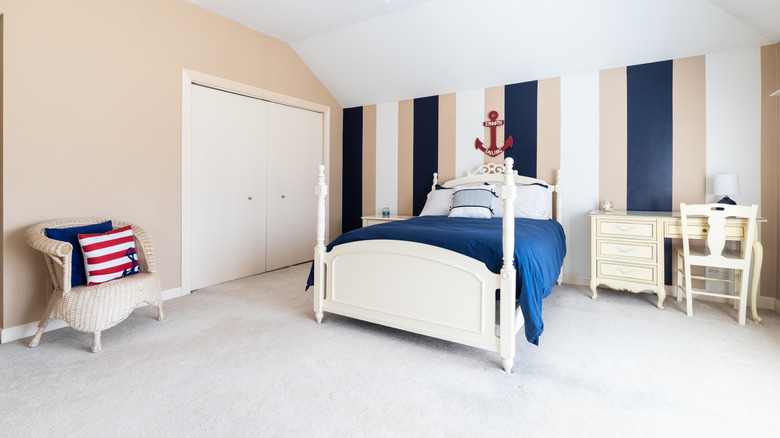 Hendrickson Photography/Shutterstock
Having a striped accent wall that reflects ocean colors will create a subtle look related to an ocean theme. The anchors in the room and the red and white colors elevate the look; if you're looking for a less flashy design, try some plain walls and a striped patterned comforter for a more muted look.