Jennifer Lawrence Used To Live In Surprising Modest Home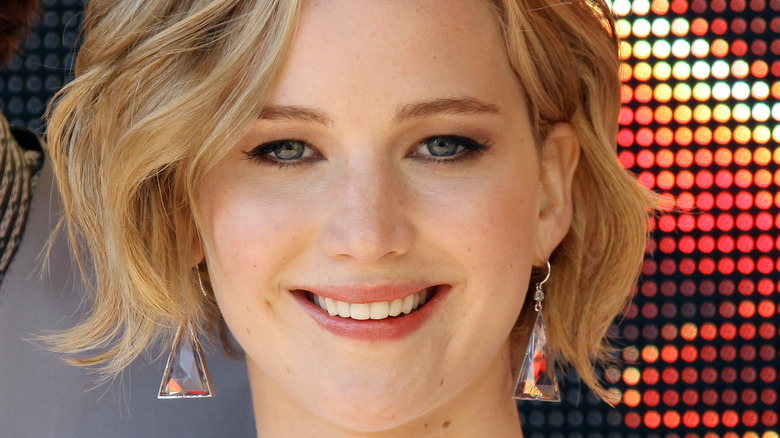 BAKOUNINE/Shutterstock
While Jennifer Lawrence may be known as one of the world's most famous actresses, she certainly didn't use to live like one. Up until 2014, she actually lived in a two-story townhouse located in Santa Monica. According to Lonny, the actress purchased the condo for $879,000 back in 2006 and lived there for around eight years. Upon her success with "The Hunger Games" franchise, she decided to sell the small home for something larger. However, her asking price was slightly higher than her purchasing value at a little over $1 million.
Perfect as a starter home, this small townhouse sits at close to 1,500 square feet with tons of surrounding neighbors nearby. The interior consists of two bedrooms and three baths, per Trulia. This compact yet pretty home looks exactly like one might think. With light wooden hardwood floors and bright lighting, it's easy to see why Lawrence chose this as her beginner home. This home brings simplicity and elegance together into a happy medium.
Outside cuteness
The outside, like most of the house, is simple but cute. Featuring a light pale green trim around the house, it also has a matching green gate that Lawrence once shared with her neighbors, per Lonny. The home also has tall hedges surrounding the front side of the house. This is great to keep paparazzi and other peeping toms out and away as much as possible. The front yard is complete with a tall shade tree with a mini garden of flowers underneath surrounded by bricks. It's safe to say this little townhouse definitely has an eye-catching front yard.
On the backside is a simple outdoor patio. The current setup features a bench with two matching chairs and matching red cushions for all. It is complete with orange and brown pillows and a large black and white diamond area rug. A small grill and a simple white umbrella also reside in the far corners. There's cute brown wooden fencing, which also helps to keep the paparazzi far away from the comfy yard. This outdoor space is perfect for entertaining a few guests, especially during the summer nights in California.
Elegant interior
With an outdoors as appealing as this townhouse, it's hard to imagine an interior that can level up. The inside of the house, as opposed to the adorable outside, is pretty and elegant. The living room consists of bright brown walls, light floors, and very few windows. A variety of furniture currently resides with a bright white leather couch, two brown chairs with a matching ottoman, and a few different-sized black tables. While this is a pretty suit, any type of furniture with a variety of different designs can look great in a room like this one.
Perhaps one of the most notable features of this lovely home is the kitchen. While small, it has a lot to offer. Featuring bright white cabinets, this room is small yet spacious, according to Trulia. Complete with state-of-the-art appliances, it's easy to cook whatever your heart desires. Shiny marble countertops line all the counters that reflect the bright fluorescent lighting that's installed above. Light wooden flooring is laid out that matches the living room and other areas of the house. While being simple, this kitchen is definitely one that can capture the eyes of cooks everywhere.