15 Light Green Paint Colors That Will Inspire You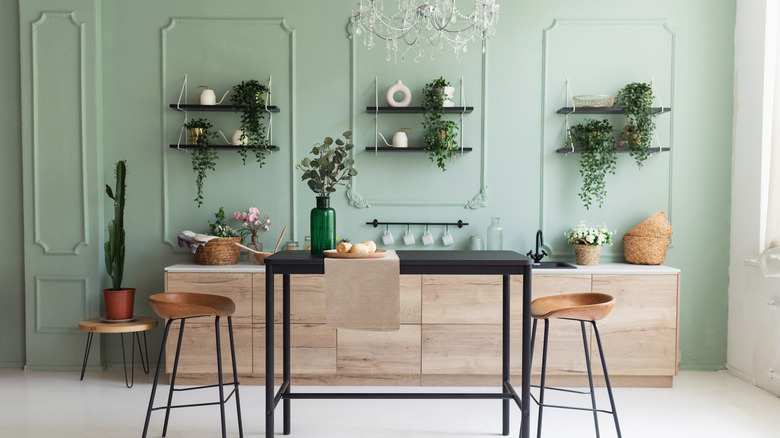 Lysikova Irina/Shutterstock
When you're looking to make a new space your own or want to give a familiar room a fresh look, then you might want to consider an exciting coat of paint. But what creative paint color should you choose? You could opt for a vibrant yellow design or you could consider a nice navy blue. Or, you might want to think about a gorgeous light green.
A color that comes in a wide range of shades, Better Homes & Gardens points out that the lovely hue that's found in some of nature's most beautiful creations can be both dark and light while also showing off undertones that can be anything from a bright neon yellow to a beautifully calm blue. Depending on the style you're embracing and the vibe you're looking for, there are plenty of light green paint colors that will create the particular atmosphere that you're aiming to achieve. That includes the following shades of green that will surely pique your interest.
1. Tempting light olive green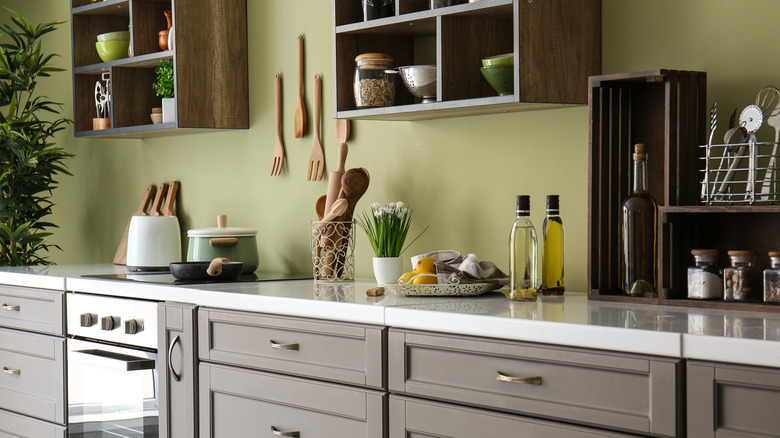 Pixel-Shot/Shutterstock
Are you looking for a paint color for your kitchen that will spark your appetite and look super stylish at the same time? Then you might want to think about opting for this luscious light olive green.
2. Soothing minty light green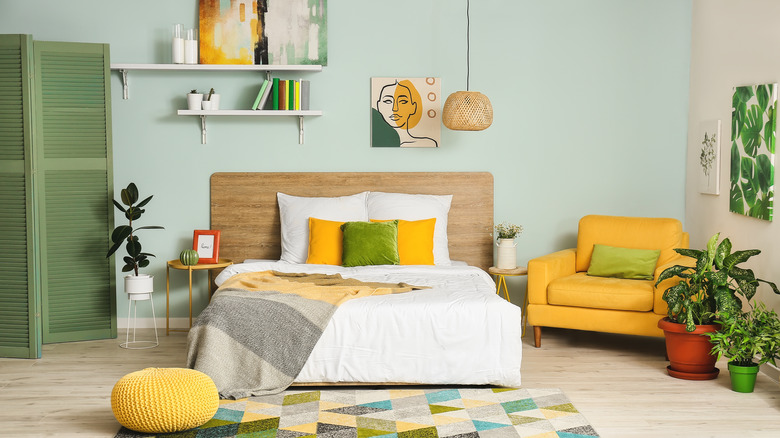 Pixel-Shot/Shutterstock
Green is among the colors that are considered to be quite calming, according to Elle Décor. That's certainly true of this soothing light mint shade that's been used in a fun yet relaxing bedroom that welcomes you in and makes you want to chill out.
3. Bright light green playroom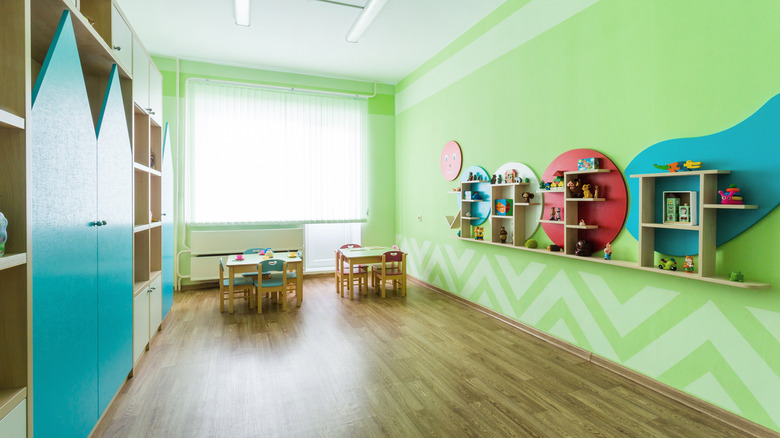 Sergey Zaykov/Shutterstock
Playrooms are the perfect place to use a fun punch of color. That's why this light green shade that has a pop of brightness is an ideal and exciting choice.
4. Cool yet comfortable bohemian light green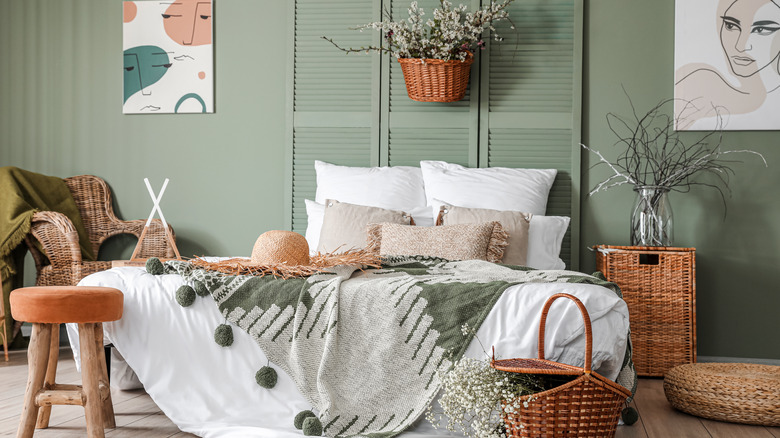 Pixel-Shot/Shutterstock
For anyone who's interested in a chic bohemian style, then this is the perfect green for you! With a slightly cooler undertone, it's still warm and light enough to help create a comfortable space.
5. Light green with a bright undertone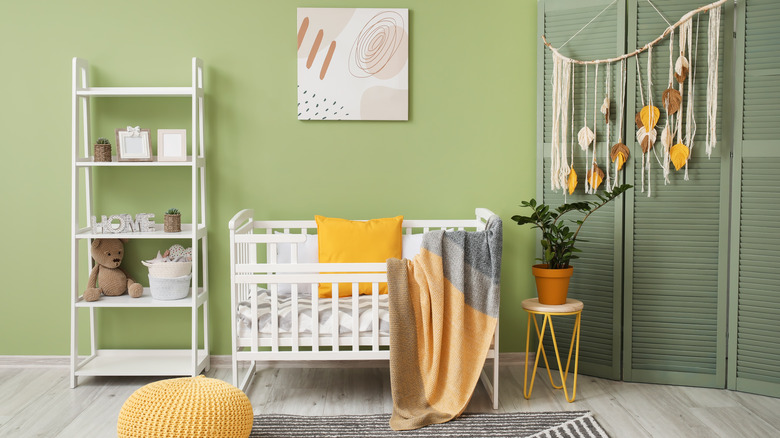 Pixel-Shot/Shutterstock
Classic pink and blue nurseries are nice regardless of what gender a little one might be. But a baby room that's green is also a great choice, especially when yellow accents are used to bring out the bright undertone in the light shade.
6. Mossy light green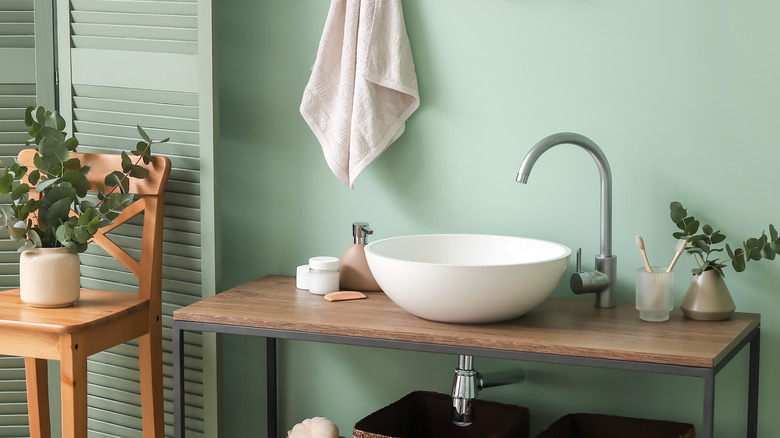 Pixel-Shot/Shutterstock
Sprigs of eucalyptus aren't the only gorgeously green touch in this bathroom. The paint color — which is a marvelous mossy light green — is just as pleasing to the eye.
7. Green-grey gorgeousness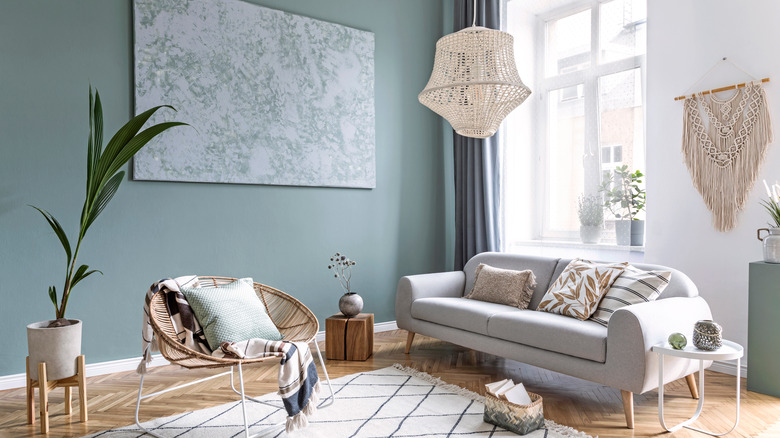 Followtheflow/Shutterstock
Grey walls can be incredibly chic and wonderfully sleek. The same can definitely be said of this light green-grey color that's used in an elegantly contemporary living room.
8. Lush light lime green
You might think that lime green is the perfect color for a kitchen. While that's undoubtedly true, it's also a lovely shade to use in other spaces like a vibrant living room or lush outdoor area.
9. Stunning light sage green
A light take on sage green, this stunning hue was the most popular shade of 2021, according to Google Trends (via Better Homes & Gardens). While it suits plenty of styles, it undeniably looks amazing on these vertical wood panels in a bathroom.
10. Fresh light grass green
Although this green could take on a darker tone if paired with a darker paint color and dark décor, the white wall and white accents keep it a brighter version that's almost a light grass green.
11. A mix of light lime and olive green
Tone down a dynamic lime green and add in a splash of olive and what do you find yourself with? A light green shade that is just as striking as it is unique.
12. Soft and creamy light green
Another option that initially seems to have cooler hints, you'll start to notice that this is actually a noticeably soft shade. That's because the light green color almost has a creamy tone to it.
13. Light smoky grey
Fall in love with light smoky grey. Match it with white bed linens and a forest green chair and you've put together a room that you'll always be excited to come back to and relax in.
14. Yellowy light green
Green shades that have a strong yellow undertone can sometimes look a little off when used in a dark space. However, when added to a room with lots of sunshine, it can look just as good as this yellowy light green.
15. Fair green kitchen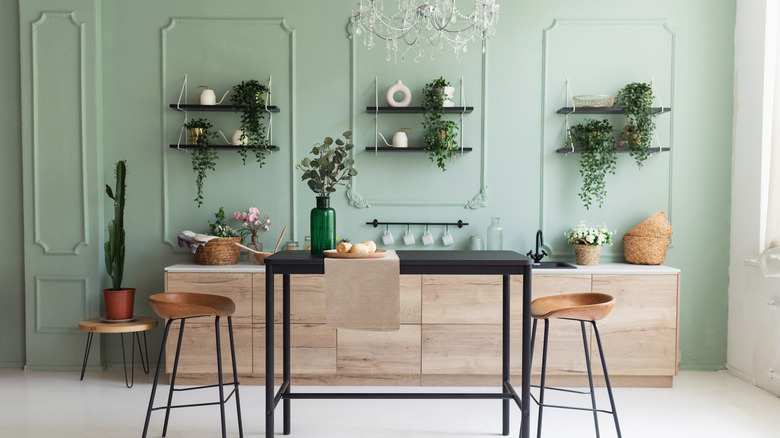 Lysikova Irina/Shutterstock
A shade that leans toward "fair green," this fabulous light hue brings a natural touch to a kitchen that perfectly combines a formal aesthetic with minimalist décor. Dark green plants with a single dark green vase help to fully bring out the lighter tone.