15 Subtle Ideas To Incorporate A Plant Theme In A Room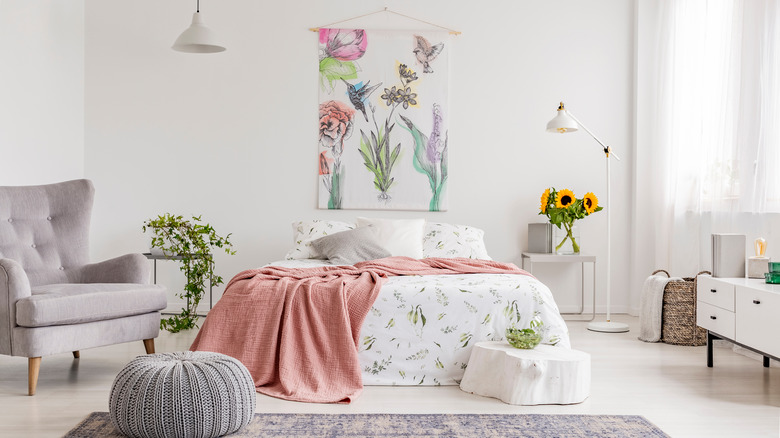 Photographee.eu/Shutterstock
As every plant lover or budding plant enthusiast may know, it's hard to keep your love of everything green designated for the outdoors. Sometimes, this passion for growing plants may just follow you into your living room, dining room, or even bedroom. Not only can taking care of indoor plants be quite easy — depending on the type of plant you choose — but it can also be a major mood booster and very beneficial for your health.
According to Healthline, growing indoor plants can help lower stress, make you more productive, boost your recovery process, and even aid in making the air in your home cleaner, among other benefits. However, not everyone has the space to fully indulge and make their home a plant-filled paradise. Luckily there are other more subtle ways to decorate in order to give your home a plant theme without it taking over your living area completely.
1. Mini plants around the home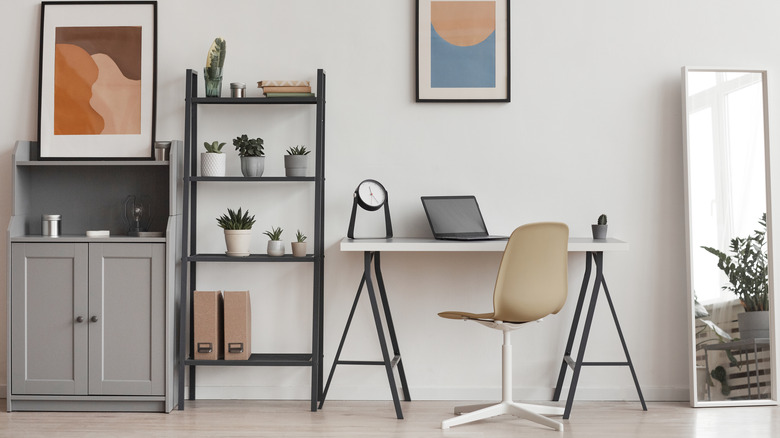 SeventyFour/Shutterstock
If you're looking to add little touches of greenery throughout your home, then mini potted plants are the way to go. Not only do they look adorable, but it allows you the opportunity to get a wide variety of species without overcrowding your space. Also, they are easy to care for, which is a bonus.
2. Framed plant pictures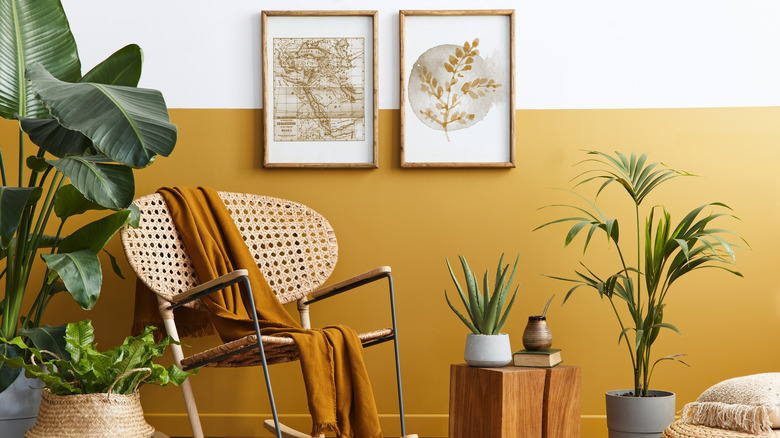 Followtheflow/Shutterstock
A good framed picture of flora can go a long way to add some style to a plant-themed room. Whether you choose to frame an original drawing, artist print, or even an actual pressed flower or plant that you have picked yourself, it will definitely bring some life to your walls.
3. Viny or hanging plants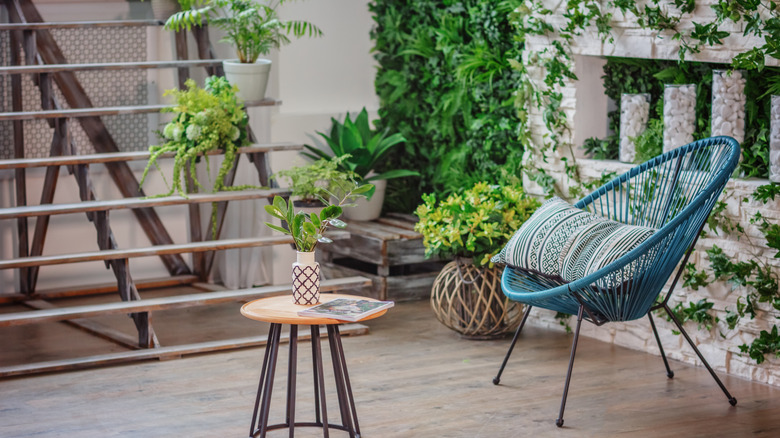 Sante77777/Shutterstock
Hanging plants that swoop down with long gorgeous vines are always stunning to look at. If you want to incorporate an especially viny plant in your room, try draping it over a shelf or running it through a stone or bricked feature. It will create a lovely juxtaposition between a living plant and an immovable surface.
4. Plant patterned wallpaper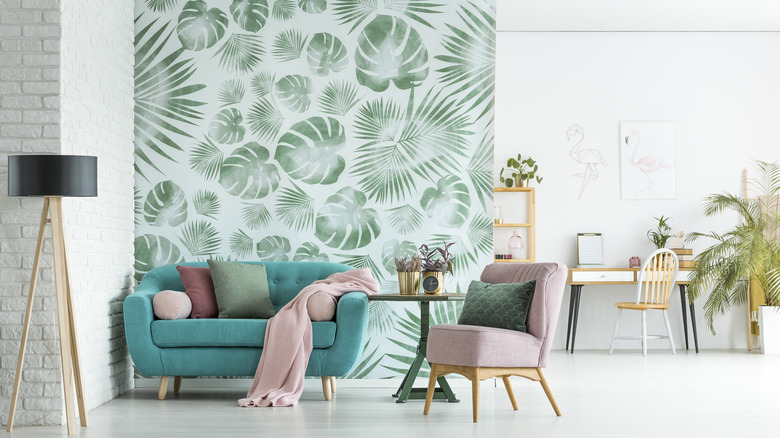 Photographee.eu/Shutterstock
If you want to add a nice plant-themed backdrop to your room, consider decorating one wall with a plant patterned wallpaper. Just adding a green-toned, plant-inspired wallpaper to one accent wall can be a subtle, classy way of bringing plant images into the room without being too overwhelming to the eye.
5. Plant or flower wall hanging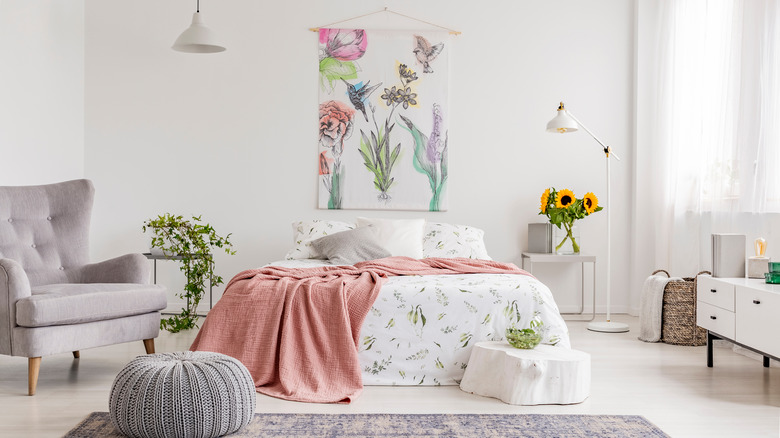 Photographee.eu/Shutterstock
A decorative wall hanging styled with a tasteful flower or plant image can be just the thing to bring some life to your walls. But, especially if you don't feel comfortable about completely covering your walls in wallpaper, a good themed wall hanging can have just as much of an effect.
6. Plant patterned bedding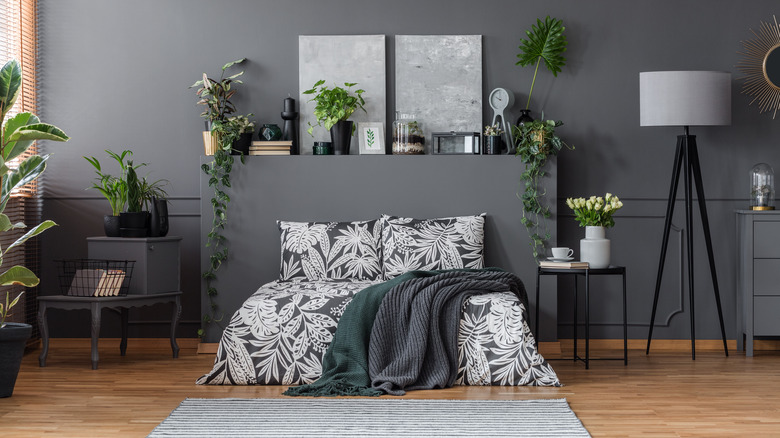 Photographee.eu/Shutterstock
Bring your love of flora to the bedroom with a set of plant-patterned sheets. To make the plant theme in your sleeping space more subdued and blend in with the rest of your décor, you could choose bedding designed in neutral colors.
7. Themed throw pillows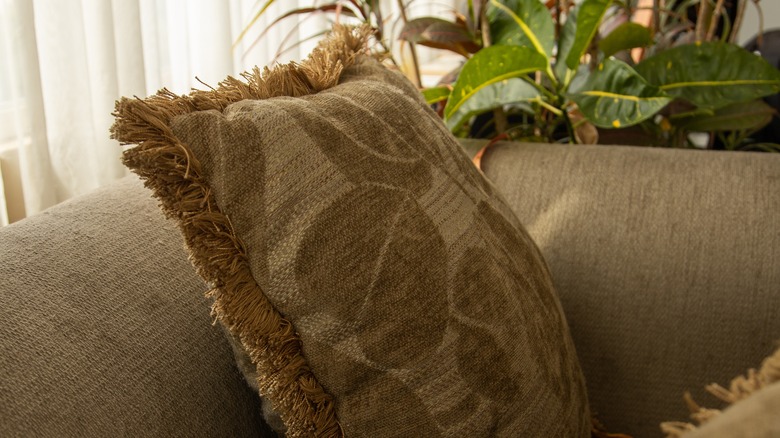 AC STUDIO/Shutterstock
Adding a few throw pillows to a space can be a simple and creative way to decorate a room, especially if you're on a budget. Find ones that have a soft floral design and pop them on a couch, bed, or chair to help connect the concept throughout your room.
8. Patterned couch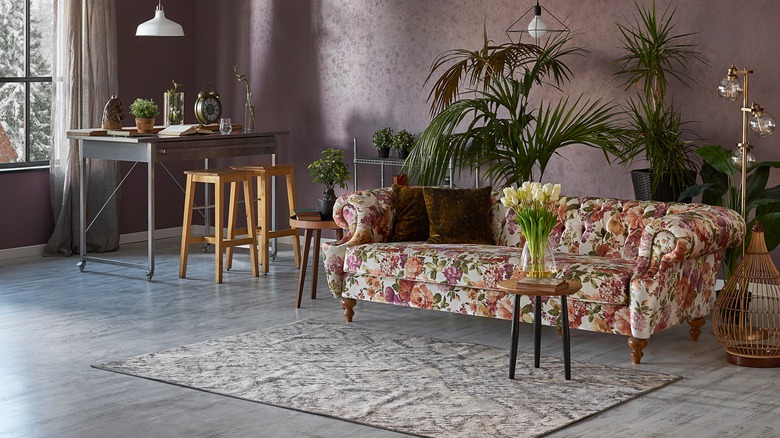 united photo studio/Shutterstock
There is no doubt that those '70s and '80s floral patterns are back and trending. All those plant patterned grandma couches that you may have turned your nose up at before, would now look amazing in a bohemian-style living room. The retro floral patterns on a vintage couch can ideally balance a room with more subdued wall colors.
9. Live-edge bench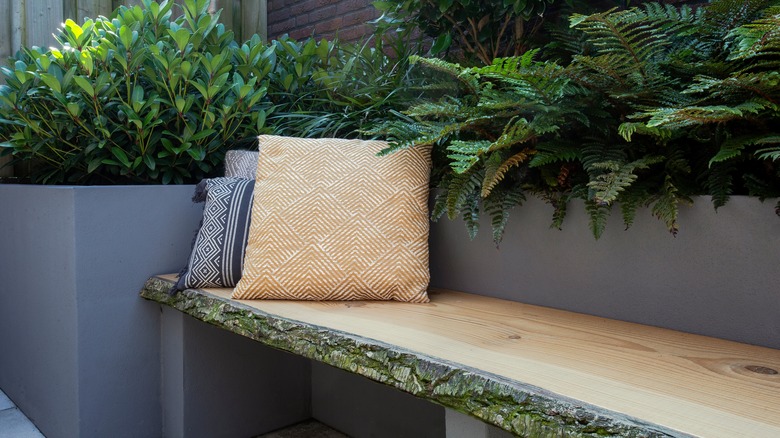 A-photographyy/Shutterstock
To really give a room an earthy plant theme without the risk of overdoing it could be as simple as adding a live-edge bench to your space. Live-edge wood gives you all the durability of standard bench materials but with an overall look with way more character, with a nice mixture of refined cuts and rough edges.
10. Table accents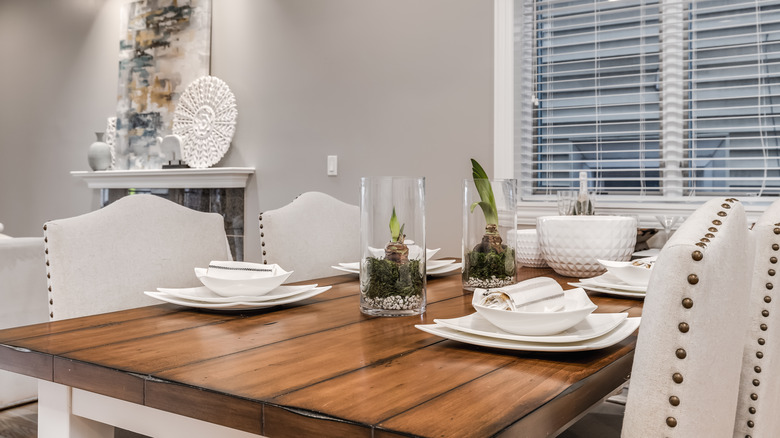 Hendrickson Photography/Shutterstock
Whether you decide to add a larger floral centerpiece or some smaller plants ensconced in a lovely glass vase, a live plant table accent can be a perfect way to add some life to your surfaces. In addition, these little touches of green can bring some earthy tones to your dining area, making it feel a bit homier.
11. Plant dishware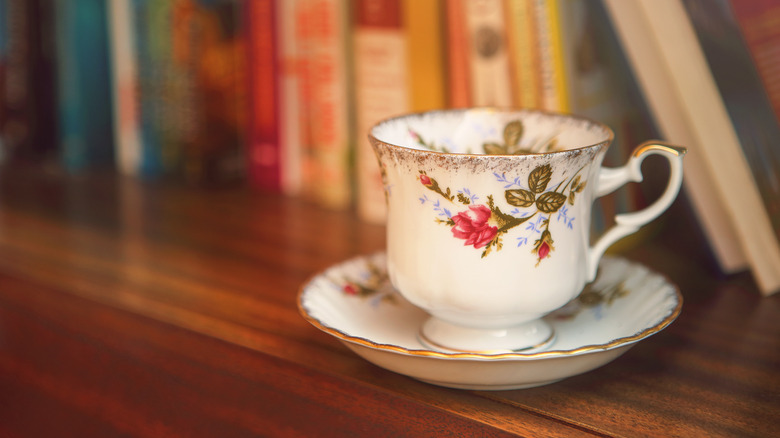 Katarzyna Mikolajczyk/Shutterstock
If you're a thrift store enthusiast, you may have passed by plenty of plant and floral dishware in your adventures. But little gems like floral tea sets, plates, or bowls can be an excellent way to continue a plant theme around the home.
12. Plants on a bookshelf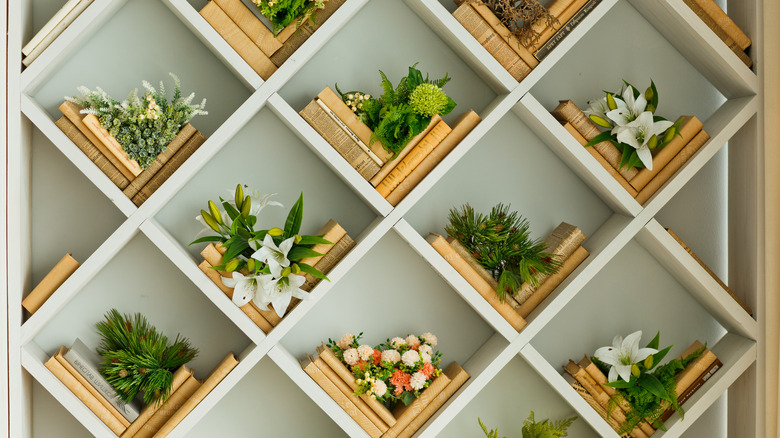 Tatiana Gekman/Shutterstock
A good bookshelf is not only an ideal spot for reading materials and décor but also offers the perfect place to showcase your plant life. So, utilize that extra space to artistically coordinate your books and some small potted plants or even a variety of faux flowers for a fun look.
13. Small plants by your candles or incense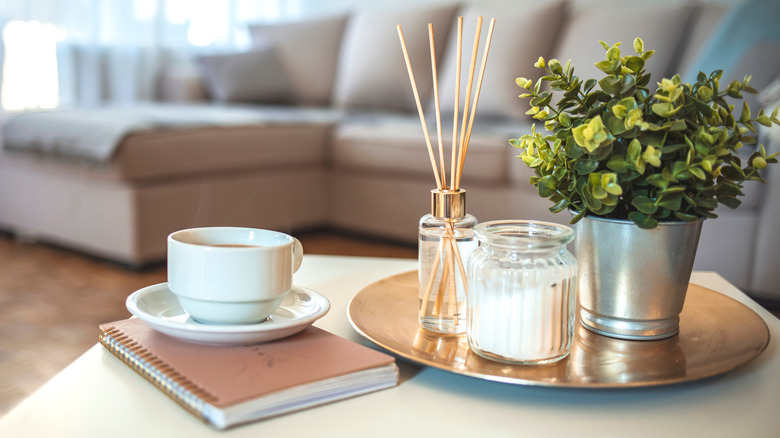 Dragana Gordic/Shutterstock
Take a decorative tray with a lovely soft-lit candle along with your favorite smelling incense. Then pair this with a small plant to create a little mood enhancer that can easily be transported to the room of your choice.
14. Green paint for your walls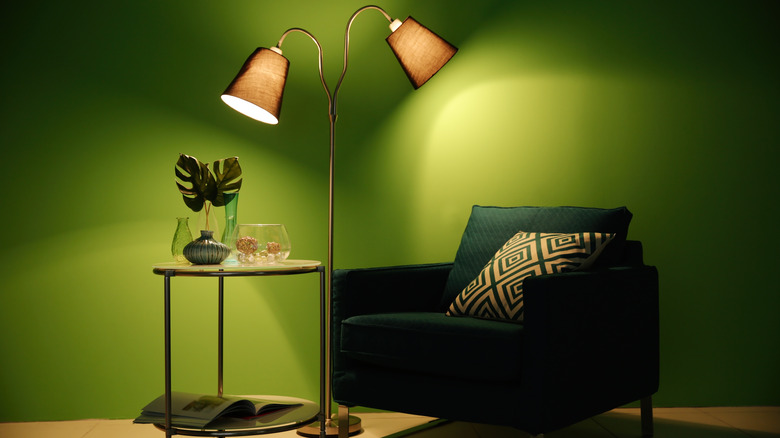 Africa Studio/Shutterstock
There's a simple solution if you have a green thumb but don't want to busy your walls with too many plant patterns: Just paint your walls the same shade as your ideal plant. For example, soft green paint on your living room wall can be just the thing to give your room a plant-like feel.
15. Floral rug or carpet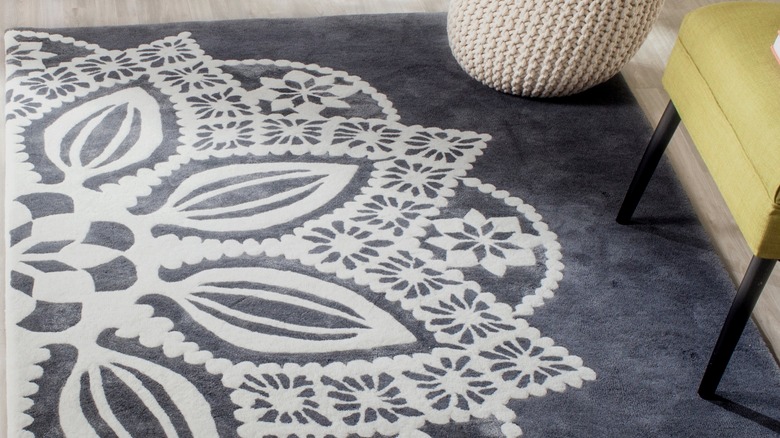 Design gallery01/Shutterstock
Add softness and style to any room with a floral rug or carpet. There are so many varieties of sizes and patterns available, but whether it's an abstract floral shape or twisted plant design, you are sure to find the one that fits just right for your space.