15 Subtle Ideas To Incorporate An Animal Theme In Your Home
If you're trying to find on an overall aesthetic for your living space that suits your taste or you just want to achieve a certain kind of vibe in each individual room, then you could consider everything from an idyllic ocean theme to a distinct Mediterranean style. Or, you could always opt to add animal-inspired touches.
A popular trend in the past, animal-like items — specifically, those with animal prints that mimic the coats of cheetahs, leopards, and zebras just to name a few — have made a resurgence, according to The Zoe Report. While fashion was certainly a focus of the latest love of things that are both natural and wild, the same adoration for animal-esque style can definitely work in your home.
Indeed, if you have a wild side and want the place where you live to reflect that in stylishly subtle ways, then we have the perfect animal theme ideas for your home!
1. Hang up an animal painting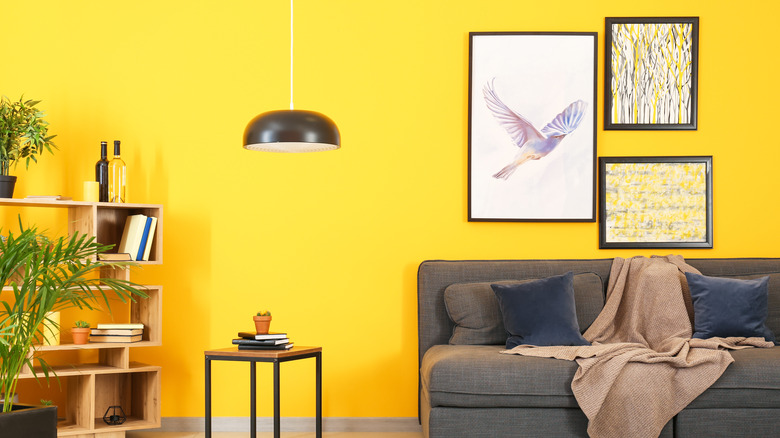 Pixel-Shot/Shutterstock
Adding an animal painting to any wall is a great way to embrace décor that brings the beauty of wildlife into your home. Consider wispy paintings of birds or an abstract interpretation of another flying, crawling, or running creature.
2. Animal photos and drawings are great for your home
Paintings of animals are lovely and there are definitely plenty of options available in a wide range of sizes, colors, and styles. At the same time, you could widen your wall art choices even more by also considering photos or even drawings of creatures and critters.
3. Opt for an animal sculpture
Followtheflow/Shutterstock
Wall art isn't the only way to add a creative touch that's animal-related to your home. Place a sculpture of any sort of beast — big or small — in your living room, bedroom, bathroom, or any other space.
4. Put up a fake animal head
Admittedly and understandably, most modern décor trends don't tend to encourage you to display a real animal head on the walls of your home. However, you can get yourself a fake animal head instead that's both wild, artsy, and totally modern.
5. Animal print wallpaper can be cute and chic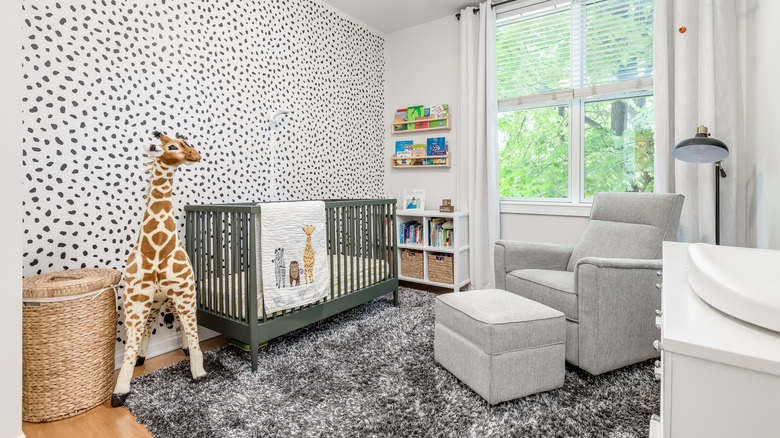 Hendrickson Photography/Shutterstock
Animal print wallpaper may seem like an overwhelming idea at first. However, if you choose something adorably chic — such as dalmatian-like spots — you can end up with a look that's just as cute as the creature it's inspired by. Add a stuffed animal and animal adorned items to top off the look.
6. Lay out an animal-like blanket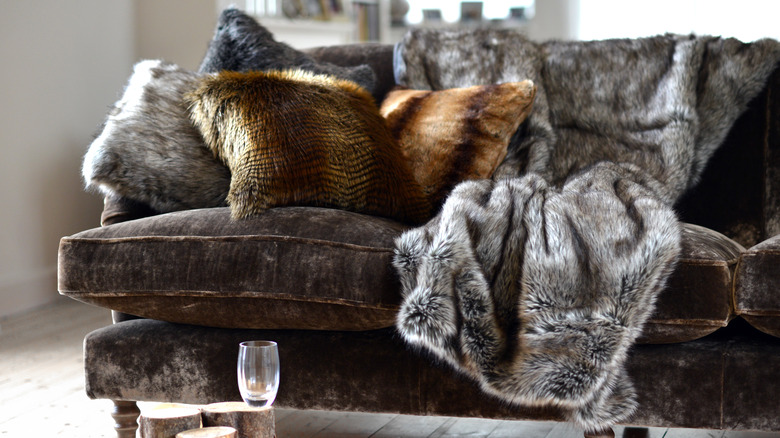 Peter Cripps/Shutterstock
Blankets can be a super-cozy way to add some extra style to various spaces in your home. If you want a wild-like vibe, opt for a blanket that has an animal print or critter-covered pattern. You could also grab a luxurious faux fur throw.
7. Pop animal print pillows in your rooms
In the same way animal-like blankets can add a comfortable touch to your home, animal print pillows can do the same. Of course, along with a trendy leopard print pillow, you could always opt for a sleek snakeskin print as well.
8. Faux animal rugs can be cozy and fabulous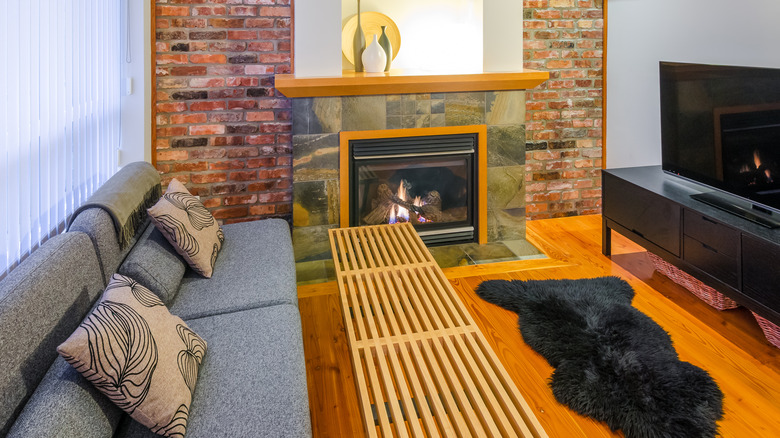 Structured Vision/Shutterstock
Having what used to be a bear laying on your floor is an, er, bold style choice in more ways than one. Instead, you might want to put down a faux bear rug or faux sheepskin rug that will be just as soft and cozy.
9. Add an animal-inspired accent piece
Furniture with animal print fabric can be a striking addition to any room. However, you can keep it on the subtle side by opting for an accent piece. Indeed, while you could always choose a massive sofa that's covered in animal-like material, you could also opt for a single chair that uses zebra print fabric.
10. Both window and shower curtains can have animal hints
Window curtains with an animal print or beautiful beast-filled pattern are a wonderful way to incorporate natural themes into your room. In the bathroom, you can also get the same kind of effect from an animal-inspired shower curtain.
11. Animal-themed stained glass can dress up your windows
If you can't find curtains with the right kind of wild theme for you, then you might want to consider animal-themed stained glass instead. Track down an antique stained glass piece or have a custom piece made that features all of the creatures you love.
12. Feather details in your home can be fantastic
Images of animals and animal prints aren't the only way to incorporate a vibe in your room that's inspired by the creatures in the world around us. You can also use a feather-covered lamp or feather-covered overhead lighting for a hint of the whimsically wild.
13. Grab an animal-like footstool
When you get home at the end of a long day, throw your tired tootsies up on an animal print footstool. Whatever size or shape your room needs, it can also be as bold or as subtle as you like.
14. A fish tank can be captivating
Keeping your fish tank clean is certainly important. If you do, you'll not only have happy fish but you'll also have a stunningly stylish watery ecosystem in your home. They can also be rather small or on the bigger side depending on your space, preference, and budget.
15. A rubber ducky can be the perfect décor
When it comes to deciding on animal-inspired ideas for your bathroom, you can opt for stylish fishtail tiles and a stunning tub that's deep enough for a dolphin. You can also make simple — yet undeniably sweet — additions like a classic rubber ducky.